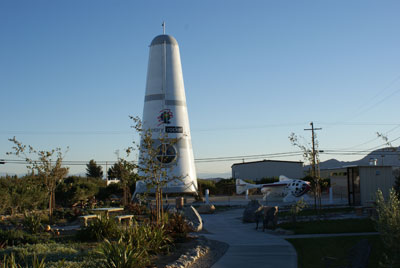 Legacy Park, dedicated earlier this year at Mojave Air and Space Port, features a Roton ATV test vehicle (left) and a full-scale replica of SpaceShipOne. (credit: J. Foust)
The Silicon Valley of NewSpace
by Jeff Foust

Monday, December 22, 2008
"Today, you're treated to really strange Mojave weather conditions this time of year," said Ken Doyle, operations manager for AirLaunch LLC, to a tour group visiting the company's engine test stands on the north side of the Mojave Air and Space Port last month. The "really strange" weather conditions, on a mid-November afternoon, were clear skies, light winds, and a temperature of about 70°F. "This is very unusual. It should be 40 degrees and 40 miles per hour [wind]."
Even if the weather had been closer to normal, though, it would not be difficult to understand why so many entrepreneurial space, or "NewSpace", companies have been attracted to the high desert about 150 kilometers northeast of Los Angeles. From the test sites on the north side of the airport, used for engine tests, to the cluster of hangars along the airport's flight line, as well as the wide array of aircraft that use the airport's runways themselves, an airport once known primarily as a storage site for excess airliners has emerged as one of the hubs for the NewSpace industry.
The level of activity and concentration of companies have led some to liken Mojave Air and Space Port to a NewSpace version of Silicon Valley, a comparison the airport embraces.
For example, in the last week XCOR Aerospace successfully tested a new engine, the 5K18, that will be used in its Lynx suborbital vehicle. The engine, which uses liquid oxygen and kerosene propellants, generates up to 11,100–12,900 newtons of thrust; four of the engines will power the Lynx on its suborbital missions. Masten Space Systems also has been performing engine tests at Mojave in the last month for its XA-0.1B test vehicle. And WhiteKnightTwo, the carrier aircraft for SpaceShipTwo, has been making series of taxi tests in preparation for its first flight, which finally took place Sunday morning.
This level of activity and concentration of companies have led some to liken Mojave Air and Space Port to a NewSpace version of Silicon Valley, a comparison the airport embraces. "It is a center of aerospace development and a real hotbed of creativity and fantastic things going on," Rick Searfoss, chief test pilot for XCOR, says in a new promotional video about the airport. "In fact, it's somewhat analogous to Silicon Valley, only for the aerospace business and specifically NewSpace. The stuff that happens here doesn't happen any place else."
Or, as Dave Masten, president and CEO of Masten Space, says in the same video: "Only in Mojave can you be talking to one rocket company and listening to another one work."
It's understandable why companies in Mojave would want to draw parallels with Silicon Valley, 500 kilometers to the northwest: the Valley is perhaps the best-known region of technological innovation in the world, having spawned a series of highly-successful companies from Hewlett-Packard and Intel to Apple and Google. The comparison is not perfect, however. The companies of Silicon Valley share very little physical infrastructure; the density of companies there is driven more by access to talent, financing, and other factors—including, in a bit of circular logic, the ability to say they're based in Silicon Valley.
The companies in Mojave do get some of those same effects, in particular the access to talent, but the bigger draw is the airport itself and its features: good flying weather, access to restricted airspace, and the ability to do flight testing, rocket engine development, and other work not easily possible at most other airports. In that sense Mojave is less a state of mind, like Silicon Valley, and more of a research park or laboratory for the commercial aerospace industry. Or, in the mind of airport general manager Stu Witt, a mall.
"We have a couple of thousand people working here and 40 tenant companies. I explain it as a mall," Witt said during a discussion November 18th with members of the AIAA's Commercial Space Group, who were touring the airport and meeting with some of the companies there. "If you've ever seen how a mall operates, you have anchor tenants—big stores that fill up the parking lots—and then you have a lot of boutiques. The boutiques benefit from the filled-up parking lots, and they come and they go."
"You really try to take care of your anchor tenants," Witt added, continuing the mall analogy. "You give your best deals to your anchor tenants, give them your best deals, breaks on fuel and land rents. You try to encourage the boutiques. Some of them make it and turn into anchor tenants. That's our business model."
It's a business model that appears to be working well for the airport. Earlier this month the Mojave Chamber of Commerce recognized the airport as its business of the year. "They are just doing business hand over fist out there," the chamber's president, Rheta Scott, told the Antelope Valley Press. The airport's buildings and hangars are fully occupied now, with a waiting list for access to them.
"I thought in May of this year, with the [economic] indicators what they were for the entrepreneurials and the people privately funding them, that we would have more business failures occur than we have," Witt said.
As another sign of its growth, the airport dedicated earlier this year Legacy Park, on a small plot of land behind the administration building. "That was a vacant lot a year ago, it was just trash out there," Witt explained. "That's what your crew can do in very little time. Now it's the place where we have our barbeques once a month." The park is home to the Roton ATV, the atmospheric test vehicle built by Rotary Rocket Company in the late 1990s, as well as a full-scale replica of SpaceShipOne. It's a memorial site as well: a plaque honors the three Scaled Composites employees killed in an accident in July 2007 at the airport while performing a propellant flow test for SpaceShipTwo.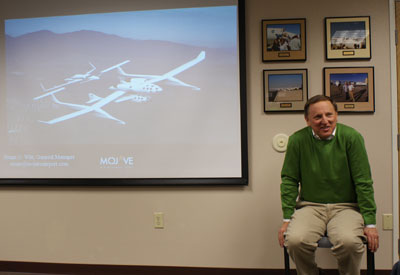 Stu Witt, general manager of Mojave Air and Space Port, talks about his facility in a meeting with members of the AIAA Commercial Space Group last month. (credit: J. Foust)
Yet, like Silicon Valley itself—not to mention much of the rest of the global economy—Mojave is experiencing the effects of the current downturn. Witt said that three of the space companies based in Mojave, primarily smaller firms, had gone out of business or otherwise suspended operations.
"I'm surprised, because I thought there would be more," said Witt. "I thought in May of this year, with the [economic] indicators what they were for the entrepreneurials and the people privately funding them, that we would have more business failures occur than we have. We were pleasantly surprised."
Another area of concern is the development of competing spaceports, attracting businesses and other activity to them. When Mojave Air and Space Port received its FAA launch site operator, or spaceport, license in 2004, it was the first licensed inland spaceport in the US. However, the Oklahoma Spaceport, at a former Air Force base in Burns Flat, west of Oklahoma City, received its spaceport license in 2006 (see "Little spaceport on the prairie", The Space Review, June 7, 2004). And just last week the FAA awarded a license to Spaceport America in New Mexico, a facility whose construction is now set to begin in early 2009.
Witt, in his conversation with the AIAA group, played down any notion of competition with spaceports in other states. "The press comes in here and asks if we're in competition with New Mexico and Florida, and I say no. We're not in competition with anybody," he said. The real issue, he said, is whether the country considered spaceflight a national priority. "And if we're in it, we're going to have to have spaceports dotting the landscape."
However, at a board meeting later that day of the East Kern Airport District, which oversees the airport's operations, Witt acknowledged the competition from other states when requesting $10,000 from the airport's board to help promote the airport and its activities to the new administration. In the minutes of that meeting, Witt noted that "the District is competing against sites in Florida, New Mexico, Oklahoma and California that are spending huge sums of money to bring in tenants. General Manager [Witt] stated that his goal is for the District to stand up and say we are doing this to save jobs for tenants that already exist here at Mojave. This would send a strong signal to Mojave's tenants that the District wants to retain their business for the long run."
"I really think we have to stay focused—at least at this site—on helping the designers, the developers, and the entrepreneurs build their space vehicles," Witt said to the AIAA group. "I have got to make sure they stay focused, because without them we don't have an industry."
"I'm here for one reason," Witt said. "I want to go."
There's also a more personal factor driving that effort. Witt recalled being interviewed by CBS' 60 Minutes program when he was a fighter pilot at the Navy's "Top Gun" school in 1980 and being asked what he wanted to do after flying in the Navy. His response: join the space program. "I didn't realize it was easier to become first baseman for the Dodgers," he said, adding that, ironically, his "backseater" at the school, Pierre Thuot, did become a NASA astronaut, flying on three shuttle missions.
"I'm here for one reason," Witt said. "I want to go." It's a reason likely shared by many of the other people and their companies that make Mojave their home.
---