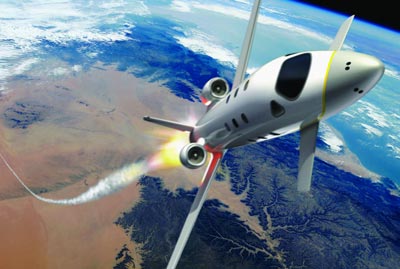 EADS Astrium announced plans two years ago to develop a suborbital spaceplane, but has run into difficulties financing the project. (credit: EADS Astrium)
Space tourism: a European perspective
by Jeff Foust

Monday, July 6, 2009
Space tourism is generally perceived, for better or worse, as primarily an American endeavor. Most of the activity in developing vehicles, spaceports to host those vehicles, and the necessary regulatory environment to allow in particular suborbital commercial spaceflights has taken place in the United States. Even ventures outside the US often have American connections: while Russia has launched a number of commercial "spaceflight participants" on Soyuz missions to the ISS, the sales of those seats have been brokered by a US company, Space Adventures, and the majority of the customers have been US citizens. Virgin Galactic, while based in London, is working with American firm Scaled Composites to develop the WhiteKnightTwo/SpaceShipTwo system that will initially fly from spaceports in California and New Mexico.
While the industry is today heavily US-centric, that doesn't mean that companies and organizations elsewhere aren't interested in the emerging field. Europe in particular is one likely nexus of activity, given its existing aerospace expertise and large market of potential customers. Yet the industry has been slow to develop there, for a variety of reasons. At "Space Tourism: A New Industry in the Making", a one-day conference held last Tuesday at the Royal Aeronautical Society (RAeS) in London, speakers and attendees evaluated the state of the industry and what is needed, particularly in the UK, to advance it.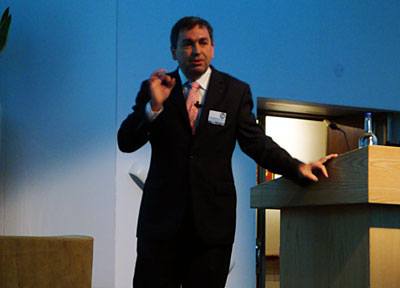 Hugues Laporte-Weywada of EADS Astrium discusses the status of their spaceplane project. (credit: J. Foust)
Spaceplane hiatus
After Virgin Galactic, the biggest development in suborbital spaceflight in the last several years in Europe has been the proposal by EADS Astrium to develop a suborbital vehicle (see "European space tourism vehicles", The Space Review, July 2, 2007). Astrium made a big splash at the Paris Air Show two years ago, unveiling plans for this spaceplane and displaying a full-scale mockup of the cabin. It was a sign that, unlike large American aerospace companies that have remained largely indifferent to suborbital spaceflight, Europe's largest aerospace company intended to be a part of this new market.
"So for the time being, we are not in a position to start the program," Laporte-Weywada said. "We are technically in a position to start the program, but we are not in a position to gather the financing for that."
Since that big debut, though, Astrium has kept a low profile on its suborbital spaceplane efforts; the section of the company's web site devoted to the project has remained essentially unchanged over the last two years. There has been speculation that, due to a lack of financing, the project had been suspended or even cancelled.
At the RAeS event, Hugues Laporte-Weywada, deputy chief technical officer of Astrium, attempted to clarify the status of the spaceplane project. Since the project's announcement two years ago, the company has been focusing on developing some of the key technologies needed for the vehicle, including its liquid oxygen/methane rocket engine as well as wind tunnel tests and reentry simulations. That "pre-project" work, he said, is now coming to an end.
"We have, yes, now slowed down the activity" on the project, he said. "We consider that we will not be in a position to start the program quickly." Because of that, and because that pre-project technology development work is winding down, there is "no use to consider spending bits and pieces of money" on additional technology work when the start date of the overall project is uncertain.
The reason Astrium isn't in a position to quickly start work on the spaceplane is a lack of financing. Despite the size of its parent company, EADS—which had a profit of €1.6 billion ($2.2 billion) in 2008—Laporte-Weywada said that the company was never in a position to self-finance the development of the spaceplane, whose development costs have been previously estimated to be on the order of €1 billion (US$1.4 billion). "So we are looking for money from launch customers—operators buying some planes—or investors wanting to invest in the development and get money back from sales of planes afterwards," he said.
He added that Astrium has "toured the world" looking for both, but has come up empty-handed, in large part because of the current financial crisis. "So for the time being, we are not in a position to start the program," he said. "We are technically in a position to start the program, but we are not in a position to gather the financing for that." Astrium thus plans to put the program on hiatus, including reassigning the engineers who worked on it to other programs, ready to be called back when the financial situation improves.
This means, Laporte-Weywada said, that Astrium will not be the first company to enter the suborbital human spaceflight market. "For sure we will not be the first," he said. "We have never said that we would be the first on that."
Instead, he took the long view, comparing their plans with the history of Airbus, which entered the airliner market many years after Boeing but over time was able to close the gap. "If we believe this is a long-term market, there is no problem."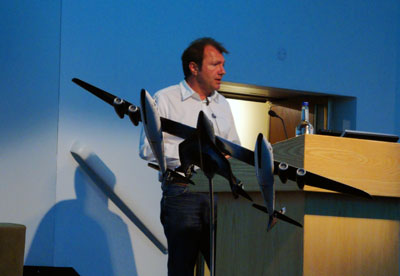 Virgin Galactic's Will Whitehorn said there needs to be a UK equivalent of the Commercial Space Launch Amendments Act for the company to be able to fly SpaceShipTwo from there. (credit: J. Foust)
A tale of two spaceports
A major challenge for flying suborbital vehicles—built in Europe or elsewhere—from Europe has been finding suitable locations to base such vehicles. The high population density of much of Europe makes it difficult to find suitable locations from which to safely launch such vehicles. In recent years a couple of candidate locations have emerged, in Sweden and Scotland, but face differing futures in part because of regulatory issues and national support.
"This country should be a natural place to come as well," Whitehorn said of flying SpaceShipTwo out of the UK, noting the facilities and open airspace in northern Scotland. "However, this country has no legislation to allow it to happen."
Spaceport Sweden has emerged as the likely first European site to host such vehicles. The facility, located in Kiruna in northern Sweden, is already home to a sounding rocket range and had the runway and other infrastructure needed to host vehicles like SpaceShipTwo or XCOR's Lynx. The spaceport has already been working with Virgin Galactic to study hosting flights from there, and also has a memorandum of understanding with Spaceport America in New Mexico to cooperate on the promotion of the industry and ways to stimulate local economic development and education.
Mattias Abrahamsson, business development manager for Spaceport Sweden, said the spaceport is now working on the regulatory issues associated with flying commercial human suborbital missions from the spaceport. The current proposal, which the spaceport submitted to the Swedish National Space Board in May, calls for using existing legislation governing sounding rocket operations for third-party liability, but otherwise seek the equivalent of an FAA launch license or EASA (European Aviation Safety Agency) certification to govern the actual flight. Abrahamsson said Olle Norberg, who had served as chairman of Spaceport Sweden, was recently named director-general of the Swedish National Space Board. "It's quite easy to talk to the Swedish National Space Board nowadays when it comes to Spaceport Sweden," he said.
Scotland is also trying to get into the spaceport business. The Spaceport Scotland concept calls for flying vehicles from an RAF base at Lossiemouth, in northern Scotland. Thomas McCallum, strategic development manager of Spaceport Scotland, said that, like Sweden, the infrastructure needed to support Virgin Galactic and similar ventures is already in place, and the population density in the region is not much higher than in southern New Mexico or northern Sweden. "There are no real barriers to using an old air force base, or even a semi-existing one, as a spaceport," he said. "The traffic from a spaceport over the next 10, 15, 20 years is not going to be massive."
One barrier that does exist, though, at least in the UK, is lack of a clear regulatory structure for allowing suborbital human spaceflight. "One thing that America has that nobody else has in the world, although the Swedes are the closest to it, is legislation to allow this system to be built and operated," Virgin Galactic president Will Whitehorn said, referring to the Commercial Space Launch Amendments Act of 2004. "It's a vision this country is failing to fulfill at the moment."
Whitehorn said he was "pretty certain" that Sweden would be the next country after the US to host SpaceShipTwo flights. After that, he said, would likely be somewhere in the Middle East, "because the Middle East is interested in space tourism and interested in building spaceports, and the legislative background will be easily overcome."
"This country should be a natural place to come as well," he added, noting the facilities and open airspace in northern Scotland. "However, this country has no legislation to allow it to happen." With an election coming in the UK next year, Whitehorn said that the nation's space industry should be reaching out to both the current Labour government and the opposition, asking for enabling legislation.
Whitehorn said later that he wanted to start talking "seriously" over the next four months with other UK space companies to find out what they wanted in a comprehensive overhaul of national space policy that would include, but also go beyond, enabling suborbital space tourism. "I don't know what we want to see yet, but I'm pretty sure of the things we don't want to see, and that is a continuation of the status quo," he said. "Britain has a successful space industry despite policy, to some extent."
---