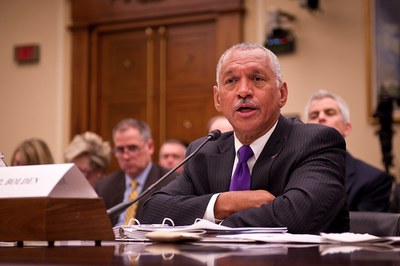 NASA administrator Charles Bolden, seen here testifying before a House committee earlier this month, says the agency is still studying concepts for a heavy-lift vehicle and is reticent to commit to a particular design or timetable, citing budget uncertainties. (credit: NASA/B. Ingalls)
"We've got to move on"
by Jeff Foust

Monday, March 28, 2011
This Friday, April 1, marks six months since the beginning of the 2011 fiscal year for the federal government. By this point in time federal agencies like NASA should be well along in implementing the programs funded for that year—even when taking into account the typical tardiness of Congress to pass appropriations bills—as the focus shifts to the budgets for the next fiscal year.
"This time last year, the worst you could do [for a fiscal year 2011 budget] was 2010 level," Bolden said. "Today, 2010 level is pretty good."
However, this is not a typical year. Come Friday NASA and the rest of the federal government will almost certainly find itself still without a final 2011 budget, instead subsisting on the latest in a series of stopgap funding bills called continuing resolutions (CRs) that fund agencies at their 2010 levels. (The current CR expires next Friday, April 8, raising the possibility that without a final budget deal by then the government will shut down, like in budget standoffs in the mid-1990s.) This standoff comes at a time of change for NASA, as it attempts to shift gears from Constellation to the new direction outlined in last year's authorization bill, creating even greater uncertainty for NASA, industry, and Congress about the future of human spaceflight.
HLV standoff
Perhaps the biggest current area of uncertainty in this budget environment is around plans to develop a new heavy-lift launch vehicle (HLV). The 2010 NASA authorization act directed NASA to build what it called the "Space Launch System" (SLS), with an initial capability of 70 to 100 tons to low Earth orbit that could be enhanced later to 130 tons or more. The act calls on NASA to have that initial capability in service no later than the end of 2016.
However, an initial NASA assessment of the SLS, delivered to Congress in January, concluded that under the projected budget profile, NASA could not meet the 2016 deadline for fielding the initial SLS (see "Can NASA develop a heavy-lift rocket?", The Space Review, January 17, 2011). That report was poorly received by key members of Congress, who effectively told NASA to go back and try again.
More than two months later, there's no sign of significant progress in development of an SLS concept that can meet performance, schedule, and budget constraints. Speaking at a Space Transportation Association luncheon on Friday on Capitol Hill, NASA administrator Charles Bolden said SLS studies were ongoing at NASA, with a focus now on what propulsion system to use: a liquid oxygen/liquid hydrogen system like the space shuttle's main engines, or a liquid oxygen/kerosene engine like the Saturn 5's F-1, as well as whether or not to use solid rocket boosters. Bolden said NASA's team was "really close" and "perilously close" to making decisions on this.
However, it wasn't clear from Bolden's comments whether what emerged from those studies would meet the act's requirements for payload capacity and schedule. Asked why the agency couldn't just announce that it would develop the vehicle in the act, Bolden said, "Because I don't want to, for one thing, and because it may be that we can't do that. We don't know." (It's unclear whether Bolden meant that he doesn't want to build the SLS as specified in the act, or instead meant that he doesn't want to say now that NASA will build such a vehicle; he later claimed he meant neither of those things.)
"You're conflicted," Sen. Nelson told NASA officials. "You've got to defend the president's request and yet and there's a law, and it's called the NASA authorization law, and the two are in conflict."
Bolden blamed some of that uncertainty on the lack of a final 2011 budget for NASA. "That plays a critical role in what I can do," he said. He said "we're pretty okay" if the 2011 budget comes out at levels similar to the 2010 budget, which NASA has been spending at during the series of CRs over the last six months. There's no guarantee, though, that NASA will get that much money, as some in Congress seek to make significant cuts in federal spending in the final 2011 appropriations bill. "This time last year, the worst you could do [for a fiscal year 2011 budget] was 2010 level," he said. "Today, 2010 level is pretty good."
Some in Congress, though, are skeptical about NASA's commitment to the SLS, citing the fiscal year 2012 budget proposal released last month. While Bolden and other administration officials note that the proposal funds all the programs identified in the authorization act, the proposal provides $1.8 billion for the SLS, compared to the $2.65 billion authorized for 2012 in last year's act. While the overall budget proposal is below the authorized level—$18.7 billion versus $19.45 billion—some other programs did better, like commercial crew development, which would get $850 million in the proposal versus $500 million in the authorization act.
That mismatch has not escaped the attention of members of Congress, including senators who criticized agency officials during a hearing of the Senate Commerce Committee's space subcommittee on March 15. "You're conflicted," Sen. Bill Nelson (D-FL), chairman of the subcommittee, told the witnesses—associate administrators for the agency's various directorates—at one point. "You've got to defend the president's request and yet and there's a law, and it's called the NASA authorization law, and the two are in conflict."
For a time, though, the authorization act was in conflict with another piece of legislation, a full-year CR for the rest of 2011 introduced in the Senate earlier this month. That bill provided $1.8 billion for HLV development, stating that the rocket "shall have a lift capability not less than 130 tons and which shall have an upper stage and other core elements developed simultaneously." That seemed to override the authorization act, which called for the core elements, with their capacity of 70–100 tons, be developed before the upper stage.
While the Senate bill did not pass, Bolden has made it clear he does not support immediate development of such a vehicle. "NASA does not need a 130-metric-ton vehicle probably before the next decade," he said Friday, adding that while such a vehicle would be needed later, for eventual missions to asteroids and Mars, he would accept a smaller vehicle sooner. He was more emphatic in a speech earlier in March at the Center for Strategic and International Studies. "We're not going to build a 130-metric-ton heavy-lift vehicle. We can't," he said. "We continue to negotiate and discuss with the Congress why that is not necessary."
The program that wouldn't die
Further complicating matters is the fact that, nearly six months after the president signed into law the authorization act, whose provisions effectively killed many elements of Constellation, NASA is forced to continue to fund those programs. Because the CRs that fund NASA extend funding at 2010 levels, they also preserve other elements of the 2010 appropriations act, including one that prevents NASA from terminating any element of Constellation. That provision, inserted by Sen. Richard Shelby (R-AL), a staunch proponent of Constellation, was intended to prevent NASA from unilaterally cancelling the program as the agency and administration weighed the program's future at the end of 2009, when the appropriations act was passed.
"We've been able to find things that we can do that are part of the old Constellation program that we can move into whatever new exploration program we do. So we're not wasting taxpayers' money," Bolden said.
Now, though, long after Constellation's future has been decided, the so-called "Shelby provision" remains in force through the series of CRs. While some elements of Constellation can translate into the new programs in the authorization act (the Orion spacecraft is effectively the same as the Multi-Purpose Crew Vehicle in the act), other elements, like the upper stage of the now-cancelled Ares 1, do not. As the Orlando Sentinel reported last week, that "potential inefficient use of funds", in the words of a NASA Office of the Inspector General (OIG) letter to Congress in January, works out to about $1.4 million a day.
That spending could be stopped by including language repealing the Shelby provision in any of the several CRs passed since the beginning of the fiscal year, but none of them have. In January, in response to the NASA OIG report, Nelson said he would move to remove the provision. A spokesman for the office blamed "partisan politics over a broader government spending measure" for the failure to get the provision repealed, according to the Sentinel.
However, Republicans have also voiced their support for eliminating the Shelby language, with no obvious effect. "One thing I hope we can do is to, in one of the short-term CRs we're dealing with, is get you some immediate clarification on that," Rep. John Culberson (R-TX) told Bolden during a March 3 hearing by the subcommittee of the House Appropriations Committee with oversight of NASA's budget. The one short-term CR passed since then, while trimming $63 million from NASA in the form of earmarks carried over from the 2010 appropriations act, was otherwise silent on the agency, leaving the Shelby provision in force.
Bolden and other NASA officials have tread carefully around this issue, claiming they are not wasting money while making clear they would welcome legislative relief on this matter. "We've been fortunate," Bolden said Friday. "We've been able to find things that we can do that are part of the old Constellation program that we can move into whatever new exploration program we do. So we're not wasting taxpayers' money."
Seeking direction
While the 2011 budget remains uncertain, Congress is beginning to scrutinize the 2012 budget proposal released last month. Bolden, who has already discussed the budget request at two House hearings early this month, is scheduled to testify before Senate appropriators on Thursday. As noted above, some have expressed concerns about a mismatch between the proposal and the authorization act in areas like the Space Launch System and commercial crew development.
"Some individuals in the administration continue to believe that there is a pathway to a different approach than that which Congress put forward, particularly as it relates to the heavy-lift vehicle and crew capsule," said one staffer at a Women in Aerospace (WIA) forum last week on the NASA authorization act, held under the Chatham House Rule of non-attribution. "This is not a negotiation."
Some believe that the FY12 request is effectively dead on arrival. "We're not going to spend a great deal of time getting excited about a budget request that has absolutely zero chance of being accepted by Congress," said a staffer at the WIA event. Or, as Sen. Nelson said at his hearing earlier this month, "The president's budget is not going to be enacted."
"To me it's all very predictable and, at this point, very avoidable," Maser said. "But we have to change the uncertainty, and right now there's just arguing."
That, coupled with the still-incomplete 2011 budget, has industry worried about the space program's future, as the shuttle program is two flights from retirement with no clear new plan in place. "NASA has a very short period of time to work with Congress and come up with a unified position and get their act together, and let industry know what's going on," Jim Maser, president of Pratt and Whitney Rocketdyne, told reporters at a luncheon in early March. "We've got to pick something, we've got to move on."
Maser said he's worried the continued uncertainty about the future of human spaceflight will lead some companies, particularly second- and third-tier suppliers, to exit the industry in the coming months without a firm new plan in place. "In the absence of a decision in the next four to eight months, I think companies will be making decisions about space," he said.
Maser, who said he had no personal preference for NASA's future direction, gave that same message in a meeting with Bolden and deputy administrator Lori Garver immediately before his luncheon with reporters. "Pick something, run a competition, pick winners and losers, and let's move on, that was basically my message, because we're out of time," he said. He'll have an opportunity to communicate that same message to Congress this week: he's scheduled to testify before the space subcommittee of the House Science Committee on Wednesday at a hearing titled "A Review of NASA's Exploration Program in Transition: Issues for Congress and Industry."
However, beyond holding hearings, Congress has shown little appetite for tackling these issues, be it in putting together a budget or even just removing an inconvenient provision left over from last year. NASA, meanwhile, has—at least in the eyes of Congress—dragged out its study of an SLS concept while hinting it may not be fully on board the program as described in the authorization act. "To me it's all very predictable and, at this point, very avoidable," Maser said of the situation facing industry. "But we have to change the uncertainty, and right now there's just arguing."
---