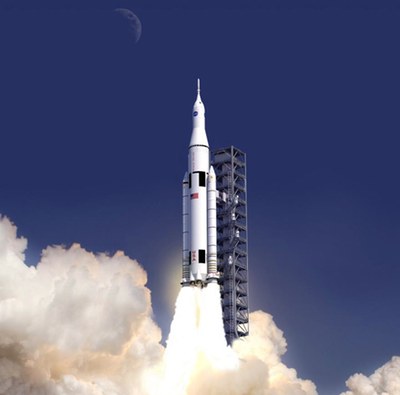 An illustration of a Space Launch System rocket lifting off from the Kennedy Space Center. (credit: NASA)
A monster rocket, or just a monster?
by Jeff Foust

Monday, September 19, 2011
For nearly a year the future of NASA's human space exploration plans revolved around the development of a new heavy-lift launch vehicle. The NASA Authorization Act of 2010, signed into law last October, included a provision directing NASA to begin development of what it prosaically called the Space Launch System (SLS), a rocket capable of launching at least 70 tons, and eventually at least 130 tons, into low Earth orbit. Coupled with the equally unimaginatively named Multi-Purpose Crew Vehicle (MPCV)—effectively a continuation of the Orion spacecraft under the now-cancelled Constellation program—these vehicles would provide NASA with the means to launch astronauts into Earth orbit and beyond.
Notably, at the press conference it was not Bolden who announced the design of the SLS but Sen. Nelson, who opened the press conference to describe what he called "the most powerful rocket in history."
Although development the SLS became law last fall, the program was slow to develop, as NASA studied how it could fit a heavy-lift rocket as described in the law into the cost and schedule constraints the act also contained. This led to allegations from some in Congress of deliberate delays by NASA and the White House, including a subpoena issued by a Senate committee in July for reports it argued should have been delivered to Capitol Hill months earlier (see "Can NASA develop a heavy-lift rocket?" and "Heavy-lift limbo", The Space Review, January 17 and July 18, 2011). Last week, though, the debate about the design of and plans for the SLS came to a swift end, at least for now.
Introducing the Space Launch System
Other than a couple rumors the night before, the first word that an SLS announcement was imminent was a media advisory issued by the Senate's Commerce, Science, and Transportation Committee just before 6 am Eastern time on Wednesday morning, announcing that NASA administrator Charles Bolden and members of Congress would participate in a press conference just four hours later, at 10 am Eastern, to unveil the design of the SLS. NASA sent out its own announcement of the press conference a short time later.
At that press conference, held in a spartanly furnished committee hearing room on the ground floor of the Dirksen Senate Office Building (media and other in attendance had to stand for the half-hour event as there were no chairs in the room) Bolden was flanked by two key senators, Bill Nelson (D-FL) and Kay Bailey Hutchison (R-TX), the chairman of the Senate Commerce Committee's space subcommittee and ranking member of the full committee, respectively; the two were the key authors of last year's authorization bill and Hutchison in particular had been critical of NASA's delays in announcing a design for the SLS.
Notably, at the press conference it was not Bolden who announced the design of the SLS but Nelson, who opened the press conference to describe what he called "the most powerful rocket in history." He unveiled two artist's conceptions of the SLS sitting on the pad at the Kennedy Space Center, showing what was clearly a shuttle-derived vehicle, although sporting a black-and-white job that harkened back to the Saturn V.
That design was not surprising given what NASA had previously revealed an interim report early this year as well as what had leaked out in the interim. The core stage of the SLS features a stretched version of the shuttle's external tank with five Space Shuttle Main Engines (SSMEs) at its base. The core stage will be flanked by a pair of booster rockets, initially five-segment solid rocket boosters (SRBs), although NASA plans to later hold a competition to select between SRBs and potential liquid-propellant alternatives. The SLS will also later have an upper stage powered by a J-2X engine, development of which has already been started as part of Constellation.
The SLS looks somewhat similar to the Ares 5 rocket that NASA had planned to build under Constellation, but with some key differences. In a press conference later Wednesday, Bill Gerstenmaier, the associate administrator in charge of NASA's new Human Exploration and Operations Mission Directorate, noted the Ares 5 had a wider diameter for its core stage (10 meters, versus 8.4 meters for SLS) and used RS-68 engines developed for the Delta IV instead of SSMEs. Those changes, he noted, make the rocket more compatible with existing ground infrastructure. "This gives us a very flexible system that we think will be affordable in the future and fully meets all the exploration needs," he said.
"I think it's no secret that we had hoped it would have been sooner," Sen. Hutchison said of the design announcement.
Work on implementing that design will start almost immediately. At the press conference, Sen. Hutchison said that work on modifying existing contracts to support work on SLS would begin soon, "maybe one or two weeks away". At the later press conference, Gerstenmaier said NASA was planning an industry day on September 29, after a release at the end of this week of a synopsis of NASA's plans for gearing up work on the rocket. He said it was unlikely that it was unlikely NASA would modify contracts in one to two weeks, as Hutchison indicated, but that the synopsis and industry day "are the first steps and the first pieces of that activity."
Ultimately, NASA plans to have the SLS ready to fly for an uncrewed test flight by the end of 2017, along with the MPCV and associated ground support systems, at a cost of $3 billion a year through 2017. After that NASA would then human-rate the rocket for crewed launches, although Gerstenmaier did not give an estimate of the cost of that work. He added that NASA would work "almost immediately" to compete the design of the SLS boosters, and would design the core stage to be able to accommodate both solid- and liquid-propellant boosters.
Ending a political controversy
The announcement of the SLS design ends, for now, a controversy that had been brewing in Washington since early this year over the design of the rocket and the perception that NASA and the administration were dragging their heels on finalizing a design for the vehicle for whatever reason, a debate that had grown particularly heated in recent weeks.
"I think it's no secret that we had hoped it would have been sooner," Sen. Hutchison said of the design announcement at the Senate press conference, "because we didn't want to lose any of the efficiencies and make sure that we didn't run up the cost unnecessarily."
In recent weeks Hutchison in particular appeared to be growing increasingly impatient at the lack of a decision on the SLS design, issuing a series of statements calling on NASA and the White House to provide various documents associated with engineering and cost studies of SLS designs, including an independent cost assessment performed by the consulting company Booz Allen Hamilton. That independent study, according to a summary of the document released by NASA in August, found that NASA's estimates (dollar values for which were not included in the public document) were "acceptable" for near-term planning but cautioned that the estimate "is not suitable for long-term budget planning or the development of a program baseline", cautioning in particular about NASA's assumption of unspecified cost efficiencies that have not been realized on past NASA programs.
Hutchison, though, saw the completion of the independent cost assessment as further evidence that NASA should press ahead with the SLS design. "I remain confident that the design concept outlined in the 2010 NASA Authorization Act, supported by the NASA technical experts, and reaffirmed though independent cost assessments, is solid and provides a path forward to a safe and sustainable national human space launch capability for future exploration beyond low Earth orbit," she said in a statement last month, one that also included a timetable of delays in the decision of the SLS and MPCV designs.
"The selection of the vehicle needed to transport our astronauts into deep space is one of the most important decisions to be made this decade," Bolden said, "and it requires a major commitment on the part of the American taxpayer."
Earlier this month, the Wall Street Journal claimed that the White House was experiencing "sticker shock" over cost estimates for the SLS, citing a report that included so-called "accelerated scenarios" that drove the total cost of the exploration architecture, including SLS, MPCV, and associated infrastructure, to as much as $62.5 billion through 2025. That led Hutchison and Nelson to issue a joint release criticizing what they called a "campaign to undermine America's manned space program" through leaks like the one published by the Journal. "No one has proposed to accelerate development," they stated. "Accelerated development is a convenient myth."
"I have felt that there was some effort underneath somewhere to delay, delay, delay, until it was too expensive," Hutchison said at the Senate press conference. Calling the report cited in the Journal article an "erroneous leak", she said she and Nelson were driven by it to "come out and say this is sabotage."
NASA officials, including Bolden, had said that they needed the time to carefully evaluate the costs of the proposed SLS designs and determine what was the best approach. "The selection of the vehicle needed to transport our astronauts into deep space is one of the most important decisions to be made this decade," Bolden said at the Senate press conference, "and it requires a major commitment on the part of the American taxpayer. And that's why the administration insisted on doing the due diligence required so that we could get it right."
That final decision apparently came just the day before the press conference, with a meeting on Capitol Hill that included Hutchison, Nelson, Bolden, and Jacob Lew, the director of the Office of Management and Budget (OMB) at the White House. "We really hunkered down, I think, on the timetable going forward," Hutchison said. "It was important to me that OMB, the administration, NASA, and members of Congress be all together. I think now, from everything that I was told and the commitments that were made, that we are."
Relations between the Senate Commerce Committee and NASA had gotten so bad that the committee started a formal investigation this summer into the delays in NASA's SLS decision-making process, issuing a subpoena for various documents associated with it. Hutchison suggested at the press conference that the investigation may be ended, or at least scaled back, now that the decision has been announced. "[Committee chairman] Sen. [Jay] Rockefeller and I will discuss the investigation and, if there are parts of it that we need to close, we will talk about that," she said. "I think we're now moving forward as a team for America, and that's where we all wanted to be."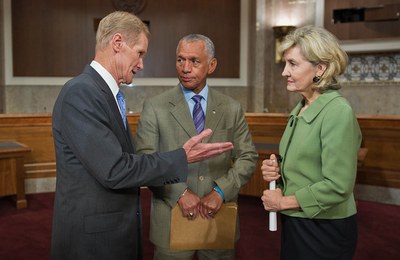 Sen. Bill Nelson (left) talking with NASA administrator Charles Bolden and Sen. Kay Bailey Hutchison at the press conference announcing the SLS design. (credit: NASA/Paul E. Alers)
Congressional and other reactions
With the release of the SLS design, members of Congress and representatives from industry by and large—with a few notable exceptions—came out in favor of the announced design, even if they also expressed some frustration about the time it took NASA and the administration to reach that decision.
"While I am pleased that the new system has been announced, it was long past due and I will continue to push this White House to comply with the law of the land and get America back into space," Rep. Pete Olson (R-TX), whose district includes the Johnson Space Center, said in a statement. "America and the aerospace industry have been in a holding pattern waiting for NASA and this Administration to display the leadership required by the law."
"America and the aerospace industry have been in a holding pattern waiting for NASA and this Administration to display the leadership required by the law," said Rep. Olson.
Olson's comments were representative of many members who spoke out about the SLS decision. "This decision to proceed with development of the Space Launch System is long overdue," said Reps. Ralph Hall (R-TX), Steven Palazzo (R-MS), and Frank Wolf (R-VA) in a joint statement. Hall is the chairman of the House Science, Space, and Technology Committee while Palazzo chairs that committee's space subcommittee; Wolf chairs the appropriations subcommittee whose jurisdiction includes NASA. "It is our sincere hope that today's announcement signals a breakthrough with this President that will help alleviate the uncertainty that has plagued our aerospace industrial base and wreaked havoc on its employees."
The science committee's Democratic leadership was more conciliatory. "I am pleased that the White House has joined Congress in committing to a sustained, productive future for the nation's human space flight program," said Rep. Eddie Bernice Johnson (D-TX), ranking member of the science committee, who also appeared at the Senate press conference announcing the SLS decision.
Companies and industry groups also backed the SLS decision, although without the political rancor expressed by some members of Congress. "Even as our economy struggles to recover from recession, the plan is a ray of hope that America's belief in a better future endures and America's continued leadership in space exploration can be preserved," declared the Aerospace Industries Association. ATK, which manufactures the five-segment solid rocket boosters that will be used at least initially for the vehicle, endorsed the SLS plan, including the planned competition for those boosters. "We are also well positioned to compete for the final design because of our proven performance and a thrust-to-weight ratio of our solid rocket motors which are ideally suited for first stage propulsion."
There were some objections to the SLS plan, though. "There's nothing new or innovative in this approach, especially its astronomical price tag, and that's the real tragedy," claimed Rep. Dana Rohrabacher (R-CA), who has been a critic of plans to build the SLS, in a statement last week. He feared that budget pressures would bring this program to an end, in much the same way the Saturn V was terminated because of budget cuts to Apollo. "Nostalgic rocketry is not how great nations invent their future," he said.
The Space Frontier Foundation also criticized the SLS plan. "The amazing possibilities offered by engaging commercial space to lower costs and develop a sustainable long term infrastructure to support NASA space exploration, settlement and a new space industry have been trumped by the greed, parochialism, and lack of vision of a few congressional pork barrelers intent once again on building a government super rocket," said Foundation co-founder Rick Tumlinson. "We've been to this party before, it was a bust then, and it will be this time as well."
Whither SLS?
So, will SLS be a bust, as critics like Tumlinson predict, or will it be the foundation for NASA's long-range exploration plans, as its supporters within and outside government expect? One thing is for certain: the challenges facing the SLS are not ending with the final announcement of its design, but only beginning.
"There's nothing new or innovative in this approach, especially its astronomical price tag, and that's the real tragedy," said Rep. Dana Rohrabacher. "Nostalgic rocketry is not how great nations invent their future."
The biggest challenge for the SLS may not be technical but fiscal. The exploration program, including SLS, MPCV, and related systems, will apparently have to fit in an annual budget of $3 billion a year through 2017. Neither NASA officials nor members of Congress said if that funding level would be held constant through that period of if that would be an average, given that development budgets tend to grow and shrink based on a project's phase. Last week Senate appropriators approved a fiscal year 2012 budget that gives SLS $1.8 billion and MPCV $1.2 billion in 2012.
Gerstenmaier acknowledged that proposed budgets will be a major constraint on the program. "We're trying to get to 2017 [for a first launch] and we see that as a pretty hard milestone of us," he said. In order to meet that deadline, he said they may have to slow down other work that supports activities beyond 2017. "We may defer some of the upper stage work, we may defer some of the other capabilities in the out years that might push the second and third flights out to the right."
Complicating matters is the uncertainty about future budgets, with all the recent attention to cutting spending in order to reduce federal deficits. A "supercommittee" of House and Senate members is starting work on long-term plans to lower deficits, with the threat that, if their work is not successful, automatic budget cuts will kick in that could sharply reduce discretionary spending, which includes agencies like NASA. Any sort of major budget cuts could force the administration and Congress to take a hard look at programs, budgets, and timetables for NASA programs.
Even without those fiscal pressures, there's the question about whether a major long-term effort like the SLS can be sustained by NASA as well as current and future Congresses and administrations. After all, it was six years ago this month that NASA announced another exploration architecture—Constellation—which featured the development of the Ares 1 and 5 rockets and the Orion spacecraft. That effort had strong initial support, but over time, as cost and schedule questions arose, doubts grew about the program's future; a change of administrations led to a fresh review of NASA's human spaceflight efforts and, last February, a decision to cancel Constellation (although Orion did survive in the form of MPCV).
Can SLS, MPCV, and the rest avoid those problems in a fiscal environment arguably far more challenging than in 2005? Supporters speak of the SLS's role in national security and prestige, in creating jobs, and ensuring American leadership. "I can tell you that in the bosom of every American there is a yearning for us to explore the heavens," claimed Sen. Nelson. "What you see over the next five to six years is the budget coming forth from the administration of about $3 billion a year for this system. Do we think we can maintain that? The answer is clearly yes."
There is one minor but telling similarity with the 2005 Constellation announcement. At last week's press conference Nelson, in apparently an off-the-cuff remark, called the SLS "the monster rocket." That sobriquet drew parallels with the Constellation announcement, where then-NASA administrator Mike Griffin called the program "Apollo on steroids." That statement was meant to convey the fact that Constellation was more than a just a repeat of Apollo, but that it also offered greater capabilities. Over time, though, that description was used against Constellation, which was hardly surprising as it came around the time the use of steroids in professional sports was coming under considerably scrutiny. For many, "Apollo on steroids" started to sound less like a new-and-improved version of Apollo but instead something that, like steroids, was unhealthy to the nation's space program.
Within hours of Nelson's description of the SLS as a "monster rocket"—a term meant to describe the vehicle's huge size and performance, including a liftoff thrust 10 percent greater than the Saturn V—opponents of the SLS were already using that phrase as an epithet. "Senator Nelson called the SLS a monster rocket and he's right," said Space Frontier Foundation chairman and co-founder Bob Werb. "Its budgetary footprints will stamp out all the missions it is supposed to carry, kill our astronaut program, and destroy science and technology projects throughout NASA."
"I hope that I am wrong about this heavy lift program, and ten years from now we are celebrating the first launch of this system to send humans beyond Earth's orbit on time and on budget," Rohrabacher said. "Otherwise this plan will suffer the same fate as Constellation: overpromised, under-delivered, and cancelled. Where will we be then?"
---