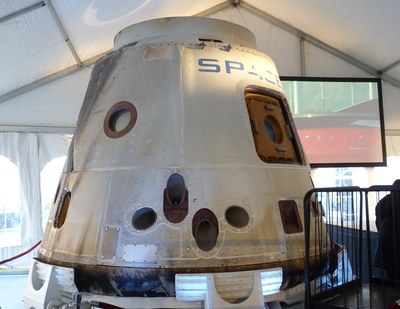 SpaceX, which flew this Dragon capsule last December, is looking to fly another Dragon this December on a mission to the ISS as part of its COTS agreement with NASA. (credit: J. Foust)
A progress report on commercial cargo and crew
by Jeff Foust

Monday, October 3, 2011
NASA's commercial cargo and crew programs have together become something of a lightning rod of debate in the last couple of years. Some see these programs as essential to both the agency and the nation by providing new means of accessing and sustaining the International Space Station (ISS), freeing up NASA resources for exploration and other endeavors, and enabling the growth of the nation's commercial space industry. Others, though, have been critical of these programs, citing delays in the commercial cargo program in particular and worries that NASA is asking too much of entrepreneurial space companies with little experience in space and especially human spaceflight.
Despite this debate, though, commercial cargo and crew has become a major priority for NASA. In recent weeks agency officials and members of Congress alike have identified it as one of the agency's top three priorities, alongside the key elements of NASA's exploration program, the Space Launch System heavy-lift rocket and Multi-Purpose Crew Vehicle spacecraft; and the James Webb Space Telescope. At a recent panel, company officials discussed the progress they were making with their cargo and crew vehicle efforts even while changes to the crew program cause concern among some advocates for that effort.
Status review
A panel session of the AIAA Space 2011 conference last week in Long Beach, California, was devoted to NASA's Commercial Orbital Transportation Services (COTS) and Commercial Crew Development (CCDev) programs, and featured representatives from all the companies that have current awards under those two programs. The two-hour panel became an opportunity for the companies to provide a status report on their efforts on those programs.
"Elon Musk, my boss, founded this company to carry crew. That means reliability drives every decision that we make," SpaceX's Shotwell said.
The two companies with COTS awards to develop cargo transportation systems are pressing ahead with launches in the coming months. Bob Richards of Orbital Sciences Corporation said that work on the company's new launch site at the Mid-Atlantic Regional Spaceport at Wallops Island, Virginia, was nearing completion. After a static fire on the pad of its new Taurus 2 rocket, Orbital will perform a demonstration launch by the end of this year, carrying a mass simulator of its Cygnus spacecraft. That will be followed early next year by its actual COTS mission, sending its Cygnus spacecraft to the ISS. Five Cygnus cargo modules and three services are currently "in flow" at Orbital's facilities, he said.
SpaceX has already flown its first COTS flight, a demonstration mission of its Dragon spacecraft and Falcon 9 rocket last December (see "2010: the year commercial human spaceflight made contact", The Space Review, December 13, 2010). It's currently waiting for approvals to fly its next COTS mission. For months SpaceX has sought to combine the milestones for its second and third planned COTS flights (aka "C2" and "C3") into a single mission, approval for which is still forthcoming from NASA. "Just to be clear, we're not combining the missions," SpaceX president Gwynne Shotwell said. "What we're trying to do is combine the third mission objectives on this next flight, to facilitate quicker turnaround of getting to berthing to the ISS and exchanging cargo."
The scheduling of that flight has been complicated not just by efforts to win approval for a revised mission plan but also the August failure of the launch of a Progress spacecraft, which has delayed the launches of the next crews of the ISS, including those trained to work with the Dragon spacecraft. "Schedules are a little bit uncertain, but we'll be up there in the next few months," Shotwell said. Although SpaceX had been targeting a launch as early as November 30, on Friday the company announced it was now requesting from NASA and the Air Force December 19 "as the first in a range of dates that we would be ready to launch."
In addition to its COTS work, SpaceX is one of four companies with funded second-round CCDev awards from NASA. Shotwell said that crew transportation has been a focus of the company long before winning the CCDev-2 award earlier this year. "Elon Musk, my boss, founded this company to carry crew. That means reliability drives every decision that we make," she said. The company is working on several areas under its CCDev award, including a launch abort system integrated into the Dragon spacecraft, rather than a "tractor" escape tower system on top of the capsule. "That is the largest piece of technology that needed to be added to the current Dragon capsule to make it applicable to crew," she said. Other CCDev-2 work covers crew accommodations and interfaces in the spacecraft.
"We believe that our incremental, long-term approach is going to develop the systems and technologies and vehicles that will result in safe and affordable spaceflight," said Blue Origin project manager Meyerson.
Other companies are also reporting good progress on their CCDev-2 awards. Boeing's John Mulholland took over management of its commercial crew efforts a few weeks ago after previously managing the company's Space Shuttle work. "It's a pretty exciting time to join this team," he said. Boeing's current and planned work under its CCDev-2 award spans a wide range of efforts, from testing of a new lightweight abort engine to parachute and airbag tests for its CST-100 capsule. "The team is really trying to capture the innovative spirit" of this work, he said, citing as an example the airbag tests for its capsule carried out a month ago. Rather than designing a "big rig" to create the horizontal and vertical velocities needed to test the airbag system, they instead put a crane on a flatbed truck and "drove it across the desert at the right speed and dropped it off."
"We are well into the vehicle design and build stage," Mark Sirangelo, head of Sierra Nevada Corporation's space systems division, said of their work on the Dream Chaser vehicle. This work has included tests of the hybrid rocket motor used for the vehicle's abort system and development of a flight simulator. He added the first high altitude drop test of Dream Chaser is planned for next summer using WhiteKnightTwo—the aircraft developed by Scaled Composites to carry aloft Virgin Galactic's suborbital space tourism vehicle, SpaceShipTwo—as the carrier aircraft.
Of the four companies with CCDev-2 awards, the most secretive has been Blue Origin, the company established by Amazon.com founder Jeff Bezos to develop suborbital and orbital space vehicles. Rob Meyerson, project manager for the company's CCDev work, provided some new insights into the company's plans in his presentation on the AIAA conference panel.
"We believe that our incremental, long-term approach is going to develop the systems and technologies and vehicles that will result in safe and affordable spaceflight," he said. That approach starts first with suborbital vehicles and then to orbital vehicles, first by placing its spacecraft on existing launch vehicles, like the Atlas 5, followed by developing its own complete reusable launch system.
Under its CCDev-2 work, Meyerson said, Blue Origin is working on its own pusher escape system, which will be used on both its suborbital and orbital vehicles, as well as accelerating development of a 440-kilonewton (100,000-pounds-force) liquid oxygen/liquid hydrogen engine intended for its later reusable booster. That engine has been under development for several years, he said, with plans to test the thrust chamber of the engine at NASA's Stennis Space Center early next year.
Meyerson also discussed why Blue Origin is pursuing a "biconic" design for its spacecraft, a hybrid of a capsule and a lifting body. "We think the biconic is kind of a 'sweet spot,'" between those two designs he said. Like a capsule, it can be easily integrated onto multiple launch vehicles. It also has a lift-to-drag ratio that offers a "soft ride" during reentry, like a lifting body, he said. (Some things, though, Blue Origin is still secretive about: Meyerson did not discuss the loss of a suborbital test vehicle, PM 2, during an August test flight unrelated to the company's CCDev work.)
"We were extremely low risk, so much so that NASA actually believed us and didn't award us a contract," said ULA program manager Mike Holguin.
In addition to the four funded CCDev companies, NASA has signed unfunded Space Act Agreements in recent months with two other companies, ATK and United Launch Alliance, to help those companies mature their launch vehicle technologies that can be used to launch some of the crewed spacecraft under development by other companies. When awarding the funded CCDev-2 agreements in April, NASA indicated it decided to focus more on spacecraft technologies than launch vehicles, believing the latter to be more mature.
"In our proposal for CCDev-2, we emphasized the fact that Atlas 5 is extremely low risk because of our launch history. We were extremely low risk, so much so that NASA actually believed us and didn't award us a contract," said ULA program manager Mike Holguin. Under its new unfunded agreement, supported by several million dollars of ULA's own money plus its partners among the funded CCDev companies that have chosen the Atlas 5, the company is working on several areas, including an emergency detection system for the rocket and a dual-engine Centaur version of its upper stage. "We have a three-year plan put together to get to an operational phase by 2015," he said.
ATK will use its unfunded CCDev agreement, announced just last month, to mature the design of its planned Liberty rocket, which uses a five-segment solid rocket booster as its first stage and the core stage of the Ariane 5 rocket as its upper stage. Combining the two will take some work, but less than some realize, according to ATK's Kent Rominger. "Interestingly, you would think that the core stage on the Ariane 5 was absolutely designed to go on our 3.6-plus-million-pound-thrust first stage, because they pair up incredibly well, just kind of naturally," he said.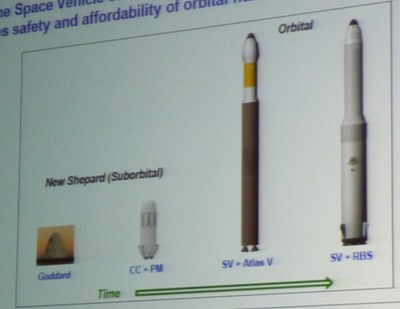 An illustration from Blue Origin's presentation at the AIAA Space 2011 conference shows the company's planned development path from suborbital demonstrators to fully-reusable orbital vehicles. (credit: J. Foust)
Contracting concerns
While companies on the AIAA panel were upbeat about their development efforts, some see a cloud over future plans for NASA's commercial crew program. At a hastily-organized forum last month at the Kennedy Space Center, program officials confirmed plans announced this summer to shift from a Space Act Agreement (SAA) used in previous CCDev rounds to a new contract that combines elements of traditional contracts based on Federal Acquisition Regulations (FAR) with SAAs for the next CCDev phase, called the Integrated Design Phase (see "Could commercial crew become less commercial?", The Space Review, August 1, 2011).
At the forum, officials acknowledged that after they announced their plans in July for that shift, they got considerable feedback from industry asking them to reconsider. "Why did we end up going to a contract when many of our partners in industry would prefer a Space Act Agreement?" asked Brent Jett, deputy manager of the Commercial Crew Program at NASA. He explained than one purpose of the CCDev program was to certify commercially-developed vehicles to fly NASA astronauts to the ISS. The focus of the upcoming Integrated Design Phase is to have a mature "end-to-end" crew transportation system at the critical design review (CDR) level, as well as a plan on how to certify that system to meet NASA's requirements in later development phases. "When you look at that objective, it's clear to me that the purpose of the Integrated Design Phase is directly for the benefit of the US government and NASA," he said. "When you talk to procurement and legal experts, they will tell you that since that is the purpose of this phase, that we cannot use a Space Act Agreement."
"When you look at that objective, it's clear to me that the purpose of the Integrated Design Phase is directly for the benefit of the US government and NASA," Jett said. "When you talk to procurement and legal experts, they will tell you that since that is the purpose of this phase, that we cannot use a Space Act Agreement."
That analysis hinges on exactly when NASA or other government agencies can use so-called "Other Transaction Authority" (OTA), which in NASA's case is an SAA. OTA gives government agencies the flexibility to use alternative, streamlined agreements with the private sector, but to avoid their being used to get around conventional procurement regulations, there are limitations on when such agreements can be entered into. At a Women In Aerospace presentation this summer not directly related to CCDev, an official from NASA's Office of General Counsel described when SAAs can be used. The presentation noted that a contract is required when the purpose of the activity is to acquire goods or services for the direct benefit or use by the government. NASA's argument is that the Integrated Design phase will be primarily for the benefit of NASA, hence some form of contract, rather than an SAA, much be used. (As for previous CCDev phases, NASA argues it has been primarily helping industry accelerate their technologies for commercial crew systems that serve multiple customers, and thus is not primarily for the benefit of the government.)
NASA officials said that the new contract will contain many elements from the previous SAAs desired by industry, including milestone-based payments, and allow companies to propose their own detailed statements of work for this phase of the effort. Companies will be exempt from Cost Accounting Standards (and the bureaucratic overhead associated with them) in this contract phase. There will also be a "balanced approach" to intellectual property, without going into greater detail, Jett said.
This shift from SAAs comes when its past use of such agreements for CCDev has come under congressional scrutiny, including a report accompanying the Senate's version of a fiscal year 2012 appropriations bill that includes $500 million for CCDev. "The Committee believes that the current practice by NASA has gone beyond what is cited under NASA's own policy directive" for using SAAs, the report states. "Such misuse of these authorities undermines the oversight of NASA in the procurement process and threatens crew safety. For future rounds of commercial crew competitions and acquisitions, NASA shall limit the use of funded Space Act Agreements as stated in the directive in order to preserve critical NASA oversight of Federal funds provided for spacecraft and launch vehicle development."
NASA's use of SAAs and other contracting mechanisms didn't come up for discussion at the AIAA panel last week. However, it will likely be a hot topic of discussion this week, when NASA holds a "pre-solicitation conference" Wednesday in Florida tied to the release two weeks ago of the draft RFP for the Integrated Design Phase of CCDev.
Worth the expense?
Even as NASA and industry grapple with how to carry out future rounds of CCDev, there's still the question of whether it, and COTS before it, have been worth the expense. Critics frequently note, for example, that both COTS companies, SpaceX and Orbital Sciences, are far behind their original schedules and that one of the original COTS awardees, Rocketplane Kistler, had to be dropped from the program and since has gone bankrupt.
An example of this skepticism was featured in the testimony of Apollo 17 astronaut Gene Cernan before the House Science, Space, and Technology Committee last month. Cernan, who has been critical of reliance on commercial providers for crew transportation, reiterated that stance. "I stand behind my assertion that it will be near the end of the decade before these new entrants will be able to place a human safely and cost effectively in Earth orbit," he stated in his prepared testimony. "I still assess that those entrepreneurs in the world of commercial space who continue their claims of being able to put humans in space in little more than three years for something less than $5 billion, today still 'don't yet know what they don't know.'"
Those who have been involved in those programs, not surprisingly, have a different opinion. "What an extraordinary program COTS has been," SpaceX's Shotwell said, emphasizing the value the government received for the money it provided. For $400 million in government money, she said, SpaceX has produced an Evolved Expendable Launch Vehicle (EELV)-class rocket, the Falcon 9, that is commercially competitive, as well as a reusable capsule, the Dragon.
"I will say, when we evaluated these [COTS] proposals, we on the NASA side certainly believed these were very aggressive schedules," he said. "We didn't change the schedules—we accepted them as they were proposed—but over time I think we're all seeing very typical type challenges in the development of very complex space systems."
Alan Lindenmoyer, who has overseen the COTS effort as manager of the Commercial Crew and Cargo Program at NASA, noted that companies all met their original negotiated milestones with no change in the value of those milestones, with the exception of Rocketplane Kistler, which failed to meet its milestones and had its agreement terminated by NASA. Additional money was added to the COTS program this last year to support additional testing milestones. "That money was used to reduce risk in the development program for our COTS partners" through the use of additional ground testing and a demonstration test flight for Orbital's Taurus 2, he said.
On schedule, Lindenmoyer acknowledged "some criticism about delays" in the original schedules. He said that he considered putting no dates in the original SAAs with the companies, since they key was to measure technical progress. NASA decided they needed dates in those agreements, but indicated they accepted the schedules proposed by the companies even if they seemed overly optimistic. "I will say, when we evaluated these proposals, we on the NASA side certainly believed these were very aggressive schedules," he said. "We didn't change the schedules—we accepted them as they were proposed—but over time I think we're all seeing very typical type challenges in the development of very complex space systems."
Going forward, the biggest challenges will be not only technical but fiscal as well: ensuring there's enough money to carry out NASA's intent to support multiple companies through both the next phase of CCDev but the one that follows, where the actual crewed systems will be built and tested. "The biggest challenge we have now is our budget," Ed Mango, manager of NASA's Commercial Crew Development program, said at the AIAA panel. "It's what I spend about eight hours of my 12-hour day on." He's hopeful that, as companies make progress and it become clear that this is NASA's primarily plan for human access to low Earth orbit, the program will win more support both on Capitol Hill and beyond. "Now I think we're getting a lot more traction both within Congress and the public."
---