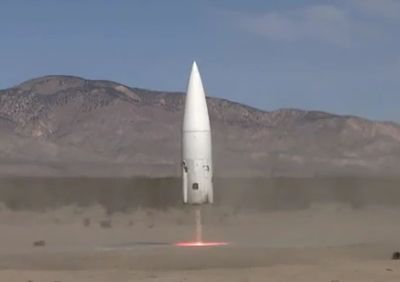 Masten Space System's Xaero vehicle lifts off on a test flight to an altitude of 61 meters in Mojave, California, last month. (credit: Masten Space Systems)
Has suborbital's time finally arrived?
by Jeff Foust

Monday, March 5, 2012
Those who have followed the emerging commercial reusable suborbital launch industry over the last several years have been stuck in a waiting game. The various companies that comprise the industry would talk about the progress they're making and promise that, in a year or two, they'd be ready to fly to space. A year or two later, they'd say, well, something similar. The future was tantalizingly just out of reach, it seemed.
The feeling in the industry today, though, it a little different. Yes, companies still talk about the progress they're making, and their plans for flights in the next year or two sound familiar. Those plans, though, seem firmer now, thanks to the technical and financial progress these companies have made. The future of low-cost suborbital spaceflight for tourism, research, and other applications might finally be just around the corner.
Building rockets and raising money
That message was evident in presentations by the five major suborbital vehicle developers—Armadillo Aerospace, Blue Origin, Masten Space Systems, Virgin Galactic, and XCOR Aerospace—at last week's Next-Generation Suborbital Researchers Conference (NSRC) in Palo Alto, California. That meeting, the third of its kind, attracted about 400 people interested in performing various kinds of scientific research and technology demonstrations on the vehicles these companies are developing.
"Hopefully, by the end of the year, [we'll] have a little air under the wheels in Mojave," Nelson said of XCOR's Lynx development plans.
Arguably he biggest development announced at the meeting by those companies had to do with money, not technology. XCOR Aerospace announced that it closed a $5-million round of funding, giving the company sufficient resources to complete the Mark 1 prototype of its Lynx suborbital vehicle. The company raised the money from a number of individual investors, including Esther Dyson, former Ameritrade COO Pete Ricketts (now a co-owner of the Chicago Cubs baseball team), and "several top Silicon Valley entrepreneurs and former venture capitalists," according to a statement released by the company.
"It's been long in the making," XCOR COO Andrew Nelson said of the new financing round at a press conference at NSRC. "We closed it a little while ago, but we are pleased to announce it here because a lot of the promise of that equity investment is right here in the research community."
The company has been making progress on the Lynx, a winged vehicle that takes off from a runway under its own rocket power, ascending to altitudes of about 60 kilometers (for the Mark 1; the Mark 2 will go to 100 kilometers or higher) before gliding back to a runway landing. Nelson said the company recently took possession of components of the vehicle's fuselage while working on other aspects of the vehicle. "We're very much looking forward to getting all of these pieces put together and hopefully, by the end of the year, have a little air under the wheels in Mojave," Nelson said, referring to the timing for the first flight tests of the Lynx.
While XCOR raises the money it needs to finish the Lynx, other companies have been building and flying their own test vehicles. In January, Armadillo Aerospace flew its STIG (Suborbital Transport with Inertial Guidance) A rocket from Spaceport America in New Mexico. The STIG-A3 rocket lifted off well, but a ballute designed to stabilize the rocket for reentry broke off, causing the rocket to reenter nose-first and crash on spaceport property. "Everything on the rocket was destroyed, except the fins and engine, which were last to hit the ground and were quite overbuilt," the company said in a summary of the flight.
Despite the reentry failure, the company hailed the flight of the rocket, which reached a peak altitude of at least 82 kilometers, Armadillo vice president Neil Milburn said at NSRC (the flight summary says the best fit to the available data is an altitude of nearly 95 kilometers). "We could have made STIG-A space-capable," that is, have it reach altitudes of over 100 kilometers, Milburn said, but instead Armadillo is pressing ahead with a larger rocket, STIG-B. The rocket features a larger diameter and other upgrades, giving it a "substantial payload capacity," he said: capable of carrying up to 10 kilograms as high as 140 kilometers, and providing four minutes of microgravity.
Armadillo has an ambitious schedule for STIG-B: a first flight of the vehicle is planned for as soon as May from Spaceport America. "That's a hell of a push," Milburn admitted. "That's the kind of operational pace we have at Armadillo." Armadillo is using the technology it's developing for the STIG rockets for a two-person vehicle, code-named Hyperion, it's developing in partnership with space tourism company Space Adventures. "We should be making some announcements later this year about just when we should see the first boilerplate flights of Hyperion," he said.
"That is something that I can't give you an exact date on, but should be some time later this year," Pomerantz said of plans for the first powered SS2 flight.
Masten Space Systems has recently performed test flights of its Xaero vehicle, a vertical-takeoff, vertical-landing vehicle based on earlier designs that won over $1 million in NASA's Lunar Lander Challenge competition in 2009. Masten CEO Joel Scotkin said the company had been stymied for a long time with an issue it found after putting an aeroshell over the vehicle. "Every time we got 18 inches off the ground our IMU [inertial measurement unit] would get confused and think we were sinking, and we would take off again," he said. They company decided "to clobber it over the head with software," which resolved the problem, he said.
Xaero made a test flight to an altitude of 61 meters last month, and higher tests flights—to thee to five kilometers—are planned "in really the very near future," Scotkin said. The company is also working on upgraded vehicles, including the Xaero B and Xaero 20, which will fly by the third quarter of this year to altitudes of 20–30 kilometers. A separate vehicle, Xogdor, will be ready by the end of the year for flights to 100 kilometers.
"Our goal is to build one of these [vehicles] every quarter at this point," Scotkin said of Masten's development schedule. "We think we have pretty much all the components in place to do that."
The most prominent suborbital company, Virgin Galactic, had little new to say at NSRC last week. Its biggest announcement was a deal with NanoRacks, a company that develops payload accommodations for the ISS, to provide similar experiment racks for SpaceShipTwo (SS2). Virgin Galactic vice president Will Pomerantz said dedicated research flights of SS2 could carry up to 600 kilograms of experiments, as well as a Virgin mission specialist to monitor the experiments during the flight.
Company officials, though, offered few new details about testing of SS2. Pomerantz and chief test pilot David Mackay, in separate presentations, would only say that powered test flights of SS2 would begin "later this year", without being more specific about a date. "That is something that I can't give you an exact date on, but should be some time later this year," Pomerantz said at the NSRC press conference. "We're already in the process of preparing the vehicle for that right now." According to the flight logs maintained by vehicle developer Scaled Composites, SS2 hasn't flown since a glide flight in late September.
Even relatively secretive Blue Origin, the company created by Amazon.com founder Jeff Bezos, provided an update on its suborbital vehicle efforts. The company generated some rare headlines last September when it confirmed reports that one of its vehicles, designated PM 2 in the company's permit from the FAA, was lost in a test flight at its west Texas facility. Brett Alexander, the director of business development and strategy for Blue Origin, said the loss, while unfortunate, was not unexpected. "It was not meant to be the operational vehicle," he said. "We are building the next vehicle now."
PM 2, lost at an altitude of 13,700 meters and a speed of Mach 1.2, was designed to go to 100 kilometers altitude, Alexander said. The next major milestone for the company—at least, one it is willing to announce—is this summer, when it will conduct a pad abort test of the pusher escape system for the vehicle's crew capsule. That test is being performed as part of its second-round Commercial Crew Development (CCDev-2) award from NASA for orbital vehicles, but the same system would also be used for suborbital vehicles.
Alexander, though, wouldn't provide any information on when the next suborbital test flights will take place. "We are constructing the next test vehicle now, but we're not discussing when that's going to be flying."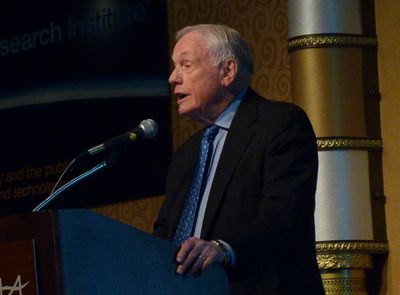 Neil Armstrong talks about the X-15 program and suborbital spaceflight at the Next-Generation Suborbital Researchers Conference no February 27. (credit: J. Foust)
Armstrong speaks on suborbital
Perhaps the biggest endorsement of the progress the commercial suborbital industry is making was the presence of someone else at NSRC, a former X-15 test pilot better known for his time as a NASA astronaut, including one historic mission: Neil Armstrong.
"This has been an area that has been essentially absent for about four decades, after the X-15 finished its job. There's a lot of work to be done there, and there's a lot of opportunity," said Armstrong.
Armstrong's keynote at the conference focused almost exclusively on the development of X-planes after World War Two, and in particular the X-15, which he noted was built for speed, not altitude. "Burt [Rutan] occasionally ribs the government for spending hundreds of millions in attaining an altitude that was achieved by SpaceShipOne for a small fraction of that amount," Armstrong said. "The X-15's purpose was to fast and hot; the faster and hotter, the better. It was not designed to fly high."
At time of the X-15 program, Armstrong said, he and others involved weren't thinking about potential research or commercial suborbital applications. "We'll get the data that is necessary for people to practically go into suborbital space and do things," he recalled. "And whether they do or not, that was not our business, because at that time we were off doing something else."
He didn't directly discuss the emerging commercial suborbital vehicle developers in his talk, but expressed hope they would find success. "Certainly in the suborbital area there are a lot of things to be done," he said. "This has been an area that has been essentially absent for about four decades, after the X-15 finished its job. There's a lot of work to be done there, and there's a lot of opportunity. So I certainly hope that some of the approaches that you all are providing now will prove to be profitable and useful."
Armstrong's presence alone at the conference was taken as an endorsement of the field by some participants. "I think it was extremely important that Mr. Armstrong was here," said XCOR's Nelson. "It shows that a gentleman of his stature is, number one, aware of what we're doing. He recognizes the importance of it enough to show up here."
"I think that this shows that commercial suborbital, while being leading edge, is also becoming mainstream," said Alan Stern, associate vice president of the Southwest Research Institute and conference organizer. "I think Neil's being here is a pretty certain demonstration of that."
Of course, those vehicle developers need to deliver on their plans and promises. History has shown those schedules have slipped: for example, at the first NSRC, held two years ago in Boulder, Colorado, both Virgin Galactic and XCOR said they would be doing powered flight tests of their vehicles in 2011; neither did (see "Suborbital research gets ready for liftoff", The Space Review, March 1, 2010). They or other companies could still see delays in the coming year. But as multiple companies, with differing technical approaches, each demonstrate progress towards suborbital spaceflight, the era of routine, reliable, low-cost suborbital space access may finally soon really be within reach.
---