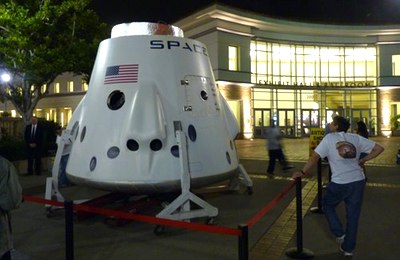 A model of a crewed version of SpaceX's Dragon spacecraft on display at the Pasadena Convention Center on the evening of August 5. SpaceX is one of three companies that received earlier that day funded commercial crew agreements to support projects like a crewed Dragon. (credit: J. Foust)
Commercial crew's winners and losers
by Jeff Foust

Monday, August 6, 2012
Throughout the summer, those following NASA's commercial crew program had been playing a guessing game: when would the agency announce the winners of the next round of funded Space Act Agreements, called Commercial Crew Integrated Capability, or CCiCap? NASA had given only a vague schedule—some time in July or August—leading to speculation regarding not only who would win the awards, but when. Many thought, though, that NASA would block out the period around the landing of its Curiosity rover, late in the evening of August 5, lest the publicity for the two events conflict with each other.
Well, so much for that strategy. In fact, NASA announced Wednesday, August 1, that it would reveal the CCiCap winners on the morning of Friday the 3rd, or less than 72 hours before Curiosity's landing. That rollout, featuring speeches at the Kennedy Space Center and a flurry of telecons, still attracted plenty of attention before the rover's landing overtook the news cycle. The announcement settled some, but not all, of the uncertainty about the companies that will be involved in the commercial crew effort going forward, although bigger issues about the overall commercial crew effort remain.
NASA unveils the winners
The official announcement of the CCiCap winners came in a press release issued at 9 am Eastern time on Friday, followed an hour later by statements by NASA officials, including administrator Charles Bolden, at the Kennedy Space Center. "Our commercial crew and cargo efforts are based on a simple but powerful principle: by investing in American companies and American ingenuity, we're spurring free market competition to give taxpayers more bang for the buck," Bolden said. "The ultimate goal of our commercial crew space program is to bring human spaceflight launches right back here to American soil and end the outsourcing of these important jobs."
"If you looked at the proposals we received, the stronger proposals were the three that we talked about," said Gerstenmaier.
And what American companies was NASA investing in? Speculation leading up to last week's announcement had focused on four companies: ATK, Boeing, Sierra Nevada Corporation, and SpaceX. The latter three had funded Space Act Agreements under the second round of the Commercial Crew Development program, or CCDev-2, while ATK had an unfunded CCDev-2 agreement. However, not all could win: under an agreement between Bolden and key House appropriator Rep. Frank Wolf (R-VA), who chairs the appropriations subcommittee that funds NASA, the space agency agreed to make only "two and a half" awards: two full-sized awards and a third "partial" award that would keep that company in the program, but at a lower pace.
NASA decided to reward the funded CCDev-2 companies. Boeing won the largest award, at $460 million, while SpaceX for the other "full" award, with a $440-million agreement. Sierra Nevada got a smaller award, at $212.5 million. All three are milestone-based agreements like the previous two commercial crew rounds, as well as the earlier Commercial Orbital Transportation Services (COTS) cargo program, with companies earning money only when they achieve specified milestones in the agreements. ATK, which has submitted a proposal, did not receive a funded award. (Blue Origin, the fourth CCDev-2 company, did not submit a CCiCap proposal; three other obscure companies—American Aerospace, Space Design, and Space Operations—submitted proposals that were rejected for not being technically acceptable.)
NASA officials in a media teleconference Friday morning were reticent to go into details about its CCiCap selections. "If you looked at the proposals we received, the stronger proposals were the three that we talked about," Bill Gerstenmaier, NASA associate administrator for human exploration and operations, said, referring to the winning three companies. Those companies' proposals, he explained, met the goals outlined in the original CCiCap solictation in a "much stronger fashion than ATK's did." He promised to release a source selection statement in a week to a week and a half, after debriefing the companies.
NASA officials also cautioned not to read too much into the specific dollar amounts in the agreements. "Nobody should infer that the amount of the awards translates into a rank order of these companies. That's not how it was done," Phil McAlister, director of commercial spaceflight development at NASA. Instead, he and Brent Jett, the deputy director of the Commercial Crew Program, explained that the milestones and amounts were negotiated individually with the companies. "The funding profile is related to the overall development plan the company has in place," Jett said.
However, officials did acknowledge that Sierra Nevada did get a smaller award to satisfy the "two-and-a-half-award" requirement of the deal between NASA and Rep. Wolf. "Two of them are funded essentially all the way to critical design level of maturity," Gerstenmaier said, referring to Boeing and SpaceX, "and the third company [Sierra Nevada] will not get quite to the critical design review level but will essentially retire all of the significant risk associated with their unique design."
The amount of money for the various milestones was also tied to the funding NASA anticipates for the program in the next fiscal year. Another element of the NASA-Wolf agreement was that Wolf would support the Senate's proposed funding level of $525 million for commercial crew in its version of the fiscal year 2013 appropriations bill, compared to $500 million in the House version. "That's conceptually what we looked at when we put this profile together," he said, so that the funding would be available for all the milestones in fiscal year 2013 if the companies achieve them on schedule. (Additional funding will be required in fiscal year 2014 to cover the milestones that extend into the first part of that year.)
"One thing that we have really been aggressive at is looking across Boeing," sand Mulholland. "From across Boeing we have been getting help on being able to incorporate innovative approaches to make our team and our product more efficient."
There are wild cards in the appropriations process, though, including both the threat of across-the-board cuts due to budget sequestration and the likelihood for an extended continuing resolution (CR) that would fund government agencies at 2012 levels for up to six months after the 2013 fiscal year begins on October 1. "That's factored into this overall plan so we can tolerate a continuing resolution for a period of time," Gerstenmaier said. "We'll be prepared to react to what we need to if we get some different levels, and we have the ability to negotiate and move some things if we need to."
The companies respond
The three winning companies each had a slightly different angle on their plans for vehicle development and how that sets them apart from the competition. Boeing's $460-million award includes 19 milestones that takes the company through critical design review (CDR), covering both development of its CST-100 crew vehicle as well as upgrades to the Atlas V rocket from United Launch Alliance that will launch it.
One thing that sets Boeing's bid apart, company officials said, was the breadth of capabilities at Boeing overall, including in its much larger aircraft business units. "One thing that we have really been aggressive at is looking across Boeing," said John Mulholland, vice president and program manager of commercial programs within Boeing Space Exploration, in a telecon with reporters Friday morning. "We have been able to bring in innovative approaches to the workflow, to our design. So from across Boeing we have been getting help on being able to incorporate innovative approaches to make our team and our product more efficient."
Most of the work that Boeing will do under the CCiCap award will be to mature the design from the preliminary design review phase, which it completed under its previous commercial crew award, to the CDR. "We're taking all the subsystems through design maturation, which includes across-the-board development tests," said Mulholland. "Along the way we'll be doing a number of risk-reduction tests."
Boeing's award was only slightly modified from what the company proposed in order to bring the total value down from $500 million, Mulholland said. "We were able to minimize any schedule slip" from reworking the milestones, he said. Boeing moved the completion of its structural test article out by about four months—the only milestone it changed—while keeping the CDR, the major goal of the overall CCiCap program, on schedule.
SpaceX, the other company that won a "full" CCiCap award, had been widely expected to win a award regardless of the competition given its recent success with the cargo version of the Dragon (see "A test of technology and a validation of vision", The Space Review, May 29, 2012). One might be excused for thinking that SpaceX thought they had the CCiCap award in the bag given the low-key manner of company CEO Elon Musk in a conference call with reporters Friday morning.
"If someone were to stow away on the cargo version of Dragon, they would have actually been fine on the last mission," said Musk.
That wasn't the case, though. Instead, he was simply a little tired. "I've actually just gotten very little sleep because I was quite keen to hear the announcement this morning," he explained. (The announcement of the CCiCap awards was made at 6 am Pacific time.) "I'm actually super excited about it."
The SpaceX CCiCap award includes 14 milestones, through CDR, with a total value of $440 million. Those milestones include a pad abort test of the Dragon's escape thrusters, as well as an in-flight abort test, where the Dragon uses its thrusters to escape from its Falcon 9 launcher during ascent. Both of those tests are slated to take place from the SpaceX launch site at Cape Canaveral, although Musk suggested in the telecon that at least the pad abort test could take place elsewhere as a safety issue.
Musk said he believed that SpaceX has an advantage over Boeing and Sierra Nevada because of the company's long-term vision of putting people into space. "Human spaceflight has been the goal of SpaceX since the beginning, so the way we've designed the Falcon 9 and Dragon is to comply as best we can with the NASA human rating requirements," he said. "If someone were to stow away on the cargo version of Dragon, they would have actually been fine on the last mission."
He also played up the economic benefits the company could provide to Florida, envisioning 1,000 jobs at its Cape Canaveral launch site within four to five years, plus several times that in indirect jobs linked to those activities. He said SpaceX would put "hundreds of millions of dollars" of its own money into the crew development project, which he estimates will have an overall cost of about $1 billion.
Sierra Nevada, which got the smaller award that leaves the company short of achieving CDR, argued that it didn't feel like it was losing ground to its competitors despite the smaller award. Mark Sirangelo, vice president of Sierra Nevada and head of its Space Systems division told reporters on a media telecon Friday morning that he feels the company is not behind Boeing and SpaceX for two reasons. "We're riding the Atlas V rocket, which has now flown 31 times," he said. "We have a significant amount of rocket risk behind us." Boeing, of course, is also using the Atlas V, but SpaceX is using its own Falcon 9, which has flown only three times—all successfully—to date.
"We believe that we're going to be able to maintain the same pace," said Sirangelo. "We're on schedule and on budget for what we want to do with the program."
The other reason, he said, is that Dream Chaser is based on NASA's HL-20 lifting body design, which the agency developed over the course of a decade. "When you take that history plus the eight years that we've been working on it, we actually have a significant amount of work that has been done." The combination of that spacecraft design heritage and launch vehicle record helps level the playing the field, Sirangelo concluded. "It may appear as though we're behind, but in our view we think that in many ways we're more mature."
While the size of SNC's Space Act Agreement, which includes nine milestones, is smaller than the other two, Sirangelo said it may be possible to get more money through the exercise of additional, optional milestones. On the company's CCDev-2 award, he said, the company won $25 million in such additional milestones. "We were not the largest award in the base period of the last round, but we wound up actually getting and earning the largest amount of money from that program," he said. "We believe that we're going to be able to maintain the same pace. We're on schedule and on budget for what we want to do with the program."
Left out of the awards was ATK, which proposed its Liberty launch system, featuring a two-stage rocket with an ATK five-segment solid rocket booster for the lower stage and an upper stage derived from the Ariane 5 core stage and provided by EADS Astrium, as well as a capsule whose contractors included Lockheed Martin.
The company provided only a brief official comment on its loss in the CCiCap competition. "ATK and the Liberty Team are disappointed that we were not selected by NASA" for a CCiCap award, it read. "We continue to believe Liberty provides the safest, most cost-effective crew and cargo transportation systems, as well as the fastest path to recover America's human launch capability and engage the workforce and facilities at Kennedy Space Center, Johnson Space Center, and others. We look forward to a debriefing from NASA."
Work on Liberty has been based at ATK's Utah facilities, where it also builds the solid rocket motors it would use. Members of the state's Congressional delegation came to the company's defense on Friday. "I am disappointed and disheartened by the news that NASA has excluded ATK from the companies" that won CCiCap awards, said Rep. Rob Bishop (R-UT) in a statement. "It was my understanding that ATK's Liberty proposal ranked very high in technical merit, and was the lowest-risk option," he added, although NASA has yet to disclose the details of its selection process.
In comments Bishop and his office provided to a local newspaper, the Ogden Standard-Examiner, he suggested political factors may have played a role. "I have been concerned that favoritism may be playing far too prominent a role in NASA's decision-making process, especially with regard to companies closely tied to key NASA officials," he said, citing among other factors various visits by NASA leadership to some of the companies that won awards but not to ATK.
Bolden, though, said at Friday's announcement that he was not involved in the selection process. "I was not privy to know how many companies submitted, who submitted, and I did not want to know," he said. "When you talk about the integrity of the process, I was briefed by Bill Gerstenmaier the day before yesterday on what was going to happen."
Those comments from Bishop, though, hint that it may not yet be smooth sailing ahead for NASA's commercial crew program. While the CCiCap awards were a major milestone, the companies that received those awards will have to work to achieve the milestones the contain over the next 21 months, while NASA and the program's supporters will have to work to keep the program sold, and funded, on Capitol Hill.
---