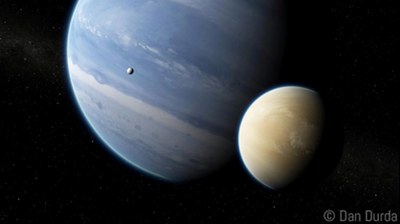 The sheer number of exoplanets thought to exist in our galaxy requires innovative approaches to naming them. (credit: Dan Durda)
Space funding via public engagement: Uwingu launches a new way
by Alan Stern and Geoff Marcy

Monday, November 12, 2012
Last year, some of our fellow astronomers estimated that there are over 160 billion planets in our galaxy, the Milky Way. Amazing: 160 billion—that's billion with a B! It's such a large number—almost 20 times the population of the Earth—that no astronomer, no committee of astronomers, not even any professional society of astronomers can realistically construct a planet catalog that long. After all, even if all the world's 15,000 or so astronomers stopped all other work and did nothing but list names once per minute, every work day, and no duplicates or writers block ever occurred, it would still take almost a century for them to write down 160 billion names!
When we name things, we connect with them personally.
The solution? At Uwingu, we're engaging public—the people who pay for all the astronomical discoveries—to create a galactic baby book of planet names for astronomers to choose from. This is a way to engage the public in modern space science in a direct and personal way.
After all, naming things is a distinctly human trait. We name our children as soon as they are born. We name our pets as soon as they are ours. People name streets and other places, ranches, boats, businesses, and so much more. When we name things, we connect with them personally. Uwingu wants to capitalize on that very personal connection, via a broad public engagement campaign, to create a list of candidate names for the myriad planets across the galaxy, and in doing so, to create a new revenue stream for space exploration, research, and education.
Since name nominations generate contributions to The Uwingu Fund for space exploration, research, and education, people and organizations can put as many names in the Uwingu planet names database as they like! As examples, people can name them for themselves, their favorite places, their favorite sports teams or music artists, their favorite authors or politicians, their alma mater, their company, or for their loved ones and friends.
Almost anything goes—it's as wide open as the naming of places has been by the explorers and settlers who tagged the countries, towns, rivers, and mountains of Earth.
One can also nominate names in other languages than English. The only rules are that names have to be less than 50 characters long, not be purely or essentially numbers, and they can't be insulting, profane, or pejorative.
But what may be most interesting in its outcome is that Uwingu is also asking the people of Earth to vote on their favorite planet names in the Uwingu database to help guide astronomers' choices. What names will rise to the top?
Uwingu is connecting people to the sky and space in new ways. And by doing so, we're also creating a way to fuel space exploration, space research, and space education a whole new way.
---