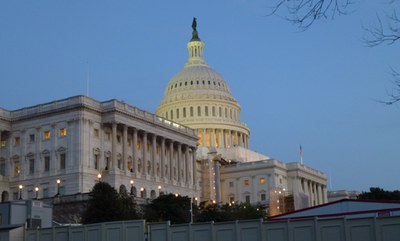 How Congress and the White House deal with potential budget cuts could be the biggest space-related issue for 2013. (credit: J. Foust)
Key space issues for 2013
by Jeff Foust

Monday, December 31, 2012
The end of the year is a natural time to reflect on the past year's accomplishments and failures. And, in 2012, there's a lot to reflect upon, from the successful landing of the Mars rover Curiosity to the beginning of commercial cargo flights to the International Space Station. There was also plenty of drama about the future of NASA's Mars exploration program and its planetary science program in general (as yet unresolved, along with the rest of the NASA budget); steady, if slow, progress on both large government space projects and smaller commercial suborbital efforts; and the unveiling of some audacious, long-term private space efforts that generated both excitement and skepticism.
It is, though, more useful to look ahead: what can we expect for the coming year in space? Several key issues are immediately apparent, from ongoing debates about federal spending, including the looming specter of across-the-board budget cuts, to upcoming milestones for suborbital and orbital commercial vehicles. The success—or failure—of these efforts could have significant implications for both public and private sector space efforts in the years to come.
Stumbling over the fiscal cliff
The biggest, and most immediate, issue for 2013 is the status of the federal budget, including funding for NASA and military space programs. It's not uncommon for the final disposition of a budget to stretch out from the beginning of the fiscal year (in October of the preceding calendar year) to the beginning of the calendar year and beyond. This time, though, the completion of the budget is complicated by what's become known as the "fiscal cliff," the combination of tax increases and spending cuts triggered this week unless Congress and the White House can develop an alternative approach to reduce budget deficits.
While hyped as the fiscal cliff, the onset of those budget cuts would, initially, be something more like a fiscal bunny slope.
As this article was prepared for publication, on the morning of December 31, there was no sign of a breakthrough in the tense discussions among the President and the leaders of the Senate and the House of Representatives on a deal that would avert the fiscal cliff. That increases the likelihood that the automatic budget cuts, known as sequestration, go into effect on January 2. For NASA, that means a cut of over eight percent from its fiscal year 2012 budget.
While hyped as the fiscal cliff, the onset of those budget cuts would, initially, be something more like a fiscal bunny slope. "Under sequestration, we would still have funds available after January 2, but our overall funding for the remainder of the year would be reduced," NASA administrator Charles Bolden said in a memo to agency employees on December 20. That, he said, is different from past government shutdowns when stopgap appropriations bills expired. "For these reasons, I do not expect our day-to-day operations to change dramatically on or immediately after January 2, should sequestration occur."
However, if the sequestration cuts are not immediately rolled back, or do become permanent, there would be significant implications for agency programs. The cuts are made at the account level (i.e., science, exploration, space operations), so NASA could not, for example, transfer money from science programs to support development of the Space Launch System and Orion, or vice versa. The agency would, though, have more latitude to reapportion funding within those accounts—say, from SLS and Orion to commercial crew, or vice versa—although it's likely supporters of various programs in Congress and in the broader space community will closely watch any efforts along those lines.
Those cuts would also result in layoffs among the contractors supporting NASA. (The agency's civil servant workforce is protected from layoffs by the 2010 NASA authorization act, although some could be furloughed temporarily.) In a report released earlier this month, the Aerospace industries Association estimated that about 20,700 jobs would be lost nationwide if NASA's budget was sequestered, a figure that includes both those directly working on NASA contracts as well as those involved indirectly. "This report demonstrates that the biggest single threat to our space programs' continued success are arbitrary and capricious budget cuts," said AIA president Marion Blakey.
Even if sequestration is somehow avoided in the final hours of 2012, there will likely be budget tensions within NASA in 2013 and late years. "The one certainty is that the budget situation is going to be pretty grim going forward," said Marcia Smith of SpacePolicyOnline.com at a Secure World Foundation (SWF) forum in Washington in early December. She foresaw in particular a clash between the SLS and Orion programs and commercial crew. "I don't know if we're looking at a train wreck that's going to happen in the next year or two, or if we're just going to end up stretching out programs," she said.
Those cuts may still be avoided, but at this late date, and with the little progress seen so far, it appears increasingly likely that sequestration will take effect—perhaps only temporarily—this week. The debate in Congress on this topic has made it difficult for it to consider other, far less controversial legislation, including one for the space industry. In November, the House passed HR 6586, a bill that extends the commercial launch indemnification regime by two years. That system, set to expire today (December 31), protects commercial launch operators from third-party damages above a "Maximum Probable Loss" level determined during the launch licensing process that companies are financially responsible for.
The bill passed in the House on a voice vote with very little debate, yet the short piece of legislation—it merely amends existing law by changing the expiration date of indemnification to December 31, 2014—has yet to be taken up by the Senate, and other efforts there to extend the provision, such as putting an amendment into the defense authorization bill the Senate passed earlier in the month, also failed. At a space law forum this fall, a SpaceX official said that they would continue to carry out their launches without indemnification, but anticipated paying higher insurance rates.
Implementing export control reform
Despite the lack of action on sequestration or launch indemnification, the commercial space industry got a long-awaited victory this month in the defense authorization bill. The conference report that reconciled the House and Senate versions of bill—and subsequently passed by both houses—included satellite export control reform language that the industry had been seeking for more than a decade and which appeared to be a "do or die" situation this year (see "A space policy to-do list for after the election", The Space Review, October 15, 2012).
"By repealing an outmoded law from more than a dozen years ago, Congress has significantly aided the competitiveness of the US satellite industry, a crucial driver for the success of the US space and technology sectors," said Cooper of export control reform.
The bill strikes a provision from a fiscal year 1999 defense bill that moved satellites and related components to the US Munitions List (USML), thus putting them under the more restrictive purview of the International Traffic in Arms Regulations (ITAR). That made it more difficult for US companies to export satellites and satellite components, even to NATO allies and other friendly nations, a major obstacle for smaller companies without dedicated staff with experience in this area.
"By repealing an outmoded law from more than a dozen years ago, Congress has significantly aided the competitiveness of the US satellite industry, a crucial driver for the success of the US space and technology sectors," said Patricia Cooper, president of the Satellite Industry Association (SIA), an industry organization that had been advocating for export control reform for years.
"By treating satellites and even the nuts and bolts that hold them together as lethal weapons, we are turning our backs on American innovation," said Rep. C.A. "Dutch" Ruppersberger (D-MD), ranking member of the House intelligence committee and a supporter within Congress of export control reform. "For too long, the makers of American satellites and their parts have gotten weaker as their foreign competitors get stronger. Today we say, 'not anymore.'"
Such celebrations are a little premature, though. First, the bill has not, as of Monday morning, been signed into law, although President Obama is expected to sign it before the new Congress convenes on Thursday. Moreover, the legislation itself does not move satellites and related components off the USML. Instead, it simply restores to the president the authority to make that determination, something he already has for every other item on the list.
A key issue to watch in 2013, then, will be how quickly the administration seeks to implement reform, and what items it plans to take off the USML. A report released earlier this year by the Defense Department, known as the "section 1248 report" for the section of the 2010 defense authorization bill that requested it, concluded that many items on the USML, including communications satellites, remote sensing satellites with resolutions below certain thresholds, and components associated those satellites, could be safely moved off the USML and onto the less restrictive Commerce Control List (CCL) without harming national security.
To do so, though, the administration will still have to jump through some hoops. The defense authorization act included provisions that require any review by the administration of Category XV of the USML, which includes satellites and related components, be an interagency effort with the participation of the Departments of Commerce, Defense, and State, along with the Director of National Intelligence. The bill also requires that the administration file a report describing any differences in the administration's approach with what it outlined in the section 1248 report. That report is due when the administration files with Congress its first "38(f)" notification to move a space-related item from the USML to the CCL. The bill also prohibits, as expected, exports of satellites or related components to China, North Korea, and any state sponsors of terrorism.
Commercial space efforts
Some commercial space advocates hope that the export control reform breakthrough in the defense authorization bill will allow the administration to revisit whether crewed commercial suborbital vehicles should be on the USML or not. "These vehicles have innumerable civilian uses, and should be on the Commerce Control List, where many dual-use technologies with predominantly civilian uses are already regulated," said Stu Witt, CEO of Mojave Air and Space Port and president of the Commercial Spaceflight Federation, in a statement about passage of export control reform language.
Some commercial space advocates hope that the export control reform breakthrough in the defense authorization bill will allow the administration to revisit whether crewed commercial suborbital vehicles should be on the USML or not.
And 2013 may finally be the year when these piloted commercial suborbital vehicles start flying in space. On December 19, Virgin Galactic's SpaceShipTwo (SS2) performed its first glide flight in a "powered flight configuration," with its hybrid rocket motor installed. That brings SS2 ever closer to its first powered flight, as the motor completes a series of static fire tests on the ground. Virgin Galactic said in a statement that it planned to perform at least two more glide flights in this configuration before the first powered flight.
Virgin's neighbor in Mojave, XCOR Aerospace, is also making progress towards the first flights of its Lynx suborbital spaceplane. While the company had, earlier in the year, talked about having the first, very low level ("air under the gears," in the words of company officials) powered flights of the Lynx by the end of 2012, those flights have not started yet. "We are progressing quickly on building and fielding the Lynx and flying it in the new year," XCOR COO Andrew Nelson said in October at the International Symposium for Personal and Commercial Spaceflight in New Mexico.
Early 2013 should also see the first flight of a new orbital launch vehicle, the Antares, developed by Orbital Sciences Corporation as part of NASA's Commercial Orbital Transportation Services (COTS) program. After extended delays because of work on its new launch pad at the Mid-Atlantic Regional Spaceport in Virginia (and, later, because of cleanup after the passage of Hurricane Sandy), an Antares test article is now on the pad undergoing tests. A "hot fire" test of the first stage engines of the Antares is planned for January, with the first launch now planned for February. If successful, a second Antares launch, carrying the first Cygnus cargo spacecraft to the ISS, would take place as soon as April.
The other vehicles developed under COTS, SpaceX's Falcon 9 rocket and Dragon spacecraft, already made their first trips to the ISS in 2012. The next Falcon 9 launch is now planned for late February or early March, SpaceX president Gwynne Shotwell said earlier in December, as the company wraps up the investigation into the shutdown of an engine in the first stage of the Falcon 9 in October's Dragon launch to the ISS. "I think we've got a good most probable cause identified" for the shutdown, but declined to give specifics about that cause during a Washington Space Business Roundtable luncheon speech.
SpaceX has an ambitious manifest for 2013, including Dragon missions to the ISS as well as commercial satellite launches, as it introduces an upgraded version of the Falcon 9, designated v1.1, with more powerful Merlin 1D engines and stretched fuel tanks. The company also has plans for the inaugural launch of the larger Falcon Heavy later in the year from a new launch site at Vandenberg Air Force Base in California. SpaceX has also been working on technology for a reusable version of the Falcon 9, performing three test flights in late 2012 of a vehicle called Grasshopper: a Falcon 9 first stage with a single engine and four landing legs, to test powered vertical landings. In the most recent flight, on December 17, the rocket spent nearly 30 seconds aloft, flying to an altitude of 40 meters. SpaceX said in a statement that "successively more sophisticated flights [are] expected over the next several months."
Implementing a revised Mars program
One of the biggest highlights of 2012 was the successful landing of the Curiosity rover on the surface of Mars. NASA had hyped the landing as "seven minutes or terror," but the landing went about as smoothly as anyone has expected (see "From terror to triumph", The Space Review, August 6, 2012.) The rover is now moving across the floor of Gale Crater on a mission that, barring technical issues, should last several years, offering scientists with new insights about Mars, including how habitable the planet may have once been.
How NASA implements a 2020 Mars rover mission, and what friction it might generate within the scientific community particularly if budgets are further cut under sequestration, will be an issue to watch closely in 2013 and beyond.
This year will see the launch of another NASA Mars mission, an orbiter called Mars Atmosphere and Volatile Evolution Mission (MAVEN) that will study the planet's atmosphere. For much of 2012, though, MAVEN appeared to be the end of NASA's Mars program, after NASA announced in the release of its fiscal year 2013 budget proposal that it was terminating its participation in ESA's ExoMars missions, including a 2016 orbiter and 2018 lander and rover. NASA convened a committee called the Mars Program Planning Group to evaluate options for future Mars missions in 2018, 2020, and beyond, while many in the planetary science community pushed back against those plans as well as a proposed 20-percent cut in funding for NASA's overall planetary science program.
By the end of 2012, though, the situation wasn't as bleak as it appeared earlier in the year, at least for Mars advocates. Two weeks after Curiosity's landing, NASA announced it selected a Mars lander called InSight as the latest mission in its Discovery program of lower cost Mars missions, beating out proposals for missions to a comet and Saturn's moon Titan. And, in December, NASA surprised many by announcing that it would fly a copy of the Curiosity rover to Mars in 2020.
A science definition team will work in 2013 to determine the instruments that this new, as-yet-unnamed rover will carry. However, many expect that the rover will be able to cache samples for return to Earth on later missions, a mission identified as a top priority by planetary scientists in their most recent decadal survey (see "The resurrection of Mars Sample Return", The Space Review, December 10, 2012.) How NASA does that, and what friction it might generate within the scientific community particularly if budgets are further cut under sequestration, will be an issue to watch closely in 2013 and beyond.
Culture, code, and China
Besides these big issues, there are a number of smaller ones to watch in 2013. One of them deals with the future, if any, of a proposed code of conduct for outer space activities. The European Union has proposed such a code, and in 2012 the State Department expressed its support for the concept of a code, although not explicitly endorsing the EU proposal. That raised concerns among some in Congress that the code was a step towards space arms control treaties that they opposed.
In the defense authorization bill passed this month, a provision addresses that issue, requiring the administration, should it sign any such code of conduct, to certify "that such agreement has no legally-binding effect or basis for limiting the activities of the United States in outer space." In addition, the administration is required to provide briefings to Congress about the status any code negotiations and notification upon signing of any such document.
However, those provisions may be moot since there seems to be little, if any, progress on the development of a code of conduct. "It's a good idea in principle. However, I believe it's largely dead," said Scott Pace of George Washington University's Space Policy Institute at the SWF event. "The diplomatic aspect of that has been so badly fumbled that I don't really think there's a prospect right now for how to move forward with it."
SWF's Brian Weeden wasn't quite as ready to write off the code, but acknowledged the prospects for it weren't good. Nonetheless, he said, it made sense to continue international dialogue on issues raised by the code. Such discussions are likely to include China, as some people play up a rivalry between the two nations. But others still hold out hope for increased cooperation between China and the US, noting that China's competition is more with other Asian space powers, like India and Japan, than with America.
"I would see forthcoming, maybe in the next four years of the Obama Administration, an opening on a government-to-government cooperative basis for space cooperation between the US and China," said Eligar Sadeh of Astroconsulting International. "China really is looking for the United States to take the initiative and lead" on space cooperation between the two nations.
The challenges with dealing with China, not to mention other obstacles like reduced budgets, point to a need for changes in culture in various government agencies and other organizations, including a willingness to adopt other approaches of doing business that can be faster and less expensive that current methods.
The SIA's Cooper said at the SWF event that she sees this need for cultural changes with respect to hosted payloads, where government payloads are flown on commercial satellites for far less cost than a dedicated spacecraft (see "An opening door for hosted payloads", The Space Review, October 29, 2012). "Almost everyone agrees that hosted payloads… is a good idea," she said. "The administrative and programmatic bureaucracy and structure" of government agencies remain a barrier to more widespread use of hosted payloads, though.
Weeden said the military needed to be more open to more effective, less expensive ways of processing space situational awareness (SSA) data, such as those already in use in the private sector for much bigger data sets. "The institution and the culture are not able to deal with this kind of challenge," he said of the military's approach to SSA data analysis. "If you gave that problem to Google or Facebook, their interns could do it over the summer for a couple million dollars."
Many of these issues won't be resolved in 2013, but these and others not addressed here will help shape what the public and private sectors can do, or won't be able to do, in space in the next twelve months and beyond.
---