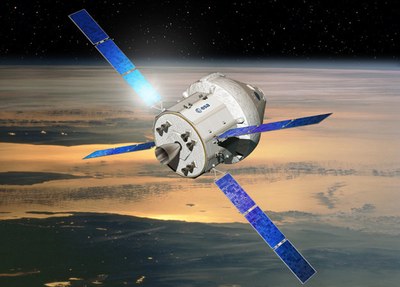 The Orion spacecraft will use a service module based on Europe's ATV cargo spacecraft—but perhaps only for one mission. (credit: ESA)
The benefits (and limitations) of space partnerships
by Jeff Foust

Monday, January 21, 2013
NASA has made it clear for many years that the future of its human spaceflight efforts would not be solely built and operated by the space agency. Future missions beyond Earth orbit would likely feature—and might require, given their expense—partnerships with other nations, building upon the lessons of the International Space Station. The private sector, meanwhile, would be encouraged to play a role by taking over responsibilities once exclusively in the domain of NASA or other space agencies.
That philosophy was on display last Wednesday in two separate events. In Houston, NASA and ESA announced plans to cooperate on the Orion crew vehicle program, with ESA building a service module for the spacecraft. A couple hours later, and a couple thousand kilometers away, NASA announced a contract with Bigelow Aerospace to test an inflatable module on the International Space Station. The two events illustrate how NASA plans to work more closely with both international and private partners in the future, but also, just as importantly, they illustrate some of the limitations of those approaches.
From ATV to Orion SM
The NASA-ESA agreement on the Orion service module was the culmination of many months of negotiations. The two agencies had been in discussion about a role for ESA on the Orion program, including technical and programmatic issues, and European ministers agreed in November to provide the service module to cover their contributions to ISS operations from 2017 through 2020 in place of additional Automated Transfer Vehicle (ATV) cargo spacecraft.
"We put ESA in the critical path, and we don't do that lightly," Gerstenmaier said. "We probably would not have done that without the experience we had on space station."
"The teams have done just a tremendous job over the last several months of figuring out all of those technical interfaces," Bill Gerstenmaier, NASA associate administrator for human exploration and operations, said at a press conference at NASA's Johnson Space Center (JSC) Wednesday tied to a formal ceremony signing the deal. He was referring to the work needed to determine how to integrate the Orion crew module, being built by Lockheed Martin, with the ESA-built service module.
The service module will be based on the ATV, which has flown three cargo missions to the ISS with a fourth planned for launch in April. The module will provide power, propulsion, and other capabilities for Orion. NASA will retain the Orion capsule as well as the adaptors mating the capsule to the service module as well as the service module to the Space Launch System (SLS) rocket. NASA will also provide the service module's main engine, using a repurposed Orbital Maneuvering System (OMS) engine from the shuttle program.
Both NASA and ESA officials emphasized the experience they developed on the ISS as one of the reasons they were confident this new partnership would work, something especially important on the US side. "We put ESA in the critical path, and we don't do that lightly," Gerstenmaier said. "We probably would not have done that without the experience we had on space station."
"This is a remarkable moment for ESA," said Thomas Reiter, a former ESA astronaut who is now the agency's director for human spaceflight and operations. "We are opening a new page in transatlantic cooperation."
That cooperation, though, has its limitations. One aspect not immediately clear from the agency announcements about the agreement is that it covers only one service module. That module will be flown on the EM-1 mission, the first Orion/SLS mission planned for launch in 2017. Production of service modules for later missions, including the first crewed Orion mission, EM-2 in 2021, remains undecided.
ESA will provide spare parts for the EM-1 module that could be used for later missions, said NASA Orion program manager Mark Geyer. However, Gerstenmaier said no decision has been made on who will produce the service module for the EM-2 and later missions, raising the possibility that the component could revert back to NASA.
"We really haven't defined that at this point," Gerstenmaier said. "We're protected both ways." That includes maintaining ownership of the relevant intellectual property regarding the service module so that NASA could manufacture future modules if needed. "We've really made no decisions about those future flights. We think it's important to set this up on the first flight and then plan for that transition" for the second and future flights.
If Europe does remain involved in development of future service modules, Reiter said one possibility for in-kind payment would be to give seats on later Orion missions to ESA. "The future is becoming more and more an international endeavor, and in that sense an international crew would testify to that," he said.
"It's not 100 percent comfortable, but I'm never 100 percent comfortable, so it's okay," Gerstenmaier said.
In the nearer term, though, is another issue: ESA has yet to provide full funding for the development of that initial service module. At the November ESA ministerial meeting, officials approved €250 million (US$330 million) of a planned €455 million (US$605 million) for the program. "This is the normal process in ESA," said Reiter. "The commitments for the respective funds are distributed over time and, for the moment, this is the first part that has been committed." The second tranche of funding would come at the next ministerial meeting in 2014, he said.
"There is a clear path forward and a clear commitment on a really basic programmatic ground through the rest of this decade," Reiter added. He added he was a "little bit reluctant" to discuss specific cost figures for the service module effort, but did confirm the overall cost estimate for the program.
Gerstenmaier acknowledged these and other uncertainties, but accepted them as part of program development. "It's not 100 percent comfortable, but I'm never 100 percent comfortable, so it's okay," he said. "We'll see how it goes, but we've done it smartly."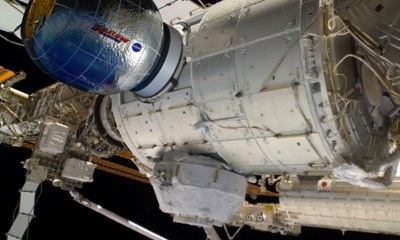 The BEAM module will be docked to the ISS for at least two years to test out the technology of inflatable modules for later commercial—and possibly NASA—use. (credit: Bigelow Aerospace)
ISS adds a BEAM
Shortly after NASA and ESA wrapped up their press conference about the Orion service module agreement, NASA deputy administrator Lori Garver and Bigelow Aerospace president Robert Bigelow met with the media at Bigelow Aerospace's North Las Vegas, Nevada, factory to announce a contract NASA awarded Bigelow to provide an experimental module for the ISS.
Under the $17.8-million contract, the Bigelow Expandable Activity Module (BEAM) will fly to the ISS in the unpressurized trunk of a Dragon cargo spacecraft on the SpaceX CRS-8 mission in the late summer or early fall of 2015. The station's Canadarm2 robotic arm will remove the module, still in its compact configuration, from the trunk and attach it to the aft port of the station's Tranquility node. Once attached, the module will expand to its full size.
"NASA's partnership with Bigelow opens a new chapter in our continuing work to bring the innovation of industry to space, heralding cutting-edge technology that can allow humans to thrive in space safely and affordably," Garver said in a statement about the contract.
That statement provided few details about BEAM itself, and other details about the agreement were in short supply for those not attending the announcement in Las Vegas. (By contrast, the NASA/ESA agreement was broadcast on NASA TV with call-in capability for reporters not in Houston.) That lack of details, especially in the days between the January 11th announcement of the contract and the briefing, led to some wild speculation. Wired UK, for example, suggested that BEAM could triple the habitable volume on the ISS, based on the assumption that the module was a large BA 2100 module the company has proposed for later development.
"The Bigelow module is, I'll call it, a structural test module for the ISS," Suffredini said. "To keep the integration costs down, we don't intent to make it an inhabitable module for ISS."
BEAM, as one might expect from its launch accommodations, is much more modest. The 1,360-kilogram module will expand to a length of four meters and a diameter of three meters, according to data provided by the company after the announcement. That makes BEAM comparable to Bigelow's Genesis I and Genesis II spacecraft, launched in 2006 and 2007 respectively, which were each 4.4 meters long and 2.54 meters in diameter, with 11.5 cubic meters of usable volume.
Prior to the announcement, there was speculation about what the module would be used for, from scientific research to a habitat for future space tourists to simply storage. Mike Gold, the director of Washington DC operations and business growth for Bigelow Aerospace, said in an email Friday that the module won't have a window but, from an acoustics standpoint, be one of the quietest places on the station. He added that while the two Genesis spacecraft flew items provided by the public through a "Fly Your Stuff" program, the company had no plans for internal payloads like that in BEAM.
NASA station managers have suggested they see the module as little more than a technology demonstration. "The Bigelow module is, I'll call it, a structural test module for the ISS," NASA ISS program manager Mike Suffredini said in a press conference Thursday at JSC on upcoming station activities. The primary purpose of the module will be to test inflatable module technology, he said, and not to expand the capabilities of the station itself.
"To keep the integration costs down, we don't intent to make it an inhabitable module for ISS," he continued. "It certainly could be used for stowage if we so chose, and that perhaps will be a discussion for the future, but the operational concept assumes the crew will not be in and out of there a lot."
While NASA may not plan to use BEAM much beyond demonstrating its technology, Bigelow Aerospace said the contract for the module supported the company's long-term plans for commercial space stations using the larger BA 330 modules. "We cannot think of a stronger endorsement for either our company or expandable habitat technology than NASA's desire to make the BEAM a part of the ISS," the company said in a statement (not posted on its website), emphasizing that sentence in both boldface and italics.
"By leveraging Bigelow expandable habitat technology, NASA can implement an aggressive human space exploration strategy even in the face of potential budget cuts," the company stated.
Bigelow Aerospace, which has gone through some ups and downs in recent years, including layoffs of more than half the company's staff in September 2011 (it has since hired some people back), sees BEAM as a key step towards those future commercial facilities. Its announcement included a description of its Alpha space station, consisting of two BA 330 modules. Those modules would be ready to fly as soon as late 2016, around the time that commercial crew providers like Boeing, Sierra Nevada, and SpaceX say they'll be ready to start carrying people to low Earth orbit.
The Bigelow statement also provided a price list for those future commercial missions. Flights to Alpha on a SpaceX Falcon 9/Dragon for a 60-day stay will cost $26.25 million; a Boeing CST-100/Atlas V flight will cost $36.75 million. Customers can lease 110 cubic meters (one third of a single BA 330 module) for $25 million for two months, and naming rights for the full Alpha station run $25 million a year.
That technology, the company said, could also be used by NASA on future exploration missions beyond LEO. "By leveraging Bigelow expandable habitat technology, NASA can implement an aggressive human space exploration strategy even in the face of potential budget cuts," the company stated. "The BEAM represents a first step by the Agency along this path. Bigelow Aerospace has been engaged in discussions with NASA leadership about future missions involving the BA 330, including joint ventures."
If those discussions result in future agreements, it will likely be based on the growing experience base of partnerships that NASA has forged with companies and other space agencies alike. But as these recent deals indicate, even well-intentioned partnerships have limitations, and risk being oversold as the solution to every agency problem in an era of limited budgets.
---