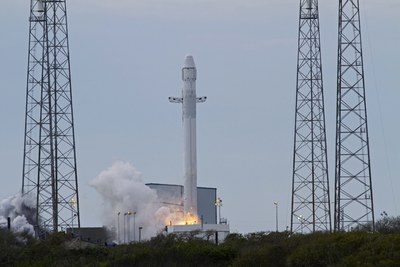 A SpaceX Falcon 9 lifts off from Space Launch Complex 40 at Cape Canaveral on March 1. The company is considering several sites, including Texas, Florida, and Georgia, to host a commercial launch site (credit: NASA/KSC)
The great state space race
by Jeff Foust

Monday, April 1, 2013
It's not uncommon for states to compete against one another to attract a company's newest factory or offices, or to lure a company to move from one state to another. Tax breaks, sweetheart deals on land or buildings, or other incentives are all standard tools of the trade to win factories, distribution centers, and office complexes. Local and state agencies work every day to attract various businesses, willing to absorb costs in the near term for promised long-term economic benefits.
"Right now, Texas is arguably the leading candidate," Musk said last month. "If things go as expected, it's likely that we'll have a launch site in Texas."
It's a sign of the maturation of the commercial space industry, though, that cities and states are making more of an effort to attract such companies. There's been some activity in the last year, as XCOR Aerospace agreed on a deal to move its headquarters to Midland, Texas (see "Texas warms to NewSpace", The Space Review, July 16, 2012) while signing a separate deal to later establish in Florida a manufacturing and operations base. Florida also lured a smaller suborbital vehicle company, Rocket Crafters, to set up operations in Titusville. But even bigger deals—and possibly fiercer competition—are on the horizon.
"Texas is probably our leading candidate"
Today, the biggest prize states are competing for in the commercial space field is a new launch site for SpaceX. The company, which launches today from Cape Canaveral and will inaugurate a new launch site at Vandenberg Air Force Base in California in June, has indicated for a couple years that it's seeking to establish a third launch site that would be used predominantly, if not exclusively, for commercial missions, and is looking beyond the usual suspects to find a site.
The leading contender for SpaceX's launch site appears to be a site on the Gulf of Mexico coast in Texas, near Brownsville. The company has been interested for some time in land on the coast near Boca Chica State Park, a few kilometers north of the Mexican border and several kilometers south of the tip of South Padre Island, a popular resort site. Last May, at a public hearing that was part of an environmental review, several hundred people showed up, the vast majority of whom, according to local media accounts, supported the project.
The Texas site appears to be picking up momentum. Speaking at South by Southwest (SXSW), an arts and technology festival held last month in Austin, Texas, SpaceX CEO Elon Musk indicated that Texas was the frontrunner among several potential sites for the company's spaceport. "Right now, Texas is arguably the leading candidate," Musk said. "If things go as expected, it's likely that we'll have a launch site in Texas."
The day before his SXSW speech, Musk also spoke in Austin about his spaceport plans, this time at a hearing of the appropriations committee of the Texas House of Representatives. "This would be a commercial version of Cape Canaveral," he told legislators of his company's spaceport plans, playing up the economic benefits of the site, including tourism to see launches. "Any support that Texas can offer would certainly be helpful," he added. "Texas is probably our leading candidate right now."
Musk spoke before the House committee because SpaceX is looking for legislative support, at the very least, from the state. "We need certain legislation passed supportive of space launch," he said at SXSW. That includes a bill that amends the state's "open beaches" law, allowing beaches to be closed for a launch. Musk said he was also looking for "protection for the 1-in-10,000-person case who complains about the thing." He didn't specify what that "protection" would be, although he cited a case where a person sued over SpaceX's rocket testing facility near McGregor, Texas, even though that person didn't even live in the same county as the test site.
Bills addressing both those concerns is advancing through the state legislature. A House committee was scheduled Monday to take up a bill, HB 2623, that would allow beaches to be closed for a launch, with the approval of county commissioners; the bill would prohibit launches on popular holiday weekends, including Memorial Day, Independence Day, and Labor Day. A second bill in the state House and Senate, HB 1791 and SB 1636 respectively, would make adjustments to the state's existing spaceflight liability indemnification; it includes a provision whereby "noise arising from lawful space flight activities" would not be considered "unreasonable noise" under state law.
There's also the potential for financial incentives, although how much SpaceX is seeking, and how much the state is willing to offer, isn't yet clear. "In terms of a specific number, I guess I'm not prepared to say," said Rep. Rene Oliveira, who appeared alongside Musk at the hearing and in whose district the proposed launch site would be located. "We need to be competitive, that's how I'd leave it for now."
Musk told both state legislators and the SXSW audience last month that the company plans to make a decision on where to locate its launch site some time this year.
As Oliveira indicated, Texas does have competition. Musk said the company is looking at options in several other states, most notably in Florida. There, state officials have talked about establishing a new launch facility at the north end of Kennedy Space Center property, at a site known as Shiloh. That effort got a setback late last year when NASA rejected a request to transfer about 60 hectares (150 acres) of land at Shiloh to the state, although agency officials said they were open to alternative approaches to support the state's interest in a commercial launch facility there. State officials have continued to press for the development of a launch site at Shiloh.
A dark horse in the SpaceX launch site competition is Georgia. Officials there have been quietly working on proposals to develop a spaceport at a site in Camden County, on the Atlantic coast just north of the Florida border. The Atlanta Journal-Constitution reported last week that Gov. Nathan Deal met with Musk the prior week to pitch him on the Georgia spaceport idea. Local officials are considering a range of incentives, including free land, job-creation incentives, tax breaks, and workforce training, to attract SpaceX to the state, the article noted.
A decision on a site will come soon. Musk told both state legislators and the SXSW audience last month that the company plans to make a decision on where to locate its launch site some time this year. In the best-case scenario, he said, SpaceX would start construction of the spaceport next year, and the first launches from the new facility would take place in two to three years.
Competition versus cooperation
States that aren't in the running to land SpaceX's next launch site are examining other ways to make themselves more competitive in the space industry. In February, the Brookings Instition released a report titled "Launch! Taking Colorado's Space Economy to the Next Level" that examined how the state, which already has a robust space sector, can improve it given, among other threats, "the rise of new competitors, new business models, and new questions about its competitive underpinnings," as the report's summary stated.
Among the report's recommendations was to shift the reliance the state's space economy has on government space programs towards "emerging new space, adjacent, and global markets." Specific recommendations in the report included "modest 'deal closers' or small relocation incentives for innovative small firms" as well as a "governor's prize for new space business plans."
"We need a bigger foothold in the NewSpace and adjacent markets," said Vicky Lea, aerospace industry manager for the Colorado Space Coalition, at the "Free Enterprise and the Final Frontier" event held in February at the US Chamber of Commerce headquarters in Washington. She said local officials were developing "concrete agenda items" to address issues raised in the report. "We're looking pretty hopeful, pretty energized about moving that forward."
One thing Colorado was doing to attract commercial space ventures was to get a spaceport license for Front Range Airport, a small airport just east of Denver that could conceivably support horizontal takeoff and landing vehicles. Lea said in February that the airport planned to submit its license application to the FAA in the second quarter of this year; if all goes well, the airport could have its license by the end of the year.
Spaceport Colorado, as the Front Range Airport would be known, will face significant competition from both existing spaceports designed in particular to support suborbital vehicles, like Spaceport America in New Mexico and Mojave Air and Space Port in California, as well as other airports seeking spaceport licenses, including Midland International Airport in Texas and Houston's Ellington Airport, among others. They will all be competing for a relatively small number of vehicles that can use them; worse, some airports seeking to become spaceports can't support vehicles that take off and/or land vertically, because of airspace issues.
While that would suggest fierce competition among these existing and planned spaceports, those involved with some of these spaceports have argued that their efforts are complementary, part of an effort to build up an industry. In other words, a rising industry tide lifts all spaceports.
"We actually talk regularly," Witt said of his fellow spaceports. "We actually work together in this industry to promote the industry and discuss lessons learned. That's not publicized in the press."
Stuart Witt, CEO of Mojave Air and Space Port, said at a panel session during the FAA's Annual Commercial Space Transportation Conference in Washington that his spaceport, which hosts the research and development activities of several companies, could be the enabler of vehicles that could later fly from many other spaceports. "We're an R&D site. We're not necessarily an operational site," he said. "If we are successful in our endeavors, they will have many companies to operate," referring to officials of other spaceports on that panel.
Witt emphasized he didn't see competition among the various spaceports. "We actually talk regularly," he said. "We actually work together in this industry to promote the industry and discuss lessons learned. That's not publicized in the press."
But while there is cooperation among spaceports, there is still competition as well, particular when rare opportunities like SpaceX's interest in a commercial launch site—a perhaps once-in-a-decade opportunity—arises. And even after that opportunity, the airports and other sites seeking to become spaceports will vie with one another to attract business, with the potential that, like the last spaceport boom in the late 1990s, there may simply not be enough demand to sustain all of their ambitions.
As long as there's a perceived economic benefit from spaceflight and the commercial space industry, though, local and state officials will continue to try to bring more of it to their states, just as they do with many other industries. "Spaceports can be tremendous economic engines," said Dale Nash, executive director of the Mid-Atlantic Regional Spaceport in Virginia. "It's very advantageous for states to get into the space business."
---