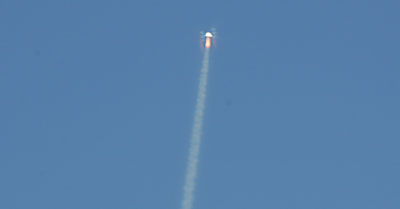 SpaceShipOne ascends towards space on September 29. (credit: Aero-News Network,
http://aero-news.net
)
Dealing with the risks of space tourism
by Jeff Foust

Monday, October 4, 2004
The events of the days leading up to Wednesday's flight of SpaceShipOne had generated considerable momentum for space tourism and commercial space development in general. On Monday billionaire entrepreneur and adventurer Sir Richard Branson announced his plan to license SpaceShipOne technology for his own space tourism venture that would begin flights as soon as 2007. The same day Aviation Week reported that another wealthy entrepreneur, Robert Bigelow, was planning to unveil a new prize for a manned orbital vehicle that could serve tourism and other markets. The drumbeat of PR about the Ansari X Prize and its impending—even inevitable—victory by SpaceShipOne had built to a crescendo. But, for a moment Wednesday morning, all that momentum was in danger of being lost.
When SpaceShipOne entered that roll late in the powered portion of its flight, many hearts among both the spectators gathered in Mojave and those watching the broadcast of the flight stopped for a moment. (See "Rolling towards history", The Space Review, October 2, 2004). For that moment, there seemed to be a distinct possibility that the spacecraft would be lost, and along with it, hopes of rapidly opening suborbital spaceflight for tourists and other commercial markets. Could the nascent suborbital industry survive such a visible accident?
The technical risk involved with flying a suborbital vehicle can often be very different than the risk perceived by those watching the flight, or those responsible for regulating such flights.
Fortunately, those hearts restarted shortly thereafter as SpaceShipOne continued its ascent and eventually recovered from its roll, landing safely after successfully carrying out its X Prize qualifying mission. The incident, through, reminded observers that manned suborbital spaceflight is still a new and risky endeavor. Understanding those risks and figuring out how to mitigate and cope with them will be one of the key challenges the industry faces.
Varying risks
One hurdle towards that task is that different people have different perspectives on what risk is and how to deal with it. The technical risk involved with flying a suborbital vehicle can often be very different than the risk perceived by those watching the flight, or those responsible for regulating such flights. For example, at a press conference last week, Burt Rutan said he didn't consider SpaceShipOne's suborbital flight in June its riskiest flight.
"Our December flight was the highest risk," he said. "We did not consider our June flight that risky." The rationale, he explained, was that the December 17th flight was the first time they had ignited the engine on SpaceShipOne in flight, and carried its own unique set of risks; later flights simply extended the burn time with a corresponding increase in altitude and speed.
That perception of risk, though, is different for people on the ground, particularly members of the public who have fears—unfounded or otherwise—of vehicles crashing into homes, schools, and the like. This concern is foremost on the minds of regulators who oversee commercial spaceflights in the US.
"Obviously, our first concern will always be the safety of the uninvolved public," Marion Blakey, the administrator of the FAA, said at a press conference Sunday in Mojave. She added that the FAA also wants "to make sure that the people who go into space understand the risks."
While some vehicle developers have had a somewhat adversarial relationship with the FAA's commercial space transportation office—Rutan on a number of occasions has made it clear he would prefer to be regulated as an aircraft and not a launch vehicle—others understand the need to work with the FAA on minimizing risks to the public through the existing regulatory framework.
"Risk is an inevitable part of what we do," said Kalkhoven. "Risk is part of the package."
"There's a critical distinction between the risk faced by the uninvolved public and the risk faced by the traveling passenger," Jeff Greason, president of XCOR Aerospace, said at the Sunday press conference. "The uninvolved public has to be held to a very high level of safety. There's no reason why they should be exposed to any higher level of risk than they see from any other aspect of industrial life."
"Passengers—people who are deliberately putting their lives and treasure at risk—as long as they know what they are getting into, they should be allowed to take that risk," he added.
Coping with risk
The perception of spaceflight and space tourism as risky endeavors has effects far beyond the regulatory situation. One of the biggest challenges faced by the Ansari X Prize in raising money and finding sponsorships has been concern by potential investors and sponsors of the risk of being associated with a venture that could feature vehicles—plastered with sponsors' logos—crashing in front of a worldwide audience.
"Sponsors, most of the time, are risk averse," said Jay Coleman, who worked to find sponsors for the X Prize. "For a lot of corporate America, and a lot of other sponsors around the world, the questions always came back to the risk: what if something doesn't work?"
An analogous field, in some respects, to commercial spaceflight is auto racing: vehicles, plastered with sponsorship logos, race at high speeds and sometimes crash spectacularly. It's not surprising, then, that the title sponsor of the X Prize is an auto-racing circuit, the Champ Car World Series (or, to use the full name, Bridgestone Presents the Champ Car World Series Powered by Ford.)
"Risk is an inevitable part of what we do," said Kevin Kalkhoven, co-owner of Champ Car. "Risk is part of the package."
While vehicle developers work with regulators to eliminate the risk to those not involved with commercial spaceflight, they also understand—and are even willing to embrace—some degree of risk to themselves. "One of America's national advantages in pursuing this industry is that we still have that culture of risk acceptance so long as it only for the participant," said Greason.
"It will be a risky business for many years to come, no doubt," said Blakey.
---