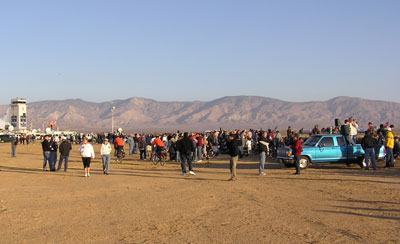 Many people who attended the SpaceShipOne flights are interested in space tourism but can't afford a ticket. A lottery could make space tourism accessible to them. (credit: J. Foust)
Space shot
by Sam Dinkin

Monday, October 11, 2004
Executive Summary: Suborbital "Fair Shot" Space Lottery
Suborbital tourism is expected to be a $700-million-a-year market by 2021 for full-price customers. Virgin Galactic starts service in 2007 at $200,000 per ticket. A space lottery would allow 99% of the public to participate in this historic new market.
Futron-Zogby released a suborbital tourism study to the public last month: an October 2002 study showing that there will be a $700-mllion-a-year market for suborbital tourism in 2021. The study only looks at households that earn $250,000 a year or have $1 million in the bank. Many more could purchase a lottery ticket with a flight as a prize.
For $63,000 a year plus an $1,800 application fee, a company can be incorporated in the Isle of Man. Hole-in-one insurance underwriting can be obtained from many firms offshore. The wholesale price would easily support $10 tickets. Numbers can be used from an existing lottery such as the Atlantic Keno offered by four Atlantic Canadian provinces. The 9/70 Keno pick offers 387,000-to-1 odds. Once there is $4 million or more in turnover a year, a small umbrella policy should be all that's necessary. Another $50,000 should take care of legal. For direct sales, a $50,000 e-commerce site is a fairly standard offering in online gambling (Keno). The prize can be obtained at retail from Virgin Galactic and be limited to a stated cash maximum.
The Futron study only looks at households that earn $250,000 a year or have $1 million in the bank. Many more could purchase a lottery ticket with a flight as a prize.
Possible other products include lotteries for other forms of space tourism such as space camp, zero-g flights ($3,000), orbital flights ($20 million list), cosmonaut training ($300,000), jet flights and so on. Space-branded merchandise should also sell well to this demographic. The lottery can also be used as a promotion on other gambling sites and may get substantial interest from existing Keno and lottery players.
At first there should be a substantial amount of free advertising since it's in the space arena. For branding, I have an offer out on fairshot.com and just purchased spacekeno.com. SpaceLottery.com is taken. There should be a number of competitors. If the market is $700 million in 2021, that leaves $70 million a year cost of goods sold for a 10% market share of space lottery tickets, 5% of the suborbital space travel agency business.
I'd like to obtain seed money to do a full business plan. I would match your cash input and be the first CEO, but outsource all services so the company can be run very lean. Fulfillment offers an opportunity. If sales rise sufficiently, substantial market power would exist to obtain excellent fulfillment terms. Tickets could be purchased in bulk below typical wholesale prices. E.g., if there were 100 winners on sales of $40 million in 2010, that would represent 9% of the entire market demand and would enable a dedicated X Prize-class vehicle flying once per week. Such a bulk purchase could probably be completed for approximately $5 million.
Sam Dinkin has founded two businesses, is an advisor and investor in early stage space ventures, helped GE Corporate Business Development start the first B2B auctions, won awards for his marketplaces strategy offering while he was an applied visionary at IBM Research, has 8 patents granted and was Entrepreneur #2 in the Comdex E-markets dating game.
---