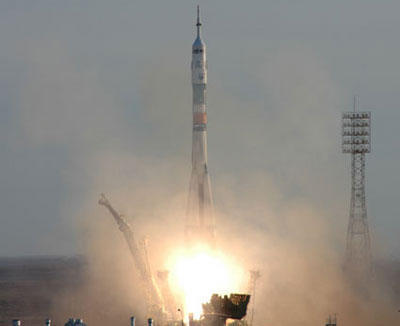 A Soyuz rocket carrying a crew to the ISS lifts off in this file photo. Tensions over the Crimea have led some to worry that Russia could cut off US access to the station by denying them seats on Soyuz flights. (credit: RSC Energia)
A time of danger and opportunity for US-Russian space relations
by Jeff Foust

Monday, March 10, 2014
Later today, a Soyuz spacecraft carrying Russian cosmonauts Oleg Kotov and Sergey Ryazanskiy, and NASA astronaut Mike Hopkins, is scheduled to undock from the International Space Station (ISS) and head home, landing in the steppes of Kazakhstan at 11:24 pm Eastern time Monday night (9:24 am Tuesday morning at the landing site.) It is, from a technical standpoint, no different from the other Soyuz missions that return crews from the ISS, part of the steady tempo of four such missions a year scheduled to continue at least until 2017, when NASA expects commercial crew systems to enter service.
"Right now, everything is normal in our relationship with the Russians," Bolden said.
However, that flight, as well as the launch later this month of a Soyuz spacecraft carrying three new ISS crewmembers, including NASA astronaut Steve Swanson, have attracted a greater degree of attention for geopolitical reasons. The crisis in Ukraine, including what many consider to be a Russian occupation of Crimea, has raised concerns about the stability of Russian-American partnerships in space, as the US and other nations weigh a range of sanctions to impose on Russia. Could US crew access to the station, currently provided solely by Soyuz spacecraft, be in jeopardy.
Last week, as tensions between Russia and Ukraine simmered, NASA officials played down any near-term threat to the ISS partnership. During a question-and-answer session with reporters after a briefing on NASA's fiscal year 2015 budget proposal on March 4, reporters peppered NASA administrator Charles Bolden about the implications of the crisis on ISS access, but Bolden gave no indication he was concerned.
"Right now, everything is normal in our relationship with the Russians," Bolden said. "We are continuing to monitor the situation. Our crews continue to train in Star City," the Russian cosmonaut center outside Moscow. "Things are nominal right now, and our crews are doing well."
Later in the call, Bolden said the current situation was like the crisis between Russia and Georgia in 2008, when ISS activities were unaffected. "People lose track of the fact that we have occupied the International Space Station for 13 consecutive years, uninterrupted, and that has been through multiple international crises," he said.
"We see no reason for contingency planning because our relationship remains normal," Bolden said near the end of the teleconference, sounding slightly exasperated by the string of questions on the topic. "We remain closely monitoring the situation and as anything develops, if we need to do contingency planning, we will."
The primary concern in the US space community about worsening relations with the Russians is that Russia might deny Americans access to the station via Soyuz spacecraft. That danger, though, may also be seen as an opportunity by some to raise the profile—and the budget—of NASA's commercial crew program to develop vehicles that can end reliance on the Soyuz for accessing the station.
At Tuesday's budget briefing, Bolden didn't shy away from linking commercial crew to dependence on Russia. "At long last, this will end our reliance on the Russians to get into space," he said of the commercial crew program in his opening remarks. "The choice here is between fully funding the request to bring space launches back to the US, or continuing millions in subsidies to the Russians. It's that simple."
The proposed fiscal year 2015 budget offers $848 million for commercial crew, significantly more than the $696 million it received in the final fiscal year 2014 appropriations bill passed in January, but not much greater than the original FY14 request of $821 million. NASA CFO Beth Robinson said during the briefing that NASA couldn't go into much detail about the program since the agency was in a "blackout" period as it evaluated proposals for the next round of the program, submitted in January with a decision due by August.
"The situation in the Ukraine underscores the need to re-establish America's human spaceflight capability as soon as possible," McCarthy told POLITICO.
Robinson did say, though, that the requested funding would allow NASA to retain competition for the next phase of the program. "We're confident that the 848 [million dollars] will allow us to maintain competition in this program, and competition is very important to us," she said. What wasn't clear, though, was whether that competition would be in the form of two fully-funded competitors, or "one and a half" awards, where one company gets a fully-funded contract and the other a smaller award that allows them to continue work, but at a slower pace, as a backup.
The overall White House budget proposal also includes a program called the Opportunity, Growth, and Security Initiative (OGSI) that would provide $56 billion in additional spending above current caps, paid for through other through "common-sense spending reforms" and reducing tax benefits of very large retirement accounts. NASA's share of OGSI is $885 million, of which $250 million would go to commercial crew. That additional funding for commercial crew, Robinson said, "is very important to have even more robust competition and to buy down risk in this program."
At least one powerful member of Congress sees the current crisis with Russia as an argument for increasing commercial crew funding. House Majority Whip Kevin McCarthy (R-CA) told POLITICO last week that he supported NASA's commercial crew to end reliance on the Russians. "The situation in the Ukraine underscores the need to re-establish America's human spaceflight capability as soon as possible," he told the publication.
The argument that commercial crew ends reliance on, and payments to, Russia has been made before, but has not been convincing enough to McCarthy's colleagues. In the original House version of its 2014 appropriations bill, NASA's commercial crew program was cut to $500 million; the Senate's version provided $775 million. But both McCarthy and administration officials hoped that the current situation will provide stronger support for the program.
"There was no political imperative until now. Everybody's coming together as a strong front, Republicans and Democrats," an administration official, speaking on the condition of anonymity, told POLITICO.
Russia and the EELV debate
American reliance on Russian space systems goes beyond using Soyuz spacecraft to fly to and from the ISS. The Atlas V, a launch vehicle used extensively by both NASA and the Defense Department for launching critical satellites—and also proposed by two of the three companies currently funded by NASA's commercial crew program—uses an RD-180 engine manufactured by Russian company NPO Energomash.
That dependence became an issue during a hearing March 5 by the Senate Appropriations Committee's defense subcommittee on "National Security Space Launch Programs." The hearing, scheduled before the Crimean crisis, focused primarily on efforts to reduce the cost of the Air Force's Evolved Expendable Launch Vehicle (EELV) program through the use of block buys of rockets from the current EELV contractor, United Launch Alliance (ULA), or through competition from SpaceX, which seeks to win defense business for its Falcon rockets.
During the hearing, though, subcommittee chairman Sen. Dick Durbin (D-IL) raised the question of ULA's reliance on Russian supplies of the RD-180 engine. Durbin asked ULA CEO Mike Gass to assess "the reliability of that engine being available from Russia in the immediate future."
Gass tried to assure Durbin and the committee that the RD-180 would be available for at least a couple years' worth of launches even if the supply of those engines was cut off. "First and foremost, we have two years of 'safety stock' inventory—actually, today we have greater than that—in country, and our ability to launch any of the near-term satellites that we need to do for national security" remains in place, Gass said. He added ULA had "another product" that can launch such payloads, an oddly indirect reference to the company's Delta IV rocket. "We are not at any risk for supporting our national needs."
"The Atlas V cannot possibly be described as providing assured access to space for our nation when supply of the main engine depends on President Putin's permission," Musk said.
Asked by Durbin about producing the RD-180 domestically, Gass said that ULA had that ability, if necessary. "We've done that over several years, we invested hundreds of millions of dollars to prove that we have the capability to demonstrate our ability to build that exact engine," he said. However, he didn't say how long it would take to actually start producing that engine, or at what cost; previous plans to domestically produce the RD-180 had long ago been set aside in favor of simply buying and stockpiling engines built in Russia.
SpaceX CEO Elon Musk, another witness at the hearing, used the reliance on the RD-180 as another argument for competition, going so far as to suggest that the workhorse Atlas V be retired. "In light of Russia's de facto annexation of Ukraine's Crimea region, and the formal severing of military ties, the Atlas V cannot possibly be described as providing assured access to space for our nation when supply of the main engine depends on President Putin's permission," Musk said in his opening statement.
Musk argued later in the hearing that a more competitive, and secure, situation for national security launch activities would be for ULA to retain its Delta IV vehicles, competing with SpaceX's Falcon vehicles for contracts. "I think it would make sense, for the long-term security interests of the country, to probably phase out the Atlas V, which depends on the Russian engine, and have ULA operate the Delta family and SpaceX operate the Falcon family," he said.
"When it comes to long-term space cooperation, Russia needs NASA more than NASA needs Russia, and the U.S. is in a strong bargaining position." Zak wrote.
For the foreseeable future, at least, retiring the Atlas V appears unlikely, given its heavy use by both NASA and the Defense Department as well as the perception in industry that a ban on RD-180 exports to the US is unlikely. Last fall, when Russian media reported that the government was weighing such a ban, US officials noted that such reports and come and gone several times over the years with no action by the Russian government (see "The case for kerolox", The Space Review, October 14, 2013). Moreover, those concerns played only a small part in last week's hearing, which focused more on reducing EELV costs and the merits of competition.
As for NASA's reliance on Russian Soyuz spacecraft, others have noted that Russia relies on NASA in other aspects of ISS operations and spaceflight. James Oberg noted in an NBCNews.com report that the Russian segment of the ISS relies on power and communications services provided by NASA. In an emergency, he added, NASA could modify the Dragon spacecraft used for transporting cargo to and from the station to at least be able to return astronauts as well.
Russia may also be unwilling to jeopardize space cooperation with the US and other nations because it wants to be a part of future human space exploration programs as well, Russian space expert Anatoly Zak noted in an essay for Smithsonian Air & Space. Space "is that rare arena where Russia can present itself as a world leader. But unless it's applied to a large international venture, Russian space expertise may fade or be eclipsed by competitors," he wrote. "That's why, when it comes to long-term space cooperation, Russia needs NASA more than NASA needs Russia, and the U.S. is in a strong bargaining position."
That suggests the danger posed by the current geopolitical crisis to US-Russian space relations may not be as severe as some have feared. But it may also mean that the opportunity it presents to some—those seeking enhanced funding for NASA's commercial crew program, or major changes to the Defense Department's EELV program—may not be as great, either.
---