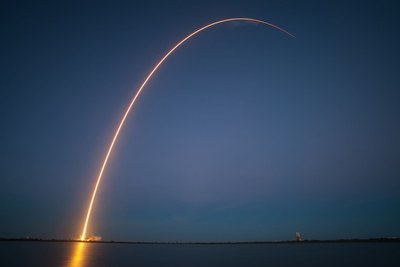 A Falcon 9 carrying the SES-8 satellite lifts off from Cape Canaveral in December. SpaceX's plans to develop reusable versions of its Falcon vehicles has not yet led others in the commercial launch industry to follow suit. (credit: SpaceX)
Reusability and other issues facing the launch industry
by Jeff Foust

Monday, March 24, 2014
When the next SpaceX Falcon 9 lifts off—a launch now scheduled for the evening of Sunday, March 30, after contamination concerns with the Dragon spacecraft it's carrying postponed it by two weeks—many people will be focusing more on the rocket than its payload. In particular, they'll be interested in what the rocket's first stage does after stage separation: relight its engines to slow down and perform a "soft" splashdown in the waters off Cape Canaveral.
"We came really close on the CASSIOPE mission; really, really close," Shotwell said of efforts to recover the Falcon 9 first stage.
This isn't the first time SpaceX has attempted to relight the first stage engines after separation: it did the same in September on the inaugural launch of the upgraded Falcon 9 v1.1, which placed the CASSIOPE satellite and several secondary payloads into orbit. That test was only partially successful: while the engine did relight and slow down the rocket, the stage spun up and "centrifuged" the remaining propellant against the sides of their tanks, causing the engines to shut down prematurely, preventing the company from recovering the stage.
"We came really close on the CASSIOPE mission; really, really close," SpaceX president Gwynne Shotwell said in an interview Friday, March 21, on The Space Show. "We hope to recover the next one, but keep in mind that this still is a really hard problem and we've still got some work to do."
The prospects of SpaceX developing at least a partially reusable version of its Falcon 9—a reusable upper stage would be presumably more difficult to develop, given the high speeds of reentry, although SpaceX has in the past shown animations of a Falcon 9 upper stage reentering and landing—has attracted a lot of attention in the space community. A reusable rocket could launch payloads much less expensively than existing expendable rockets, allowing the company to gain more market share and, perhaps, opening new markets (see "Rocket reusability: a driver of economic growth", The Space Review, March 10, 2014; and "A new price point to orbit", The Space Review, this issue.)
In theory, that should be a cause for concern for the other companies in the commercial launch market. However, in a panel of launch industry executives at the recent Satellite 2014 conference in Washington, DC, earlier this month, few saw reusability as an area of concern, or of interest, to them.
"We don't have any plans to look at reusability at all right now," said Phil Slack, president of International Launch Services (ILS), the US-based company that markets launches of Russia's Proton rocket.
His views were echoed by others on the panel. "For sure we are looking it at," said Stéphane Israël, chairman and CEO of Arianespace, but added that it was not a major priority for the company's current Ariane 5 and planned Ariane 6. He and others saw reusability as something useful in theory, but not practical in the near term.
"I don't think anybody would say no" to reusability, Slack added. "The reality is that, for the next ten years, other than for Falcon, I don't think any of us will look at this."
Part of the lack of interest in reusability may be rooted in their perceptions of the size and growth—or lack thereof—of the launch market. Today, the biggest market for commercial launch remains commercial geosynchronous orbit communications satellites, with about 20 to 25 such satellites launching per year.
At the Satellite 2014 panel session, several companies saw that demand remaining steady for the foreseeable future. "We see the market as flat," said Sergey Gugkaev, CEO of Sea Launch, a company that relies exclusively on the commercial launch market.
"We are quite sure that we would be in a position to provide the best solution for the customer and the taxpayer" if the Ariane 5 could compete for US government missions, Israël said.
"We think the market is going to remain relatively steady, relatively flat, 20 to 25 per year," Slack said. A shift towards so-called "all-electric" satellites, which use electric propulsion for both orbit raising and stationkeeping, and weigh less than those that use chemical propulsion, could tweak some of the dynamics of the market, including bringing in some new customers who had "marginal" business cases that didn't previously close, he said. "But the overall effect, we think, will be to remain relatively steady."
Barry Matsumori, the senior vice president of commercial sales and business development at SpaceX, was the one panelist who believed there would be more demand for launches at the lower prices SpaceX has been offering, and even more as reusability allowed for even lower prices. "What can we do to get that metric, cost per kilogram, down to the point where there might be some elasticity in the market?" he asked. "If we can find that point, that's great for all of us."
Different companies, different challenges
The annual Satellite conference is usually a time when companies announce new orders for satellites and launches. This year, though, the event was quiet on that front: major companies announced few, if any, such orders. Instead, launch companies appeared focus on their own unique challenges.
For Arianespace, that means a renewed interest in accessing the US government market. The company has made hints in the past of their interest in launching payloads for NASA or the Defense Department, and in fact has one such mission on its manifest: NASA's James Webb Space Telescope, which an Ariane 5 will launch in 2018 as the European Space Agency's major contribution to the mission. However, that's an exception to the rule, and longstanding US policy prohibits the launch of US government payloads on launch vehicles not built in the US without a waiver from the White House.
That policy, though, does not deter Arianespace's Israël. "At Arianespace, we are fully ready to compete on the institutional market everywhere, including here in the States. We are quite sure that we would be in a position to provide the best solution for the customer and the taxpayer," he said. "And if it comes to employment, we are ready to see how we can 'Americanize' our launcher."
Israël didn't go into details about how Arianespace would "Americanize" the Ariane 5, currently manufactured in Europe. In a brief discussion after the Satellite 2014 panel session, he indicated that the company would take an approach similar to that proposed by Airbus when it competed for a US Air Force tanker contract, promising to establish a facility in the US to assemble the aircraft. (Airbus ultimately lost that competition to Boeing.)
ILS, meanwhile, is looking at ways to be more flexible in the launch market by offering dual launches of spacecraft. At the conference, the company announced an agreement with a Russian satellite manufacturer, ISS Reshetnev, to collaborate on opportunities to launch two spacecraft—one built by Reshetnev and the other from non-Russian manufacturers—on a single Proton rocket. Ariane 5 currently offers dual-launch capabilities, but with its larger performance has more flexibility in mixing and matching satellites than the Proton.
"There's a strong corporate backing for this product line that's not going to go away," Cleave said of the Atlas V.
At the Satellite 2014 panel, Slack said that, despite plans for dual-manifested launches, it has no plans to incorporate smaller secondary payloads, like CubeSats or other small satellites, on its launches. "There's not many dollars there, quite frankly," he said, noting that most such satellites are coming from university and nonprofit customers. "When we sell a satellite to a customer, we given them the whole capability. We're not going to go put other people's satellites on there."
Sea Launch, meanwhile, is trying to rebound from a launch failure over a year ago that put the company on the sidelines of the commercial market. The company is making preparations for its first launch since that failure, of the Eutelsat 3B satellite, currently planned for mid-April. Gugkaev said the company, like ILS, is also looking at adding dual-launch capabilities, likely in 2016.
There have been questions about Sea Launch's long-term future: originally a multinational consortium with Boeing as the largest partner, Sea Launch is now 95-percent owned by RSC Energia. Earlier this year, Russian government officials hinted that they might acquire Sea Launch and move its operations from the current homeport of Long Beach, California, to a Russian port.
Gugkaev said any decision would likely be wrapped in a larger, ongoing restructuring of the Russian space industry. There may be advantages to such a shift, he said, if it allowed Sea Launch to carry Russian government satellites, which it currently cannot. "Just moving the operations from the US to outside just for the sake of political reasons? I don't see a lot of benefits," he said.
In the last year, other companies that have largely been locked out of the commercial launch market have made moves to get back in. Last fall, both Lockheed Martin Commercial Launch Services (LMCLS), which markets the Atlas V rocket, and Mitsubishi Heavy Industries (MHI), which markets Japan's H-2 rocket, announced commercial orders for those vehicles.
"We have been struggling to get into position in the commercial launch services market since 2007," said Naohiko Abe, vice president and director of business develop for MHI's Space Systems unit. He added that MHI "offered a special price" to Telesat for the launch it purchased last fall.
LMCLS president Robert Cleave used the conference to announce a new initiative: a money-back guarantee, in essence, for commercial launches sold by the company, providing a refund or reflight in the event of a launch failure. "We believe that it's time that the launch industry stands behind the product that it builds," he said.
Cleave argued that his company was serious about being a player in the commercial launch market, despite the perceptions that the company gives priority to government launch customers. He noted, for example, that there has never been a case where the US government preempted a commercial launch by the company. "There's a strong corporate backing for this product line that's not going to go away," he said.
For SpaceX, despite all the attention it's getting for its reusable launch vehicle development efforts, the near-term focus for the company is carrying out a crowded launch manifest. The company launched three Falcon 9 rockets last year, but has plans to perform ten launches this year, of which it's so far done one.
Matsumori said that manifest, a mix of commercial satellites launches and NASA ISS resupply missions, is doable this year. "We've demonstrated that we can do 30-day turnarounds, the challenge is to exercise it," he said, an example being the back-to-back launches of the SES-8 and Thaicom-6 satellites 34 days apart, a span that included Christmas and New Year's Day. "It will be our challenge this year to execute on that manifest."
"The manifest is all people want to ask about," said SpaceX's Josh Brost at a separate panel session last month in suburban Washington organized by the Mid-Atlantic Chapter of the Society of Satellite Professionals International (SSPI). The company, he said, plans to launch 15 missions in 2015, with long-term plans to be able to launch on a weekly basis. "It's the fastest ramp-up in launch rate that anyone can recall."
This increased capacity from these companies, plus continuing interest in the commercial launch market from others, including India and China, raise continued concerns about whether the industry is headed to another period of overcapacity in the market, as it did in the early 2000s when forecasts of enhanced demand for commercial communications satellites failed to come true, leading to plummeting launch prices and the withdrawal of some companies from the market.
Could we be heading for a repeat if demand doesn't materialize for these launch vehicles? "It's tough to say," Clay Mowry, president of Arianespace's US office, said at the SSPI panel. He noted that quality suffered among many launch vehicle providers during that last bust, although the industry overall had since recovered. "We welcome competition in the business, and hopefully it'll be good for the customers and good for the rest of us."
A reusable vehicle could alter the dynamics of the market further, increasing the capacity of the launch market and further driving down prices. In her interview on The Space Show, Shotwell said SpaceX hoped to return a Falcon 9 first stage to the launch site later this year, and refly a stage next year, depending how well the test on the next Falcon 9 flight goes.
"This is a really hard problem," Shotwell said of reusability. "I do believe we will solve it."
She emphasized, though, that there's a lot of challenges with the development of a reusable system. "I don't want to call this a 'science project' because it's not really that, but it's almost that. It's hard," she said. For the next test, she said she estimated the odds of success at not quite 50-50. "We still have a lot of work to do on the entry dynamics and getting the burns right on both the reentry burn and the landing burn."
"We'll continue to make a little progress, probably take a step back, make some more progress, take another step back," she said. "This is a really hard problem. I do believe we will solve it." If SpaceX does solve it, it could, despite the skepticism of others in the launch industry, provide a new set of benefits—and challenges—for the space industry overall.
---