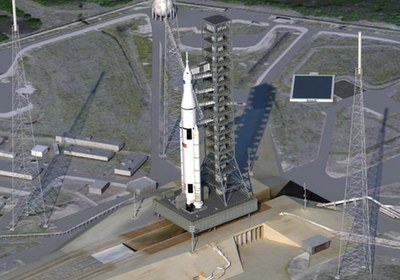 While some debate the long-term affordability and viability of SLS and Orion, the companies working on those vehicles are focused, for now, on near-term progress. (credit: NASA)
Making progress, and seeking stability, with SLS and Orion
by Jeff Foust

Tuesday, May 27, 2014
There are few NASA programs as polarizing as the Space Launch System (SLS) heavy-lift rocket and Orion spacecraft. To NASA, and the programs' supporters in industry, Congress, and elsewhere, SLS and Orion are essential elements of any long-term space exploration strategy, be it humans to asteroids, the Moon, or Mars. Opponents, though, question the utility and cost of these programs, given studies about these programs and the track record of previous large NASA programs.
"This milestone is being accomplished five months ahead of the contract commit date," Boeing's Barnes said of the upcoming CDR on the SLS core stage.
Critics of SLS and Orion got some ammunition earlier this month with the release of a Government Accountability Office (GAO) report on those programs. It warned that the full lifecycle costs of SLS and Orion, as well as accompanying ground systems, remain unknown, as NASA focuses on the development costs of those systems over the next several years. "However, in contrast to NASA's tailored approach, both widely-accepted best practices for cost estimation and the agency's own requirements support the need for full life cycle cost estimates," the GAO concluded in its report, adding that without a baseline cost estimate, it might not be possible to determine if future cost growth was due issues with the program or additional work, such as the development of SLS upgrades.
But for those companies working on SLS and Orion, the focus is more on near-term milestones than long-term cost estimates. Last week, Lockheed Martin announced that it was in the final assembly phase for the first Orion spacecraft as it attached the heat shield to the capsule. That will soon be followed by mating the capsule to the spacecraft's service module.
"Our goal is to turn it over to ground ops in July," said Michael Hawes, director of human space flight programs at Lockheed Martin, in an interview May 19 during the 30th Space Symposium in Colorado Springs, Colorado. At that time, the spacecraft will begin preparations to be mated to the Delta IV Heavy rocket that will launch the spacecraft on the Exploration Flight Test 1 (EFT-1) mission, currently slated for December 4 from Cape Canaveral.
Hawes and Larry Price, deputy program manager for the Orion program at Lockheed, said that the company was still working to have the spacecraft ready for launch in October, the original launch date. A previously-classified Air Force mission planned for launch this summer pushed the EFT-1 launch back to December, but Lockheed is still working to have Orion ready should the Air Force mission be delayed. Even if it isn't, Price said United Launch Alliance could accelerate launch preparations a bit "so we could go before Thanksgiving."
Even with the EFT-1 launch still as much as six months in the future, Hawes said Lockheed Martin was already working on the next Orion mission, EM-1, which will go on the inaugural launch of SLS in 2017. "The second spacecraft is really not very far behind, and that was pretty exciting," he said. "We've been so focused on EFT-1 that it's nice to see that the next bird is not that far behind."
Boeing, the prime contractor on the core stage of the SLS, is preparing for a critical design review (CDR) that starts next month. "This milestone is being accomplished five months ahead of the contract commit date," said Virginia Barnes, vice president and program manager for SLS at Boeing. "We've got some known issues, but no showstoppers" heading into the CDR, she said.
Barnes credited a "very aggressive schedule" established before she joined the program for being that far ahead of schedule, with the idea of having additional flexibility in the schedule to deal with issues when the flight hardware is being built later in the program. "The aggressive schedule has paid dividends," she said. "The pace that was established early on has really helped us."
"We feel like we're hitting all of the milestones on or ahead of schedule," added Charlie Precourt, vice president and general manager of ATK's space launch division, which is manufacturing the boosters for SLS. A qualification test firing of the solid-fuel booster is planned for late this year, with a second in 2015.
"We've got a big milestone this summer when we test the RS-25 engines," said Aerojet Rocketdyne vice president Julie Van Kleeck, referring to the Space Shuttle Main Engines being adapted for use on the core stage of the SLS.
That development isn't without issues, though. Precourt and other executives noted the problems of developing SLS and Orion with a flat funding profile in the NASA budget, versus a more traditional funding profile that rises and falls at different stages of development. He said aggressive schedules and dealing with hardware they're already familiar with—SLS in particular makes extensive use of Shuttle-heritage hardware—have helped. "We're able to manage that flat orientation better than we might on a more new kind of system," he said. "We're challenged, but we've been able to meet that challenge."
"The architectures haven't been laid out yet" regarding the use of the new Exploration Upper Stage on SLS missions, said Elbon.
Those flat budgets, though, need to stay flat and not go down, they emphasized. "The President's budget was shy of what was enacted in '14 for '15, so we're still looking for the '14 levels in '15 to maintain schedule," Barnes said. That's a reference to the administration's fiscal year 2015 budget request, which offers nearly $2.8 billion for SLS and Orion combined, compared to a little more than $3.1 billion for the programs in the final fiscal year 2014 appropriations bill. (A House version of a 2015 appropriations bill, scheduled to be considered by the full House later this week, would provide nearly $3.1 billion for those programs.)
While executives emphasized their near-term efforts on SLS and Orion, they're also looking ahead to missions beyond EFT-1 and EM-1. Boeing has started design work on a new SLS upper stage—originally known as the Dual Use Upper Stage and now called the Exploration Upper Stage—powered by four RL10 engines. Barnes said Boeing convinced NASA that it was worthwhile to start work on the new upper stage now, making use of engineers who would be "rolling off" the program after SLS completes CDR this summer.
"NASA jumped on that opportunity, so we're getting started with NASA as of May 2 developing the Exploration Upper Stage," Barnes said. The goal would be to have the first upper stage ready for the second SLS mission in 2021, but "we could be ready before then. We could be ready for a '19 launch," she said, although there is no SLS mission currently on the manifest before EM-1 in 2017 and EM-2 in 2021.
Using the new upper stage on EM-2 raises other issues, since that is currently slated to be the first SLS/Orion flight to carry a crew; some wonder if a crewed mission is the appropriate first flight of a new upper stage. "The architectures haven't been laid out yet" regarding the use of the new upper stage on SLS missions, said John Elbon, vice president and general manager for space exploration at Boeing, in a separate interview at the Space Symposium on May 21. The use of the Exploration Upper stage, he said, would increase the SLS's capabilities from the initial payload of 70 metric tons to LEO to at least 105 metric tons and perhaps as much as 120 metric tons, depending on specific parameters of the orbit.
Elbon said that the earliest the Exploration Upper Stage would be used is the EM-2 mission, but whether that mission would be crewed or not—or even if EM-2 would use the new upper stage—was still up for discussion. "NASA may decide to use ICPS for EM-2," he said, referring to the Interim Cryogenic Propulsion Stage, based on the Delta IV second stage, that will be flown at least on the EM-1 mission in 2017.
Hawes said "stability" was the biggest issue with SLS and Orion. "It's stability of the plan forward and the funding levels that we're dealing with."
Another issue with SLS is the vehicle's flight rate, as critics note the four-year gap in NASA's current manifest between EM-1 and EM-2. Barnes said that Boeing's facilities for building the SLS core stage at the Michoud Assembly Facility in New Orleans was designed for a low flight rate, "but every four years wasn't quite the low rate we meant," she said. "Our factory was scaled for one to two a year."
"I don't think the flight rate is dictated by our industrial capacity as much as it is having the right cadence for missions," Precourt said, adding that one to two missions a year was "a reasonable place to land from our capabilities standpoint."
The biggest issue with SLS and Orion, executives said, was not with the development of the vehicles themselves, or even future capabilities, but with policy and funding. "It's stability," Hawes said, an assessment immediately echoed by other executives in the room. "It's stability of the plan forward and the funding levels that we're dealing with. That's how we've been able to operate in this relatively flat time."
That stability may exist in the near term, but things are less clear beyond 2016, when a new administration could seek to take NASA in a different direction, particularly if the programs stumble between now and then. "You always worry about transitions," Hawes acknowledged. "I think the best we can do is make progress on our schedule."
---