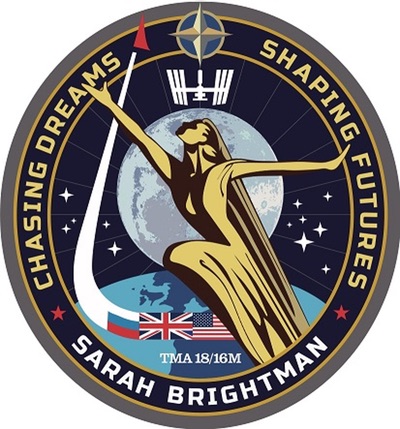 Brightman contributed to the design of her own mission patch for TMA 18/16M to commemorate her trip to the International Space Station in September. (credit: SarahBrightman.com)
Sarah Brightman chases her dream to the International Space Station
by Anthony Young

Monday, April 6, 2015
In September, soprano and classical crossover performer Sarah Brightman, with cosmonaut Sergey Volkov and ESA astronaut Andreas Mogensen, will be launched from the Baikonur Cosmodrome in Kazakhstan to the International Space Station. She will be travelling as a spaceflight participant arranged by Space Adventures. Brightman will be only the second female spaceflight participant to travel to the ISS, after Anousheh Ansari in 2006.
Six men have also made the epic trip through Space Adventures. However, Brightman's worldwide fame will draw unprecedented attention to orbital personal spaceflight during her mission to and aboard the ISS. News networks will begin airing segments about her trip weeks in advance of launch. The day of launch it could be the top story on every news broadcast around the world. For Brightman, it will be the realization of a dream she has had for decades.
Sarah Brightman's space epiphany
Brightman was born in August 1960, the first of six children. By the time of the Apollo 11 lunar landing in 1969, she had already been attending piano and dancing classes for five years. She had followed the news of the July 16 launch of the Saturn V carrying Neil Armstrong, Buzz Aldrin, and Mike Collins.
"Being lucky enough to have watched the first man land on the Moon," Brightman said, "we thought we were going to be astronauts."
On July 20th, the Brightmans gathered their children around the television in their Berkhamsted, Hertfordshire, England home for the live broadcast. Millions of people were riveted to their TVs as the black and white video images were beamed live back to Earth. Sarah Brightman watched in wonder as Neil Armstrong stepped down the ladder of the lunar module. He cautiously placed his boot on the lunar surface and uttered those immortal words, "That's one small step for man…one giant leap for mankind." At that moment, something clicked for Brightman, she recalled in an interview.
"Being lucky enough to have watched the first man land on the Moon," Brightman said in a London press conference on March 10 hosted by Carol Vorderman, "we thought we were going to be astronauts. It was all about space [back then]. For me to have got this far and to be able to have a taste of what I felt at the time, is an amazing thing."
Like many others who witnessed the first American astronauts to walk on the surface of the Moon, Brightman harbored the dream of one day going into space herself. She did not know how that might come about, but she always carried this dream with her. She continued her musical training and entered the Arts Education School in 1971. The die was cast, and Brightman embarked on a path that led her to stardom and worldwide fame. She focused on theater performance and later, her voice as a soprano having received her formal training at the Royal College of Music.
During the 1980s and the 1990s, Brightman continued to build a recording and performing career around the world. In 2001, she learned with interest of the flight of Dennis Tito to the ISS, arranged by Space Adventures. She became even more intrigued at the possibility when she read about Anousheh Ansari—the first female spaceflight participant—who achieved her own dream of going into space for an eight-day mission aboard the ISS.
The 2012 surprise announcement and subsequent training
On October 10, 2012, Brightman was in Moscow for a press conference where she would make a dramatic announcement. Also present were Alexey Krasnov, chief of Roscosmos' Piloted Programs Department; Eric Anderson, Chairman of Space Adventures, Ltd.; and Neil Ford of UNESCO. The suspicions of the media that were present were confirmed before a word was even spoken. Being the consummate entertainer and performer, the conference opened with a music video showing film clips of Sarah Brightman's childhood interspaced with historic footage from American and Russian manned space missions, with a musical overlay of her singing "Angel," from her upcoming album "Dreamchaser."
After the music video, the press conference displayed an informational video. It revealed that Brightman had travelled to Star City outside of Moscow in July of that year to begin medical assessment by the Russian Federal Space Agency.
"I am pleased to announce that Sarah Brightman has been selected to participate in our spaceflight training program," Krasnov said in a Space Adventures press release. "This past July, Ms. Brightman completed and passed all the required medical and physical evaluations; she's fit and mentally prepared for our spaceflight training program. We will work closely with Space Adventures in supporting Ms. Brightman's spaceflight candidacy."
The Sarah Brightman known for her stunning beauty and dazzling costumes as a performing diva has been set aside to reveal a woman without makeup and wearing glasses, looking for all the world like a 50-something space geek.
"I don't think of myself as a dreamer," Brightman said in a prepared statement. "Rather, I am a dream chaser. I hope that I can encourage others to take inspiration from my journey both to chase down their own dreams and to help fulfill the important UNESCO mandate to promote peace and sustainable development on Earth and from space. I am determined that this journey can reach out to be a force for good, a catalyst for some of the dreams and aims of others that resonate with me."
With the release of "Dreamchaser" in January 2013, she embarked on a world tour to promote the album and announce her space mission initiatives. Due to her own contractual agreements and the mission and training schedules at Star City, her mission training would not begin for two years. Finally, in January of this year, she flew to Moscow to begin her intensive training program. This would involve months of classroom education (including four hours of Russian every day), simulator, centrifuge and biomedical training, wilderness survival training, and studies of the capsule systems, launch vehicle and even docking hardware. Brightman has put her performing schedule on hold up to and through her space mission to the ISS.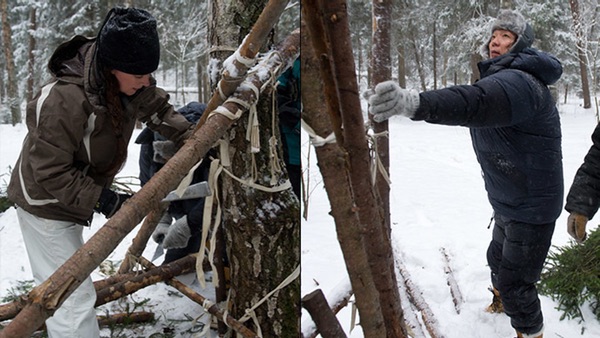 Sarah Brightman and her backup Satoshi Takamatsu construct an expedient shelter during their wilderness survival training in January in the forests of Star City. (credit: Yu.A. Gargarin Research and Test Cosmonaut Training Center)
Joining her in all the training and classroom time is Satoshi Takamatsu, who is Brightman's mission backup should for any reason she cannot participate in the September mission. Takamatsu underwent the same initial medical evaluation and subsequent approval for training. Takamatsu is a successful serial entrepreneur and advertising executive and is founder and CEO of Space Films and Space Travel in Japan. Apparently, he also experienced the same emotions Brightman felt as he watched the Apollo 11 lunar landing on TV as a six-year-old.
"I am delighted to be able to take advantage of this opportunity to train as a cosmonaut," Takamatsu stated in a January 7, 2015, Space Adventures press release. "I am excited to prepare myself alongside professionals and to get their unique insight as to what it takes to train for a flight to space. I started dreaming of launching to space when I was six years old when I watched the Apollo 11 lunar landing on TV. So this really is the fulfillment of a lifelong dream." It is not clear, though, when Takamatsu can travel to the ISS should Brightman fly in September.
Brightman has used the power of her Facebook and Twitter accounts to keep her worldwide fan base fully informed of her training and education at the Gagarin Research and Test Cosmonaut Training Center. The Sarah Brightman known for her stunning beauty and dazzling costumes as a performing diva has been set aside to reveal a woman without makeup and wearing glasses, looking for all the world like a 50-something space geek.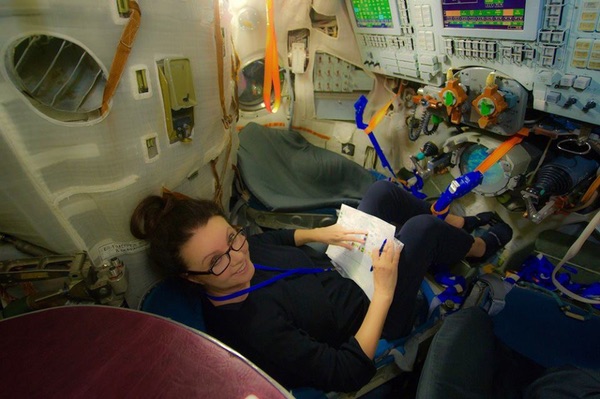 Brightman posted this photo of herself in one of the trainers studying the Soviet Life Support System. (credit: SarahBrightman.com)
Brightman is defensive when questioned what this training and mission is costing her. Space Adventures naturally does not release this information, but most news stories suggest the price is a little more than $50 million. When this question was put to Brightman by Russia Today reporter Sophie Shevarnadze, the soprano responded, "Some people want to give money to their children, buy houses, go on a holiday—whatever it is that they want to invest in. This particular journey has been something that I wanted to do most of my life, but there was no real opportunity to do so."
In March, she posted the design of the mission patch, "Chasing Dreams – Shaping Futures," with elements she contributed to. The four-pointed star at the top refers to Star City. Beneath it is a silhouette of the ISS. In the center of the patch is a soaring image of a woman that Brightman wanted to symbolize the possibilities for girls and young women around the world. Behind this woman is a graphic of the Moon to honor the Apollo 11 lunar landing that has inspired Brightman for years. Beneath the Moon is a partial view of the Earth showing the British Isles, her homeland. The three flags of Russia, the United Kingdom, and the United States form the basis of a launching spacecraft. TMA 18/16M refers the names of the Soyuz spacecraft for her flights to, and return from, the ISS.
What Brightman will do on the ISS
Brightman will launch on Soyuz TMA-18M, scheduled to launch on September 1. Mission commander Sergey Volkov is a veteran cosmonaut with more than a year aboard the ISS as part of Expedition 17 in 2006 and Expedition 28 in 2011. Andreas Mogensen of the European Space Agency is, by contrast, a rookie.
"What I would love to do is sing something very simple, and connect with either orchestra, choir, other singers on Earth," she said. "And you know, from that sort of space-to-Earth connections, I would like to create something really beautiful."
From launch to docking with the ISS should take approximately six hours. She will remain aboard the ISS for ten days. She is prepared for the almost inevitable space sickness, as well as nasal congestion that she realizes she must take into account as she plans for a musical presentation, probably from the cupola of the ISS with the Earth visible below. Brightman has been working with her former husband, theatrical music composer Andrew Lloyd Weber, on a special vocal composition to inspire children and especially girls in the pursuit of their dreams.
"What I would love to do is sing something very simple, and connect with either orchestra, choir, other singers on Earth," she told Russia Today. "And you know, from that sort of space-to-Earth connections, I would like to create something really beautiful." There is little doubt this song will be one of the most widely listened-to performances of her career.
Brightman is also a UNESCO Artist for Peace Ambassador. "Brightman will advocate for UNESCO's mandate to promote peace and sustainable development to safeguard our planet's future," a Space Adventures release about her flight states.
In 2012, Brightman partnered with Virgin Galactic and launched The Brightman STEM Scholarship program. In conjunction with this she has joined with The Challenger Center for Space Science Education to offer the STEAM (Science, Technology, Engineering, Arts and Math) Challenge at Challenger Learning Centers around the world. She will hold at least one broadcast from the ISS to raise awareness of this educational organization.
"Through my partnership with Challenger Center," she stated on her website, "I hope to inspire in children the same wonder and excitement for space exploration that I feel myself. As I prepare for my own space journey, I am proud to work with them to impart the sense of magic that has had me dreaming and looking up at the stars since I was a child."
Brightman will return to Earth September 11, 2015 aboard Soyuz TMA-16M with Mogensen and Gennady Padalka. Along with resuming her concert schedule, she will also hold "Space In Place" concerts at UNESCO World Heritage Sites and similar venues.
---