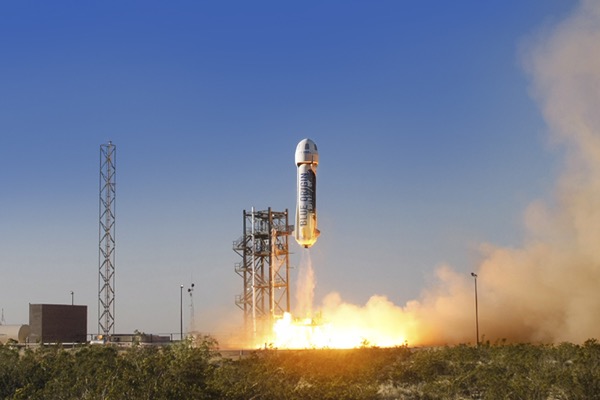 New Shepard lifts off from Blue Origin's West Texas test site on its first test flight April 29. (credit: Blue Origin)
Making good on the promise of suborbital spaceflight
by Jeff Foust

Monday, May 11, 2015
The most-watched suborbital launch in recent months was not by a suborbital spaceflight company.
Last Wednesday, SpaceX carried out a pad abort test of its Dragon spacecraft, using its SuperDrago thrusters to leap off the pad. The test, sending the Dragon to an altitude of a little more than one kilometer, lasted just 99 seconds from liftoff to splashdown. It was, though, largely successful. "Had humans been on board today, they would have been in great shape," the company said in a statement issued after the flight.
"Any astronauts on board would have had a very nice journey into space and a smooth return," Blue Origin said of its first, uncrewed New Shepard test.
SpaceX, of course, is not getting into the suborbital spaceflight business: the company hopes it never has to use those thrusters like that to escape its launch vehicle in an emergency. Other companies, though, are still pursuing suborbital vehicles, a field that was the cutting edge of commercial spaceflight a decade ago but has in recent years been overshadowed by the exploits of SpaceX and others in the orbital commercial cargo and crew markets. Virgin Galactic is the best known of those suborbital companies, but is still recovering from a fatal crash six months ago (see "Antares and SpaceShipTwo, six months later", The Space Review, May 4, 2015).
Virgin Galactic is not alone, though. Other companies are actively building—and even flying—suborbital vehicles with an eye on tourism or research markets.
Blue takes flight
A week before Dragon made its brief hop, another vehicle made a much higher, but more secretive, suborbital flight. It was only late April 29 did Blue Origin disclose that its New Shepard vehicle flew its first "developmental test flight" earlier that day from the company's private test site in West Texas.
During the flight, New Shepard's BE-3 engine powered the uncrewed vehicle to a peak altitude of more than 93.5 kilometers, achieving a top speed of Mach 3. The crew capsule separated from the vehicle's propulsion module as planned and parachuted to a safe landing, the company said.
"The in-space separation of the crew capsule from the propulsion module was perfect," Blue Origin said in a post signed by company founder Jeff Bezos. "Any astronauts on board would have had a very nice journey into space and a smooth return."
The propulsion module, though, didn't fare as well. The module is designed to make a powered vertical landing, but apparently failed to do so. The company said the module lost pressure in its hydraulic system during descent, "and unfortunately we didn't get to recover the propulsion module." The company didn't elaborate on the nature of the problem.
The test took place just a few weeks after the company declared that testing the BE-3 engine was complete (see "Blue Origin's suborbital plans are finally ready for flight", The Space Review, April 13, 2015). At the time, the company said it would start New Shepard test flights later this year, but offered no specific timetable.
While Blue Origin did not announce the flight in advance, there were hints that a test flight was upcoming. In a presentation to the National Research Council's Aeronautics and Space Engineering Board in Washington April 21, George Nield, FAA associate administrator for commercial space transportation, said a test was coming. "They'll be flying their reusable launch vehicle in the next couple of weeks," he said. "Watch the news for that."
Two days before the test, the FAA issued a temporary fight restriction for the airspace above Blue Origin's test site for the 29th. The restriction was intended to accommodate "space operations."
Although Blue Origin lost its first New Shepard propulsion module, it took the mishap in stride. "Fortunately, we've already been in work for some time on an improved hydraulic system," the company said in its statement. "Also, assembly of propulsion module serial numbers 2 and 3 is already underway—we'll be ready to fly again soon." Not surprisingly, the company didn't disclose when "soon" might be.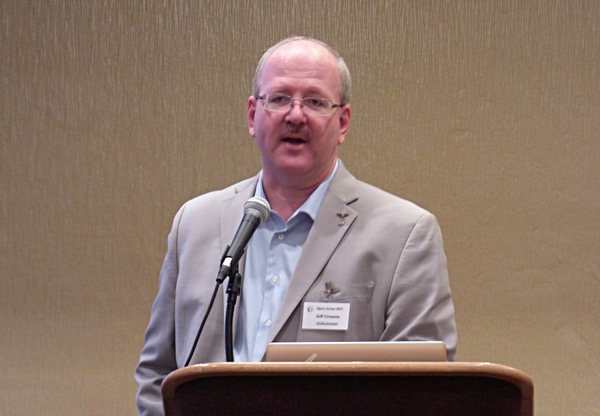 XCOR CTO Jeff Greason speaks at the Space Access '15 conference in Phoenix on May 2. (credit: J. Foust)
"Getting painfully close"
As Blue Origin makes its first New Shepard test flight, two other suborbital vehicle developers are continuing work on their own, long-running vehicle efforts, inching ever closer to flight.
"It has been a long and painful road at times," XCOR's Greason said of Lynx. "We are getting painfully close."
XCOR Aerospace is starting to enter the final phases in the assembly of its Lynx Mark I, the prototype of its two-seat suborbital spaceplane. Last week, the company announced it attached strakes to the fuselage of the Lynx, which accommodate fuel tanks, reaction control thrusters, and main landing gears.
XCOR has been working on Lynx for several years, and progress has been slow going. "It has been a long and painful road at times," XCOR chief technology officer Jeff Greason said in a May 2 talk at the Space Access '15 conference in Phoenix. "We are getting painfully close."
However, the company is optimistic that Lynx is getting close to begin tests. "The major thing we don't have yet is the wings," he said. "The wings are on order from a vendor and very hard to build."
The challenge in making the wings, he said, is that the composite "layups" needed to manufacture them are thick in places to accommodate vehicle stresses, and the wings have a low tolerance for defects. Greason said he expected the wings to arrive this fall, "but I've been wrong before."
XCOR has relied on several vendors for composite fabrication of various vehicle elements, with mixed results. "Yes, we've had fit and finish problems. We've also had other vendors that produced parts that were quite beautiful and looked just like the plans," he said. "Part of what's going on is a supply chain experience thing, learning which vendors we like to work with and which vendors we don't like to work with as much."
Greason said the company was trying to get as much other work on Lynx done now as possible to minimize the time between the arrival of the wings and the completion of the vehicle for test flights. He said he didn't know when those flights would begin. "I told you the wings won't show up until the fall, and I guarantee it won't fly before the wings," he said.
That work continues at XCOR's hangar at the Mojave Air and Space Port, even as the company prepares to move most of its operations to Midland International Air and Space Port in Texas. Even as that move continues, though, Greason said the company would maintain a "leave behind" crew of about 20 people in Mojave to complete work on Lynx and take it through its first test flight.
Another Mojave tenant, Masten Space Systems, is also working on two vertical takeoff and landing suborbital vehicles. Those two vehicles are undergoing tether tests as preludes to free flights in the near future, Dave Masten, the company's chief technology offer, said in a presentation later May 2 at the conference.
One of them, Xaero-B, is a replacement for the company's Xaero vehicle lost in a September 2012 test flight. "It will be going high and fast at some point," Masten said. "Hopefully supersonic and up to the edge of space."
A second vehicle, whose name Masten did not disclose in the talk, is intended to be a low-altitude technology demonstration vehicle, replacing the company's current Xombie vehicle. "It is all about doing what Xombie does, which is to go up to relatively low altitudes and do some interesting maneuvers, test interesting technologies for our customers, and land again," he said.
"It will be going high and fast at some point," Masten said of Xaero-B. "Hopefully supersonic and up to the edge of space."
Masten Space System has also been working on the design of far larger reusable vehicle as part of DARPA's Experimental Spaceplane 1 (XS-1) program under a contract it received last year. Masten said he could not talk much about their XS-1 work since he didn't get clearances from DARPA in time for his conference talk.
He could talk, though, about the company's future plans. He showed an illustration of a proposed commercial follow-on vehicle, called Xephyr. It would serve as a reusable first stage that, combined with an upper stage whose design Masten said is still in flux, would be able to launch small and medium-sized satellites into sun-synchronous orbits.
All of those vehicle plans, though, may require additional funding. "For the last three-plus years, we have been running entirely off customer revenue," Masten said. "We are at that point where we have to do some serious growth, so we're going to be looking for some investment dollars."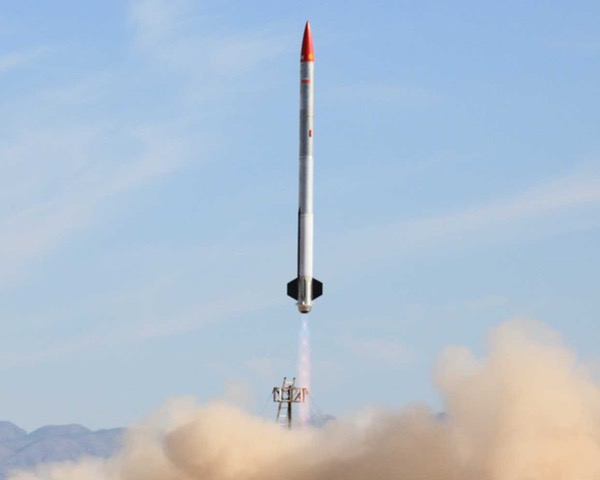 Armadillo Aerospace's STIG-B rocket launches on a 2012 flight from Spaceport America. EXOS Aerospace plans to update STIG-B for its SARGE reusable suborbital rocket. (credit: Armadillo Aerospace)
Armadillo reborn
For more than a decade, one of the leading players in suborbital spaceflight was Armadillo Aerospace. Led, and largely funded, by John Carmack, Armadillo developed a number of suborbital vehicles, from low-altitude vertical landers that competed in the Lunar Lander Challenge to a reusable sounding rocket called STIG designed to fly to the edge of space and parachute back to a precision landing.
However, after a test flight of Armadillo's STIG-B vehicle ended in a crash landing in early 2013, the company went into what Carmack called "hibernation" (see "Can lightning strike twice for RLVs?", The Space Review, August 19, 2013). "I've basically expended my 'crazy money' on Armadillo, so I don't expect to see any rockets in the real near future unless we do wind up raising some investment money on it," he said in an August 2013 speech.
A new venture, using Armadillo's technology and many of its team members, hopes to pick up where Armadillo left off. While EXOS Aerospace Systems and Technology announced its plans last year, it only earlier this year formally acquired Armadillo's "mission critical" assets, planning to build a new business around them.
Armadillo "was becoming right at the point of commercial viability, and it stopped," said John Quinn, the chief operating officer of EXOS, in a May 1 presentation at Space Access '15.
"SARGE is simply a STIG-B with a handful of improvements based on lessons learned from two years ago," Quinn said.
EXOS plans to perform suborbital launches with a vehicle it calls the Suborbital Active Rocket with GuidancE (SARGE), an updated version of Armadillo's STIG-B. Those launches are slated to start next year from Spaceport America in New Mexico, the same site Armadillo used for STIG-B.
"SARGE is simply a STIG-B with a handful of improvements based on lessons learned from two years ago," Quinn said in an interview after his conference presentation. That includes addressing some of the problems, like a faulty parachute system, that caused the last STIG-B launch to fail.
SARGE will be able to carry payloads of up to 50 kilograms to an altitude of 100 kilometers, landing back near the launch site. Quinn said EXOS plans to start doing launches on a monthly basis in 2016, then ramp up to weekly launches in 2017.
EXOS is looking to take on fairly typical markets with SARGE, including research, technology demonstration, education, and media and sponsorship. Quinn said the company does have one undisclosed customer currently. "That is the impetus, kind of the driver, behind everything that we're doing," he said.
He particularly emphasized biomedical research using SARGE. "I believe cancer research is held back by waiting on time on the ISS," he said. He didn't elaborate on what kind of cancer research he believes could be done on suborbital flights that offer only a few minutes of microgravity and exposure to the space environment.
Quinn also emphasized military applications for SARGE. He was vague about exactly what those military uses would be, saying later it could involve the rocket itself or other technologies.
While Armadillo was run for many years ]as a part-time venture with a core group of volunteers, Quinn suggested EXOS would have a more rigorous organization. "The EXOS team is taking what John Carmack's ethos was and proceduralizing and formalizing it," Quinn said.
Quinn declined to go into details about the new company's finances, but did say they are looking at both raising money from investors and seeking strategic partnerships to fund the company's development work. EXOS has ties to another company Quinn founded, Martin Systems and Technologies, with each owning a portion of the other.
He did not mention in presentation, though, an ongoing crowdfunding campaign by the company. That effort, on Kickstarter, seeks to raise $125,000 to support work on SARGE's design. As this article was going to press, the effort had raised less than $5,000 with 15 days remaining in the all-or-nothing fundraising campaign.
If EXOS is able to raise funding and get SARGE flying next year, it could help turn 2016 into a pivotal year for the suborbital industry. By next year, Virgin Galactic could be resuming test flights with its second SpaceShipTwo vehicle and Blue Origin with New Shepard and its new propulsion module, as XCOR begins flights of Lynx and Masten of its latest suborbital vehicles. The long-delayed promise of commercial suborbital spaceflight, for people or research, may finally start to be realized.
---