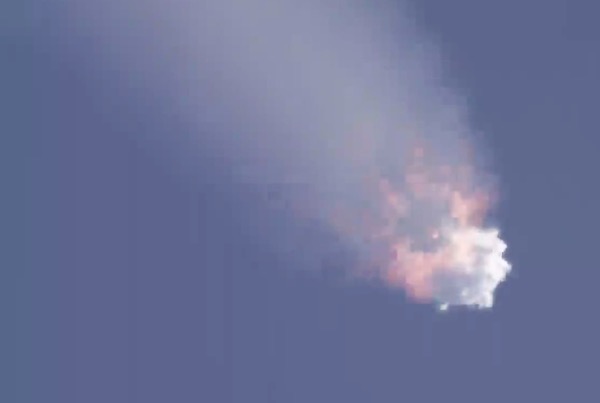 A SpaceX Falcon 9 rocket begins to break up during its launch June 28 on a mission to the International Space Station. (credit: SpaceX webcast)
The aftermath of a launch failure
by Jeff Foust

Monday, June 29, 2015
For all the attention focused on SpaceX's latest launch, there was little on the actual launch itself. Some were interested in the payload of that Falcon 9, a Dragon spacecraft carrying more than two metric tons of cargo to the International Space Station, ranging from a docking adapter to be used by future commercial crew vehicles—including the next-generation Dragon—to experiments developed by middle school students. Many more were interested to see if the Falcon 9's first stage, after two close calls earlier this year, could finally make a successful landing on a ship awaiting it in the Atlantic Ocean.
On NASA TV, George Diller broke the silence several seconds after the Falcon 9 broke apart. "We appear to have had a launch vehicle failure."
But the launch itself? The main concern seemed to be whether the weather, or any technical issues, would keep the rocket from lifting off during its instantaneous window at 10:21 am EDT Sunday. The weather, though, was beautiful that morning, and technical glitches, a problem for SpaceX in some past Falcon 9 launch attempts, didn't seem to be a concern. Eighteen Falcon 9 rockets had previously lifted off since the vehicle's debut five years ago, all placing their primary payloads into orbit.
The nineteenth, though, would be different. The launch appeared normal until two minutes and nineteen seconds after liftoff, as the Falcon 9 ascended into the stratosphere, the plume of its first stage engines expanding in the increasingly tenuous atmosphere. In real time, the situation became confused: over the next ten seconds the plume became irregular, disrupted by white clouds or smoke. Then, all that filled the screen was debris.
The SpaceX webcast of the launch, which featured some enhanced graphics highlighting the milestones of the mission, went silent. On NASA TV, George Diller broke the silence several seconds after the Falcon 9 broke apart. "We appear to have had a launch vehicle failure."
People watching replays of the launch noticed that the white cloud started near the top of the rocket, suggesting a problem with the upper stage or the Dragon spacecraft, and not with the first stage. But was that the cause of the failure, or an effect of some other underlying cause?
SpaceX CEO Elon Musk, in a Twitter comment shortly after the failure, indicated the problem was indeed with the upper stage. "There was an overpressure event in the upper stage liquid oxygen tank. Data suggests counterintuitive cause," he wrote. "That's all we can say with confidence right now. Will have more to say following a thorough fault tree analysis."
At a briefing early Sunday afternoon at the Kennedy Space Center, less than three hours after the launch, SpaceX president Gwynne Shotwell didn't have much to add. "The first stage flight remained nominal. We do not expect this to have been a first stage issue," she said. "We saw some pressurization issues in the second stage, which we'll be tracking down and following up on that."
Shotwell added that there was nothing unusual about this particular mission, the seventh in SpaceX's Commercial Resupply Services contract. "There's nothing that stands out as being different for this particular flight," she said.
She declined to offer more details about the failure investigation at the briefing. "I don't want to speculate as to what happened," she said, adding that Musk was the best source of information on the investigation. "Elon leans pretty far forward in the tweets."
As this article was prepared for publication, Musk offered only one additional update via Twitter, early Monday. "Cause still unknown after several thousand engineering-hours of review," he wrote. "Now parsing data with a hex editor to recover final milliseconds."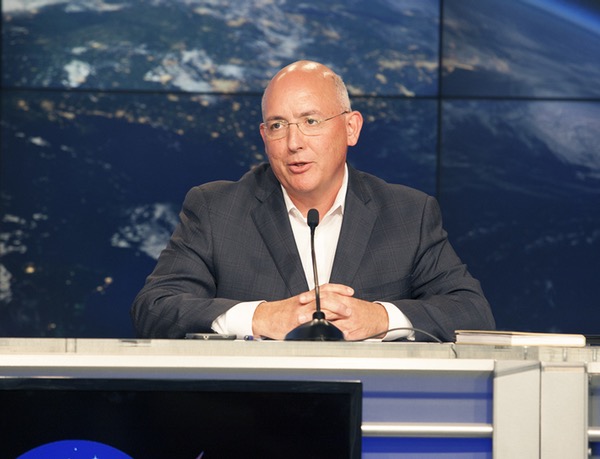 NASA ISS program manager Michael Suffredini talking about the launch failure and its implications for space station operations in a briefing June 28 at the Kennedy Space Center. (credit: NASA/Glenn Benson)
Space station implications
While there's never a good time for a launch failure of any kind, Sunday's loss of a Dragon spacecraft comes at a particularly bad time for the ISS. The failure is the third in eight months involving a space station resupply mission, after the loss of a Cygnus cargo spacecraft when its Antares launch vehicle failed last October, and the loss of a Progress spacecraft placed in the wrong orbit by a Soyuz rocket in April, reentering in early May.
NASA officials have emphasized the redundancy offered by various vehicles that service the station, which also includes Japan's H-II Transfer Vehicle (HTV) spacecraft. That redundancy has been sorely tested, though, by the events of the last three months.
"We've always assumed we would lose a vehicle every so often," said Michael Suffredini, NASA ISS program manager, at the Sunday briefing after the launch failure. "Having three this close together is not what we had hoped for."
"We're good from a food and water standpoint. We also have a good amount of research on orbit," Gerstenmaier said.
Agency officials emphasized that the failure would not cause any critical problems on the ISS, at least in the near term. The station has enough basic supplies, including food and water, to support the crew through October if no other resupply missions arrived. In addition, a Progress spacecraft is scheduled to launch July 3, and an HTV in mid-August, increasing the station's supply levels.
Cygnus, meanwhile, is scheduled to return to flight on an Atlas V from United Launch Alliance (ULA) late this year, as Orbital ATK works to return the Antares to service with a new first stage engine next spring. That Cygnus mission, currently scheduled for December, could be moved up. "If we can advance a little bit from December, and the manifest lets us do that, we might want to do that as early as October," said William Gerstenmaier, NASA associate administrator for human exploration and operations.
The failure also won't further delay the launch of three new ISS crewmembers, scheduled for July 22. That launch was planned for late May, but postponed after the Progress failure in order to move up a new Progress mission before launching a crew on a Soyuz. "We're good from a food and water standpoint. We also have a good amount of research on orbit," Gerstenmaier said. "At this point, we don't see a need to slip it."
The failure, though, is a setback for NASA and other ISS users. The Dragon was carrying nearly 2,000 kilograms of pressurized cargo, plus a new docking adapter weighing more than 500 kilograms in the Dragon's unpressurized trunk section.
The adapter, formally known as an International Docking Adapter, was to have been installed on the station to allow docking by future commercial crew vehicles under development by Boeing and SpaceX, as well as potentially other spacecraft that use that new standard. The adapter lost on the Dragon was the first of two planned for the station, but Suffredini said there are spare parts that could be used to build a replacement. "We'll look to see how quickly we can assemble that," he said.
Also lost on the Dragon were experiments, including some made by students as young as the eighth grade. NASA lost a spacesuit intended to replace one currently on the station suffering a faulty pump. And Planet Labs lost eight of its Dove satellites that would have been deployed from the station's airlock.
It's not the first time Planet Labs has lost spacecraft on an ISS cargo mission: 26 of its satellites were on the Cygnus destroyed in last October's launch failure. "This is a hard day for Planet Labs but we've experienced a launch failure before, and statistically, we will again," company CEO Will Marshall wrote shortly after the failure.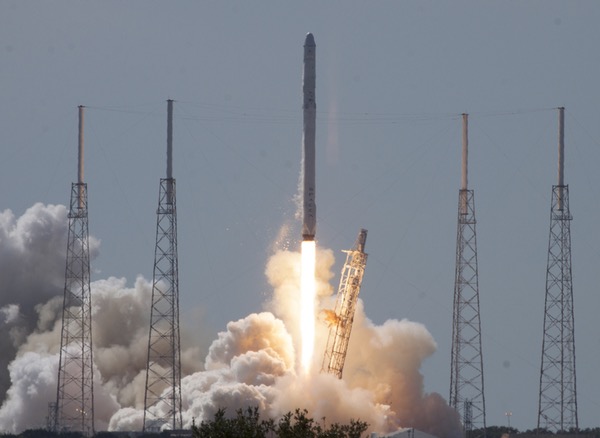 The SpaceX Falcon 9 lifting off on its ill-fated mission to the ISS June 28. (credit: NASA/Charles Babir)
SpaceX implications
For SpaceX, the failures takes some of the shine off a company that had become one the brightest stars in the entrepreneurial space industry. While the first failure of the Falcon 9 in 19 missions, it's hardly the first time the company has dealt with failure: the company's first three Falcon 1 missions also failed to reach orbit, each for different reasons.
"It certainly isn't going to be a year," Shotwell said Sunday of the investigation. "I imagine a number of months."
The Dragon launch took place under a commercial license from the FAA's Office of Commercial Space Transportation. The failure was deemed a "mishap" by the FAA, noting it caused no damage or injuries to third parties. Under terms of its license, SpaceX will lead the investigation into the failure, with oversight from the FAA. That's a similar approach to the investigation into last October's Antares failure.
That investigation will likely take several months to complete (the Antares investigation, eight months later, has not been formally concluded.) "It certainly isn't going to be a year," Shotwell said Sunday of the investigation. "I imagine a number of months."
While that investigation continues, it's unlikely Falcon 9 launches will resume, unless the failure is linked in some way specifically to the Dragon spacecraft. In a memo Monday morning, Chris Quilty, senior vice president for equity research at Raymond James and Associates, said he expected a delay of four to six months before launches resumed.
SpaceX had a growing manifest of launches it planned to carry out prior to the failure. Its next mission, in early August, was to launch the Jason-3 ocean science satellite from Vandenberg Air Force Base in California. It was also scheduled to launch the SES-9 communications satellite for SES by September on the first mission to use "uprated thrust" Merlin engines on the first stage to increase payload capacity.
Those missions, as well as others for NASA and various commercial customers, will be delayed. Quilty, though wrote that the delay "shouldn't be tremendously impactful" to the affected companies, although a longer delay could result in those companies losing revenue into 2016 and 2017.
Policy implications
The failure came just a month after SpaceX won a major milestone in another line of business: certification from the US Air Force of the Falcon 9, allowing it to compete for military launches that previously were only available to ULA's Atlas and Delta vehicles. "SpaceX's emergence as a viable commercial launch provider provides the opportunity to compete launch services for the first time in almost a decade," Secretary of the Air Force Deborah Lee James said in a May 27 statement.
That certification may get new scrutiny after the failure, even as Congress is entangled in a broader debate about launch competition and replacing the Russian-built RD-180 engine, a topic that a subcommittee of the House Armed Services Committee debated for three hours at a hearing Friday.
"We're lucky that all we lost yesterday is supplies. It could have been the lives of astronauts or a multi-billion [dollar] national security payload that our warfighters rely on," said Rep. Mike Rogers (R-AL), chairman of that subcommittee, in a statement Monday morning. "We can't allow the United States to be put into a position where it has only one means of launching national security payloads, because it can be lost in a moment."
"I know there will be debate, and questions raised, but I do believe you have to stay the course," said Stallmer about the accident's implications for commercial crew.
The failure also comes as NASA and industry press Congress to fully fund the agency's commercial crew program. NASA requested $1.243 billion for the program in its fiscal year 2016 budget request, but a House appropriations bill passed in early June gives the program $1 billion. A Senate bill awaiting action by the full Senate offers just $900 million (see "The commercial crew crunch", The Space Review, June 15, 2015).
SpaceX and NASA said that the failure should not affect the overall commercial crew program schedule. "I don't anticipate that it will affect the timeline," Gerstenmaier said. "At this point, I don't think there's any impact at all to the overall crew development timeline."
Gerstenmaier even suggested the failure could have a silver lining, by uncovering issues that can be addressed now, at a much earlier stage of overall vehicle development. "This learning can actually expedite things," he said.
A bigger issue, he argued, was a potential shortfall in funding that NASA officials have previously warned could delay the overall program. "We really need full funding for crew," he said. "When we get cutbacks in funding, then that slows down the technical work or compresses the amount of technical work that needs to be done. We want to get a redundant capability to deliver a crew to space as soon as we can get that."
Some members of Congress have started to weigh in on the failure, mostly expressing their regrets about the lost cargo and its effects on NASA and SpaceX. The House Science Committee said late Sunday that its space subcommittee will hold a hearing on the status of the ISS on July 10, although that hearing was apparently in the planning stages prior to the failure.
One member did use the failure to make a call for more funding for the commercial cargo and crew programs. "Federal support for partnerships such as Commercial Cargo and Commercial Crew is crucial to ensuring that we can apply the lessons learned from mishaps like this one and continue developing multiple methods of transporting crew and cargo to the ISS," said Rep. Donna Edwards (D-MD), ranking member of the space subcommittee. "This is why I will continue to press my colleagues on the Appropriations Committee to meet the Administration's funding requests."
Some in industry argue that Congress has little choice but to move ahead with commercial systems in spite of the failures. "I know there will be debate, and questions raised, but I do believe you have to stay the course," Eric Stallmer, president of the Commercial Spaceflight Federation, said in an interview shortly after the failure Sunday.
"We need to figure out what went wrong and continue to move forward and shoot for that 2017 date," he added. "The alternative is depending on Russia, and I don't think that's a very viable alternative."
As the business and policy implications of Sunday's failure continue to be debated, it serves as a reminder that, more than half a century after the first satellite launch, placing a spacecraft into low Earth orbit remains challenging even for companies with good track records. It is still far less routine than other modes of transportation.
"It's not whether you stumble and fall," said NASA's Suffredini. "It's what you do after you stumble and fall that's going to define success and greatness."
---