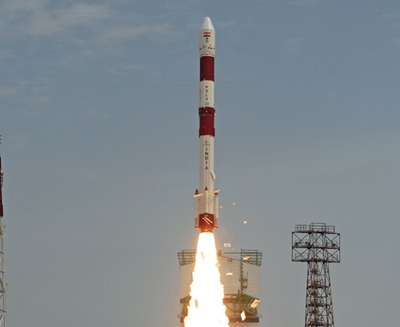 India's Polar Satellite Launch Vehicle (PSLV) lifts off from the Satish Dhawan Space Centre last June. India needs to do more than commercial launches to build up its space industry. (credit: ISRO)
Is India turning a blind eye to space commerce?
by Narayan Prasad

Monday, July 6, 2015
Last month, the Mars Orbiter Mission (MOM) from the Indian Space Research Organisation (ISRO) completed its 100th orbit around the Red Planet, marking yet another milestone for the country's space efforts. The success of MOM has been put to great use, creating a buzz in society as the mainstream Indian media made monetary comparisons with NASA's Mars mission MAVEN, while the political world took to metaphors of comparing the mission costs to Hollywood movies and auto rickshaw rides.
Why is frugal engineering, backed by the success of an unparalleled capacity to build, launch, and operate satellites, not being used effectively within the country to become a manufacturing and services hub for space missions?
To put things in perspective on the international front during the same week, international launch providers Arianespace and Virgin Galactic signed contracts in a historic deal to provide 21 and 39 launches respectively for a constellation of low Earth orbit (LEO) satellites under development by OneWeb. The 21 launches for Arianespace is essentially equivalent to India's space budget for 1.5 years (worth $1.5 billion). Meanwhile, another commercial satellite company, Spire, raised a second round in venture capital (VC) totalling $40 million. This is just the tip of the iceberg regarding fast-changing global commercial space opportunities, for which India has remained an apathetic observer at best.
MOM is undoubtedly one of the greatest feats to be achieved via frugal engineering. However, why is frugal engineering, backed by the success of an unparalleled capacity to build, launch, and operate satellites, not being used effectively within the country to become a manufacturing and services hub for space missions? That is a question that has been hanging over the country for more than a decade. The government of India has launched a massive global campaign called "Make in India" to attract foreign companies to produce in India, in which space is included as a priority sector. However, unlike many other sectors in Make in India, space has not been considered to have a big value proposition.
To provide some context of possibilities for space commerce, we need to recognise that India's first space investments date back to the 1960s, and the country remains one of the only few countries in the elite club of nations having the capability to perform end-to-end space missions indigenously. While the success of MOM has definitely provided gains for the image of the country's low-cost engineering capability and in foreign policy drives, analysts within the country are not only pointing to the global commercial possibilities but are warning about the lack of timely provision of space-based services to serve local requirements.
India deregulated several sectors in the 1990s but space still finds itself in the midst of an unsure territory between government monopoly and the lack of turnkey private industry participation in building and launching satellites. While there are 500 small and medium-scale enterprises (SMEs) working in the space sector value chain, they remain vendors essentially as pieces within the larger puzzle and have not been actively enabled to move up the value chain to be turnkey solution providers. This not only affects the business volumes these SMEs gain with most companies clientele limited to ISRO, the Department of Space (DoS) has not developed a strategy to help them gain access to global commercial product and services in the sector.
For several years ISRO has projected itself to move towards a model similar to its international counterparts such as NASA and ESA, mainly driving research and development and encouraging private industry to take up routine development of turnkey missions. However, there has been no umbrella programme or government initiative in which such an ecosystem can be developed.
The Indian government must look to strategies for creating umbrella programs that can enable the already present space industry to move towards achieving turnkey solution provider capability.
With five decades of experience in space, the country's only commercially notable company at the global stage is the government-owned Antrix Corporation, established in 1992 and which currently reports annual revenues of about $200 million in a global satellite market of $200 billion. Even if the projected growth of Antrix remains at 15% per year, as it is for 2014, the big question is whether this position of 0.1% of market revenues at the global stage for a two-decade-old state-run company qualifies considering India as the fourth largest investor in space sector in the world in terms of purchasing power parity.
In a recent move, the government of India has expressed interest in divesting its stake in Antrix Corporation. Disinvestment in Antrix is inherently different from several other public companies since Antrix does not have employees or facilities to execute projects but instead relies on the capacity of ISRO. This capacity gap has therefore boiled down to Antrix signing up launch clients for mainly spare capacity on the Polar Satellite Launch Vehicle and with no real movement in scaling business elsewhere. That includes development of turnkey satellites for an international clientele due to the large backlog in telecommunications satellites for the country's own requirement. Antrix is also limited in signing up dedicated rocket launches with ISRO's limited ISRO capacity of producing three to four rockets per year.
Scaling up Antrix's business therefore quite literally relates to scaling of resources in ISRO to be able to deliver these additional requirements apart from the national missions, which in turn require ISRO to request a larger space budget from the government of India. Instead, the Indian government must look to strategies for creating umbrella programs that can enable the already present space industry to move towards achieving turnkey solution provider capability. This can create a platform for active engagement of the Indian space industry in both upstream and downstream work, nationally and globally.
Some of the major initiatives that the government of India can take to overhauling the fundamental disconnect in encouraging space commerce include:
Setting up an independent regulatory body for space that will oversee space activities and has no conflict of interest with ISRO personnel being in the body itself. In the current organization structure, the chairman of ISRO is also the secretary of the Department of Space and also the chairman of the Space Commission, which can instead all be different roles.
Creating an independent space think tank in India advising the government on possible moves in supporting growth of the space sector and relevance in the international market, foreign policy, space security, and so on.
Passing national space legislation that extensively covers commercialization of space along the lines of efforts by several other space agencies to promote the growth of their nations' private space industries.
Creation of a space business incubation center with dedicated funds for technology entrepreneurs in the space sectors to potentially create a vibrant ecosystem for new generation/NewSpace entrepreneurs to utilise India as a hub for space products and services.
India needs to continuously reinvent itself in the rapidly changing world with economies interlinked and intertwined like never before to sustainably fuel its growth over the next two to three decades. Space has large-scale effects on the success of campaigns such as Digital India and Make in India, and can fundamentally change the perception of society in reversing brain drain, encouraging jobs in high technology products and services, and creating a third front following the success of information technology and biotech in the country.
However, the biggest question remains: will India still remain blind to these international developments and remain dysfunctional in the global stage, or will the government of India wake up revitalize the local space industry to kickoff a new chapter in the space saga of Indian space activities?
---