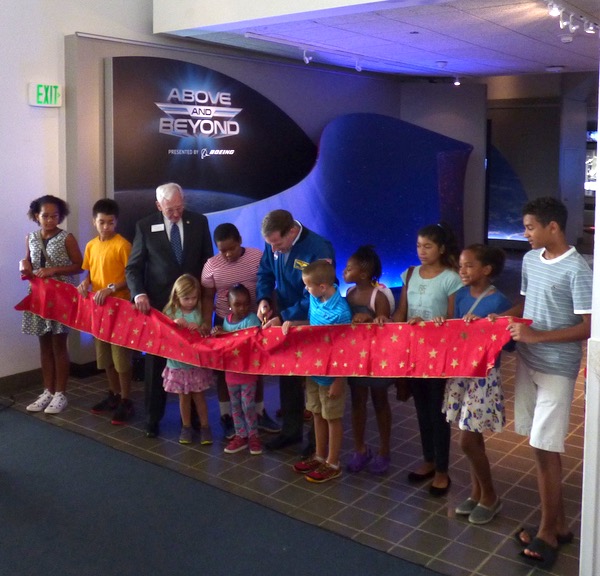 Former astronaut Chris Ferguson (center), National Air and Space Museum director Jack Dailey, and a group of children cut the ribbon opening the Above and Beyond exhibit at the museum July 30. (credit: J. Foust)
Building the 21st century space museum
by Jeff Foust

Monday, August 3, 2015
The Smithsonian's National Air and Space Museum (NASM) regularly opens new exhibits at its downtown Washington building, rotating in new artifacts and displays with specific themes, often for limited times. Last week, the museum opened its latest such exhibit, "Above and Beyond," an interactive survey of the present and future of aviation and spaceflight, one intended for "visitors of all ages, but especially ages 7–14," according to a museum statement.
It's also, museum officials said, a glimpse at the museum's future. "'Above and Beyond' is the most electronics-heavy exhibition ever housed at the National Air and Space Museum," associate director Roger Launius said at a preview of the exhibit July 30. "As such, it will help shape the future of this particular museum."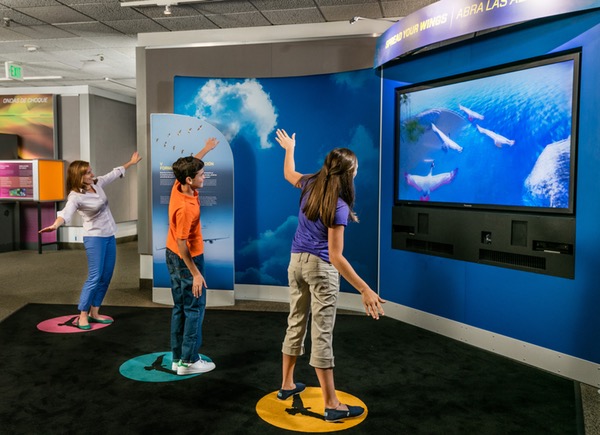 In one interactive exhibit, people flap their arms and sway their bodies to fly a bird on a screen. (credit: NASM)
That "electronics-heavy" aspect of the exhibit is due to its interactive elements. In one, people stand on spots on the exhibit floor, moving their arms and swaying their bodies to control birds on screen. (That sounds a little ridiculous if you're an adult, but fun if you're in at least part of that 7–14 age group.) In another, people can design and fly jet fighters. And space isn't forgotten, either: another feature is effectively a multiplayer video game, where people have to use the right tools to clean up orbital debris.
The exhibit is more than just video games, though. There are more conventional items on display, such as scale models of vehicles ranging from the Space Launch System to Boeing's XS-1 experimental spaceplane currently under development. (Boeing is a sponsor of the exhibit.) Smallsats, including CubeSats, are also highlighted, including models donated by NASA and Planet Labs.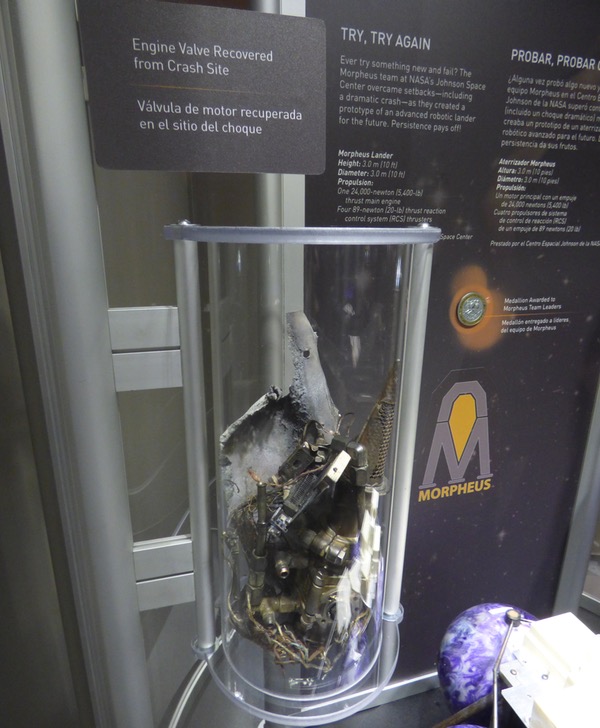 Debris from an engine destroyed in a failed Morpheus test flight is on display. (credit: J. Foust)
The exhibits don't focus on just the positive aspects of aerospace. The orbital debris display discusses the threats posed by debris, including in gameplay itself: shoot a laser at a "large" piece of debris and you'll lose points by creating more debris. A display about NASA's Morpheus experimental lander includes part of an engine destroyed during a failed test flight: a reminder not every flight is a successful one.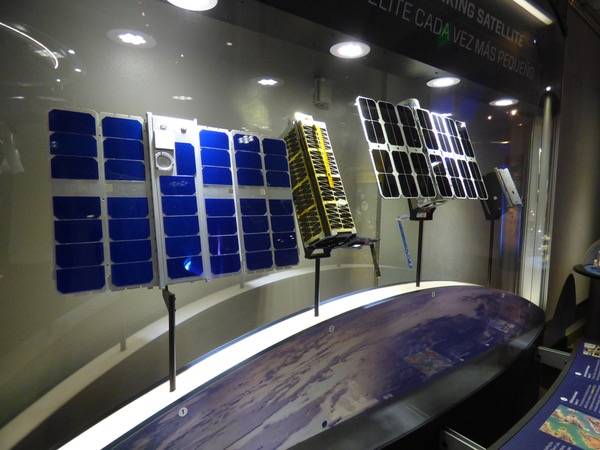 A collection of smallsat models, including some from NASA and Planet Labs, on display at Above and Beyond. (credit: J. Foust)
The idea is for people to understand aerospace not just through seeing artifacts and models, but also through playing. "We are engaged in serious efforts to understand how best to communicate with a range of people of diverse ages, backgrounds, and interests," Launius said. "We hope to use knowledge gained from how people interact with these displays to help develop future exhibitry that will transform NASM into a 21st century museum."
The museum is in the midst of other changes. It's "Milestones of Flight" gallery, home to iconic vehicles ranging from the Spirit of St. Louis to the Bell X-1 to SpaceShipOne, is undergoing an extensive renovation. During last week's visit, SpaceShipOne, which had been suspended from the gallery's high ceiling since its installation there in the fall of 2005, was on the museum floor, its feather extended for the first time since coming to the museum.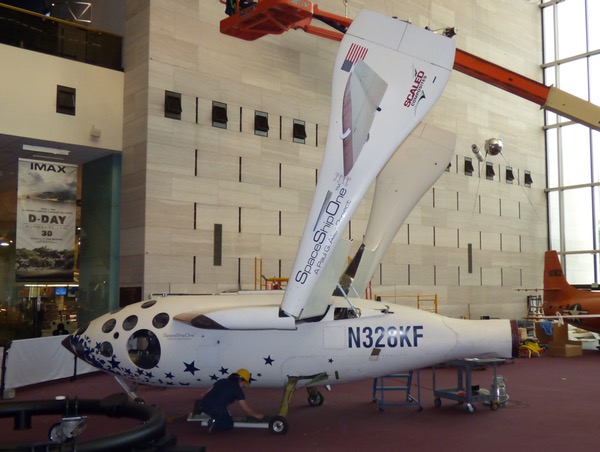 During renovations of the Milestones of Flight gallery at the museum, SpaceShipOne is on the museum floor, its feather raised for the first time since going on display there in 2005. (credit: J. Foust)
"Above and Beyond," produced by Evergreen Exhibitions, will be at Air and Space until January 3. It will then go on tour, with stops planned in St. Louis, Seattle, and London through next September.
---