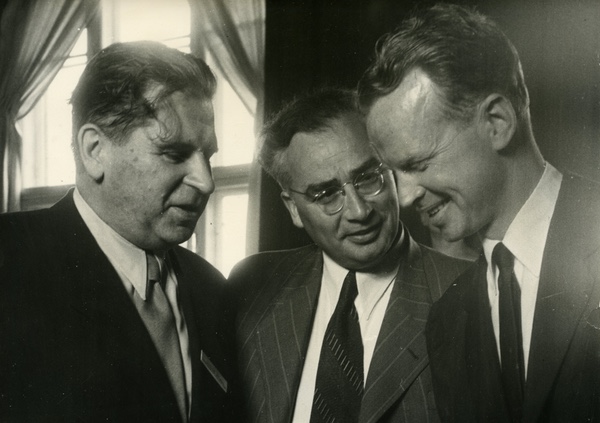 Frederick C. Durant, III (right) with Professor Kyrill F. Ogorodnikov (left) and Academician Leonid I. Sedov at the International Astronautical Congress in Copenhagen in 1955, the first attended by the Soviet Union.
Frederick C. Durant (1916-2015)
by Randy Liebermann

Monday, November 2, 2015
Frederick C. Durant, III, the former Assistant Director for Astronautics of the Smithsonian's National Air and Space Museum and one of the world's foremost authorities of spaceflight and rocketry, died on October 21, 2015, in Mount Dora, Florida, at age 98.
In the 1950s, Fred Durant was known of by anyone and everyone who was even remotely involved in the growing rocket and missile business.
Mr. Durant was born in Ardmore, Pennsylvania, into a distinguished Philadelphia family. Two of his forbearers include Thomas C. Durant of the Union Pacific Railroad and Joseph Harrison, who was one of the great engineers of the 19th century. Mr. Durant grew up at the family home located at 16th and Locust Streets in Philadelphia, just two blocks from his fraternal grandparents, who lived in a house on the far side of Rittenhouse Square. His father, Frederick C. Durant Jr., was a Massachusetts Institute of Technology and Colorado School of Mines-educated engineer who had been President of the Keystone Telephone Company for the last 20 years of his life.
Mr. Durant received a B.S. degree in Chemical Engineering from Lehigh University in 1939, as he had become drawn to chemistry as a boy after being given a gift of a chemistry set that allowed him to create experiments with various concoctions which invariably ended with a loud bang or, in his words, "whizzing." At the same time, he developed a life-long love of magic: he maintained his membership in the Society of American Magicians throughout his life. Fresh out of university, he worked as a chemical engineer with the E.I. Du Pont de Nemours & Co., at Pennsgrove, New Jersey, from 1939 through 1941.
In May of 1941, Mr. Durant left DuPont to enlist in the US Navy as a naval aviation cadet. He served until 1946 as a naval aviator, flight instructor, and test pilot, flying about 30 different types of aircraft from Piper Cubs and PBYs to the B-26. A peptic ulcer prevented him from seeing combat overseas. He later retired from the Navy as a Commander in the Naval Reserve. He recounted that his "love of aviation" began at age ten when he became engrossed in the media coverage of Charles Lindbergh's solo flight across the Atlantic Ocean. Mr. Durant's interest in aviation intensified after he personally saw Charles Lindbergh pass by his home while on parade in Philadelphia late in October 1927.
In 1947, Mr. Durant began his long and very distinguished career in the rocket and missile field as a rocket engineer with the Bell Aircraft Corp. in Buffalo, New York. He then served as the Director of Engineering at the Naval Rocket Test Station at Dover, New Jersey, from 1948 to 1951. Additionally, he became an enthusiast and ardent promoter of space flight. In 1953, he became the President of the American Rocket Society (ARS), now known as the American Institute of Aeronautics and Astronautics (AIAA). As early as 1951, he spearheaded the organization and growth of the nascent International Astronautical Federation (IAF). From 1953 through 1955, Mr. Durant served as the IAF's second president. During the late 1940s through the later 1950s, he became a Fellow of the British Interplanetary Society, the German Society for Aviation and Space Flight (DGLR), the Institute of the Aeronautical Sciences, and innumerable US and international astronautical societies, some of which he personally assisted in organizing.
Other aerospace positions he held were with Arthur D. Little, Inc., at Cambridge, Massachusetts, and the Avco-Everett Research Laboratory at Everett, Massachusetts. He was also a consultant to the Department of Defense, Bell Aerosystems Co., and other companies and organizations, including the Central Intelligence Agency (CIA). Mr. Durant was likely among the first rocket/missile/space analysts for the agency and, in 1953, was among the participants on the Robertson Panel that investigated UFOs. The Robertson Panel, under the direction of Caltech and Princeton University Professor Howard P. Robertson, issued their findings within the much larger report that was orchestrated by Mr. Durant. The report is known as the Durant Report.
From 1954 to 1955, Durant played a key role in the organization of Project Orbiter, headed by Wernher von Braun, which was a joint US Navy-Army project for launching a minimum-weight satellite. The first US satellite, the Army's Explorer 1, launched in January 1958, was a direct outgrowth of the Orbiter concept.
Part of Mr. Durant's multi-faceted legacy is that his collecting efforts on behalf of the Smithsonian left that institution with a plethora of artifacts that are now considered among the finest of their type in the world.
In the 1950s, Fred Durant was known of by anyone and everyone who was even remotely involved in the growing rocket and missile business. Durant, with his superb pedigree, sterling military credentials, and seasoned social skills was the pre-Sputnik era linchpin of the rocket and missile field. With a telephone call, he could bring together top brass or captains of industry, and he often did so at the dinner parties that he and his wife Carolyn (who went by Pip) often threw in their home. Those were the days of smoke-filled rooms where nicotine and ethanol ruled. Pip adeptly played the role of the consummate executive housewife with her gourmet cooking skills, intellect, and high sociability. Fred and Pip worked as team and had a dramatic impact on moving the spaceflight movement forward.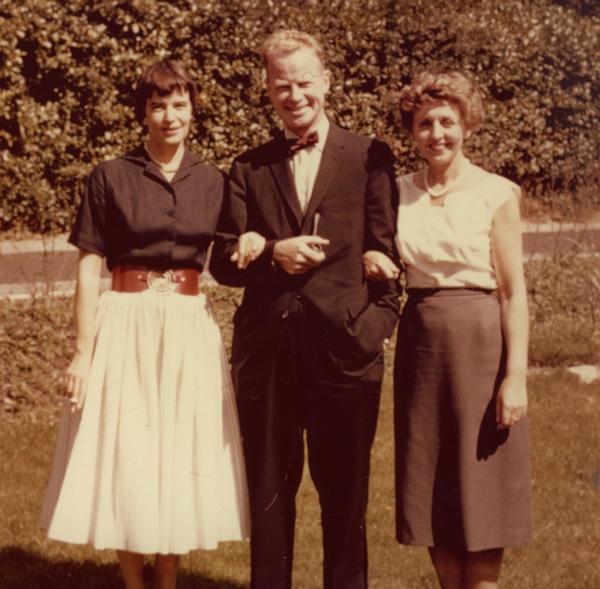 Durant (center) with his wife Pip (left) and a friend of the Durants.
In 1965, Mr. Durant joined the staff of the Smithsonian Institution as an Assistant Director of the National Air and Space Museum. Over the course of the next 15 years, he greatly built up the space and rocketry collections at the museum, including the creation of its space art collections. Part of Mr. Durant's multi-faceted legacy is that his collecting efforts on behalf of the Smithsonian left that institution with a plethora of artifacts that are now considered among the finest of their type in the world.
Mr. Durant retired from the museum in 1980 but continued to be active in the field of astronautics, serving in the 1980s, for example, as an historian and consultant with Intelsat to establish their archives.
For a number of years, Mr. Durant had also authored the "Rockets and Guided Missiles" and "Space Exploration" entries in the Encyclopedia Britannica, as well as many other articles and academic papers on space flight, all the while he lectured as a leading authority on rocket and space flight history. His wide international circle of lifelong friends and colleagues in these fields included such world notables as the late Wernher von Braun, Sir Arthur C. Clarke, and Frederick I. Ordway, III.
In retirement, Mr. Durant represented the interests of several space artists and his roster included such internationally renowned names as Chesley Bonestell, the Czech astronomical artist Ludek Pesek, and the Russian space artist Andrei Sokolov.
Mr. Durant's first wife, Celeste Bennett died from hepatitis and his second wife Carolyn Jones whom he married in 1947 preceded him in death. He was also preceded in death by his sons Derek Durant and William Durant and is survived by his daughter Carolyn (Peter) Gable and son Stephen (Teresa) Durant, six grandchildren, six great-grandchildren, and extended family and friends.
---