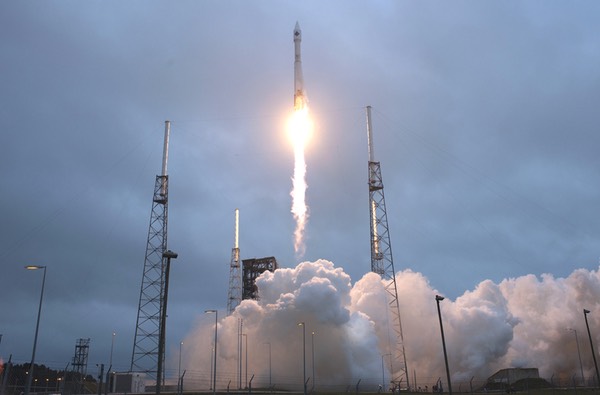 An Atlas V rocket lifts off from Cape Canaveral, Florida, December 6, sending a Cygnus cargo spacecraft on its way to the International Space Station. (credit: NASA/Tony Gray & Tim Terry)
Cygnus flies again
by Jeff Foust

Monday, December 7, 2015
Given they had waited more than a year to return to flight, a few days' delay is, in the broader scheme of things, not that big of a deal. More than 13 months earlier, a Cygnus spacecraft was lost when its Antares launch vehicle crashed seconds after liftoff from the Mid-Atlantic Regional Spaceport on Wallops Island, Virginia. Now, a new and improved Cygnus spacecraft—an extended version with greater payload capacity—sat atop an Atlas V rocket at Cape Canaveral last week, awaiting launch.
"This is actually the beginning of an extremely busy time for the International Space Station," said NASA's Shireman.
Given that the failure of the last Cygnus launch was blamed not on the spacecraft but the decades-old engines in the Antares' first stage, and also given the sterling reputation of the Atlas, the mood at the Cape last week was one less of anxiety than anxiousness. There was confidence that, once launched, Cygnus would make it to orbit and be headed on its way to the International Space Station. It just needed to get off the ground.
The Cygnus mission to the ISS needed to fit into a tight schedule for station operations this month. "This is actually the beginning of an extremely busy time for the International Space Station," said Kirk Shireman, NASA ISS program manager, during a pre-launch press conference at the Kennedy Space Center December 2. Three ISS crewmembers were scheduled to depart the station on the 11th on a Soyuz, with their replacements arriving on another Soyuz four days later. A Progress cargo was scheduled to depart the station December 18, with a new one arriving five days later.
An on-time launch December 3, as originally scheduled, would have the Cygnus arrive at the station on the morning of December 6, plenty of time before the station's traffic jam. But, while the Atlas and Cygnus were ready to fly that day, weather was not: clouds and rain kept the rocket grounded, forcing the launch to shift to December 4.
Weather initially looked more favorable that day, but as the afternoon wore on ground winds started to pick up and got close to limits. Nonetheless, the countdown picked up at the built-in T-4 minutes hold for a launch at the beginning of the 30-minute launch window—only for a gust of wind to trigger a hold a little more than three minutes before launch. They reset for the middle of the window, but again winds triggered another hold shortly after the T-4 minute mark. They tried once more at the end of the window, and this time a wind gust resulted in a hold just one second after picking up the count from T-4 minutes. Another scrub.
"The winds were just a couple of knots too high," said Vern Thorp, program manager for NASA missions at United Launch Alliance (ULA), in an interview on NASA TV immediately after the launch was postponed. "We just did not feel comfortable launching tonight."
NASA, ULA, and Orbital ATK rescheduled the launch for Saturday the 5th, but cancelled that launch attempt hours before liftoff when it was clear that winds would not permit a launch. The launch was now scheduled for December 6, which would result in a Cygnus arrival on the 9th: launch any later, and the Cygnus might have to hold position near the station, like a ship waiting to enter a busy harbor, waiting for a break in the visiting vehicle traffic.
After three days of unfavorable weather, though, conditions turned for the better on Sunday. The forecast, which earlier called for only a 40-percent chance of favorable conditions, improved to 70 percent as the day wore on. However, winds were still a concern, enough that ULA tweaked how it kept tabs on winds in the final minutes of the countdown: moving from an automated system that could call a hold to manual monitoring.
And, finally, everything came together. The Atlas lifted off at 4:44 pm EST, at the beginning of the launch window, placing the Cygnus spacecraft into orbit 21 minutes later. The Cygnus soon deployed its solar arrays, and Orbital ATK officials said the spacecraft was in perfect condition, bound for arrival at the ISS on the morning of the 9th.
"Everything's looking great," Frank DeMauro, a vice president of Orbital ATK's Space Systems Group who manages the Cygnus program, said shortly after the launch on NASA TV. "We're flying a good spacecraft now."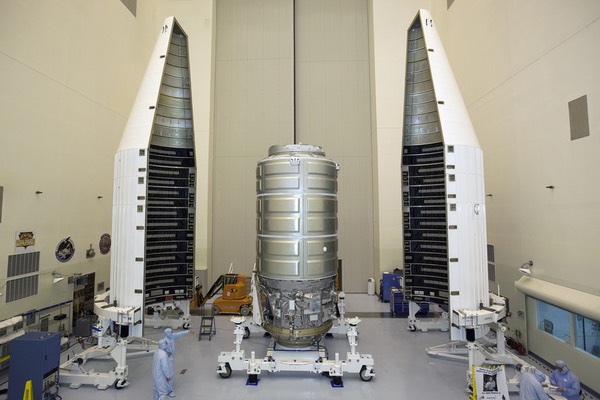 The Cygnus spacecraft being encapsulated inside the Atlas payload fairing a few weeks before launch. (credit: ULA)
Lessons learned, or lack thereof
The work that led to that successful launch Sunday started about one year earlier, when Orbital Sciences—the merger that created Orbital ATK was not finalized until this February—reached a deal with ULA for an Atlas launch of a Cygnus cargo spacecraft, allowing Orbital to continue deliveries of cargo while it re-engined the Antares vehicle.
"We'll find some things to improve the process, but my sense of things is that those will be relatively minor," DeMauro said of Cygnus processing at KSC. "The overall process was handled very well."
While the work of integrating a payload with its launch vehicle often takes two years or more, Orbital and ULA got that done in under a year. DeMauro, in an interview at the Kennedy Space Center last week, said that had in large part to do with the experience that both companies had, and the fact that Cygnus was a flight-proven vehicle that eliminated a lot of the preliminary, iterative analyses required for a typical payload.
"Nothing was cut out," he said of that integration work. "We're confident it was a full effort, we just did it in a 12-month period."
The process of preparing Cygnus for launch on Atlas was similar, in many respects, to the work needed for an Antares launch. One major difference is that the Cygnus is encapsulated in the Atlas's payload fairing earlier in the process: more than two weeks before launch, in this case. That limits the ability to do a "late load" of cargo, including perishable items like fresh fruit.
That inability to do a late load also became an issue when a piece of hardware in the station's power system, called a sequential shunt unit, failed on the station last month around the time the Cygnus was being encapsulated. NASA weighed sending a replacement unit to the station on the Cygnus, but that would have required taking Cygnus out of its payload fairing, delaying the launch.
NASA decided the failure wasn't serious enough to warrant a launch delay to add the replacement, which will be sent on a later cargo mission. "We've lost the power from that, but we haven't actually lost any redundancy, so the next worst failure is no worse today than it was before we had this sequential shunt unit fail," Shireman said at the pre-launch press conference.
DeMauro, in the interview, said he didn't see any major issues that he'd like to address with ULA after the launch. "We will sit down in a couple of weeks with the KSC folks, their contractors, and the ULA folks, and we'll work through a lessons-learned review," he said. "We'll find some things to improve the process, but my sense of things is that those will be relatively minor. The overall process was handled very well."
That's important, since in a few months Orbital ATK will be back in Florida for a second Cygnus launch on an Atlas 5, currently scheduled for March 10. Elements of that spacecraft will start arriving in Florida in January for payload processing, an effort DeMauro anticipates to be similar to this mission's work.
In parallel to the company's work launching Cygnus missions on Atlas rockets, Orbital ATK is upgrading its Antares rocket, replacing the AJ26 engines ("Americanized" versions of the Soviet-era NK-33 originally built for the N-1 Moon rocket) with RD-181 engines from NPO Energomash. That effort, company officials say, remains on schedule.
"It's probably as close to a drop-in replacement as you could find to the AJ26," said Mike Pinkston, vice president and general manager of the Antares program at Orbital ATK, in an interview last week. "There are a number of changes, but in the grand scheme of things they're relatively minor compared to what they could be."
He said the company was in the "final throes" of integrating the RD-181 into the Antares first stage, with that work likely to finish up early next year. The rocket will then go to the pad at Wallops in early March for a hot-fire test. If successful, the vehicle could be ready for launching a Cygnus spacecraft by late May or early June, a schedule that will also depend on other vehicle traffic to and from the ISS.
The pad itself at Wallops is ready, with repairs after last year's Antares launch failure now complete, Pinkston said. Those repairs also included what he called some "relatively minor" modifications to accommodate the RD-181 engine.
"We're certainly keenly interested in expanding the market for Antares," Pinkston said.
That late spring Antares launch would be followed by another in October, carrying another Cygnus to the station. Orbital ATK is also continuing to look for other customers for Antares: currently, the only missions on its manifest are Cygnus cargo missions for NASA, a schedule that currently runs to early 2018 pending the outcome of a new cargo contract NASA now plans to award to two or more companies by late January.
"We're certainly keenly interested in expanding the market for Antares," Pinkston said. "Obviously, we need to get back to flight before that really picks up steam, I think."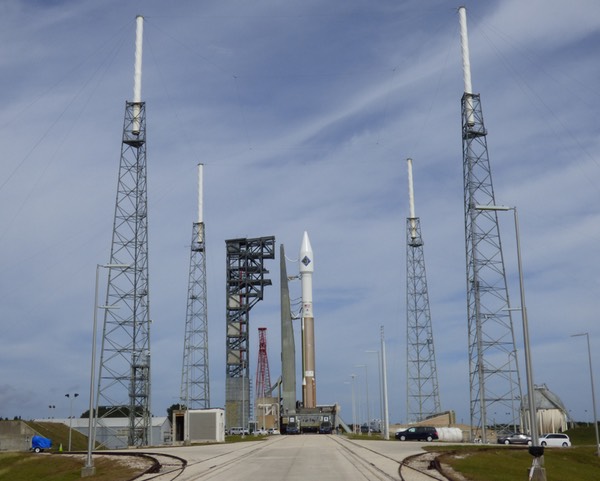 The Atlas V shortly after being rolled onto the pad December 2. (credit: J. Foust)
Restocking the station
Last week, though, the focus was on getting this Cygnus launched and its cargo delivered to the space station. The Cygnus was carrying more than 3,500 kilograms of cargo, ranging from food and other consumables for the crew to spare hardware to experiments and even a number of small satellites that will later be deployed to the station.
The consumables were particularly important, NASA's Shireman said, because of other disruptions in the ISS resupply chain. Besides the Cygnus loss last year, a SpaceX Dragon mission was lost in June in a Falcon 9 launch failure, while a Russian Progress spacecraft also failed to reach the station in April. Coupled with the retirement of ESA's ATV cargo spacecraft, only the Japanese HTV vehicle, which files no more than once a year, avoided problems.
"2015 has been a difficult year for ISS," said Shireman. "So we're looking forward to those supplies being replenished by the Cygnus."
No supplies on the station are in immediate danger of running out, but Shireman said that the station's toilet supplies, without resupply from Cygnus or other vehicles, would run out in February. Food levels would also drop below a "warning line" in February, and run out in April, without resupply.
Also on board the Cygnus are a number of spare parts, replacing items that have been used up on the station in the course of routine operations. "We've been consuming some of our critical spares," Shireman said. "We are below where we would like to be relative to our on-orbit hardware spares."
Shireman said he hopes to gradually restore those levels over the next year as both Cygnus and Dragon resume cargo missions to the station. "I can't emphasize enough how important it us on board ISS to us to have a regular cadence of resupply flights," he said. "A year from now, if things go according to plan, we'll be back in a very robust configuration."
Part of the Cygnus cargo includes experiments to be performed on the station, and satellites to be deployed. The latter includes a dozen Dove satellites developed by Planet Labs, the San Francisco company that has built and launched more than 100 CubeSat-class spacecraft to provide imagery of the Earth. The company has also lost more than 30 of those satellites on the failed Cygnus and Dragon cargo missions to the ISS.
"We wanted the students to be able to see that things that are worthwhile sometimes take a long time, and it takes many people to be involved," said McCormick of a student-built CubeSat onboard Cygnus.
Two other spacecraft on the Cygnus also exhibit the range of customers, and technical sophistication, using the station. At one end is the Satlet Initial-Mission Proofs and Lessons (SIMPL) smallsat, built by NovaWurks based on technology originally developed as part of DARPA's Phoenix program. SIMPL will demonstrate how smallsats can be developed from mass-produced units called "satlets."
SIMPL, NovaWurks CTO Talbot Jaeger said at a pre-launch press conference, will be assembled on the station and deployed using a new systems provided by NanoRacks called Kaber. That technology, he said, could be scaled up to much larger satellites, such as a 150-kilogram one the company is developing. "We're looking for flexibility, speed, and low cost" with the satlet approach, he said.
At the other end is STMSat-1, a 1U CubeSat built by students at St. Thomas More Cathedral School in Arlington, Virginia. That satellite, school officials said, is the first built by elementary school students.
The satellite is not particularly technical sophisticated: it has a small camera and amateur radio downlink. The real benefit, school principal Eleanor McCormack said, was teaching students about spacecraft and how to overcome challenges in the project, which she said was inspired when the shuttle Discovery flew over Washington in April 2012 when it was delivered to the National Air and Space Museum.
"I believe that the children have gained a ton of information, just to know that it takes many little pieces and parts to make the bigger ones work," she said at a pre-launch press conference. "The learning that takes place was key. We wanted the students to be able to see that things that are worthwhile sometimes take a long time, and it takes many people to be involved."
That was a lesson learned this past week not just by elementary school students in Virginia, but the NASA and industry teams that finally got Cygnus back in space.
---