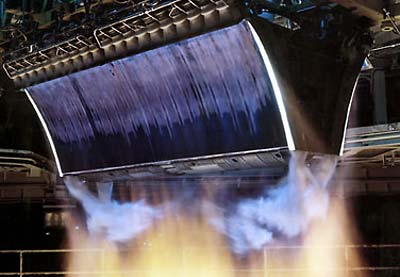 A Rocketdyne XRS-2200 engine, developed for the X-33, runs during a test firing at NASA's Stennis Space Center in mid-2001. (credit: NASA)
Main engine cutoff
Is the American rocket propulsion industry in danger of extinction?
by Jeff Foust

Monday, February 17, 2003
It has been commonplace in recent years to talk about the problems facing the launch industry as if the industry was a monolithic entity. While the launch industry in general does face serious problems, it is not monolithic. Launch vehicles are made of a variety of components, which in many cases are provided by subcontractors. The health of each of those segments of the industry is critical to the future of the overall launch industry. Some segments of the industry, as it turns out, may be hurting more than others.
That was the message that representatives of four of the largest rocket engine companies in the United States tried to get across last week. During the final panel session of the FAA's annual Commercial Space Transportation Forecast Conference in Washington, DC, executives with Aerojet, ATK Thiokol, Pratt & Whitney, and Rocketdyne, as well as the Space Transportation Association, warned that a convergence of several factors poses a critical threat to the overall industry in the US. Unless solutions—currently in short supply—are implemented soon, these executives fear that the propulsion industry could fall into an irreversible death spiral.
Diminished market
The problem with the industry fundamentally boils down to a simple issue: not enough rockets are being launched, and thus not enough engines are being sold. Byron Wood, vice president and general manager of Rocketdyne, pointed out that for the last several years the number of vehicles launched using Rocketdyne engines has consistently fallen short of projections, even as the number of actual launches has declined. In 1997 30 of the 37 projected launches using Rocketdyne engines took place; by 2002 24 such launches were projected, only 13 of which actually took place.
ITAR rules make it nearly impossible for US rocket builders to access foreign markets.
This decline in demand means there is far more supply of engines then there is demand. "There is extreme overcapacity in the market," said Julie Van Kleek, executive director of Space Systems Business Development for Aerojet. Dan McMonagle, a former space shuttle astronaut who currently works for Pratt & Whitney, believes that the US rocket engine industry is working at "well under" 50% utilization, and may approach 25%.
Complicating the problem is that the market for US companies is artificially limited by regulation. With few exceptions—like ATK Thiokol's work with the Japanese H-2A and the Russian Dnepr—US engine companies are largely limited to US launch vehicle companies. International Traffic in Arms Regulation (ITAR) rules make it very difficult, if not downright impossible, for US companies to do business overseas. As a result, overseas vehicle companies are turning to other suppliers, or developing engines themselves.
"It's in our best interest to access these markets," said McMonagle, who advocates a system modeled after foreign arms sales that would permit the sale of engines to some countries. "By doing this we allow ourselves to keep our leadership while sharing it with other countries."
However, export licensing in the space industry in general has been a bone of contention for several years, with no signs of progress. Frank Sietzen, president of the Space Transportation Association, noted that the Space Enterprise Council of the US Chamber of Commerce worked with industry to draft a letter to President Bush asking for a restructuring of licensing. However, Sietzen said, "in a time of war it didn't go anywhere."