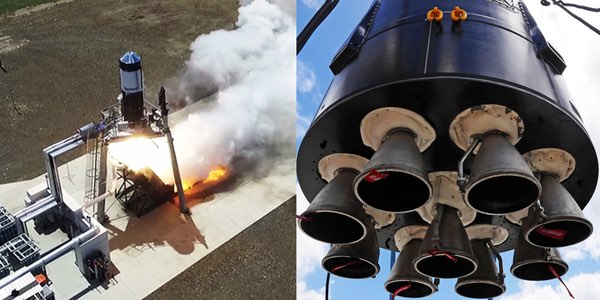 Rocket Lab, seen here testing the first stage of its Electron rocket, says it should begin test flights in 2017. (credit: Rocket Lab)
Will 2017 finally be the year of the small launcher?
by Jeff Foust

Monday, December 19, 2016
In an interview in the exhibit hall of the 33rd Space Symposium in Colorado Springs in April, Rocket Lab CEO Peter Beck was discussing the company's latest test of elements of its Electron small launch vehicle. The vehicle, he said at the time, should be ready for its first test flight later in the summer.
But wait: Rocket Lab, while headquartered in the United States, has most of its technical operations, as well as its own launch site, in New Zealand. Did he mean summer here in the Northern Hemisphere, or in the Southern Hemisphere? Northern, he clarified.
"We're trying to figure out the future of Firefly in the next four months," Markusic said in early October, two and a half months ago.
Maybe he meant Southern Hemisphere after all. Summer has come and gone without a flight of the Electron. The company announced earlier this month that it has completed flight qualification and acceptance testing of the rocket's first stage, after wrapping up second stage testing in April. Rocket Lab now says that it's ready to being flight tests: "Rocket Lab plans to begin full vehicle testing in early 2017 once international launch licensing is complete," it said in a statement. That, of course, will be late summer in New Zealand.
If Rocket Lab and other companies are right, 2017 could be the year small, commercially developed launch vehicles break through. Besides Rocket Lab's Electron, Virgin Galactic should be ready to start testing of its LauncherOne air-launch system. Vector Space Systems, a new company using technology under development for a number of years by Garvey Spacecraft Corporation, says its Vector-R rocket should be ready for an initial launch by late 2017.
The necessary condition to add to all of those schedules, though, is "if all goes according to plan." And, for many companies, that hasn't been the case: some, like Rocket Lab, have experienced technical delays that the company argues comes part-and-parcel with any launch vehicle development. Others, though, have experienced more serious issues.
The biggest setback in the last year among small launcher programs arguably belongs to Firefly Space Systems. At the beginning of the year, the company was growing at a significant clip, with a NASA contract under its belt for a launch under its Venture Class Launch Services (VCLS) program by early 2018. As recently as August the company was optimistic about its prospects, projecting that its Alpha small launch vehicle could be doing as many as 50 launches a year by the early 2020s (see "For smallsats, launch options big and small", The Space Review, August 15, 2016).
By the end of September, things were looking much worse. The company announced in a terse statement that it was forced to "take necessary action to maintain cash-flow equilibrium" after suffering a setback in funding. What exactly did that mean?
It meant, according to company co-founder and CEO Thomas Markusic in an interview a few days after the announcement, furloughing its entire staff of more than 150 employees, putting development of the company's launch vehicle on hold. Those furloughs came, he added, after making "really aggressive pay reductions" to staff a few weeks earlier to try and cut costs.
Those pay cuts and eventual furloughs, he said, were required when an unnamed investor backed out earlier in the year. "Suddenly we were left with half of our Series A funding unaccounted for," Markusic said, referring to the funding round the company was raising. Documents the company filed with the SEC earlier in the year indicated it had raised $19.1 million of a planned round of $38.2 million.
"We're cheering for all of them, and we think there's a few contenders," said Spire's Barna. "But we're definitely not relying on the success of any of these companies to build our constellation and grow it."
Markusic said at the time that he was looking at several options for Firefly's future, ranging from finding additional investors to lining up government contracts related to the company's technology to a sale of Firefly itself. The company has been quiet about its progress since then, beyond a mid-November press release that emphasized the company had letters of intent for 42 launches through 2021, which it valued at more than $300 million. Letters of intent, while indicative of potential customer interest, are not binding, though.
"We're trying to figure out the future of Firefly in the next four months," Markusic said in early October, two and a half months ago.
That should be a cautionary note for the many other smallsat launch ventures that have appeared in the last couple of years. While some are well-financed and making progress—if not at the speed they might like—others have sketchier prospects. For example, Swiss Space Systems, which at one time planned to launch small satellites using an air-launched reusable spaceplane, was declared bankrupt last week by a Swiss court.
This uncertainty in the small launch market persists even as companies developing small satellites press ahead with their plans. Companies like Planet and Spire, for example, continue to rely on secondary launch opportunities, including cargo missions to the International Space Station, to get their satellites in orbit. Spire, for example, launched four satellites last month from a Cygnus cargo spacecraft after it departed the ISS under a deal brokered by NanoRacks. Four more Spire spacecraft are on a Japanese HTV cargo spacecraft launched last week.
Those companies are keeping an eye on small launch vehicle development. Jenny Barna, launch manager for Spire, said in an interview last month that the company is keeping track of the small launch vehicles under development, and has a contract with Rocket Lab. Planet also signed a contract with Rocket Lab earlier this year.
However, Barna said Spire isn't depending on small launchers to deploy and update its constellation of cubesats that will provide maritime and aviation tracking services as well as weather data. "We're cheering for all of them, and we think there's a few contenders," she said of the various small launch companies. "But we're definitely not relying on the success of any of these companies to build our constellation and grow it."
Virgin Galactic has, as its anchor customer, OneWeb, a company developing a constellation of about 650 small satellites that will provide broadband Internet access around the world. Virgin Galactic will perform 39 launches of OneWeb satellites, one or two at a time. On Monday, OneWeb announced it had raised $1.2 billion in a round led by a new investor, SoftBank of Japan, on the heels of a $500 million round raised last year.
There's a growing interest in such "mega-constellations" of hundreds or thousands of satellites, including regulatory filings made last month by Boeing, SpaceX, and others for systems of up to 4,000 satellites each. It's unclear which, if any, of those systems will launch, and if they can overcome concerns such as exacerbating the orbital debris problem (see "Mega-constellations and mega-debris", The Space Review, October 10, 2016).
It's almost certain that one US-based small launch vehicle will fly in 2017, though.
Such mega-constellations might stimulate additional demand for small launch vehicles, although less for the initial deployment of those satellites—launching thousands of satellites a few at a time is unlikely to make much operational or financial sense—but rather for filling in gaps in systems caused by failures of individual satellites. (OneWeb plans to use Soyuz launches for the initial deployment of its system.) So small launcher companies can't count on that business for the most part for years, assuming any of those constellations do take flight.
With ISS and other options for launching secondary payloads, coupled with long timeframes for those mega-constellations, small launchers could have to fight to win business on the promise of dedicated launches to specific orbits at specific times. For now, smallsat operators seem willing to take what's available now, likely at a lower price for dedicated launches, while waiting to see what dedicated small launchers really have to offer.
It's almost certain that one US-based small launch vehicle will fly in 2017, though. Orbital ATK's Pegasus launched last week for the first time in nearly three and a half years, deploying eight small hurricane forecasting satellites for NASA. Despite the interest in small satellites, Pegasus has largely been priced out of the market: the contract for this mission was valued at about $55 million, including the launch itself, satellite processing, and related services.
Pegasus, though, has a contract for another NASA mission, scheduled for launch in mid-2017. It remains to be seen if any of the new small launchers under development will also be launching by then.
---