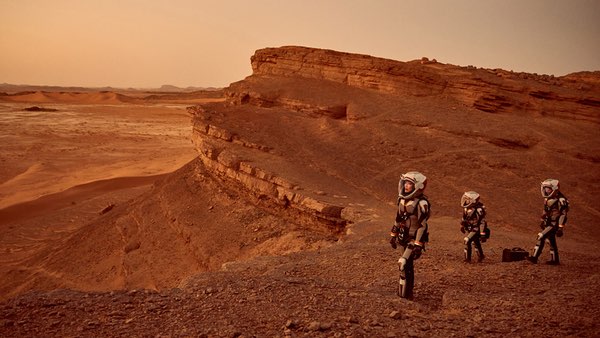 Getting through the six-part Mars miniseries could be as challenging at times as the actual exploration of the planet. (credit: National Geographic Channel)
Red zeitgeist: popular entertainment and the settlement of Mars (part 3)
by Dwayne Day

Monday, January 16, 2017
For the past few years Mars has been culturally ascendant in both fiction and discussions of humanity's future in space. There was Mars One, The Martian, the continuing reports from the Curiosity rover (water! More water! Carbon!), and of course, Elon Musk. Also during this time were a number of conferences by Explore Mars and The Mars Society. Even The Planetary Society, previously known primarily for advocating robotic exploration, endorsed a human mission to orbit the Red Planet.
Mars, especially human missions to Mars, got a lot of press and seemed to be reaching a kind of critical cultural mass—capturing the zeitgeist, if you will. Of course, people familiar with the technical issues complained that many of the biggest technical and budgetary challenges were unsolved, and maybe all this talk of sending humans to Mars was a Potemkin space program. But nevermind. Mars was on a roll.
Mars, especially human missions to Mars, got a lot of press and seemed to be reaching a kind of critical cultural mass—capturing the zeitgeist, if you will.
The end of 2016 included—well, was supposed to include—two examples of Mars-themed entertainment. One of these was National Geographic's miniseries Mars, which spanned six episodes starting in November and concluded in mid-December. The other was, or was supposed to be, the movie The Space Between Us, which was planned for a mid-December debut that never happened.
National Geographic clearly put a lot of effort and money into its Mars miniseries, and it looked pretty good for a television show. It had good special effects and some stunning visuals of the Red Planet. The first three episodes included both present-day interviews and fictional segments set during a 2033 Mars settlement mission and were reviewed on this site a month ago (see "Red Planet blues: popular entertainment and the settlement of Mars, (part 2)", The Space Review, December 5, 2016).
The fictional and non-fiction segments were closely connected, with current experts talking about subjects that were then illustrated during the drama segments. In episode 1, the mission commander was injured during landing on Mars and the ship landed far from its intended location near the habitat module. In episode 2, the crew trekked across the Martian surface and the commander died after they reached the laboratory module that would serve as their impromptu home. In episode 3, the crew sought to find an underground site to serve as their permanent base, succeeding in locating both protection and an ample supply of frozen water.
As I wrote in my earlier article, there were problems with the drama segments. The primary issue was that the actors were not that good and some of their accents were nearly impenetrable. But, even when they were understandable, the dialogue was so banal that it was hard to stay interested. In addition, the overall atmosphere was grim. This was a depressing and dispiriting vision of settling Mars. Why go through all the trouble of making the journey if everybody is miserable all the time? Although I suspect that this was probably a more accurate portrayal of a Mars mission than we normally get—"astronaut" frequently makes the list of top ten worst jobs in science—the series seemed to take it to an extreme. Nobody ever cracked a joke, and it was rare for anybody to even smile. Unlike The Martian, where the audience wanted Mark Watney to live, in large part due to Matt Damon's natural charm and charisma, I found myself not caring if anybody on the Mars crew died. The miniseries would not have sacrificed any accuracy if it had simply given the characters some personality.
In episodes 4–6, the tone remained dark, but the acting improved. Episode 4, "Power," started in 2037 after the small Martian outpost has expanded. A new crew arrives on Mars including a husband and wife: Paul Richardson (John Light) is a world-famous plant scientist and Leslie Richardson (Cosima Shaw) is an engineer. They were both selected for their expertise, not their social skills, and sent to Mars to fix things the previous crews are not doing right. This dynamic is touched upon—neither of them proves to be terribly popular with the earlier crews—but is never fully explored. Paul comments at one point that plants are alive, and it becomes clear that he has little use for people. Leslie is there to increase the settlement's power production, and she's willing to take risks to achieve it. The actors were better than the first group, although maybe that's just because Light has a British accent that naturally makes him seem erudite and authoritative. But we also see from the start that Paul might be trouble. He admits that he may not be cut out for spaceflight. Like a Chekhov play, the gun has now been hung on the wall.
Overall, the drama for the second half of the series was stronger than the first. There was better acting and more character development.
Episode 4 ends with the power system shorting out just as a massive dust storm looms on the horizon. In episode 5, "Darkest Days," the Mars settlers—there are about two dozen of them by now—are bunkered down in their habitat under power restrictions, the surface above them shrouded in dust. They're depressed and they're starting to go stir crazy. In the greenhouse, Paul is watching his plants die and clearly getting depressed. The outpost's doctor is concerned about this and she orders his psychiatric records from Earth. But she's got an entire crew to worry about, not just one Nobel Prize-winning agronomist muttering to his plants. Paul starts hallucinating, imagining he is back on Earth looking at a beautiful farm outside the habitat.
And then he opens up the pressure door and kills himself and seven of his crewmates.
Episode 6, "Crossroads," deals with the aftermath of Paul's action. The crew is trying to assess the damage to their habitat and equipment, including retrieving the bodies of their dead friends. Meanwhile, back on Earth, political support for the Mars settlement has crashed and the international authority that supports the mission has decided to end it and bring them all home. This requires some of the crew to head out to the first rocket they landed on Mars and start it up after four years. Meanwhile, Marta, the lead scientist, has detected something interesting, some kind of growth on one of the exterior structures. But it has been contaminated. Leslie has been talking to her, and it's clear that Marta is not exactly enamored of the newcomer whose husband just killed a bunch of her friends. But Leslie explains how Paul once helped identify the origins of a disease by examining wind currents. She and Marta collaborate to identify the source of the material they discovered, and they lead an expedition over a ridgeline and discover more of it in a ravine. They bring it back to the Mars habitat and Marta is able to confirm that it is alive. One of the last scenes shows an official back on Earth calling a press conference ostensibly to announce the end of the Mars effort. She stands up in front of the reporters and informs them that the Martians have discovered life on Mars.
Overall, the drama for the second half of the series was stronger than the first. There was better acting and more character development. Some relatively minor scenes finally told us more about the personalities of the crewmembers. At one point, when two astronauts, Robert and Javier, are driving in the dust storm to try and fix the power problem, they talk about what they've left behind on Earth. Robert can no longer remember the ocean, but he tells Javier that he's happy that Javier is there to keep him company. It's a simple declaration of their friendship. In the last episode, after the order to end the mission and return to Earth is received on Mars, Javier mutters to himself about his 20 years of preparation and four years on Mars and it's all been wasted. He's clearly unhappy and frustrated and angry that his entire life's work is coming to an end, all because of some mentally fragile genius who cracked under the pressure. It's a great scene demonstrating that you have to be totally committed, and perhaps a bit nuts (in a good way), to try to settle a new world.
National Geographic was clearly aiming at a general audience, not the narrow segment of the population that already loves spaceflight. But reading various comments about the show by space enthusiasts, it is clear that they did not really like it. Their complaints included the show's dark tone and the grim stories and humorless characters. But many also complained about the technical accuracy of the drama, particularly the various calamities that befell the crew. In particular, they took issue with the malfunction in the first episode where a propulsion system valve fails just as the ship is entering Mars' atmosphere and the mission commander gets out of his seat to fix it, only to later fall and get severely injured. Numerous commenters pointed out that the valve would have been tested prior to entry—something recently demonstrated with the Juno mission's balky propulsion system at Jupiter—and that the very idea of replacing the electronics in flight rather than having software automatically reroute systems was anachronistic. They also objected to the idea of the mission commander making the fix. The general sentiment seemed to be that the writers should have come up with a more realistic method of killing a crewmember.
But tech-savvy viewers took greater issue with scientist Paul Richardson's walk out the door in episode five. For starters, why would any Mars habitat have an outward-opening pressure door? It wasn't a fire door, and nobody would ever want to open that door when the compartment was pressurized (because: death.) An inward-opening door would be held shut by even relatively low pressure in the compartment. And presumably a space habitat would have all doors—except for the airlock—physically locked. The only reasonable conclusion is that the door opened outward because the plot required it.
Perhaps The Martian has made us all too sensitive to issues of technical accuracy. But National Geographic billed this series as an accurate depiction of the settlement of Mars, and it's hard to believe that they could not come up with more realistic ways to kill off their characters (personally, I'd kill them with software glitches, but that's just me.) There were other problems with technical accuracy. For example, the crews travel to Mars in giant rocket ships 50 meters tall. Nobody has proposed a human Mars architecture like this (well, except Elon Musk's fantasy) in large part because that is a tremendous amount of mass to take all the way to the Martian surface, and an awfully tall and top-heavy spacecraft to land, let alone re-launch. But clearly the designers wanted their Mars rocket to look like the Falcon 9 first stage so it would connect with the contemporary rocket footage.
Down to Earth
The drama segments of the episodes were interspersed with interviews with contemporary scientists, engineers, advocates, and historians, and the show's producers did an excellent job of matching the commentary with the fiction. Episode 4, for instance, followed around an Antarctic scientist talking about the search for life in one of the most hostile places on Earth. Episode 5 included experts talking about the psychological pressures on isolated groups of scientists and explorers. Even normally level-headed and sane people can go a little funny in the head when kept in isolation for long periods of time. The problem, as one expert explains it, is that in normal everyday interactions people who get frustrated with somebody else can escape and cool down. But if you're stuck together, the frustrations get worse. The segment included some alarming footage of persons in a Russian Mars mission simulation acting rather strangely.
Perhaps The Martian has made us all too sensitive to issues of technical accuracy. But National Geographic billed this series as an accurate depiction of the settlement of Mars, and it's hard to believe that they could not come up with more realistic ways to kill off their characters.
The final episode included some sobering historical and political commentary about how accidents in space can destroy the political and financial support for a mission. As John Logsdon noted, the Apollo 13 experience dramatically undercut support within NASA and the White House for further Moon landings. Roger Launius, formerly of the National Air and Space Museum, declared flatly that a space mission that killed a crew would kill the political willpower to continue. One of the more poignant segments featured Robert Zubrin, in 2016, talking about being totally committed to sending humans to Mars, followed by video from 2003 of a slightly younger Zubrin testifying in front of Congress about the same subject—something he has been talking about in public since at least the early 1990s. The sequence perfectly made the point that people have been doing this a long time, and yet we're still not on Mars.
But by far the best of the contemporary segments dealt with Elon Musk and SpaceX. The first episode of the series overdid the SpaceX angle, creating the impression that they are the only company doing anything relevant to Mars. It was not until the third episode that anybody on the show mentioned that to date all of the Mars landing and orbiting has been done by others—NASA and JPL, for the most part. Musk talks a big game, but what has he actually done at Mars?
"Crossroads" revisited some of the material in the first episode about SpaceX's efforts to develop a reusable first stage, showing some of the explosions that occurred as the rockets returned to Earth. Finally we get to see Musk in the launch control center as one of his rockets takes off from Florida and then the first stage turns around and heads back to the coast, firing its engine all the way. Musk runs outside, clearly excited, and watches in amazement as the rocket lowers itself toward the ground, just out of sight—and then does not blow up. He rushes back into the control center and looks at the television screen, gleefully amazed like the rest of us, to see the rocket standing there intact.
It's great footage and great storytelling. It neatly wraps up the entire series, making a fantastic final statement: doing this stuff is damn hard, but if you persevere, you may succeed, and success is pretty fucking cool.
But we're still a long, long way from Mars.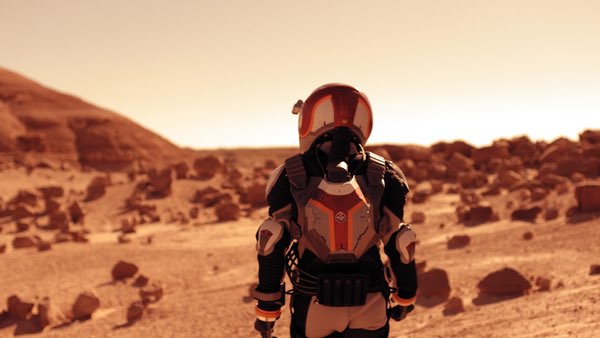 A second season of Mars is in the works, after the success of the first. (credit: National Geographic Channel)
Mars ain't the kind of place to raise your kids
The other Mars-related bit of entertainment that I previously wrote about late last year was the teen romance movie The Space Between Us (see "Love and a Red Planet: popular entertainment and the settlement of Mars (part 1)", The Space Review, November 28, 2016), That movie was originally scheduled for an August release, but at a November screening of the film in Washington, DC, the small audience in attendance was told that because the film had done well with test audiences, it had been pushed back to a mid-December release. Mid-December came and went and there was no movie. It turns out it has now been pushed back to March.
Even though there are signs that the new administration may be more Moon-focused than Mars-focused, Mars is still going to remain the major cultural obsession it has become in the past few years.
It is not clear why the film got delayed to March. Why the studio suits had confidence to slip it to December but then changed their mind is a mystery. Maybe a new studio head took over, or maybe somebody got cold feet, or maybe the studio needed a tax write-off, or maybe they realized that putting their sci-fi love story movie up against Rogue One and Passengers (which underperformed at the box office) was a bad idea. Slipping a movie's release date has to be costly—the studio spent money advertising the movie in summer 2016 only to delay the film; now nobody will remember trailers and commercials that they last saw seven months ago. My guess is that the film will appear in theaters for a couple of weeks and then vanish, then be available for streaming two months later.
The Space Between Us is not a bad film. As I previously wrote, if you cut off the beginning and ending of the movie it has a nice little story in the middle about two teenagers falling in love, and some nice scenery, although the Grand Canyon is mostly wasted.
Red zeitgeist
Before National Geographic's series premiered, the best bit of Mars entertainment at the end of 2016 was Elon Musk's big speech about settling Mars. And the goofy questions Musk was asked after his talk in many ways proved how much he has captured the public's attention about Mars. Anybody who has paid attention the past few years would not have been surprised by the things Musk was asked after giving his talk: the guy who wanted to give him a comic book, the woman who asked to kiss him. Over the years, Internet commenters have declared that Musk is more important than Thomas Edison and the Wright Brothers. One commenter—I am not making this up—declared that he was greater than Jesus because Jesus never settled a planet.
But if you looked a little harder for the comments from longtime enthusiasts, you might have also detected a certain amount of disappointment. In outlining his bold vision of 100-person rocketships complete with restaurants and cafes, Musk not only did not discuss things like the actual habitat on Mars required to keep the air in and the cold out, but he also failed to explain what SpaceX was going to do in order to land humans on Mars eight years from now. We have plenty of bold visions, some of the critics said, and what we really need is a near-term plan, and some hardware. It is common for enthusiasts to treat future promises as if they currently exist (witness a recent article here that referred to Red Dragon in the past tense, as if it has already flown), but Musk's Interplanetary Transport System was too far out for a number of people who were hoping for something a bit more real.
But perhaps, even though there are signs that the new administration may be more Moon-focused than Mars-focused, Mars is still going to remain the major cultural obsession it has become in the past few years. On Friday, National Geographic announced that it was renewing Mars for a second season. Figure that the next episodes will deal with things like the first baby born on Mars, cancer, and the development of an independent government. Let us hope that the acting and the stories will be a little less depressing.
---