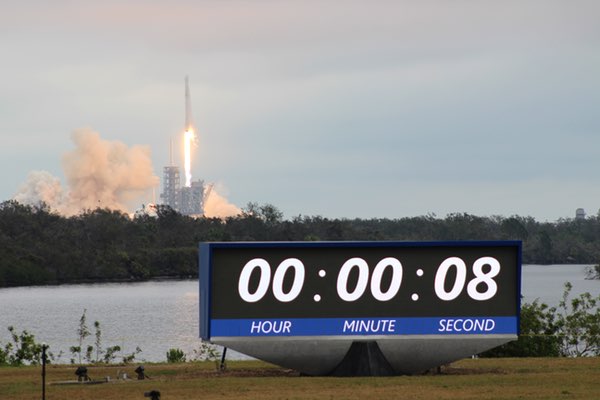 A SpaceX Falcon 9 lifts off from Launch Complex 39A Sunday as seen from the Kennedy Space Center Press Site. The launch was the first from the historic pad since the end of the shuttle program (credit: J. Foust)
New life for an old pad
by Jeff Foust

Monday, February 20, 2017
The image that appeared on NASA Television this weekend was at once both familiar and jarring. The image showed a classic shot of Launch Complex 39A at the Kennedy Space Center, the view with the tower, capped by its white lightning rod, in the center. To the left was the rotating service structure, rolled off to the side in the position it stood for dozens of shuttle launches over three decades.
"Frankly, the fact that we were this close to operations on 39A when we had the event on September 1 of last year was enormously helpful," said Shotwell.
What was different, though, was the rocket in the image. Gone was the shuttle, the orbiter attached to its mustard-colored external tank with solid rocket boosters on either side. In its place was a tall, slender rocket, a SpaceX Falcon 9, looking very much out of place against that backdrop.
If it looked unusual, well, get used to it. When that Falcon 9 lifted off Sunday, sending a Dragon spacecraft to the International Space Station after a one-day delay due to a technical glitch, it marked the beginning of a new era for both SpaceX and KSC. For SpaceX, access to the pad both resolves a near-term problem the company has and sets the stage for more ambitious plans in the coming years. For KSC, getting SpaceX up and running on LC-39A is just the latest step in that center's post-shuttle transformation.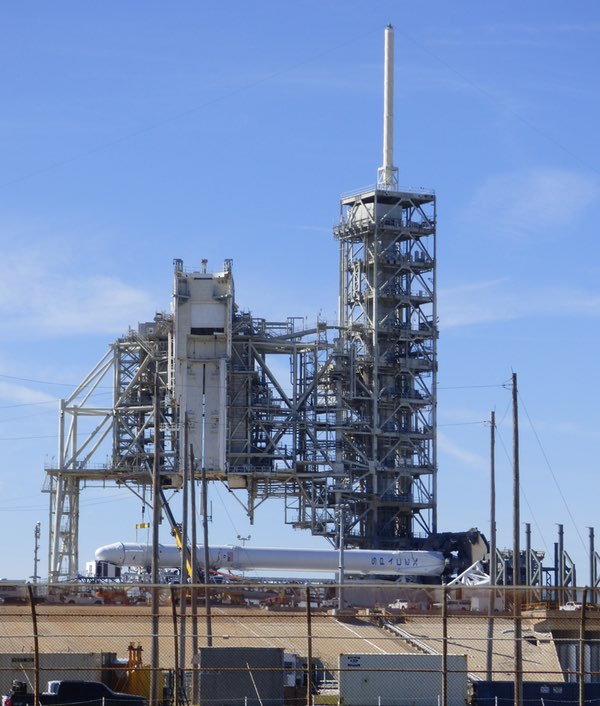 A SpaceX Falcon 9 rocket lies horizontal at Launch Complex 39A during launch preparations Friday. (credit: J. Foust)
"It's a huge pad"
SpaceX formally took over Launch Complex 39A in April 2014, signing a 20-year lease for the pad. The company planned to use the site, once renovations of it were complete, for launches of its Falcon Heavy rocket as well as Falcon 9 launches of crewed Dragon spacecraft.
That work was nearing completion when a Falcon 9 exploded several kilometers away, at Space Launch Complex 40, while being prepared for a static-fire test in advance of a September launch of a communications satellite. With that pad sustaining damage from the explosion, SpaceX turned to LC-39A to handle launches previously planned for SLC-40.
"Frankly, the fact that we were this close to operations on 39A when we had the event on September 1 of last year was enormously helpful," said Gwynne Shotwell, president of SpaceX, at a press conference held Friday afternoon in front of the pad. "It obviously takes longer to rebuild that pad than to get this one up and running."
Once the problem with the Falcon 9 was identified and corrected, SpaceX moved ahead with return-to-flight plans, starting with a launch of Iridium satellites from Vandenberg Air Force Base in California in January. Next up: a Dragon cargo mission for NASA, which would become the first mission to fly from LC-39A since the final shuttle mission in July 2011.
Converting a massive pad originally built for Saturn V and later modified for the shuttle to support the Falcon 9 had its challenges for SpaceX. "It's a huge pad," said Hans Koenigsmann, vice president of flight reliability at SpaceX, in a conversation with reporters after a February 8 panel at the FAA's 20th Annual Commercial Space Transportation Conference in Washington. "It's nothing in particular that gave us a hard time. It's more like this whole thing is just a huge effort."
"Keep in mind this is more than just a launch pad," Shotwell said. "I wouldn't say we saved a bunch of money here."
That pad will be the primary SpaceX pad for East Coast launches for the next several months. That includes two commercial geostationary communications satellites that are next on SpaceX's manifest, EchoStar-23 and SES-10, missions that would have previously launched from SLC-40. SES-10 is, in addition, planned to be the first launch of a previously-flown Falcon 9 first stage, using the stage first flown on another Dragon mission last April.
When SpaceX renovated the pad, company officials said they designed it to support a high tempo of launches: ultimately one every two weeks. "We added significantly more blast protection at 39A compared to what we had at Pad 40, based on lessons learned," said Jessica Jensen, Dragon mission manager at SpaceX, in a post-launch press conference at KSC Sunday. That, along with a "massive" water deluge system, should protect the pad from damage and allow for quick turnarounds.
First, though, SpaceX will check to ensure that the pad got through Sunday's launch unscathed. "The main thing we want to inspect is all the systems that are critical for launch," Jensen said. "If there's some cosmetic damage, that's okay. That's actually expected."
SpaceX plans to use LC-39A for all its East Coast launches until June. That's when the company expects have SLC-40 repaired and ready to resume launches. The Falcon 9 launches will then move back to SLC-40, while SpaceX prepares for the first launch of its Falcon Heavy rocket from LC-39A some time this summer.
The company also has additional work to do to the pad itself, primarily to prepare it for crewed launches. That includes the installation of a crew access arm so that astronauts can board the rocket. That arm, Shotwell said at Friday's press conference, should be in place by late this year, when the company plans its first test flight—without astronauts—of its Crew Dragon spacecraft.
Down the road, SpaceX is also considering increasing the height of the main tower at the pad. That would allow payloads to be installed on Falcon rockets at the pad while the rocket is vertical. SpaceX currently integrates payloads onto its rockets in a neighboring hangar, where the rocket is horizontal, but requirements by the US Air Force for military payloads specify vertical integration.
Shotwell, asked at the press conference how much SpaceX spent on the refurbishment, didn't give a specific number, although she said in the past that it costs roughly $100 million to build a new launch pad. "Keep in mind this is more than just a launch pad," she said. "I wouldn't say we saved a bunch of money here."
"It might be less than $100 million," she said when asked again about the cost of preparing LC-39A for Falcon launches. "But, when I think it's fully outfitted for crew and NSS [national security space], it'll be well over that."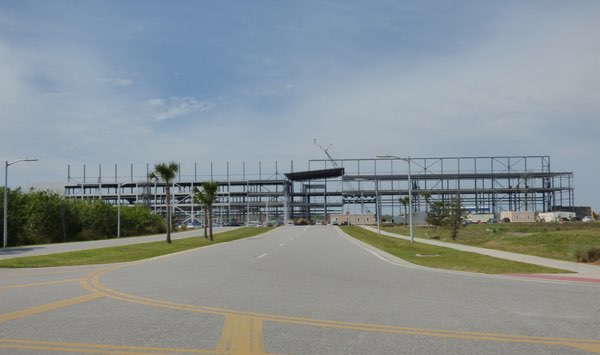 Another sign of KSC becoming a multi-user spaceport is the construction of a Blue Origin factory just outside the center's gates. (credit: J. Foust)
Creating the multi-user spaceport
While successfully launching the Falcon 9 from LC-39A was a major achievement for SpaceX, it was also a milestone for KSC. Leasing the pad to SpaceX and returning it to action was one of the key aspects of the center's long-term efforts to remake itself from a government-centric facility to one that supports a range of both government and commercial users.
"We have transformed," said Bob Cabana, director of KSC, during a half-day tour of some of the center's facilities Friday that are being updated or repurposed in the post-shuttle era. "I mean, it's visible everywhere around the Kennedy Space Center."
Leasing 39A to SpaceX is just one of the measures KSC has taken to become what it calls a "multi-user spaceport." The three Orbiter Processing Facility hangars previously used to work on shuttles between flights have been leased to Boeing. Two are being used for the secretive X-37B spaceplane, while the third is now the Commercial Crew and Cargo Processing Facility, where Boeing is assembling its CST-100 Starliner commercial crew vehicles.
Elsewhere at KSC, the Shuttle Landing Facility runway is now operated by Space Florida, the state space development agency, which seeks to use it as a commercial horizontal launch and landing site. The center is also in discussions with Orbital ATK about leasing one bay in the Vehicle Assembly Building, which the company could use for an EELV-class launch vehicle the company is studying development of.
"We set our goals out five, six years ago, and laid out what we wanted to be. And, through an iterative process, we've made everything that we wanted to happen, happen," Cabana said.
Just outside the KSC fenceline, but still technically on KSC property, Blue Origin is building a factory for its New Glenn orbital launch vehicle, which will fly from Launch Complex 36 at Cape Canaveral. The building is scheduled to be completed in December, Scott Henderson, orbital launch director at Blue Origin, said at the FAA conference this month.
Leasing those facilities to various companies and organizations is not about bringing revenue into KSC. "A lot of it is opportunity costs: money that we're not spending" by not having to pay for maintenance of the facilities, Cabana said.
That's required changes in how KSC works with companies. Tom Engler, director of KSC's center planning and development office, said that includes creating "commercial operating zones" in the facilities they operate at KSC, minimizing the oversight and overhead from the center.
"It allows these organizations and companies to work as if they were in Titusville or Miami or Fort Lauderdale or wherever," he said. "We let them do basically do what they need to do and asking only that, if they're doing something that might be an issue outside their gates, they let us know and we take the appropriate safety precautions."
That transition has also presented some challenges, he said, as KSC becomes a supplier of services for its tenants. "While we've had some difficulties transitioning to that, it's ultimately been a successful transformation," Engler said.
KSC is also finalizing a master plan for the center that identifies sites for future development, including potential new launch pads and other facilities, opening up additional opportunities in the future to support additional users.
"We set our goals out five, six years ago, and laid out what we wanted to be. And, through an iterative process, we've made everything that we wanted to happen, happen," Cabana said. "It hasn't happened as quickly as I would have liked, but this team has done an absolutely outstanding job."
And the companies who work with KSC not only get access to facilities, but also the history of a half-century of spaceflight that has taken place there. "It gives me a little bit of a chill when I walk over there. You see stuff that's left over from Apollo," Koenigsmann said of LC-39A. "That is pretty awesome."
---