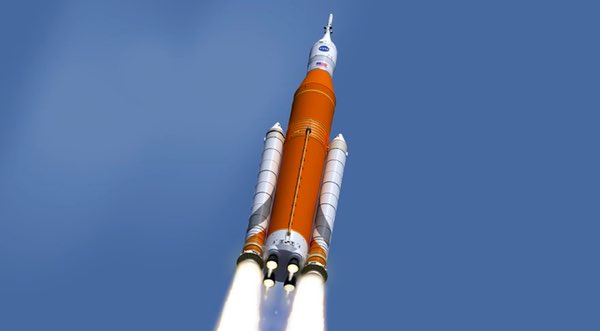 NASA will study over the next month the feasibility of flying astronauts on the first SLS mission, currently planned to fly without a crew. (credit: NASA)
The risks and benefits of accelerating crewed SLS missions
by Jeff Foust

Monday, February 27, 2017
It's a bold change, or a reckless one, depending on your point of view. And it's not even necessarily a change NASA plans to carry out.
On February 15, NASA acting administrator Robert Lightfoot announced that he was directing the agency to carry out a study about whether Exploration Mission 1 (EM-1), the first launch of the Space Launch System, should carry astronauts. That mission, currently scheduled for launch in late 2018, is planned to send an uncrewed Orion spacecraft into cislunar space for more than three weeks.
"We've been kind of looking along the way of doing things to EM-1 to make it more realistic," Gerstenmaier said. "They may have gotten the idea for this based on discussions with us."
"I know the challenges associated with such a proposition, like reviewing the technical feasibility, additional resources needed, and clearly the extra work would require a different launch date," Lightfoot said in an internal memo, distributed at the same time Lightfoot announced the plan at a closed-door session of the SLS/Orion Suppliers Conference in Washington. "That said, I also want to hear about the opportunities it could present to accelerate the effort of the first crewed flight and what it would take to accomplish that first step of pushing humans farther into space."
Since that memo, the space community has speculated on what prompted the study, what it portends for space policy in the Trump administration, and, of course, whether the idea makes sense from technical and other perspectives. It took more than a week before NASA made two key officials available for a half-hour media teleconference Friday to discuss the study.
Bill Gerstenmaier, NASA associate administrator for human exploration and operations, said that the request came from the White House, but also suggested that NASA might have influenced that request. "The administration team, in concert with Robert [Lightfoot], asked us to go do this feasibility study," he said.
But, he added, "we were looking at this a little bit on our own, to see what we could do to enhance EM-1," he said. There had already been changes to the EM-1 mission to make it closer to a crewed flight, such as adding crew seats to the Orion spacecraft and flying mannequins in those seats.
"We've been kind of looking along the way of doing things to EM-1 to make it more realistic," he said. "They may have gotten the idea for this based on discussions with us, when we showed them what we're doing and we're moving forward, and how we're trying to keep the program on track."
"I had a brief assessment done about a month ago, in anticipation, just to see if it was in the realm of possibility, and we believe it is," Hill said of putting a crew on EM-1.
When the announcement of the study first came out, it wasn't clear how NASA would study the mission. Under current plans, EM-1 will fly with a placeholder upper stage, the Interim Cryogenic Propulsion Stage (ICPS), based on the Delta IV's upper stage. It would be replaced on EM-2 and subsequent missions by a more powerful upper stage, the Exploration Upper Stage (EUS). Congress had provided additional funding for EUS ensure it will be ready for EM-2, and even directed NASA to stop efforts to human-rate the ICPS.
Thus, a study looking at putting a crew on EM-1 faced two options: human-rating the ICPS or accelerating the EUS. In the briefing, officials indicated they were focusing on the former option.
"We kind of ruled out trying to accelerate EM-2," said Bill Hill, NASA deputy associate administrator for exploration systems development. That was based on the work needed to modify ground systems being developed now to support EM-1 for the large version of SLS, with the EUS, planned for EM-2.
"I had a brief assessment done about a month ago, in anticipation, just to see if it was in the realm of possibility, and we believe it is," Hill said of putting a crew on EM-1. "Now we have the feasibility assessment ongoing to refine and dig further into what is it really going to take to do this."
Part of that assessment will deal with the SLS, particularly its ICPS, which will now need human rating. Gerstenmaier said that ICPS, despite being less powerful that EUS, will be able to send Orion on the same mission profile planned for EM-2: a concept called multi-translunar injection free minimum mission, where Orion and its upper stage spend a day in an elliptical Earth orbit before flying a free-return trajectory around the Moon, returning to Earth eight to nine days after launch.
"We don't need the full capability of the EUS to do that mission," he said. "One of the tasks we've asked the team to go look at is what changes we need to make to the Interim Cryogenic Propulsion Stage to do the mission we would like it to go do." That, he suggested, would include adding micrometeoroid debris protection to the stage for the extended time it would spend in Earth orbit.
Orion will also require changes. That includes completing a life support system that wasn't originally planned to be in place until the EM-2 mission. "If we do get asked to do this, or directed to do this, we would have to go back and take some of the equipment out of Orion that we've already installed just to get access to certain areas to install the environmental control and life support system," Hill said.
"I felt that if we went much beyond 2019, then we might as well fly EM-2 and do the plan we're on," Gerstenmaier said.
Also requiring a schedule change is a high-altitude test of the Orion's abort system, called AA-2. That test was scheduled to take place in 2019, after EM-1 but before EM-2. Hill said that the initial assessment done last month indicated that AA-2 could be moved up so it takes place before the rescheduled EM-1 mission.
And when would EM-1 take place? While there's no formal constraint on schedules placed on the study by the White House or others, Gerstenmaier said he's limiting consideration only to those concepts that would allow a launch of a crewed EM-1 mission by the end of 2019. "I felt that if we went much beyond 2019, then we might as well fly EM-2 and do the plan we're on," he said. "That also makes us decide fairly quickly if we want to go do this."
There is no constrain on budget, but NASA acknowledged turning EM-1 into a crewed mission could be expensive. "From our previous assessment we know it's going to take a significant amount of money, and money that will be required fairly quickly to implement what we need to do," Hill said, not giving a specific dollar value.
If time is of the essence, that may work against plans to fly astronauts on EM-1. NASA is nearly five years into a 2017 fiscal year where it has been operating under a continuing resolution (CR) that funds agency programs at 2016 levels. A final 2017 appropriations bill may not be completed until late April, when the existing CR expires. There remains the possibility that the CR could also simply be extended for the rest of the fiscal year.
The administration is also in the advanced stages of preparing a fiscal year 2018 budget proposal, the outlines of which will be released in mid-March with full details to follow a few weeks later. With the preliminary report of the crewed EM-1 study due in about a month, it will be a challenge to factor that into the budget planning.
Further complicating matters are reported plans by the Trump Administration to cut some federal spending. Administration officials said Monday that its 2018 budget proposal will include plans to cut non-defense discretionary spending—which includes NASA—to offset planned defense spending increases. That would make it harder to add funding for exploration programs without slashing science, technology, or other agency programs, a move bound to face some opposition from Congress.
A move to put people on EM-1 has other implications as well. One involves safety: can NASA demonstrate that it can put people on the first launch of a new rocket without unduly risking their lives?
"We strongly advise that NASA carefully and cautiously weigh the value proposition for flying crew on EM-1," Patricia Sanders, chair of NASA's Aerospace Safety Advisory Panel (ASAP), said at the start of the panel's quarterly meeting last Thursday at the Kennedy Space Center.
"NASA should provide a compelling rationale in terms of benefits gained for accepting additional risk, and fully and transparently acknowledge the tradeoffs being made before deviating from the approach for certifying the Orion/SLS vehicle for manned spaceflight," she added.
"We strongly advise that NASA carefully and cautiously weigh the value proposition for flying crew on EM-1," ASAP chairwoman Sanders said.
The idea of flying people on the first flight of SLS stands in contrast to NASA's approach to commercial crew. At the same ASAP meeting, members noted that NASA and SpaceX have agreed that the company will fly at least seven missions of the upcoming "Block 5" version of its Falcon 9 before NASA will allow its astronauts to fly on the rocket. The meeting also noted that a "top risk" NASA is tracking for Boeing's commercial crew vehicle is a lack of access to engineering data for the RD-180 engine used on the Atlas V, despite the vehicle's excellent track record in launching satellites for nearly 15 years.
Flying EM-1 with a crew means flying a shorter mission that currently planned, which is intended to push Orion to its limits. "If you put crew on the first mission, you're not going to go to distant retrograde orbit and push the limits of the vehicle on the very first flight," said Jason Crusan, director of advanced exploration systems at NASA Headquarters, during a panel last Thursday held by the Royal Aeronautical Society at the British Embassy in Washington. "So do you actually make less progress, or more progress? That's the trade we have to go through."
Flying a crew on EM-1 could also have downstream effects on the program. Gerstenmaier said that, even if astronauts fly on EM-1, there will be at least a 33-month gap between it and EM-2 because of the work needed to modify the Vehicle Assembly Building and the mobile launch platform to accommodate the upgraded SLS with the EUS.
While EM-1 will fly the same profile as EM-2, it will do so without an upper stage that has capacity for additional "co-manifested" payloads. Crusan said one idea for EM-2 was to include the first element of a proposed cislunar habitat on EM-2, or to send to the Moon a robotic rover mission called Resource Prospector. "It does impact potentially impact the follow-on sequence of either habitation or robotic missions we could so in the same time frame," he said of any decision to fly crew on EM-1.
However, effectively carrying out much of the planned EM-2 mission on EM-1 could open up new possibilities. "If we can fly the EM-2 profile mission on EM-1," said Hill, "that opens up EM-2 to do more."
Neither Gerstenmaier nor Hill said on the telecon that they had any preference about whether or not crew should be added to the EM-1 mission. "I learned throughout my career that it's better if I don't have a preconceived decision about what the heck we really want to go do when I go into studies," Gerstenmaier said. "I would rather let the data drive us."
He added that he found it "encouraging" that he was asked to do the study without any external constraints on the cost or schedule aspects of such a design change. Even if NASA and the administration don't decide to put crew on EM-1, the study could lead to other changes that improve the mission.
"I think it's great that we get a chance to go look at this," he said.
---