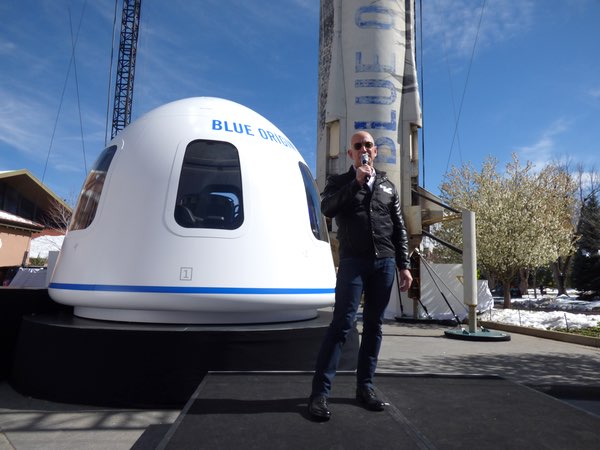 Jeff Bezos gives an update on the development of New Shepard at an April 5 briefing during the 33rd Space Symposium in Colorado Springs, Colorado. (credit: J. Foust)
Blue Origin's status update
by Jeff Foust

Monday, April 10, 2017
At the Space Foundation's Space Symposium, the annual space industry confab held last week in Colorado Springs, Colorado, as much attention goes into the exhibit hall as the main conference sessions themselves, as companies and organizations go to great lengths to attract attention. At Boeing's booth, for example, you could fly a simulator of the company's CST-100 Starliner commercial crew vehicle, docking it to the space station. AGI, the software company, offered visitors free ice cream, while others, as each day wound to a close, offered something a little stronger, from beer to sake.
"I always remind the team that we're not racing, that this vehicle is going to carry humans. We're going to make it as safe as we can make it… We're not going to take any shortcuts," Bezos said.
The exhibit that got the most attention, though, was not in the main hall, in large part because it couldn't fit. Standing on the sidewalk outside the Broadmoor's conference center was the propulsion module of Blue Origin's New Shepard vehicle, one that flew five suborbital spaceflights in less than a year, culminating with an October 2016 flight where the module landed safely, despite being blasted by the crew capsule's abort motor in a planned test.
That vehicle, along with a full-sized model of the crew capsule, was the center of attention throughout the four-day conference. People took photos of it or posed for pictures with it during the day and at night, when it was lit from above and below in blue and red lights, respectively. It weathered a snowstorm that dumped several inches of snow that melted the next day. And symposium attendees, their schedules normally busy with conference sessions and meetings, waited in line for the opportunity to go inside the cabin to see what it would be like to fly on New Shepard.
And there was a special guest as well. While he wasn't on the program, Blue Origin founder Jeff Bezos made a cameo appearance at the conference April 5 to provide an update on the development of New Shepard as the company plows ahead on both that vehicle and a much larger orbital launch vehicle, New Glenn.
Bezos was clearly enjoying himself, starting the event by boarding the capsule and talking about the spaceflight experience. "Can you imagine how Alan Shepard must have felt, all those years ago? It must have been pretty cool," he said, looking out of one of the large windows—the largest of any spacecraft, the company frequently notes.
"I'm going to come out now, even though I don't want to," he said a short time later, exiting the capsule for a more conventional talk, and question-and-answer session, on a stage in front of the capsule and booster.
The event was unusual in the sense that Bezos and Blue Origin were not making a major announcement about the company's plans: no news about when New Shepard would begin commercial flights or when ticket sales would start, or even how much those tickets would cost.
Last year, Bezos suggested that test flights with crews on board—"test passengers" since the vehicle is autonomously flown without pilots on board—could begin this year. But at Space Symposium, he backed away a bit from that schedule.
"I don't think it's going to be 2017 at this point," he said when asked about that earlier timeline for crewed test flights. "It could be."
"I always remind the team that we're not racing, that this vehicle is going to carry humans. We're going to make it as safe as we can make it. We're going to test it. We're not going to take any shortcuts," he said when asked about the company's schedule. "So we'll put humans on this vehicle when we're ready and not a second sooner."
I'm hopeful, by the way, that could still be 2018," he said later of the beginning of commercial flights. "We'll see. It's really going to be when we're ready."
"I've thrown parties before that nobody came to," Bezos said.
That apparent delay, he said, wasn't linked to the company's other major project, development of the BE-4 engine that will power the company's New Glenn orbital vehicle as well as, potentially, the Vulcan rocket under development by United Launch Alliance. Blue Origin recently shipped the first BE-4 to the company's Texas test site for static-fire tests expected to start in the next several weeks.
"We're really not constrained by our BE-4 activities. Both things are fully staffed," he said. "We're making great progress on BE-4 and we're making great progress on New Shepard."
As uncertain as the test flight schedule is the marketing schedule for selling rides on the vehicle. The company is taking email addresses to receive information, but nothing else: a far cry from Virgin Galactic, which started selling tickets more than a decade ago but has yet to fly its first customer.
"We'll probably start taking down payments and selling tickets when we're closer to commercial operations," he said. "We have a whole test program ahead of us."
He added the company hasn't even set a ticket price yet. "We're working on that. We'll figure something out," he said. "We still have time. It's not an urgent thing to figure out because we're not ready to sell tickets anyway."
The company has given some thought to a "very minimal" training program for its customers, though. "It shouldn't be more than a day of training," Bezos said. "The system has been designed, from the very beginning, so that the training can be minimal."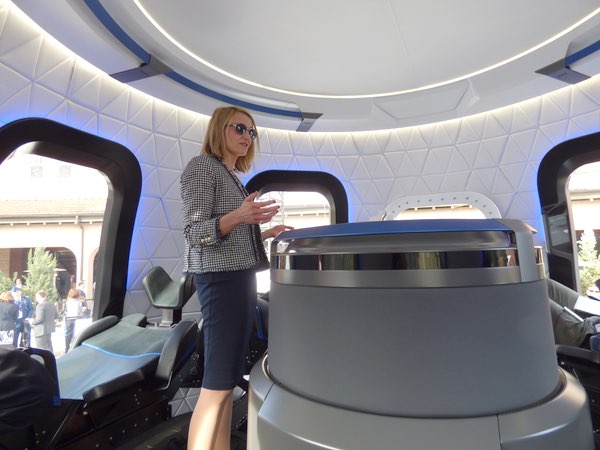 Ariane Cornell, head of astronaut strategy and sales at Blue Origin, discusses the features of the New Shepard crew capsule with reporters inside a full-sized model of the capsule. (credit: J. Foust)
A visit inside the capsule mockup makes it clear why. Entering the capsule, you sit down in one of the surprisingly comfortable seats, arranged horizontally along the cabin wall, each with access to its own window. There's not much to train for: the automated vehicle means there's little for spaceflight participants to do other than strap themselves in (seat belts were not included in the model, but will be in the actual spacecraft) and enjoy the ride.
Customers will be able to float around the cabin in the approximately four minutes of microgravity as New Shepard reaches apogee, above the 100-kilometers Kármán line. Handholds are built into various surfaces, including around the windows and the cylinder in the center that covers the abort motor. People will get warnings that weightlessness is about to end and it's time to strap themselves in, but there will be no crew on board to help people do so.
Bezos, intriguingly, suggested there might be other applications for the New Shepard booster besides lofting the crew capsule (which, besides carrying people, could also carry research payloads.) Blue Origin, he said, could get into the smallsat launch business.
"I'm thinking that it might be interesting to build a small second stage for this New Shepard booster so we could use it to put smallsats into orbit. It would be perfectly capable of being a first stage for a small orbital vehicle," he said.
He said later that smallsat launchers in general, including any use of New Shepard for launching small satellites, were not necessarily a good deal on a cost-per-kilogram basis. "But they do have certain advantages if you're doing, say, replacement of LEO constellation satellites," he said. "I think for most launches, New Glenn would be a much better vehicle. But it would be interesting to put a small second stage on this and use it as a small satellite launcher. It's perfectly suited for that task."
New Shepard's biggest role, though, may be as a reusability test bed for the company's New Glenn orbital launch vehicle, scheduled to begin flights around 2020, and future, even larger vehicles. "The learnings are often in the detail level," he said, describing lessons learned about maintenance and operation of the engines as one example. "We have learned so much, and most of it has been in the details."
"I am determined to lower the cost of access to space. And we, at Blue Origin, only need three things to make that happen: talented people, money, and patience," he said. "And we have all three."
Bezos trumpeted space tourism as a market that could drive the high flight rates that provide the experience needed to achieve those "learnings" for reusability. But he also at times seemed willing to concede he wasn't sure of the market for tourism. "At Amazon we've had a lot of inventions that we were very excited about, and customers didn't care at all," he said. "The only thing that is disruptive is customer adoption."
Or, as he put it later, "I've thrown parties before that nobody came to."
Bezos, though, has the confidence of someone with the time and money to wait until New Shepard, and all of the company's other projects, are ready to fly. The company currently takes in virtually no revenue, given that it's not selling tickets on New Shepard and only in the last month announced its first launch contracts for New Glenn. Of course, it has an ample source of funds in Bezos himself.
"My business model right now for Blue Origin is that I sell about a billion dollars a year of Amazon stock and I use it to invest in Blue Origin," he said. "So the business model for Blue Origin is very robust."
That said, he added he wants Blue Origin to one day be a profitable company that stands on its own, but he's willing to take time to make that happen. "I am determined to lower the cost of access to space. And we, at Blue Origin, only need three things to make that happen: talented people, money, and patience," he said. "And we have all three." There was faint cheering in the background, from either some of those talented employees or their fans.
Until test flights of new New Shepard vehicles resume, likely by the middle of this year, that earlier propulsion module will continue to be a magnet of attention for the company, as it gradually sheds the secretive ways of most of its history. And while that propulsion module won't fly again, its work for Blue Origin isn't done just yet.
"It's a little scarred. We have tortured this vehicle," Bezos said of the roughed-up propulsion module. "We're glad we got it back, because we get to show it off, bring it to events like this. We're going to send it on a short roadshow to various venues, and then we're going to retire it to a museum somewhere."
---