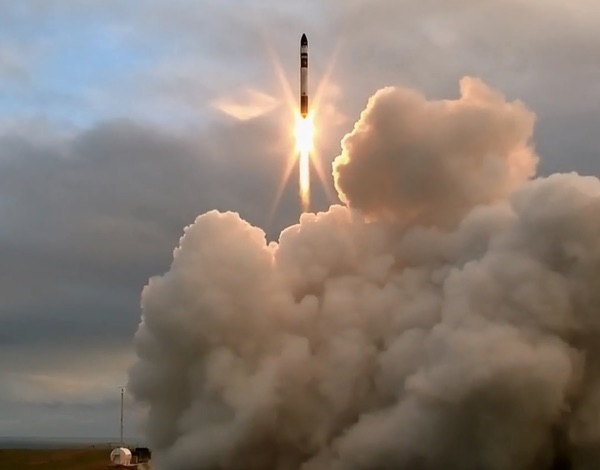 A Rocket Lab Electron lifts off on its inaugural flight May 25 from the company's New Zealand launch site. (credit: Rocket Lab)
Finally, liftoff for small launchers
by Jeff Foust

Tuesday, May 30, 2017
The last couple of years have seen growing interest in a new family of commercial, low-cost small launch vehicles. A number of companies have announced plans to develop such rockets, pursuing the perceived growing demand from cubesats and other smallsats. Some of these companies raised tens of millions of dollars, tested rocket engines, and showed off hardware. Everything, that is, but actually launch rockets.
"For a test flight, it went a lot further than certainly we expected," Beck said.
That's finally changing. Last week, Rocket Lab, the company headquartered in the United States but with most of its operations in New Zealand, launched its first Electron rocket from its own launch site on the east cost of New Zealand's North Island. The rocket didn't make orbit, but it flew into space, which the company considered successful enough for an inaugural test flight.
"We're really happy with what we achieved," Peter Beck, CEO of Rocket Lab, said in a call with media about 11 hours after the 4:20 pm local time (0420 GMT) launch May 25. "For a test flight, it went a lot further than certainly we expected."
Beck said that the rocket worked as planned, at least in the early stages of the flight, from the performance of the first stage through the ignition of the second stage and jettisoning of the payload fairing. Beck declined to discuss any issues with the second stage that prevented the rocket from placing a test payload into low Earth orbit, including whether the stage's single engine underperformed or shut down prematurely, saying engineers were still reviewing the data from the launch. He also didn't disclose how high the rocket reached, beyond that it reached space—an altitude variously described as anywhere from 80 to 100 kilometers.
Indeed, there was limited information from the company in general, which offered only occasional updates through social media and in press releases during the days leading up to the launch, which was postponed several days due to weather conditions at the launch site and in the upper atmosphere. There were no official public viewing sites for the launch, although some residents found locations that offered at least a distant view.
There was also no public webcast of the launch. "We're groaning at the seams with bandwidth with our own telemetry and equipment, and we made the call early on that, as much as we'd love to livestream this one, I just wanted to let the team, without that additional pressure, get on with their jobs," Beck said in a May 23 phone interview. However, there was, as it turned out, a private feed for a select group, including its customers, to watch the launch online, something Beck acknowledged in that post-launch news conference. Future launches, he said, will be webcast.
The launch is the first of three test flights of the Electron that Rocket Lab has planned, with the next likely in a couple of months, he said. Beck said he didn't expect to extend that test program despite not reaching orbit on the first flight. "I think on this first flight we're well ahead of where we needed to be," he said. "We'll be going into the second test flight with a lot more confidence."
Some of his customers are counting on the company sticking to that schedule. Specifically, Moon Express plans to launch a series of lunar lander missions on the Electron, with the first one needing to launch by the end of this year in order to qualify for the Google Lunar X PRIZE. "We're still on target," Beck said of that schedule, adding that the Electron that will be used for that mission is currently being built.
The company is banking on more customers signing up as the Electron progresses through its test program. In March, the company announced that it had raised a $75-million Series D round, bringing the total the company has raised to date to $148 million. That money, Beck said at the time, would go towards ramping up production of the Electron to meet anticipated demand. The company, at the same time, moved into a new headquarters building in Huntington Beach, California, which will be used to produce the Rutherford engines for the Electron and its electronics systems.
Rocket Lab is not the only small launch vehicle company marking a flight test milestone. Three weeks earlier, Vector—the new name of the former Vector Space Systems—said it successfully launched a prototype of its small launch vehicle on a low-altitude test flight from a pad in the Mojave Desert of California.
"In my experience, people do that because they see that as the shortest and most inexpensive path to getting to that point," Cantrell said of straight-to-orbit test flights. "My theory is that it's actually not."
As with Rocket Lab, Vector didn't webcast the launch of the P-19H rocket, citing logistical issues with the remote site. It also relied on press releases and social media postings, including video showing the rocket's ascent from the pad from the perspective of a nearby hovering drone. The planned altitude for the launch was about 1,370 meters, but a spokesperson or Vector later said the company wasn't disclosing the actual altitude the rocket achieved.
That low-level test is part of a strategy to gradually test the rocket. "It's an incremental development approach that gradually adds more and more complexity and performance to the vehicle as we go along," said Vector CEO James Cantrell in an interview after the test.
He contrasted that with other companies—including Rocket Lab—that attempted all-up testing, trying to reach orbit on the first test. "In my experience, people do that because they see that as the shortest and most inexpensive path to getting to that point," he said. "My theory is that it's actually not."
(Some industry observers suggested that Vector was taking a swipe at Rocket Lab with the patch for that early May test flight. It featured a kiwi—the national, albeit flightless, bird of New Zealand—apparently being flung into space.)
Cantrell said Vector's next launch is planned within two months, which will go higher and faster than the first one. Up to five or six test flights are planned, culminating in an orbital test flight of the Vector-R rocket.
There's also finally progress on a program to develop a larger, but still low cost, launch system. On May 24, DARPA announced it had finally selected a company to build its Experimental Spaceplane 1 (XS-1) vehicle, a prototype of a reusable first stage that, coupled with an expendable upper stage, could place payloads weighing up to about 2,200 kilograms into low Earth orbit for $5 million a launch—about the price of an Electron.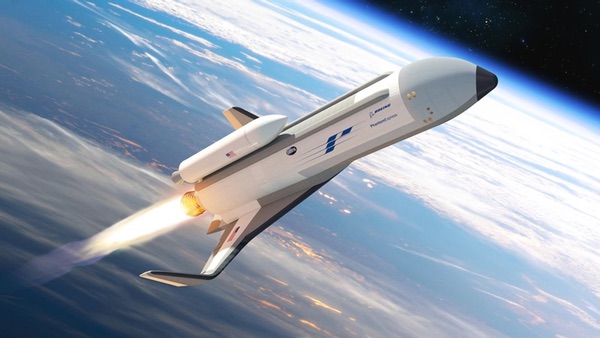 An illustration of Boeing's XS-1 concept, Phantom Express. (credit: Boeing)
DARPA boards the Phantom Express
DARPA announced it picked Boeing to develop its "Phantom Express" vehicle for phases 2 and 3 of the XS-1 program. Phase 2 covers the development and ground tests of the vehicle, with 12 to 15 flight tests—including the ten flights in ten days that was one of the original hallmarks of the program—planned for phase 3.
"Phantom Express is designed to disrupt and transform the satellite launch process as we know it today, creating a new, on-demand space launch capability that can be achieved more affordably and with less risk," said Darryl Davis, president of Boeing Phantom Works, in a company statement about the XS-1 award.
DARPA is providing $146 million for XS-1, with Boeing also making an undisclosed contribution as part of a public-private partnership. The program calls for ground tests by 2019 and the series of flight tests, including some to Mach 10 and one carrying an upper stage to place a payload into orbit.
"The XS-1 would be neither a traditional airplane nor a conventional launch vehicle but rather a combination of the two," said DARPA's Sponable.
Boeing beat out at least two other companies, Masten Space Systems and Northrop Grumman, for the award. All three of the companies had received phase 1 awards for the XS-1 program from DARPA in 2014, but the agency said that other companies were also eligible to compete for the phase 2 and 3 award.
The Boeing design has one notable change from what it unveiled when it announced its phase 1 award in 2014. At that time, Boeing was partnered with Blue Origin, with Blue Origin expected to provide a BE-3 engine for the vehicle. Under the award announced last week, Boeing said it was partnering with Aerojet Rocketdyne instead.
Aerojet Rocketdyne will provide an engine called the AR-22, which is effectively a version of the Space Shuttle Main Engine. Aerojet said in a statement it will give Boeing two AR-22 engines, using components in both its inventory as well as NASA's from earlier versions of the SSME.
"We selected the Aerojet Rocketdyne engine as it offers a flight proven, reusable engine to meet the DARPA mission requirements," Boeing spokesperson Cheryl Sampson said.
Phantom Express, vertically launched and gliding to a runway landing, is the latest government-backed bid for a reusable, or at least partially reusable, launch vehicle that can launch small to medium-sized payloads.
"The XS-1 would be neither a traditional airplane nor a conventional launch vehicle but rather a combination of the two, with the goal of lowering launch costs by a factor of ten and replacing today's frustratingly long wait time with launch on demand," said Jess Sponable, DARPA XS-1 program manager, in an agency statement.
By the time XS-1 is ready to fly, companies like Rocket Lab, Vector, and others working on small vehicles should have demonstrated their ability to provide low-cost launch for smaller satellites—and found if there is sufficient demand to keep those rockets flying.
---