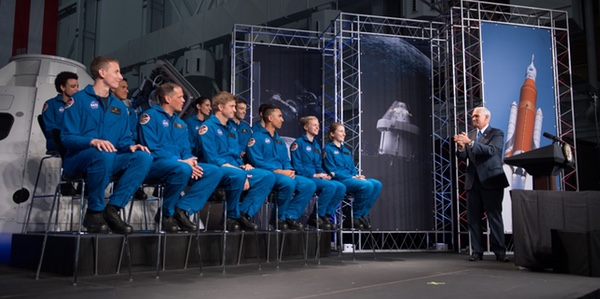 Vice President Mike Pence applauds NASA's newest astronaut class during a June 7 ceremony at the Johnson Space Center in Houston. (credit: NASA/Bill Ingalls)
Selecting a new astronaut class
by Jeff Foust

Monday, June 19, 2017
The don't have a nickname yet, but they will soon enough.
Each astronaut class gets a nickname bestowed on them, whether they like it or not. The famous 1978 class that included the first women and first people of color were known as TFNG, officially the Thirty-Five New Guys but with an alternative, and cruder, expansion. The most recent astronaut class, in 2013, got the far more innocuous nickname "8-Balls" because, well, there were eight of them.
"You have joined the elites. You are the best of us," Pence said to the new astronaut class.
There's now a new class of astronauts that will receive a nickname. On June 7, NASA unveiled its new class of astronauts, 12 people—seven men and five women—that will start two years of training in August. That class came from a pool of 18,354 applicants, the largest ever.
The ceremony at the Johnson Space Center threatened to be overshadowed by the late addition of Vice President Mike Pence. His presence at the event appeared to signal a major space policy announcement—perhaps a new NASA administrator, or the formation of the National Space Council. But Pence, while reiterating plans to reestablish the council, made no breaking news in his remarks.
"You have joined the elites. You are the best of us," he said to the new astronaut class. "You carry on your shoulders the hopes and dreams of the American people."
That class of 12 is a mix of military and civilian background, like in previous classes, with people ranging from test pilots and scientists to doctors and even an engineer from SpaceX. "As a group, you guys represent the pinnacle of American excellence," NASA acting administrator Robert Lightfoot said of the new astronaut class at the ceremony.
But how did NASA select this elite pinnacle of excellence from the largest pool of applicants in agency history? It wasn't easy, said Chris Cassidy, who until earlier this month the chief of NASA's astronaut corps, in a June 16 speech at a Washington Space Business Roundtable luncheon at the Canadian Embassy in Washington.
Cassidy said the process started with a computer program, part of the USAJobs system used for reviewing applications for a broad range of federal jobs, reviewing the submissions. "A lot of those applications were ones just submitted in the hopes of getting a rejection letter from NASA: not quite super-qualified," he said. That process trimmed the pool down to about 12,000.
"Those 12,000 were all real, legit applicants," he said. "We wanted to put astronaut eyeballs on all 12,000 of those applications." About 40 astronauts reviewed the applications, ensuring that each was seen by two or more of them. That narrowed the pool down to just 120, who were invited to Houston for an interview and basic medical testing.
"You'd think that going from 12,000 down to 120 would be the hardest part," Cassidy said. "But it was, quite truthfully, going from 50 to 12 that really, really, really put us into a hurt locker."
NASA then selected 50 of them for a full week of testing, medical examinations, and interviews. That included a weekend of field exercises to look at problem solving and decision making skills, as well as when people stepped up to be leaders and when they fell back to follow others as appropriate.
From there, NASA selected the class of 12. "You'd think that going from 12,000 down to 120 would be the hardest part," he said. "But it was, quite truthfully, going from 50 to 12 that really, really, really put us into a hurt locker. Every one of those people was amazingly qualified and would be fantastic astronauts."
That final selection, he said, involved picking the right mix of people, with the right mix of skill sets, to best serve the agency. "Getting that right mix is really, really, really challenging," he said.
The lucky 12 will start training August 21 for two years, after which they'll be eligible for flight assignments. But Cassidy acknowledged it will be some time before any members of the new class will get to fly, given the limited flight assignments available.
"I think this new class will be waiting five years of so—four or five years—after their initial training," he said. "It's going to be a while. We're just not flying at a rate that's that high." A case in point would be the 2013 "8-Balls" class: just one of those eight, Nick Hague, has gotten a flight assignment so far, on Expedition 58 to the ISS in late 2018.
Cassidy, who as chief astronaut assigned astronauts for those ISS missions, said selecting crews for the limited number of slots meant balancing several different factors, including getting flight experience for unflown astronauts, giving new flights to people who have flown on Soyuz missions to take advantage of their experience, and working to give assignments to a "handful" of astronauts whose experience is limited to shuttle missions.
He thought the problem would get better once commercial crew vehicles enter service around 2019, after test flights scheduled for next year. Another approach, he suggested, would be to fly shorter ISS missions: three to four months, versus the six currently done.
"You get the full experience that you gain from a six-month mission" on a flight that lasts only three to four months, he argued. "I think we as an astronaut population, and therefore NASA, is better off if we have more people with flight experience, and people getting that more frequently. If you shorten the missions a little bit, you can accomplish a lot in that area."
"You can just fix stuff for as long as you want," Cassidy said of ISS. "It's a real nice machine, and it looks that way. It's a good place to be."
Cassidy added that he was not a fan of one-year missions, like the one Scott Kelly flew in 2015–2016. He noted Kelly left the astronaut corps shortly after returning from that mission, and that any future astronauts who flew one-year flights would likely do the same. While NASA promoted Kelly's one-year flight, and the potential for future ones, as a way to gain biomedical data for future Mars missions, Cassidy thought that the sample size would be too small to be very useful.
A relatively small astronaut corps of about 45 people today—growing to the low to mid 50s when the new class completes training in two years and some current astronauts leave—also creates challenges. Astronauts spend much of their time doing technical work when not on flight assignments, and the small size of the corps limits the number of astronauts available for that work.
"When we had 120 astronauts or so, we had the luxury of manpower that could be farmed out into lots of different programs and projects," he said. Today, he said, about 25 to 30 astronauts are available for those assignments. "We have to put some real thought into where to apply that manpower so that we have astronaut input into the right things."
When, and how frequently, current and new astronauts might fly to the ISS will depend on how long the station is in operations. NASA and the other partners have committed to keeping the station going to at least 2024, but Cassidy said that, with proper maintenance, it could last for a long time.
"You can just fix stuff for as long as you want," he said. "It's a real nice machine, and it looks that way. It's a good place to be."
A bigger issue, he said, is the state of the spacesuits—formally known as Extravehicular Mobility Units (EMUs)—used for spacewalks outside the station. A report issued in April by NASA's Office of Inspector General warned that NASA "will be challenged to continue to support ISS needs" with current spacesuits through 2024, given their age and a number of problems with them.
"It's time for some drastic improvements for spacewalking," he said. He thought that, given concerns about the performance of the suits, "we're definitely going to be put into the position where the space station will need some attention outside on a spacewalk and we'll have EMUs with some sort of liens on their subsystems, and we'll have this big risk discussion."
The new class of 12 NASA astronauts won't be the only new people showing up at JSC for training in August. The Canadian Space Agency is expected to announce the selection of two new astronauts in the coming weeks—perhaps around the time of the country's sesquicentennial July 1—that also came from a large pool of applicants.
Cassidy, as NASA's chief astronaut, was involved in that selection process. "I know who those two Canadian astronauts are," he said, adding he would keep that secret until the formal announcing in the near future.
The Canadian process, he noted, had some differences from the American one. The process started with remote testing centers at military bases throughout the country, where candidates went through physical and mental testing for a few days. That testing narrowed down the candidates to a group that went through what Cassidy called "two and a half days of intense training" in Halifax, Nova Scotia, including firefighting and damage control training on a ship. Only the final eight met with Canadian Space Agency officials.
"Canadians tested a whole bunch and interviewed a few. We interviewed a whole bunch and then give the whole battery of testing to what I would say are a few," he said. "Still, in the end you get a great product either way."
With the completion of the astronaut selection process, Cassidy stepped down as chief astronaut earlier this month, handing the job over to Patrick Forrester, a veteran of three shuttle flights. Cassidy will now, like most of the rest of the astronaut corps, be looking to get another flight to the ISS.
"I'm hoping for another spaceflight in the not-too-distant future," he said, although he expects to first spend some time in Russia as director of operations for NASA in Star City. "I'll probably do that for the fall, while hoping for another spaceflight." So will the new class of 12 astronauts, and the rest who angling for a chance to fly, or fly again.
---