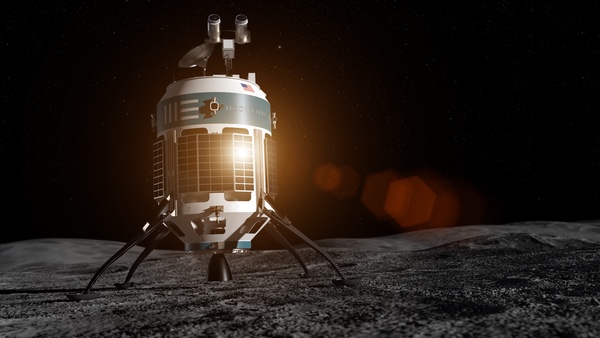 An illustration of Moon Express' first lander, the MX-1E, which could launch late this year if everything goes well. (credit: Moon Express)
The Moon is a harsh milestone
by Jeff Foust

Monday, July 24, 2017
In another speech, his comment might have gotten more attention. However, a 75-minute talk by SpaceX CEO Elon Musk July 19—in the form of an onstage interview with NASA ISS manager Kirk Shireman, followed by a lengthy question-and-answer session with the audience—can be rich in material.
"If you want to get the public really fired up, I think we've got to have a base on the Moon," Musk said.
Musk, speaking at the International Space Station Research and Development Conference in Washington, confirmed rumors that SpaceX will not include "propulsive landing" in the crewed version of the Dragon spacecraft, citing a lengthy safety qualification process. That appeared to put into question the company's plans for Red Dragon, its initial Mars lander mission; Musk said updates to that overall Mars mission architecture would likely come at the International Astronautical Congress in September in Australia. He also lowered expectations for the first launch of SpaceX's Falcon Heavy rocket, slated for later this year, and answered questions on his tunneling side venture, The Boring Company, and about his concerns regarding artificial intelligence.
With all those issues, what got lost in the shuffle was Musk's apparent interest in—or at least support of—a lunar base. "If you want to get the public really fired up, I think we've got to have a base on the Moon," he said at the end of a long answer about educating the public about the ISS. That triggered applause from the audience that packed a hotel ballroom for the event. "And then going beyond that," he added, "getting people to Mars."
"Having some permanent presence on another heavenly body: a Moon base, and then getting people to Mars and beyond," he said. "That's the continuance of the dream of Apollo."
Did this comment represent a change in Musk's vision for human spaceflight, one where the Moon is a waystation on the way to Mars? SpaceX did announce plans in February for a human circumlunar mission, launched on a Falcon Heavy as soon as late 2018. However, SpaceX has not provided any updates on the proposed mission since that announcement, and Musk did not directly address it at last week's conference beyond confirming that a Falcon Heavy could "toss a Dragon in a loop around the Moon."
Musk wasn't the first person that day at the conference, ostensibly about use of the ISS, to bring up lunar bases. Earlier that morning, Bigelow Aerospace founder Robert Bigelow gave a keynote where he emphasized the importance of going back to the Moon before the Chinese establish a presence there. He even used a series of cartoons to warn that US inaction would lead to China profiting from lunar resources like helium-3, fuel for as-yet-nonexistent fusion reactors.
"There is a business case for the Moon. You have folks that are Mars folks. We all saw the movie The Martian and loved it and thought we want to go," Bigelow said. "But there are certain practicalities that really, I think, need to cause us to focus on the Moon first."
Bigelow suggested the Moon could provide a better destination for a Trump Administration space exploration policy than Mars. "If we're going to execute something grand here in a reasonable time, it needs to be done during the course of an administration," he said. "If the current administration is going to be an eight-year timeframe, that's enough time to do something really interesting and really grand vis-à-vis the Moon, not Mars."
Those comments by Bigelow and Musk feed into a growing perception that NASA's human space exploration plans may be redirected towards the Moon, at least as some kind if interim step before eventually continuing on to Mars. With the Asteroid Redirect Mission now cancelled, NASA is studying a concept for a cislunar habitat, called the Deep Space Gateway, intended to test technologies needed for future Mars missions but which could also support future human missions to the lunar surface.
"If the current administration is going to be an eight-year timeframe, that's enough time to do something really interesting and really grand vis-à-vis the Moon, not Mars," said Bigelow.
Those concepts are still in just their earliest stages. NASA last week issued a request for information about what would be the gateway's first element, a power and propulsion module that could fly as a secondary payload on the first crewed SLS/Orion mission, no earlier than 2022. How the gateway would fit into a lunar exploration architecture, including contributions by partner nations, remains to be seen.
A human return to the Moon, advocates argue, could be done faster and less expensively than Mars. But a human return to the Moon, while easier than going to Mars, will not itself be easy. The struggles facing governments and companies simply trying to send robotic missions to the Moon illustrate this.
The country with the most aggressive lunar exploration plans is China. The country became the third country, after the former Soviet Union and the US, to land a spacecraft on the lunar surface with the Chang'e-3 mission in late 2013. China's space agency was preparing to launch Chang'e-5, the first lunar sample return mission in more than four decades, late this year, followed a year later by Chang'e-4, the first spacecraft to attempt a landing on the lunar farside. In the long term, China has ambitions for human lunar missions, although the timetable for those is uncertain.
Those plans, though, may be on hold. Chang'e-5 was to launch on the third flight of the Long March 5, China's new heavy-lift rocket. But early this month, the second launch of the Long March 5, carrying an experimental communications satellite, ended in failure because of a problem with the rocket's first stage. The Chinese government has remained characteristically quiet about the ongoing investigation and its implications for the Chang'e-5 mission.
Russia also has plans for robotic lunar missions, including a lander and a sample return spacecraft. The schedule for those, however, is unclear. Last week, the CEO of the Lavochkin Research and Production Association, which is responsible for those lunar missions, said an initial orbiter would fly no earlier than 2021, followed by a lander in 2022. The latest delay: there was insufficient infrastructure at the Baikonur Cosmodrome for processing multiple interplanetary spacecraft, and the joint European-Russian ExoMars 2020 lander and rover took precedence.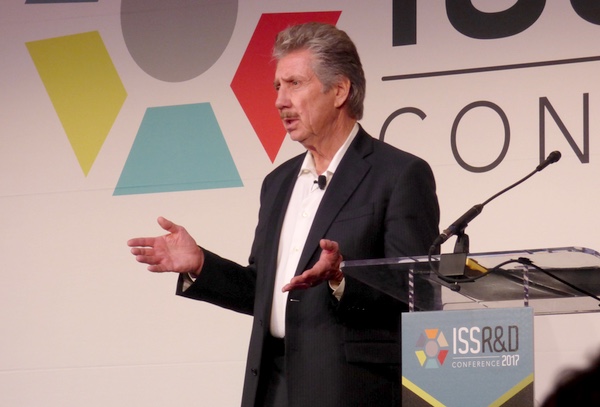 Robert Bigelow, speaking at the ISS Research and Development Conference July 19, said the Moon was a more feasible destination for an administration seeking to get something done in the next eight years. (credit: J. Foust)
A sluggish race to the Moon
A week before Bigelow and Musk talked about the Moon at the ISS conference, Bob Richards offered his own update on lunar exploration efforts. The CEO of Moon Express, Richards came to Washington to unveil a full-sized model of the company's first lunar lander, the MX-1E, and discuss a lunar mission architecture that goes well beyond that.
"Our MX-1 is a workhorse not just for economically getting to the Moon, but to also economically bring back the resources from the Moon," he said in a presentation in the Rayburn House Office Building on Capitol Hill, standing next to that MX-1E model.
"We have a lot to do in a very short timeframe, and Rocket Lab has a lot to do in a very short timeframe," Richards acknowledged.
The MX-1E, a cylindrical spacecraft about one and a half meters tall with four landing legs, will first fly as the company's entry in the Google Lunar X PRIZE late this year, if all goes well. But the spacecraft, he said, is intended to be a building block for a "flexible, scalable and innovative exploration architecture that can help us open the Moon as a frontier for humanity."
Richards, in the presentation, showed off some future lander concepts. The MX-2 would be two MX-1E buses stacked on top of each other to carry additional cargo to the Moon or for other missions in the inner solar system. The MX-5 lander would be a larger platform, using five MX-1E buses as individual engine pods to land up to 150 kilograms on the surface. The MX-9, as the name suggests, would be an even larger lander with nine MX-1E engine pods. It could also carry a MX-1E to serve as an ascent stage to return lunar samples to Earth.
First, though, the MX-1E must fly. Richard said the company is still planning to launch the first MX-1E later this year. "We have flight hardware already," Richards said, citing completion of engines that will be used by the lander, as well as instruments and other components of the vehicle. Richards, in his presentation, didn't show any of that hardware, instead playing animations of the MX-1E and future spacecraft traveling to the Moon.
Under the current plan, the first MX-1E will be assembled at the company's Cape Canaveral facility—the former Launch Complex 17 and 18 once used for launches of the Delta II—by September, then shipped to New Zealand. There, Rocket Lab will launch the spacecraft on an Electron small launch vehicle.
That's a lot that needs to be done in a little more than five months. "We have a lot to do in a very short timeframe, and Rocket Lab has a lot to do in a very short timeframe," Richards acknowledged.
Moreover, to date Rocket Lab has launched its Electron just once, on a test flight two months ago that failed to reach orbit because of an unspecified problem with its upper stage. In a June update on the company's website, CEO Peter Beck said the company had a "strong understanding" of what went wrong. "As soon as we're ready, we'll look to make more details publicly available," he wrote in the last update published by the company.
Time is of the essence because the Google Lunar X PRIZE requires the remaining teams—it selected five finalists in January—to launch their spacecraft by the end of the year. Rocket Lab has at least two more test launches planned before beginning commercial launches, with several customers ahead of Moon Express on the manifest.
"I would imagine there's opportunity for shuffling" the manifest, Richards said, to move Moon Express up to an earlier flight. "The main thing is to get the vehicle operational now, then we can talk about when we can be on top of it."
Moon Express is not alone, though, with problems meeting that end-of-year deadline. SpaceIL, an Israeli team, was the first to have a launch contract verified by the X PRIZE Foundation in 2015, flying on a "dedicated rideshare" Falcon 9 launch with a number of other payloads. However, SpaceX delays, plus other issues, have pushed back that launch until early 2018.
Team Indus announced late last year a contract with the Indian space agency ISRO for a launch of its lander, which will also carry a rover from Team Hakuto of Japan, on a Polar Satellite Launch Vehicle. That launch is scheduled for late December, though, giving the team virtually no margin in the event of delays. Moreover, some recent media reports from India indicate that the launch contract has yet to be finalized, and that team is still seeking to raise tens of millions of dollars for its mission, neither of which inspire confidence in meeting that schedule.
Then there is Synergy Moon, a multinational team that, late last year, informally allied itself with several other teams that did not have a launch contract and thus would not be eligible to continue in the competition. Synergy Moon has a launch contract with Mojave, California-based Interorbital Systems for a launch on its Neptune 8 rocket later this year.
The problem, though, is that the Neptune 8 has yet to fly, and there is little sign that the vehicle or its precursors will be ready this year. Speaking at the annual Space Payload Rideshare Symposium in June at the Applied Physics Laboratory in Maryland, company co-founder Randa Milliron said the Neptune 8 would be preceded by earlier versions of the Neptune, starting with the Neptune 1. The first Neptune 1 launch, she said, was planned for the fourth quarter of this year, but the company has provided little evidence that launch remains on schedule or that, even if it does take place, the Neptune 8 can fly this year.
"We're looking to go fully operational to clear that launch manifest that we do have in 2018–2019," she said.
"Google has been great, so it would be so sad if, six months later, there's a landing and Google didn't get the credit."
That raises the possibility that none of the teams will be able to launch by the end of year, even if their lunar landers are ready to fly by then. In the past, the X PRIZE Foundation has indicated that there would be no further extensions of the prize beyond the end of this year. First announced in September 2007, the $20 million ground prize was originally set to decrease to $15 million if not won by the end of 2012, and expire at the end of 2014. Those deadlines have slipped several times since.
Richards, while emphasizing that the Google Lunar X PRIZE is not a critical part of the company's overall business plan, also hinted that it might be in the best interests of prize sponsor Google to agree to one more extension.
"If for any reason, that prize was no longer available, I think it would be sad," he said. "Google has been great, so it would be so sad if, six months later, there's a landing and Google didn't get the credit." It would also presumably be sad if the winning team didn't get the $20 million grand prize.
---