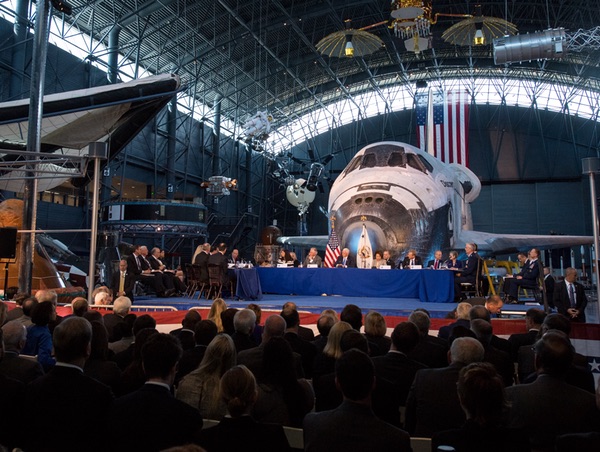 The National Space Council holds its first meeting October 5 at the National Air and Space Museum's Udvar-Hazy Center. (credit: NASA/Joel Kowsky)
Moon, milspace, and beyond
by Jeff Foust

Monday, October 9, 2017
The past of American spaceflight served as a backdrop last week for a discussion about the future of American spaceflight—which may include a return to the past.
"By reviving the National Space Council, President Donald Trump has declared to all of the world: America will lead in space once again," Pence said.
On Thursday, the National Space Council, formally reestablished earlier this year after nearly a quarter-century hiatus, held its first meeting. The White House chose, as the meeting location, a very public and symbolic location: the James S. McDonnell Space Hangar at the National Air and Space Museum's Udvar-Hazy Center near Dulles Airport in northern Virginia. The hangar is best known as the home of the space shuttle Discovery (and, before the shuttle program's retirement, Enterprise), which dominates the other space artifacts displayed in the hall.
The hangar, sealed off from the rest of the museum for the day (much to the disappointment of museum attendees, presumably) hosted members of the council itself, including several cabinet secretaries, as well as an invited audience of industry executives and other guests. Discovery itself was as much a part of the event as the council members themselves, sometimes dwarfing the proceedings. That seemed appropriate, since at times the council appeared to be looking to the past as much as to the future.
Make space great again
The council meeting was led by Vice President Mike Pence, the chairman of the council. Pence, who in recent months has visited NASA's Johnson, Kennedy, and Marshall field centers, once again emphasized his personal interest in space and returned to a theme he expressed in some of those past visits: that America has, in recent years, fallen behind in spaceflight.
Pence, in his opening remarks, noted the meeting was taking place a day after the 60th anniversary of the launch of Sputnik, which served as a wakeup call for the US in space. "But more than half a century later, we have ceded ground. So we gather here today to renew this same mission in our time," he said. "By reviving the National Space Council, President Donald Trump has declared to all of the world: America will lead in space once again."
Pence hammered away at that theme during his speech. "In recent years, the clarity of our purpose and the confidence of our conviction that propelled the United States to be a vanguard of space exploration seems to have waned. America seems to have lost our edge in space," he said.
He offered few concrete examples of that lost edge in space, beyond the continued reliance on Russia for transporting crews to the ISS—a situation that dates back to the 2004 decision to retire shuttles like Discovery sitting behind him while still developing replacement vehicles—and the development of antisatellite technologies by Russia and China. Recent US achievements in space, from robotic exploration to the solar system to continued operation of the International Space Station, went unmentioned.
Later in the meeting, when the council took testimony from witnesses, Pence tried to get executives from three of the largest aerospace companies—Boeing, Lockheed Martin, and Orbital ATK—to confirm his assertion. "How do you view America's role in space today? Have we fallen behind as we believe? Is that your judgment from the outside?"
The executives largely took a pass. Marillyn Hewson, president and CEO of Lockheed Martin, emphasized the "imperative" of leading in space, but wouldn't say if the US had fallen behind. "I do think we have to be vigilant on that front," she said.
"Dennis, how quickly do we get back in the pole position in every area of space exploration?" Pence asked Dennis Muilenburg, president and CEO of Boeing.
"Sir, I think we can get there quickly if we have focus and resources," he responded. He didn't explicitly state that the US was behind, though, arguing primarily for long-term stability in funding and objectives.
David Thompson, president and CEO of Orbital ATK, used his response to emphasize a call for human missions to cislunar space in the next five years. "I think NASA has done a fantastic job building the basic infrastructure that will allow us, within a period of five years or less, to return American astronauts to the vicinity of the Moon," he said.
In a second panel that focused on commercial space, one executive effectively rejected Pence's premise of the US falling behind in space. "America is out-innovating the rest of the world in space launch," said SpaceX president Gwynne Shotwell. "This is a market, commercial space launch, that the United States used to dominate in the '90s. We lost it in the 2000s, and we are bringing that back to the United States, along with the thousands of jobs that follow it."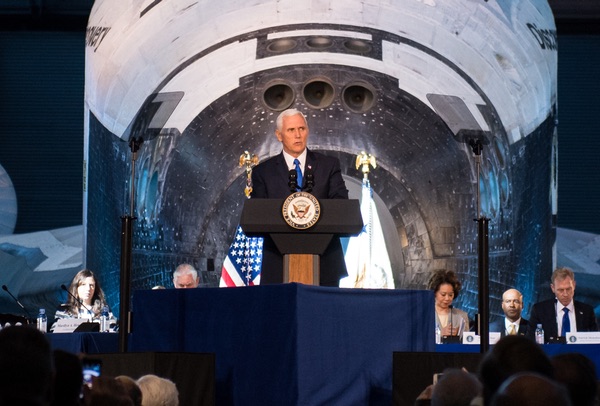 Vice President Mike Pence speaks at the National Space Council's first meeting. (credit: NASA/Joel Kowsky)
Back to the Moon
Pence, in his remarks, blamed the perceived lack of US leadership in space on a lack of clear direction for NASA's human spaceflight program in the post-Apollo era. "Every passing year that the Moon remained squarely in the rearview mirror further eroded our ability to return to the lunar domain and made it more likely that we would forget why we ever wanted to go in the first place," he said. "The truth is that America entered this new millennium without a coherent policy, a coherent vision for outer space. And in the absence of American leadership, other nations have seized the opportunity to stake their claim in the infinite frontier."
"America is out-innovating the rest of the world in space launch," said Shotwell.
While the country might have entered the millennium without a coherent vision, there's been no shortage of proposals since. In 2004, President George W. Bush announced the Vision for Space Exploration, with a human return to the Moon by 2020 and Mars missions at some point thereafter. Six years later, President Barack Obama changed course, focusing on human missions to Mars in the 2030s after missions to what became known as the "proving ground" of cislunar space—but not the surface of the Moon—in the 2020s.
Now, the pendulum is shifting back to the Moon. "We will return American astronauts to the Moon, not only to leave behind footprints and flags, but to build the foundation we need to send Americans to Mars and beyond," Pence said. "The Moon will be a stepping-stone, a training ground, a venue to strengthen our commercial and international partnerships as we refocus America's space program toward human space exploration."
Some of the same executives who seemed skeptical about the claims of lost US space leadership appeared willing to embrace a change in course back to the Moon. "Now, with a renewed sense of purpose and urgency, NASA and its industrial partners should be challenged to substantially accelerate the use, and to fully exploit, the capabilities of the SLS/Orion system," Thompson said.
"Backed by this administration's financial and moral support, US astronauts could carry out several cislunar voyages in the next five years," he added. It's worth noting that the first crewed SLS/Orion flight is currently scheduled for the latter half of 2021—four years from now—and could slip into 2022, making it challenging, to say the least, to carry out "several" crewed missions in cislunar space in the next five years.
SpaceX's Shotwell also appeared to back a human return to the Moon. "Now is the time for swift and bold action. A permanent presence on the Moon and American boots on the surface of Mars are not impossible, and they are not long-term goals," she said. Her comments came less than a week after company CEO Elon Musk discussed supporting lunar bases, among other goals, of his company's "BFR" rocket (see "Mars mission sequels", The Space Review, October 2, 2017).
Bob Smith, the new CEO of Blue Origin, chimed in as well. "We also believe strongly that it is time for America to return to the Moon," he said, discussing his company's "Blue Moon" cargo lander concept that the company has proposed developing in a public-private partnership with NASA. "Blue Moon can be done within the next five years, and we are willing to invest alongside NASA to make this happen."
Fatih Ozmen, CEO of Sierra Nevada Corporation, didn't explicitly back a human return for the Moon, but called for "bold action" in space, including extension of the ISS, which will be supported in the 2020s by his company's Dream Chaser vehicle among others. "The US should make the decision now to continue operating the ISS through the end of the next decade," he said.
While Pence said the US would return to the Moon, he set no firm timetables for doing so. Instead, he called on NASA to submit a plan within 45 days, including describing what resources were needed. That plan will likely include the Deep Space Gateway, the proposed outpost in cislunar space that NASA unveiled earlier this year, while emphasizing that it was still just a proposal.
"Defense must succeed every time; the adversary must succeed only once. Accordingly, we must develop our own capabilities to project power in space," Griffin said. "We must be able to hold adversaries' space capabilities at risk even as they seek to do so to ours."
"Based on a number of conversations I've had with the council, we have highlighted a number of initiatives underway in this important area, including a study of an orbital gateway or outpost that could support a sustained cadence of robotic and human missions, as well as ensuing human missions to the lunar and Mars surfaces, and other destinations," Robert Lightfoot, NASA's acting administrator, said in a statement after the meeting, which he attended as NASA's representative on the council.
Milspace issues
While the formal—and hardly unexpected—call for a return to the Moon got a lot of attention, a final panel of the two-and-a-half hour meeting focused on national security issues. There, panelists expressed worried about the vulnerability of the country's space assets.
"Our space infrastructure has been, is being, and will continue to be targeted by those who seek to alter the global order while blunting our opposition to that," said former NASA administrator Mike Griffin.
Griffin suggested that the country not just defend those space assets, but also be willing to target those belonging to potential enemies. "Defense by itself will always be insufficient," he said. "Defense must succeed every time; the adversary must succeed only once. Accordingly, we must develop our own capabilities to project power in space. We must be able to hold adversaries' space capabilities at risk even as they seek to do so to ours."
Retired US Navy Adm. James Ellis, former head of US Strategic Command, warned that the ability to attack US space assets is no longer constrained to just a few major countries but also includes "non-state actors" as well. "As with other of our national security challenges, a few dragons have been replaced by 100 snakes," he said.
Ellis and Pam Melroy, former deputy director of DARPA's Tactical Technology Office, emphasized resilience of satellite systems against those threats, as well as giving more control of space systems to forces at the tactical level. "Enhancing our architecture with low-cost small satellite constellations can provide persistence and retasking on short timescales," she said. "These constellations should be under the direct control of the warfighter as tactical intelligence assets."
Griffin argued that that military needed its own launch capabilities, rather than using those vehicles that also serve commercial applications. "These new capabilities are dependent upon our ability to launch them in a reliable, timely, routine, and cost-effective fashion, attributes which hardly describe the present state of affairs of the space launch industry," he said.
"It is past time for the national security space launch community to take control of its requirements and capabilities," he continued. "Commercial providers can offer some useful capabilities, but national security space launch bears the same relationship to commercial launch that military aircraft do to the air transport industry: they share an industrial base, but they do not share an operational infrastructure."
Next steps
Pence closed out the meeting with some homework for various members of the council. In addition to the NASA report on its plans for lunar exploration, he asked the Secretaries of Transportation and Commerce to come back with an assessment of the regulatory framework for commercial spaceflight, including areas that could be streamlined. (Shotwell, in her testimony, gave one example of potential action when she said it often required "heroics" to make even minor changes to a launch license.)
"I think he very seriously wants this to work," Ginfrich said of Pence to reporters afterwards.
Pence also asked National Security Advisor H.R. McMaster to continue development of a "space strategic framework" being developed by the National Security Council, which McMaster said offered an "integrated strategy to ensure that the United States' vital interests are advanced."
Attendees of the meeting were, in general, pleased with this initial session, including the attention devoted to civil, commercial and military space issues. What remains to be seen is how effective the council will be in its future meetings, held out of public view, to turn the visions laid out in this meeting into policies and programs.
Newt Gingrich, the former Speaker of the House and a long-time space advocate who attended the meeting, was optimistic. "I think he very seriously wants this to work," he said of Pence to reporters afterwards. "He wants to be part of the team that gets America so deeply invested in space that you actually have an entirely new space ecosystem by the end of the administration's second term."
History offers conflicting assessments. "Twice before, America has had a National Space Council, charged with advising the president on a national policy and strategy for space," Pence noted in his opening remarks. "The first Space Council helped marshal America's energies and skills during the infancy of our attempts to reach the stars. And it was under the council's watch that America put a man in outer space, put a man on the Moon with less than a decade between them."
Pence, though, didn't discuss the second incarnation of the council, during the presidency of George H.W. Bush. That administration also called for a human return to the Moon, followed by missions to Mars. But the Space Exploration Initiative (SEI) soon foundered, undone by infighting between the council and NASA and congressional opposition.
What will be the legacy of this third space council: the victorious race to the Moon of the 1960s, or the failure of SEI of the early 1990s? John Logsdon, the former director of the Space Policy Institute at George Washington University who has charted the rise and fall of space policy initiatives over the decades, took a wait-and-see approach.
"I'm optimistic that they're going to try," he said of the new space council after its first meeting. "Words are the first step to action, but they're not action."
---