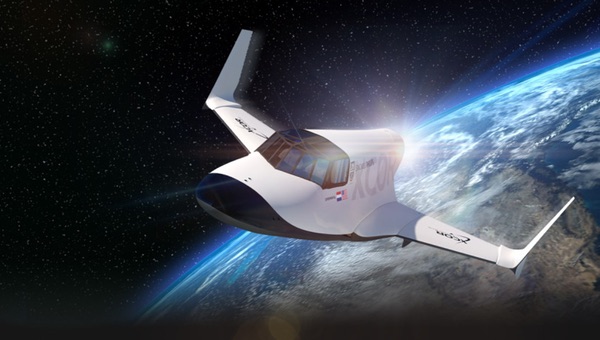 XCOR Aerospace was best known for Lynx, a two-seat suborbital spaceplane that at one time looked like it had a shot of reaching space before the competition. (credit: XCOR Aerospace)
A failed company and an uncertain market
by Jeff Foust

Monday, November 27, 2017
A decade ago, suborbital spaceflight appeared to have a bright future ahead of it. Virgin Galactic appeared to be leading the way with SpaceShipTwo, even if its development had already encountered delays. Others, though, were in the works, including Armadillo Aerospace, Masten Space Systems, Rocketplane, and XCOR Aerospace. There was also a secretive venture known as Blue Origin funded by some guy named Jeff Bezos.
Several years ago, it seemed XCOR had a chance of beating Virgin to space with its Lynx suborbital vehicle, a two-seat spaceplane.
None of those companies has yet flown a person into space yet, and the list of failed ventures is mounting. Rocketplane didn't survive the Great Recession, which dried up funding for both its suborbital spaceplane and orbital vehicle it was drying to develop for NASA to supply the space station. A few years later, Armadillo founder John Carmack said his company was effectively dead, as he used up his own funds without making enough progress.
The latest company in the suborbital deadpool is one of the longest-lived ones: XCOR. Several years ago, it seemed XCOR had a chance of beating Virgin to space with its Lynx suborbital vehicle, a two-seat spaceplane (one pilot, one spaceflight participant) that would take off under rocket power from a runway and glide back to a landing. The company was making progress, even if its first flight was slipping, and had a deal with the city of Midland, Texas, to move its operations there.
In recent years, though, it was clear XCOR was struggling. In May of 2016, the company announced it was laying off a significant fraction of its workers—about half, according to some accounts, although the company did not disclose a number—and putting development of Lynx on hold. XCOR would instead focus on a engine development contract it had with United Launch Alliance, a liquid oxygen and liquid hydrogen engine called the 8H21 that ULA was considering for use in the upper stage of its next-generation Vulcan rocket.
Lynx, though, was not officially dead. "We are convinced that this effort will ensure that XCOR is better positioned to finish the Lynx Project in a more efficient, reliable and safer manner," Jay Gibson, chief executive of XCOR at the time, said in a statement explaining why focusing on the ULA engine contract would allow the company to eventually return to the spaceplane.
In June of this year, two key events took place that put the company's future in greater doubt. In mid-June, the White House announced it was nominating Gibson to become deputy chief management officer at the Department of Defense. It would be a return to the Pentagon for Gibson, who worked in positions there during the George W. Bush Administration.
At the end of the month, XCOR announced that it was laying off the remainder of its employees, citing "adverse financial conditions" there. Some employees, though, would be brought back as contractors "to maintain the company's intellectual property."
What caused the change in the company's finances wasn't announced, but came up during a Senate confirmation hearing in July for Gibson's nomination. Gibson said the company was a subcontractor to another, unnamed company on an engine project when the company was told that contract was terminated on only 30 days' notice.
"We were a subcontractor, and in the days of continuing resolutions we felt like we had a commitment from our prime" for funding that he said would last a year or more. "With less than 30 days notice, we were told that funding was terminated." He didn't identify the contract, but it's widely assumed in the industry to be the ULA work the company had highlighted a year earlier.
"Our time is slowly running out," XCOR's Blum said last month. "They all know the clock is slowly running out on XCOR."
XCOR, now led by Michael Blum, was working to find an investor or some other partnership that could keep the company alive. In a mid-October interview, he said he had been in talks with several suitors, some of whom where interested in the Lynx itself and others in its propulsion technology. None of the deals, though, had made much progress.
Time, he said then, was of the essence. "Our time is slowly running out," he said then, saying that the company's board and existing investors were providing a "minimum amount of capital" to keep the company alive, but that their patience was running short. Potential investors knew this as well, he said. "They all know the clock is slowly running out on XCOR."
At that time, Blum said XCOR has only a few weeks to line up a deal. "By early November, either one of these deals pulls the trigger and saves XCOR, or we file for Chapter 7," he said, referring the section of bankruptcy law that calls for the liquidation of assets.
Unfortunately for Blum, XCOR had to take the latter option. On November 8, the company filed papers with the US Bankruptcy Court for the Eastern District of California, which covers Mojave, where the company was founded and maintained facilities. The filings said the company had $1–10 million in assets but $10–50 in liabilities, and was seeking Chapter 7 liquidation.
"Today it is my sad duty to inform you that XCOR has failed," Blum said in an email to shareholders announcing the bankruptcy filing. "Our effort to find a financial future for XCOR has not succeeded."
Blum's message said that XCOR worked up to the end to find a deal, citing talks with a consortium led by a "large aerospace firm" working to develop space access systems in the United Kingdom, and another, unnamed company interested in XCOR's capabilities, but appearing to lack the financial wherewithal to close a deal.
What ultimately triggered the filing, Blum said, was company's senior secured creditor, who "became difficult to work with, necessitating a bankruptcy filing." That creditor was not named in the statement, or in the company's initial filings with the federal bankruptcy court.
Whether commercial suborbital human spaceflight is still a good business remains to be seen.
The filing marks the end of the line—probably—for XCOR. There is the possibility that some investor or company could buy the assets, believing it could get a better deal in bankruptcy court than through an earlier deal, and seek to revive the company. It would not be unprecedented: Firefly Space Systems went through bankruptcy last year, only to be bought by an investor who recapitalized the company and revived its efforts to develop a small launch vehicle (see "Small rockets, new and renewed", The Space Review, August 21, 2017).
Firefly, though, is in a hot market: small launch vehicles seeking to serve the burgeoning demand for small satellites (despite some uncertainty about just how big a market it will be.) Suborbital spaceflight, though, has lost some of the allure it had back in the previous decade, when it appeared to be opening up space to the public—at least those able to afford the six-figure price tag of a flight.
Virgin Galactic is still around, despite a 2014 fatal accident that destroyed its first SpaceShipTwo, and says that powered test flights of the second such vehicle should begin in the near future—perhaps by the end of the year, or early in the new year, maybe. Blue Origin flew several successful test flights of its New Shepard suborbital vehicle, but the latest was more than a year ago. Test flights of a new model of New Shepard are expected to also begin in the near future, but the company seems to be in no rush to fly people, or even take steps like starting to sell tickets for those flights.
Neither, at least, seems hindered by financing. Virgin announced last month a deal with the Public Investment Fund of Saudi Arabia to invest $1 billion in its space ventures, including Virgin Galactic as well as smallsat launch company Virgin Orbit and SpaceShipTwo manufacturer The Spaceship Company. How that money will be allocated among the companies isn't clear, but Virgin founder Sir Richard Branson said in a statement it would, among other things, "accelerate our program for point-to-point supersonic space travel," a long-term goal of Virgin Galactic.
Blue Origin, of course, can tap the financial resources of Jeff Bezos, funds that, while not infinite, can seem close to it. Bezos remarked earlier this year he sells a billion dollars in Amazon.com stock a year to fund Blue Origin. That's increasingly easy for him to so, as the value of Amazon stock rises; even with recent sales, Bezos' net work hit $100 billion for the first time last week.
Neither company, then, seems in danger of facing the fate of XCOR. However, whether commercial suborbital human spaceflight is still a good business remains to be seen.
---