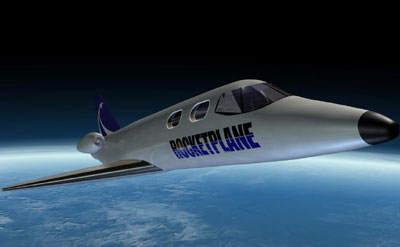 Developing the Rocketplane XP entails a number of engineering and business challenges. (credit: Rocketplane Ltd.)
It's about engineering at Rocketplane
by Sam Dinkin

Monday, March 21, 2005
Rocketplane has modest goals to achieve passenger service in a flight envelope that was tested 45 years ago with X-15. This will be risky, but the bulk of the challenge will be engineering and economics and no longer science.
Rocketplane has a long and winding history. An early incarnation, Pioneer Rocketplane, was an orbital two-stage with a 150 kilometer release of an expendable from a turbofan- and rocket-powered plane. Pioneer Rocketplane also originally included Robert Zubrin. On December 31, 2003, it completed its application for Oklahoma state tax credits which were set to sunset on that day. Now as Rocketplane, Ltd., which counts investors in Pioneer Rocketplane as shareholders, it has found its home on the range (See "Oklahoma is OK for suborbital", The Space Review, July 5, 2004.)
Rocketplane is sticking with its legacy plan from Pioneer Rocketplane for the Rocketplane XP to use a Lear fuselage. It may be the key to being early to market, but it may be a challenge to keep unit costs down if suborbital is wildly successful. A possible hybrid rocket has the same problem at the operations level. If chosen, it will increase operations cost, but potentially increase the speed to market. To recover $40 million in development costs at 100 flights per year, $100,000 per passenger requires that gross margins be high, utilization be high, and operations costs be low. Supporting a repair shop, a ground crew, and a training infrastructure that will only be used for a single rocket plane may make it difficult if items exceed budget. This may not be a problem for Rocketplane if prices are high due to few competitors at first and high industry demand. It can be argued either way that the approach gives Rocketplane a leg up on orbital tourism if its suborbital product is a success. Substantial overcapacity may turn out to be more corrosive to profitability than the decreased first unit cost associated with building a single production unit versus a fleet of them.
Attracting such luminaries as David Urie, chief engineer of VentureStar, X-33, and the SR-71, and Mitchell Burnside Clapp of the Blackhorse space plane gives it a special luster. Chief engineer David Urie was not drawn to Rocketplane by the money. At 72, with he and his wife having no heirs other than two university aeronautics programs, he certainly is entitled to enjoy his Lockheed Martin pension. Whether it is the coolness, the challenge, or the altruism that attracts him, having an AIAA Engineer of the Year (1997) on the team is an asset.
Whether it is the coolness, the challenge, or the altruism that attracts Urie, having an AIAA Engineer of the Year (1997) on the team is an asset.
Rocketplane has attracted controversy by winning the Oklahoma tax credits, adopting the Lear fuselage and its dual propulsion plants, jet and rocket. Its decision to only build one prototype and use it as a production model puts all the eggs in one basket and makes it likely that a crash or major failure during testing will ground the testing program and delay the first revenue flight. It is nevertheless reasonable to double down on the success of the testing program since a crash during testing would likely chill demand for the revenue operations.
FAA/AST and Congress may be inadvertently encouraging this sort of leveraged risk by making it attractive for a firm to go naked on its property coverage given that any third-party liability waivers may not stand up in court. That is, funders may not see any of the recovery of property coverage, so why bother?
It will be interesting to see if the market, the operations economics or the engineering is what challenges Rocketplane most. But the die has been cast. Rocketplane's storied history, unique cast of characters, unique funding, and unique engineering decisions make it hard to generalize how future spaceplane company formation, funding, design, and development will proceed. The science of suborbital rocketry may be well understood, but the first few space tourism flights will seem every bit as new to the participants as the X-15 flights were to those pilots.
---