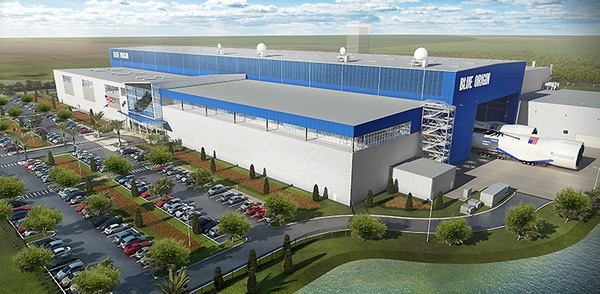 An illustration of Blue OriginÆs New Glenn factory in Florida. That facility, recently completed, is another step in the company's shift in focus from research and development to operations. (credit: Blue Origin)
A changing shade of Blue
by Jeff Foust

Monday, March 19, 2018
Out in the desert of West Texas, engineers are preparing Blue Origin's New Shepard vehicle for another suborbital test flight. Presumably. Maybe.
It's been more than three months since the previous test flight of the vehicle, the first to use a new propulsion module and crew capsule. Since then, the company has remained quiet about when the vehicle might fly again, and how many more test flights are planned before people fly in it for the first time. Such silence, of course, has been a standard practice at the company, and can be both frustrating (a lack of details about their plans) and refreshing (a lack of hype about their plans.)
"We're going to do several flights this year," said Mowry. "Our goal is to fly our own astronauts, our own people, to space either at the end of this year or early next year."
Blue Origin has had that luxury in large part because the company is well funded, thanks to its founder, billionaire Jeff Bezos, who has taken the long view on the company's development. That luxury, though, is also linked to the company's extended research and development phase, focused on vehicle technologies versus operational vehicles. But, as the company gets closer to commercial service involving both human suborbital spaceflight and orbital launches of satellites, one wonders when, and how, that approach will change.
Step by step towards operations
New Shepard remains a test vehicle, but the company is building momentum towards commercial operations. "We're in active testing right now with New Shepard," said Clay Mowry, vice president for sales, marketing, and customer experience at Blue Origin, during a panel discussion March 12 at the Satellite 2018 conference in Washington. "We're going to do several flights this year. Our goal is to fly our own astronauts, our own people, to space either at the end of this year or early next year."
The company is already taking steps towards operations by flying research payloads on New Shepard test flights. With a launch license from the FAA now in hand, it can carry payloads for hire (previously, when the company had an experimental permit, it could carry payloads but not receive payment for doing so.)
"There multiple market segments" interested in flying payloads, Mowry said, from researchers and educational users to marketing and branding. "We found a lot of demand. We're sold out through our flights for 2018 right now, and we're actively marketing 2019." He didn't disclose how many flights are planned for 2018, and how many payloads will be flown.
As for space tourism, many details remain to be determined: the company has not started selling tickets, and Mowry noted there's no ticket price yet announced. But that point is drawing nearer: the company recently posted a job opening for "Astronaut Experience Manager" at its Kent, Washington, headquarters.
"As the Astronaut Experience Manager you will work with a team that is creating a highly differentiated offering that culminates in the customer becoming an astronaut," the job description states. Among the job responsibilities is to develop "a thorough understanding of astronaut needs and desires, both existing and potential," "define and develop the end-to-end astronaut experience," and develop "the astronaut hospitality program, training content, and facility definition."
New Shepard, though, has the potential to be overshadowed—figuratively and literally—by New Glenn, the company's orbital launch vehicle under development. While the first New Glenn has yet to be built, the infrastructure supporting it is taking shape across the country in Florida.
"Blue is a human spaceflight company in our nature. Our founder, Jeff Bezos, has said his vision is millions of people living and working in space. In order to do that, you've got to build the infrastructure to make that happen," said Scott Henderson, orbital launch site director at Blue Origin, during a panel discussion at the 45th Space Congress in Cape Canaveral, Florida, February 27.
Henderson noted he led the process to select a site to build and launch New Glenn rockets. "We looked around the world. We looked around the US," he said. "Florida won a hard battle to get Blue Origin's business. There was some very tough competition" from Texas, Georgia, and North Carolina. How tough? "They were going to change the license plate to say 'First in Flight Again,'" he recalled of North Carolina's bid.
"I'm going to be brutally honest: when we chose Florida, we thought infrastructure was a no-brainer," Henderson said. "We are investing way too much money in putting what I would call core systems."
Blue Origin built a 60,400-square-meter manufacturing complex just outside the gates of the Kennedy Space Center, so large that it dwarfs a sizable factory under construction across the street for broadband satellite constellation company OneWeb. "It really rolls in very advanced technology: additive manufacturing, composites, automation, robotics," he said. He emphasized the speed at which the company built the factory: 16 months from start of construction to taking occupancy.
That speed, though, may be lacking when it comes to the launch site. Besides the factory, the company has taken over Launch Complex 36 at Cape Canaveral and is converting it into a launch site for New Glenn. However, the aging infrastructure at the Cape, along with growing launch activity from other companies, notably SpaceX, have made it difficult to make progress.
"One of the things I think we're really going to be challenged with as grow this into a multiuser spaceport is while many users is great, and you realize efficiencies," he said, "when you're trying to make a business case, many users can actually slow you down."
That's been the case with construction at LC-36. The Air Force, which operates the overall facility, limits work that can be done on "critical days" around launches, to avoid construction work that could cause mishaps—broken pipelines or severed cables—that would delay those launches. "Part of building is that you've actually got to be able to put a shovel into the ground," Henderson said. "On a critical day at Cape Canaveral you cannot break the surface of the ground."
The number of critical days has been growing, in part because of increased launch activity. In 10 of the previous 12 months, he said, more than half of the work days were deemed critical days. "It's nearly impossible to build a project under those kinds of constraints," he said.
He added he expected more infrastructure, from electrical systems to commodities, at the Cape than they've found. "I'm going to be brutally honest: when we chose Florida, we thought infrastructure was a no-brainer," he said. "We are investing way too much money in putting what I would call core systems—new substations, pipelines, trying to figure out where commodities are going to come from. That's less money invested in the really hard work of developing new and innovative launch systems, figuring out [concepts of operations], how to launch and re-launch."
Those launch site issues have not, so far, affected launch plans for New Glenn, with the company still planning a first launch of the vehicle by the end of 2020. And even with that first launch still more than two years away, Blue Origin is marketing, and selling launches of, that vehicle. At Satellite 2018 last week the company announced a deal with Sky Perfect JSAT, a Japanese satellite operator. It's the fourth company to sign up to fly on New Glenn, after Eutelsat, OneWeb, and startup Thai satellite operator mu Space.
That schedule for New Glenn is driven as much by work on LC-36 as it is by development of the rocket's BE-4 engine, which United Launch Alliance is considering for its Vulcan rocket. "We're making great progress on the vehicle," Bob Smith, CEO of Blue Origin, said at Satellite 2018 March 12.
"We're continuing to fire our BE-4 engine, which is making great progress," he said, noting the company had recently performed a 114-second test of the engine at 65 percent of rated power. (Bezos tweeted a video of the test the next day.) "We're really making great strides on the engine development."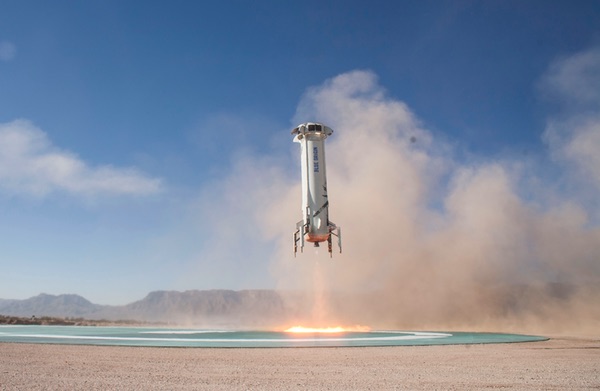 A New Shepard propulsion module makes a powered landing at the end of a suborbital test flight December 12, the first in more than a year for Blue Origin. (credit: Blue Origin)
Maintaining rapid development
The march of New Shepard and New Glenn towards commercial operations comes as Blue Origin itself is changing. With those vehicles ramping up, and new facilities taking shape, the company has grown dramatically in the last few years.
"I was also crawling around pulling Ethernet cables and operating grinders and stuff like that," Stephenson recalled. "I can't help myself."
"I joined Blue about six years ago. We were at about 170 employees back then," recalled Erika Wagner, business development manager at Blue Origin, during a March 11 talk at the MIT New Space Age Conference. "We're now up to about 1,400." The careers section of the company's website has listings for more than 200 positions, including a variety of engineers, technicians, support staff, and the aforementioned Astronaut Experience Manager.
The difference is even greater for Rob Meyerson, who joined the company in 2003. "There were ten people on staff when I started, so I've got a unique perspective," he said during a presentation at the MIT Media Lab's "Beyond the Cradle" conference March 10. "It's just a lot of fun to be involved and watch the company grow and develop some things that I think are pretty special."
In those early days, the people at Blue Origin included science fiction author Neal Stephenson. In a panel earlier in the day at the MIT Media Lab conference, Stephenson, sporting a Blue Origin tshirt, recalled being therein the company's early days when it was still figuring out exactly what it would do.
"For the first seven years or so, I worked there when it was in more of an exploratory stage of trying to figure out what the landscape looked like and what are some possibly novel alternate approaches to space, alternate propulsion systems and business models and so on," he recalled.
That lasted, he said, until the company became more focused on specific technologies (which feature propulsion systems not very alternate from what's been, and is being, done elsewhere.) "Once it became a more kind of directed aerospace engineering entity, that's when I amicably peeled off," he said.
His work wasn't just blue-sky thinking about the future of spaceflight, though. "I was also crawling around pulling Ethernet cables and operating grinders and stuff like that," he recalled. "I can't help myself."
Meyerson, in his talk, described how the company grew over the years, in the process developing several vehicles, from the jet-engine-powered Charon to New Shepard, that demonstrated vertical takeoff and landing technologies, as well as several engines, including the BE-3 used on New Shepard and BE-4 for New Glenn.
"We've organized as a company to enable rapid development and a build, test, and fly approach," he said. "It's really about getting the big ideas right, getting the architecture right. You need to be willing to pivot quickly when you realize you're on the wrong one."
That process has already had success, he argued, in the BE-3 engine, which besides New Shepard can also be used on the upper stage of New Glenn and potentially other, future applications. "The BE-3 has become the cornerstone of all of our development," he said. "It's an engine we expect to continue to be iterating on 50 years from now."
But as the company grows, and shifts some vehicles from development to operations, it's clear the company is still trying to retain that development-focused mindset for future initiatives. Meyerson, who for years was president of the company, has now moved into a new position overseeing the company's advanced development work with Bob Smith now running the company.
"Blue Origin has been focused on rockets—New Shepard, New Glenn—lowering the cost of spaceflight so that more people can go," Meyerson said. "Our next step is to go to the surface of the Moon. A future that has millions of people living and working in space is going to have people living in low Earth orbit, and people living on the surface of the Moon."
"A future that has millions of people living and working in space is going to have people living in low Earth orbit, and people living on the surface of the Moon," said Meyerson.
The company rolled out its Blue Moon concept for a large cargo lunar lander last year, getting ahead of the Trump Administration's new focus on lunar exploration. The company now sees itself well-positioned to take advantage of that renewed lunar interest with Blue Moon and follow-on systems, as well as in-space tugs and "all the technologies we're going to need to lead to this long-term vision."
In a later panel discussion at the MIT Media Lab conference, he suggested when some of those capabilities might enter service. "In the early to mid 2020s we would love to go and put a lander out there, and then with people following that," he said.
Most of the company's focus, though, is on getting New Shepard and New Glenn up and running to make human spaceflight more affordable and more routine. (Flying people on New Glenn is on the company's roadmap, Meyerson said, but still several years down the road after the vehicle begins launching satellites.) And, also, there's a desire to generate revenue.
At the MIT New Space Age Conference, held at the university's Sloan School of Business, one attendee asked Wagner if Blue Origin "ever plans to be profitable, and what type of horizon you're looking at for that."
"That's a fantastic question that I really wish I had a great answer for," Wagner responded. "We really are moving from the traditional R&D company to a P&L [profit and loss] company. We're in that phase of our growth. But the horizons are long. We're lucky to have patient capital."
---