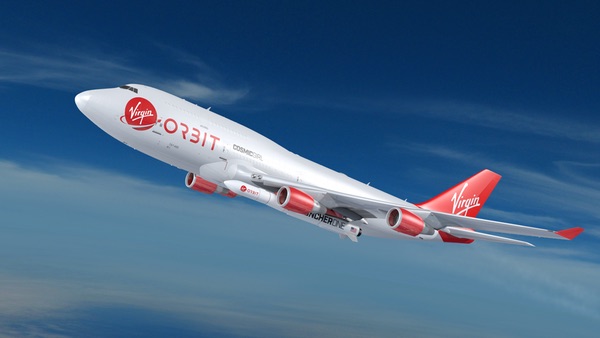 Virgin Orbit's LauncherOne system is one of many small launch vehicles being developed commercially that DARPA wants to encourage to become responsive to national security needs through a new competition. (credit: Virgin Orbit)
The challenge of agile launch
by Jeff Foust

Monday, April 23, 2018
There is no shortage of small launch vehicle ventures today—too many, some might argue, given even the most optimistic demand projections. Those companies are largely privately funded, with investors who see promise in systems that can affordably launch small satellites and offer better service than existing rideshare options.
There are a growing number of small launch vehicle efofrts in industry, sais DARPA's Master, "but you're not really seeing commercial customers ask for particularly responsive launch."
In such a situation, there seems to be little role for the government to be involved, other than as a regulator and a customer. But some see an opportunity to at least influence how those vehicles are developed and operated to meet needs more specific to potential government customers.
"What we're seeing now is an emergence in the commercial industry of small launch capabilities that, interestingly enough, fits some of our goals with regards to rapid launch timelines and agile launch capabilities," said Todd Master, a program manager in DARPA's Tactical Technology Office. "But you're not really seeing commercial customers ask for particularly responsive launch."
Master was speaking last week at the 34th Space Symposium in Colorado Springs, Colorado, shortly after his boss, Fred Kennedy, director of DARPA's Tactical Technology Office, formally announced a new prize competition intended to support development of small launch vehicles that can launch on short notice.
The DARPA Launch Challenge requires teams to perform two launches, from two different sites, into two different orbits. The catch? The teams won't know the locations of the launch sites until weeks before the launch attempts, and will have even less time to integrate the payloads for launch.
The competition, Kennedy said during a conference panel April 18, emerged from discussions DARPA had with a group of small launch vehicle developers. "We asked them what DARPA could do to help them be successful," he said. "We wanted to have them be successful not simply individually, but as a nascent industry to enable a new community of space access service providers, to remove the launch bottleneck and finally allow us to really fulfill the promise of the space domain."
Some of the companies, he said, offered feedback to the effect of "please get out of the way," but others offered "thoughtful" proposals. "But to be fair, they really didn't address this need we had for the community of providers."
"So what do we want to do? We want to launch at will. We want to launch when we want, to where we want, and we want to do it affordably. Very affordably," he said. That led to a prize competition—a tool that DARPA has used in the past, most famously with its Grand Challenge for autonomous vehicles.
This challenge will be open to vehicle developers, including those outside the United States, capable of placing between 10 and 1,000 kilograms into orbit. Companies will need to be qualified by DARPA to participate in the competition, including obtaining a commercial launch license from the FAA's Office of Commercial Space Transportation. Teams that clear this first hurdle will each receive $400,000.
Teams will, in late 2019, perform a first launch, from a site to be determined, and with less than 30 days' notice. The specific details of the launch, including the orbit and payload, will be provided less than two weeks before launch. Those teams that are able to successfully perform that launch will each receive $2 million.
They will then go on and repeat the task, but from another site and to another orbit, within weeks. ("In an ideal world, it would be days," Master said.) As with the first launch, details about launch site, payload, and orbit will be provided by DARPA on short notice.
Teams that complete that second launch will be eligible for prizes: $10 million for first place, $9 million for second, and $8 million for third. The ranking will be based on team's orbit accuracy, time to orbit, and mass to orbit, but Master said the specific scoring algorithm that will be used for those rankings has yet to be established.
"Even to do the things we want to do in the challenge, we're starting to stress the FAA process," Master said.
There are no restrictions on the kind of launch vehicle used, opening the door to air-launched and ground-launched systems. "It is totally platform agnostic," Master said. "The really interesting thing about the small launch market is there is a really huge diversity of approaches people are using."
Such a competition has obvious technical and operational challenges: not just developing a rocket, but also launching from two different locations on short notice. An even bigger hurdle, though, may be regulatory. "Even to do the things we want to do in the challenge, we're starting to stress the FAA process," Master said.
Currently, launch licenses are tied not just to a specific vehicle, but also a launch site and even a particular trajectory. That means a single launch vehicle can have multiple licenses in order to perform all its missions. SpaceX, for example, has Falcon 9 licenses to cover launches from Vandenberg Air Force Base in California, Cape Canaveral Air Force Station in Florida, and Kennedy Space Center in Florida, with separate licenses for its two Florida launch pads for both geostationary satellite launches and ISS cargo missions.
Industry has sought to streamline that launch process and has the support of the National Space Council and its chairman, Vice President Mike Pence. "The government has figured out how to honor driver's licenses across state lines," Pence said at the council's second meeting in February. "There's no reason we can't do the same for rockets."
The policy recommendations approved by the council at that meeting included launch licensing reform to allow for a "single license for all types of launch and re-entry vehicle operations." That recommendation, though, has not yet become formal policy—Pence said in a speech last week, also at the Space Symposium, that the recommendations should be enacted in the near future—and the policy set a deadline for doing so of March 1, 2019.
That could be too late for DARPA Launch Challenge competitors, who need to at least submit a launch license application to the FAA by December 14, but won't know the list of potential launch sites they will be expected to launch from, and thus need to apply licenses for, until early 2019.
Master said DARPA is working with FAA on some ways to provide a blanket launch license for competitors that covers launches from several sites, rather than one specific to a launch site and trajectory. "A big impact we're trying to make is improvements in that regulatory process so that we can all go faster," he said.
The DARPA Launch Challenge was announced during a panel discussion on "agile launch" at the conference, a concept driven by national security concerns, including the vulnerability of satellites to various types of attacks that could disable or destroy them.
"The national security imperative to respond to the threat from our adversaries with greater resiliency and speed truly aligns the interests of national security with the commercial segments in ways I don't think we've seen before," said Randy Kendall, vice president of launch program operations at The Aerospace Corporation.
While what exactly such "agile launch" systems will be launching on such short notice isn't clear—the idea of "operationally responsive space" isn't new, but has struggled to gain traction in the US military—there's plenty of interest in providing those launch capabilities, either through the DARPA competition or other means.
"We look at the government side and we see the threat and we see the need to potentially operate effectively and rapidly if assets are lost or degraded," said Dan Hart, president of Virgin Orbit, on the panel. His company plans to perform the first flight of its LauncherOne air-launch system later this year. "What we're seeing is the commercial world and government needs are aligning almost 100 percent."
"It may turn out that the key issue that determines whether this type of operation can be successfully completed is the regulatory environment we've got set up," said Nield.
"We think we're agile," said Greg Orndorff, director of government launch sales at Vector, whose Vector-R rocket plans to make a first orbital launch from Kodiak Island, Alaska, this year. Vector requires minimal infrastructure to perform launches, he said, citing a low-altitude test launch the company performed last August from the proposed Spaceport Camden in Georgia, which has yet to build any facilities to support launches.
But those vehicles, whether they're launching from custom-built spaceports or unimproved sites, and whether they're launching national security payloads or replacement satellites for commercial low Earth orbit constellations, won't get off the ground without the right regulatory regime, one that may need to be adapted to be truly agile.
On the panel, George Nield, who retired from the FAA last month after serving for a decade as associate administrator for commercial space transportation, said he imagined a number of ways to streamline the launch licensing process, from the use of safety approvals for vehicles or their subsystems that can accelerate the license application process to programmatic environmental assessments that can apply to a range of launch vehicles.
"It's really important to have very capable launch vehicles, ranges, spaceports," he said. "But let's not forget the regulatory environment, because it may turn out that the key issue that determines whether this type of operation can be successfully completed is the regulatory environment we've got set up."
---