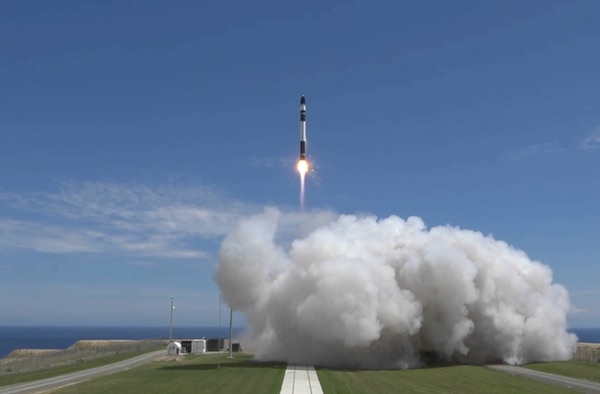 A Rocket Lab Electron rocket lifts off in January. The company's first commercial launch is now scheduled for late June, with plans after that to increase its launch rate to about once a month. (credit: Rocket Lab)
The summer of small launchers
by Jeff Foust

Tuesday, May 29, 2018
Business time has been rescheduled.
Rocket Lab, the US-New Zealand developer of the Electron small launch vehicle, has taken a somewhat whimsical approach to naming its missions. Its first test flight, last May, was called, straightforwardly enough, "It's a Test." Its second launch, another test flight in January, was called, sure enough, "Still Testing."
"We should come out of 2018 with eight or nine launches," said Rocket Lab's Schneider. "Double that in 2019."
With the success of that mission, the company decided to skip a planned third test launch and move into commercial service. That flight was thus named "It's Business Time," and was scheduled for April before a problem with a motor controller in one of the nine first-stage engines led them to postpone the launch.
That launch, the company said late last week, is now back on for a window that opens June 23 (June 22 US time) from the company's New Zealand launch site. In an interview, Rocket Lab CEO Peter Beck said the company had corrected the problem, which took longer than anticipated to track down.
"We couldn't quite explain it. It was one of these faults that had a really non-obvious root cause," he said. He didn't elaborate on that root cause, other than it ultimately required a "relatively simple" fix. "It's a really a change to process rather than to hardware."
During that investigation, Rocket Lab found room for some additional payloads for the mission. When scheduled for April, the rocket's payload included two satellites for Spire, which operates a constellation of spacecraft that provide weather and ship-tracking data, and one for GeoOptics, which is also developing a constellation of satellites to provide weather data.
Besides those three satellites, the June launch will carry a student-built cubesat called IRVINE01, built by the Irvine CubeSat STEM Program, a group of high schools in Southern California. The satellite carries a low-resolution camera to take images of planets and stars to determine the pointing accuracy and stability of the satellite.
A second payload is NABEO, a technology demonstration of a drag sail for deorbiting satellites developed by a German company, High Performance Space Structure Systems GmbH. It is a hosted payload that will remain attached to the Electron's upper stage, deploying the sail after the release of the other satellites into circular 500 kilometer orbits.
Beck said that Rocket Lab had already been in talks to fly both payloads on later missions. However, the delay in the "It's Business Time" launch created an opportunity to include those payloads, which were ready and awaiting launch.
If this upcoming launch is a success, Rocket Lab plans to increase the cadence of future missions. The next launch is one for NASA's Venture Class Launch Services program, carrying a collection of cubesats for the agency's Educational Launch of Nanosatellites, or ELaNa, imitative. That launch will be "pretty close on the heels" of June's launch, although the company hasn't set a date.
"We're planning on 12 launches a year" next year, said Virgin Orbit's Jan. "The year after will be 24."
The company expects to ramp up its launch cadence for the rest of the year. "We should come out of 2018 with eight or nine launches," said Brad Schneider, executive vice president of the company, in a presentation at the International Space Development Conference (ISDC) in Los Angeles on Friday. "Double that in 2019."
For now, those launches are all planned for the company's New Zealand site, but Schneider said the company is looking at options for a second site in the United States. "We want to fly out of [the continental U.S.] as well," he said. "We are on an active campaign right now looking to identify the right area, the right site, that will meet our near-term objectives." He didn't identify any specific sites, but said later the company's interest is primarily in facilities on the East Coast.
Rocket Lab is not the only small launch vehicle company with ambitious plans for this summer (or, in New Zealand, this winter.) Virgin Orbit expects to perform the first mission of its LauncherOne vehicle, launched from its Boeing 747 carrier aircraft, later this summer.
"We are currently in the final qual stages for our Newton 3 and Newton 4 engines," said Stephen Eisele, vice president of Virgin Orbit, during a panel session at the Space Tech Expo conference last Tuesday in Pasadena, California. Those engines power the first and second stages, respectively, of LauncherOne. "In the next month or so, we're going to do what's called a 'captive carry' test, where we're going to fly the plane with the rocket attached, for flutter and aerodynamics purposes."
If those final tests are successful, he said he expected a "mid-summer" first launch of LauncherOne. The company wants to then most swiftly into regular commercial operations. "We're going to be ready to engage in that launch cadence from day one," he said. "It'll be a launch a month, two launches a month."
"We're planning on 12 launches a year" next year, said Virgin Orbit's Monica Jan in a presentation at ISDC last Friday. "The year after will be 24." While Virgin Orbit will initially stage those launches out of the Mojave Air and Space Port, she said the company was looking at other sites, including the Shuttle Landing Facility at the Kennedy Space Center and an unspecified location in the Pacific, in order to support launches to any desired inclination.
Vector is another company planning a first orbital launch of its vehicle as soon as this summer. The company said earlier this year that its first Vector-R launch was scheduled for as soon as this August from Pacific Spaceport Complex – Alaska, located on Kodiak Island.
Eric Besnard, chief technology officer and vice president of engineering for Vector, wasn't that specific when he discussed the company's launch plans at Space Tech Expo last week. "Our goal is later this year," he said after discussing the ongoing work on the various elements of the vehicle.
Vector performed a very low-level suborbital test flight of the Vector last August from the proposed site of Spaceport Camden in Georgia. The company hasn't performed additional such tests since then, but Besnard said in an interview after his talk that more are planned. "That's all I can say," he said, deferring questions on when and how many such additional tests are planned before that first orbital launch.
"There is definitely room for more than one, if not maybe three to four, small launchers, I would say," Eisele said. "But in general, yes, there is a glut."
Rocket Lab, Vector, and Virgin Orbit are just three of the dozens of companies and organizations developing small launch vehicles. That's led to the widespread belief in the space industry that a shakeout is coming that will leave few survivors—if any.
"There are way too many," said Eisele when asked there was a glut of small launch vehicles. That interest, he said, reflected the "bottleneck" in launch for small satellites as demand for such satellites grow.
That interest, though, isn't sufficient for all the launch companies in the market. "It's not going to be sustainable for that many. There will be some consolidation likely," he said. He added later he was watching closely the small launch vehicle activities in China. "Certainly the Chinese represent a competitive threat with some of their commercial launch vehicles that tend to be heavily subsidized."
There should be enough demand, Eisele predicted, for at least a few companies. "There is definitely room for more than one, if not maybe three to four, small launchers, I would say," he said. "But in general, yes, there is a glut."
---
Note: we are temporarily moderating all comments subcommitted to deal with a surge in spam.