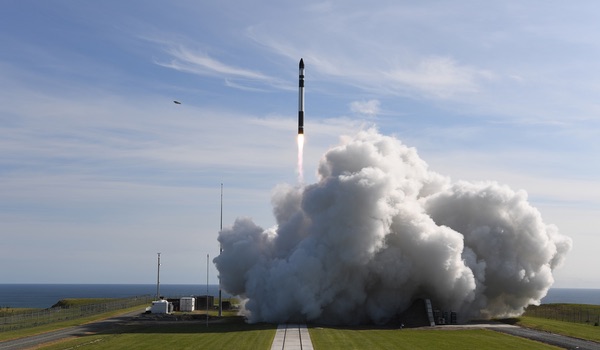 A Rocket Lab Electron rocket lifts off from the company's New Zealand launch site last month on the company's first fully commercial mission. (credit: Rocket Lab)
For the small launch industry, just wait until next year
by Jeff Foust

Monday, December 10, 2018
Like disheartened fans of sports teams that once again failed to win it all, the cry of much of the small launcher community has been, "Wait till next year."
A year ago—even several months ago—some of the dozens of ventures developing small launch vehicles were expecting to perform their first orbital launches by the end of this year.
"We're working on getting a flight ready for quarter three. Officially we're saying July," said Jim Cantrell, founder and CEO of Vector, in a speech at the Canadian Smallsat Symposium in Toronto in February. That launch from Alaska, he acknowledged, could slip slightly. "But we're not talking about 2019," he added. "We're really going to launch this year to orbit."
"But we're not talking about 2019," Cantrell said of Vector's launch plans in February. "We're really going to launch this year to orbit." That first orbital launch is now planned for some time in 2019.
A few months later, Stephen Eisele, vice president of business development at Virgin Orbit, was similarly upbeat about the company's plans. Speaking at the NewSpace 2018 conference in June near Seattle, he expected the Boeing 747 aircraft that the company will use for its air-launch system to soon be ready for a captive carry test flight, where the LauncherOne rocket remains attached to the plane's wing for testing.
After that, he said, would come the first orbital flight for the vehicle. "We're hoping to be ready to fly by the end of the summer, but the precursors there are making sure everything goes well with the captive carry test and all the other test data we have to derive from that," he said, adding that the rocket itself was "ready to go" on the factory floor.
With three weeks to go in 2018, neither company seems likely to reach orbit before the current calendars get tossed in the recycle bin. Vector has not performed a suborbital test flight since last August, a low-altitude launch from the site of the proposed Spaceport Camden in Georgia, although the company said another such test will be taking place soon from the Mojave Desert in California. Virgin Orbit finally performed that long-awaited captive carry flight November 18. It's flown two more captive carry flights since, most recently Saturday.
Virgin Orbit now expects to carry out that first orbital flight in early 2019. "Assuming all the other tests go well, we're looking forward to getting our first orbital test flight off at the beginning of the year," Eisele said during a panel session at the SpaceCom Expo in Houston November 27. At the time he said Virgin Orbit had one more captive carry flight planned; the company has performed two since that panel.
Vector is also targeting some time in 2019 for its first orbital launch, said Greg Orndorff, director of government launch sales for the company, during the same panel. Three "developmental" launches are planned from Pacific Spaceport Complex-Alaska on Kodiak Island, he said, with the launch license application for them submitted to the FAA's Office of Commercial Space Transportation. Asked later in the panel when Vector planned to carry out its first orbital launch, he replied, "Next year."
In an interview after the panel discussion, though, he hedged about whether all three of those developmental launches from Kodiak would be orbital missions. How many of the company's upcoming launches are suborbital and how many are orbital? "I don't know," he replied. "I can't predict what's going to go on up there," he said of the Kodiak launches.
The third small launch company on the panel, Firefly Aerospace, is also looking to perform a first launch in 2019. For them, that doesn't represent a slip: the company, reborn from the former Firefly Space Systems last year after going through bankruptcy, said earlier this year that it was planning to perform a first launch of its Firefly Alpha vehicle in 2019.
"Even though all five engines failed, all debris landed in the spaceport boundary and there were no injuries or property damage to the uninvolved public," the FAA's Dan Elwell said of an apparent test launch last month by Astra Space.
That's still the plan, although the company cautioned that could slip. "The objective is to get that flying by December of 2019," said Les Kovacs, a former United Launch Alliance executive who joined the company as vice president of business development earlier this year. But, he cautioned later, December 2019 required "an all-green-light schedule," prompting laughter from the audience.
There has been progress—good and bad—among small launch vehicles in 2018, despite the schedule slips by some companies. Rocket Lab performed its first successful Electron launch in January, placing several small satellites into orbit on the vehicle's second flight (the first, in May 2017, was aborted because of a problem with ground equipment.)
The company had hoped to start performing regular commercial launches as soon as April, but problems with a motor controller for the vehicle's first stage engines postponed launches then and again in June, leading to a redesign of the component that further delayed launches. The Electron returned to action November 10, with the "It's Business Time" mission carrying small satellites from developers ranging from Australian startup Fleet to a Southern California high school. Electron's next launch, carrying ten cubesats for NASA, is scheduled for as soon as Wednesday night (US time.)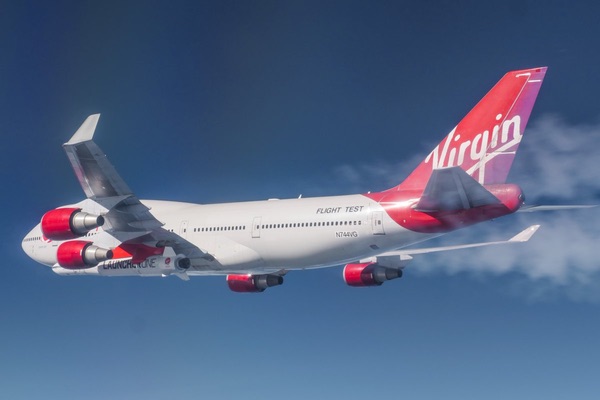 Virgin Orbit's Boeing 747 aircraft, called "Cosmic Girl," performs a captive carry flight with a LauncherOne test article attached to its left wing. (credit: Virgin Orbit)
Then there's the case of Astra Space, a launch vehicle startup based in the San Francisco Bay Area operating in stealth mode. It's tough to do launches in stealth mode, but the company has tried. In July, the company performed a suborbital test launch of its "Rocket 1" vehicle for Kodiak. Observers there, including a local reporter, said they couldn't tell what happened with the launch because of fog. The FAA later said the launch suffered a "mishap" but Alaska Aerospace Corporation, which operates the launch site, said the customer—which it did not name, citing nondisclosure agreements—was "very pleased" with the launch.
Astra Space was back in Kodiak last month for another suborbital launch, which again was not widely observed given its remote location. That launch, apparently, did not go well.
Dan Elwell, acting administrator of the FAA, referred to a "launch mishap" in Alaska a week earlier in a speech about the agency's approach to commercial space regulation last Thursday at a US Chamber of Commerce space industry event. "Even though all five engines failed, all debris landed in the spaceport boundary and there were no injuries or property damage to the uninvolved public," he said, not mentioning the company involved. According to the FAA's website, there was a licensed launch by Astra Space's "Rocket 2" November 29 from Kodiak.
Even with the delays some companies have experiences, the small launch vehicle industry faces a bigger question: how many vehicles can the market sustain? The companies developing the vehicles point to the burgeoning interest in cubesats and other smallsats, and believe that developers will be willing to pay a premium in order for a dedicated launch.
Whether that is the case remains to be seen. Many smallsat companies are continuing to rely on secondary launch opportunities on larger vehicles, like an Indian Polar Satellite Launch Vehicle mission in late November than placed 30 smallsats into orbit along with the Indian remote sensing satellite that was the mission's primary payload.
There's also so-called "dedicated rideshare" missions where the entire payload of a larger launch vehicle is devoted to smallsats. Such a mission took place a week ago, when a Falcon 9 launching from Vandenberg Air Force Base in California placed 64 smallsats into orbit on a flight arranged by Spaceflight Industries called SSO-A. (There was room for more, too, but some satellites weren't ready and dropped out at the mission progressed towards launch.)
Even without rideshare options on larger vehicles, the demand for small launch vehicles is unlikely to meet projected supply. Dozens of such vehicles are under development for launch in 2019 and beyond, and many of them have visions of high flight rates. Rocket Lab, for example, plans to be able to launch one Electron a week, while Orndorff said Vector has plans to be able to produce 100 or more rockets a year within a few years.
Launch companies see a reckoning coming soon. "There's a lot of noise in the system right now," Dan Hart, president and CEO of Virgin Orbit, said at the World Satellite Business Week conference in September in Paris. "There's another announcement every week, I think, on somebody who wants to build a launch system."
Brad Schneider, executive vice president of launch services for Rocket Lab, appearing on the same panel as Hart, said he saw a shakeout coming. "The critical time period is probably over the next three years," he said, expecting no more than five or six companies to "bubble to the top" in the end.
Hart thought that shakeout could come even faster. "I think we'll see that happening over the next year to 18 months."
"2019 is going to be a year where you're going to finally start seeing these commercial smallsat dedicated launch vehicles come to the fore," said Virgin Orbit's Eisele.
For now, money—the essential fuel for launch vehicle startups—is still flowing. Vector announced in October it raised $70 million in a Series B round. Rocket Lab, days after its latest Electron launch last month, said it closed a $140 million Series E round, bringing the total it has raised to more than $288 million at a valuation of more than $1 billion. That funding, Rocket Lab said, will support an increase in launch vehicle production, construction of additional launch sites, and unspecified research and development projects.
Whether that funding is still flowing to these and other launch vehicle startups in a year may depend on the progress they make, and what the market looks like for new entrants given the successes—and failures—of companies at the vanguard of the industry.
"It's an exciting time to be in the smallsat industry right now," Eisele said at SpaceCom Expo last month. "We see the next two years as being really critical points in this industry, but exciting nonetheless. 2019 is going to be a year where you're going to finally start seeing these commercial smallsat dedicated launch vehicles come to the fore and start launching more regularly, proving business cases for the smallsat launch market."
Unless, of course, those plans slip again.
---
Note: we are temporarily moderating all comments subcommitted to deal with a surge in spam.