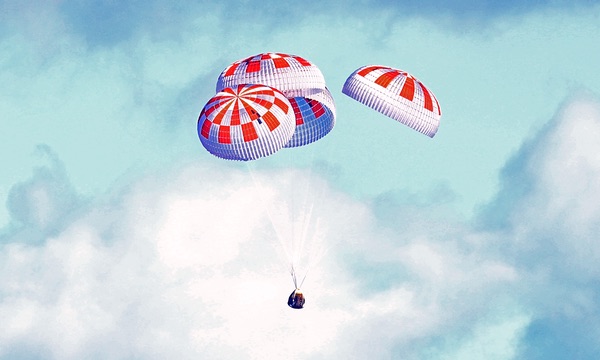 The Crew Dragon spacecraft descends under its parachutes shortly before splashing down in the Atlantic Ocean March 8. (credit: NASA/Cory Huston)
The beginning of the end of commercial crew development
by Jeff Foust

Monday, March 11, 2019
There was a lot of celebration a week ago when SpaceX successfully launched its Crew Dragon spacecraft, which docked with the International Space Station a day later (see "Commercial crew's time approaches", The Space Review, March 4, 2019.) Getting there, though, was just part of the mission: a vehicle that can safely deliver astronauts to the station must also be able to safely return them to Earth.
"I'm super excited," said SpaceX's Reed. "I can't believe how well the whole mission has gone."
SpaceX CEO Elon Musk didn't exactly reassure people about that at a post-launch press conference when he mentioned the differences in the shape of the Crew Dragon spacecraft versus the tried-and-true cargo version. "It's not sort of a smooth conic like Dragon 1 because of the launch escape thruster pods," he said. "That could potentially cause a roll instability on reentry."
"I think it's unlikely," he quickly added, noting the company run simulations "a thousand times" of the reentry. "I'd say hypersonic reentry is probably my biggest concern."
So all eyes were back on the Dragon in the early morning hours Friday as it pulled away from the space station. The undocking and maneuvering away from the station went as smoothly as the docking did five days earlier. Five hours later, it jettisoned the trunk section of the spacecraft, closed its nose cone, and fired its thrusters on a deorbit maneuver to set up reentry.
Musk, as it turned out, didn't have much to worry about. The reentry appeared to go as planned and the spacecraft was seen—by a high-altitude NASA aircraft and then by SpaceX's recovery ships—descending right on target a few hundred kilometers off the Florida coast. The spacecraft's four main parachutes, another area of concern for the spacecraft given testing difficulties, deployed as planned, and the spacecraft splashed down on schedule at 8:45 am Eastern, six days and nearly six hours after lifting off from the Kennedy Space Center.
The overall success of the Demo-1 test flight was a pleasant surprise even for people at SpaceX. "I'm super excited," said Benji Reed, director of commercial crew mission management at SpaceX, in an interview on NASA TV just after splashdown. "I can't believe how well the whole mission has gone."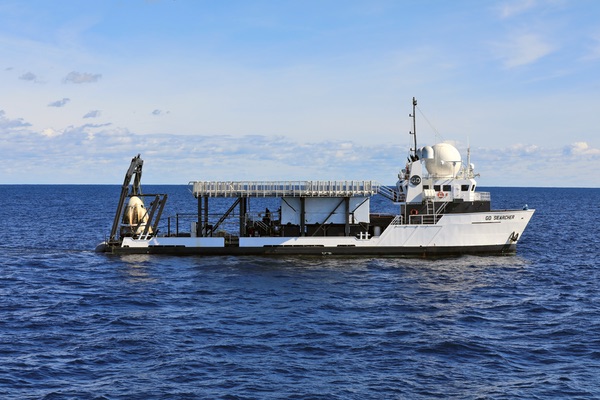 The Crew Dragon spacecraft above the recovery ship GO Searcher after splashdown. (credit: NASA/Cory Huston)
With Crew Drago back home—the recovery ships carrying the spacecraft arrived in Port Canaveral Saturday night—the focus now turns to analyzing the performance of the spacecraft during its mission and determining what changes are needed before NASA will approve flying astronauts on it for the Demo-2 test flight, currently scheduled for no earlier than July.
"We're very interested in seeing the data," said Mike Hopkins, a NASA astronaut assigned to the crew of the first operational Crew Dragon mission after Demo-2, after the splashdown. "I suspect there's going to be some lessons learned, some improvements and changes that we're going to have to make from this. That's all part of the testing process."
"I don't think we saw, really, anything in the mission so far… that would preclude us having the crewed mission later this year," said Stich.
One of those improvements might be in the spacecraft recovery process. The goal was to have the spacecraft on board the recovery ship no more than an hour after splashdown, but it took slightly longer before the Crew Dragon was hauled onto the ship's deck.
"That's a long time to be waiting to be picked up," remarked NASA astronaut Shane Kimbrough, who was observing the recovery efforts from one of the ships. "We'll tighten up that timeline a bit just knowing that the crew's probably not going to feel very well at this point."
Nothing, though, immediately stood out as a serious issue for Crew Dragon. "I don't think we saw, really, anything in the mission so far—we've got to do the data reviews—that would preclude us having the crewed mission later this year," said Steve Stich, deputy manager of NASA's commercial crew program.
Those data reviews will take place over the next few weeks, including one scheduled for this week covering the launch and the performance of ground systems at the Kennedy Space Center. "This flight really sets us up well for the rest of the year," Stich said.
That crewed mission, Demo-2, is currently scheduled for launch no earlier than July, although most expect that date to slip by at least a couple of months, depending on the status of reviews from this recent mission as well as the overall schedule of activities at the ISS. Before Demo-2 will be an in-flight abort test of the Crew Dragon's escape system, using the same capsule that flew Demo-1. That test is currently scheduled for June.
Boeing is also preparing for its uncrewed test flight, which it calls the Orbital Flight Test, of its CST-100 Starliner vehicle. That launch is scheduled for April, although NASA and Boeing have not provided a recent update on launch preparations. Even if the spacecraft is ready for an April launch a busy schedule of other ISS activities that month—including missions by a cargo Dragon spacecraft and a Cygnus cargo spacecraft from Northrop Grumman—could push that mission back.
Also yet to be determined are plans for the Crew Flight Test mission for Starliner, its equivalent of SpaceX's Demo-2. That mission will carry three astronauts, including former NASA astronaut and current Boeing astronaut Chris Ferguson. NASA and Boeing have left open the option of extending that test flight to as long as six months, turning it into effectively another ISS crew rotation mission, depending on the station's needs. (SpaceX's Demo-2 mission will stay at the station for no more than a month.)
NASA hasn't made a decision about the length of that Boeing mission yet, or even when it will make that decision. "As it gets closer, we're going to be able to assess what the needs are, and we'll make determinations based on what those needs are," NASA administrator Jim Bridenstine said prior to the SpaceX Demo-1 launch. "I don't have a timeline at this time."
"There's a lot of forward work to complete," Magnus said. "We're not quite ready to put humans on either vehicle yet."
While the Crew Dragon was docked at the ISS, NASA's Aerospace Safety Advisory Panel (ASAP) met at KSC. "It's very impressive the amount of work that's been accomplished" since the panel held its previously quarterly meeting, said Sandy Magnus, a former astronaut and member of ASAP, at that March 7 meeting. "There's clearly been a lot of work by both providers."
But, she added, both Boeing and SpaceX have more to do before NASA can consider putting astronauts on those vehicles. "There's a lot of forward work to complete," she said. "We're not quite ready to put humans on either vehicle yet."
She and other ASAP members warned against schedule pressure on the commercial crew program, saying they were relieved NASA was taking steps like buying additional Soyuz seats to ensure access to the station through much of 2020.
"We are witnessing the beginnings of a transition from development to an operational posture" with the Demo-1 mission, noted Patricia Sanders, chair of ASAP. "There is a large body of test, verification, and likely some rework ahead before assured launch and return of crew into space can begin. We continue to insist that no corners be cut, no critical content be dropped, no responses to schedule pressure be allowed to influence decisions that unduly impact safety."
The safe return of the Crew Dragon spacecraft, though, did provide some measure of relief that the beginning of the end of commercial crew development was finally at hand, with astronauts soon—later this year, hopefully—flying on those vehicles at long last.
"Fifty years after humans landed on the Moon for the first time, America has driven a golden spike on the trail to new space exploration feats," NASA astronaut Anne McClain said from the station shortly after Crew Dragon undocked. "It won't be long before our astronaut colleagues are aboard Crew Dragon and Boeing's Starliner vehicles, and we can't wait."
---
Note: we are temporarily moderating all comments subcommitted to deal with a surge in spam.