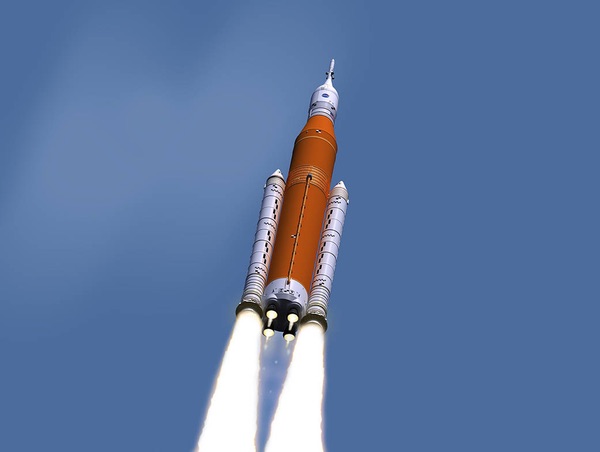 NASA is studying the possibility of flying the EM-1 mission using a pair of commercial rockets instead of the SLS. (credit: NASA)
Rethinking EM-1, and SLS
by Jeff Foust

Monday, March 18, 2019
The big space industry news last week were the comments by NASA administrator Jim Bridenstine at a Senate Commerce Committee last Wednesday that the agency was considering using commercial rockets, rather than the Space Launch System, for the uncrewed Exploration Mission (EM) 1 in mid-2020. But the signs that mission was in jeopardy started to become clear more than a week earlier, in another room in a nearby Senate office building.
"We won't need EUS for a while," said Hunter for the decision to defer the SLS Block 1B and its EUS. "We can get to the lunar surface fastest in this way."
On March 5, Jody Singer, the director of NASA's Marshall Space Flight Center, spoke at a Space Transportation Association luncheon, discussing the various work going on at her center, including the SLS. In the question-and-answer session that followed, one attendee asked a straightforward question: was SLS still on track for a first launch by the middle of next year?
Her answer was less straightforward. "The launch readiness date for EM-1 is still planning around 2020," she replied. "We do know that we are reassessing those dates to see if that date will work based on making sure that we have a vehicle ready, and ready to go fly safely." She added that NASA was "doing everything within our power to make sure that we support that."
Another question at that event involved the Exploration Upper Stage (EUS) being developed for the Block 1B version of SLS. NASA had originally planned to switch from the Block 1 and its Interim Cryogenic Propulsion Stage after just one flight, but last year decided to stretch out development of the EUS, with three Block 1 launches now planned, including one for the Europa Clipper mission. How was EUS coming along?
"We have made significant steps going forward" on the EUS, she said, with a critical design review on tap for late this year. "A critical part of designing the upper stage is making sure we understand the mission and the components that we need to take and where we need to go."
"As you know," she added, "the upper stage will be a critical part of the evolution of this vehicle that will enable deep space exploration."
Or maybe not. Less than a week later, the White House released its fiscal year 2020 budget proposal. For NASA, that called for a little more than $21 billion, $480 million less than what it finally received for fiscal year 2019 when Congress passed, and the president signed, a final appropriations bill last month. The proposal included new attempts to cut programs—the WFIRST space telescope, two Earth science missions, and NASA's education office—that Congress had previously rejected.
One surprise, though, involved changes to the SLS. The budget request deferred, for the indefinite future, development of the Block 1B version of the rocket and the EUS. Elements of NASA's lunar Gateway, which were to launch as "co-manifested" payloads on the SLS along with crewed Oron spacecraft, will instead be launched on commercial rockets. (Or, perhaps, those from international partners, since many elements of the Gateway will come from them.)
In addition, the budget proposal would shift Europa Clipper, currently scheduled for a 2023 launch, from SLS to a commercial launch vehicle. That was something NASA also proposed in last year's budget but was rejected by Congress, which mandated the use of SLS both for Europa Clipper and a follow-on lander. That shift, the budget document argued, "would save over $700 million, allowing multiple new activities to be funded across the Agency."
Bridenstine, who gave a speech about the budget proposal the day of its release at the Kennedy Space Center, said nothing about the provisions delaying development of the SLS Block 1B. That was left to other agency officials in a teleconference with reporters later in the day.
"We won't need EUS for a while," said Andrew Hunter, NASA's deputy chief financial officer. "We can get to the lunar surface fastest in this way." He and other officials on the call didn't state when they thought NASA would need the Block 1B.
While the budget didn't go into details about the schedule for EM-1, Hunter hinted that more delays were likely. "Getting EM-1 and EM-2 launched as fast as technically possible is a prime objective of this budget, something that more money will not accelerate," he said. "We are not asking for more money for SLS to do the job. We just need a little more time."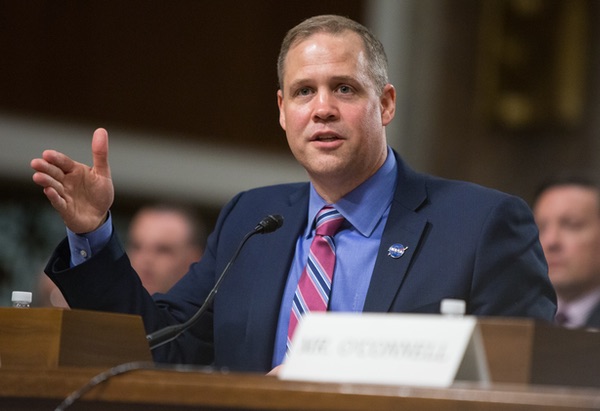 Jim Bridenstine told a Senate committee last week the agency was studying a commercial launch vehicle alternative to using SLS for Exploration Mission 1. (credit: NASA/J. Kowsky)
The commercial launch alternative
Those developments, though, were only the prelude for the bombshell Bridenstine delivered at the Commerce Committee hearing. After opening statements, the committee's chairman, Sen. Roger Wicker (R-MS) started asking about EM-1. "It's been delayed," he said. "Last week, NASA informed Congress of yet another delay to EM-1. NASA had plans to launch no later than June 2020. However, NASA now says that further delays are now anticipated."
"What about that?" Wicker asked Bridenstine. "What are your plans to address this situation and consider alternatives?"
"Sir, if we tell you and others that we're going to launch in June of 2020 around the Moon—which is what EM-1 is—I think we should launch around the Moon in June of 2020, and I think it can be done," Bridenstine said.
Bridenstine said that the SLS was still "a critical piece" of NASA's plans for space exploration. But, he acknowledged, "SLS is struggling to meet its schedule" for a mid-2020 launch. "We're now understanding better how difficult this project is, and that it is going to take some additional time."
"I think we, as an agency, need to stick to commitments," he said. "Sir, if we tell you and others that we're going to launch in June of 2020 around the Moon—which is what EM-1 is—I think we should launch around the Moon in June of 2020, and I think it can be done."
That would include, he said, considering the option of replacing the SLS with commercial launch vehicles for EM-1. "Certainly there are opportunities to utilize commercial capabilities to put the Orion crew capsule and the European service module in orbit around the Moon by June of 2020, which was our originally stated objective." NASA, he said, was studying that option at his request.
Bridenstine noted that the first Orion spacecraft launched on such a vehicle: a Delta IV Heavy rocket placed an Orion into an elliptical orbit in December 2014's Exploration Flight Test 1, briefly testing the spacecraft before splashing down in the Pacific.
This approach would be more complex, since no single vehicle other than SLS could carry out EM-1 as currently envisioned, which involves going into lunar orbit. Instead, he said, two launches would be required: one for Orion and one for an upper stage that would dock with Orion and then perform the needed translunar injection burn to send it to the Moon.
"As far as I know, this is the first forum in which you've made a statement like this," Wicker said. Bridenstine confirmed that: "Last week it came to our attention that we're not going to be able to maintain the schedule."
That alternative is undergoing a fast-track study within the agency, with plans to make a decision within a couple of weeks, Bridenstine said. Among the issues, he noted, is that NASA hasn't previously looked at docking an Orion to an upper stage in Earth orbit, since that would not be necessary on SLS missions. "So, between now and June of 2020, we would have to make that a reality," he said.
"This is 2019," Wicker interjected.
"While I agree that the delay in the SLS launch schedule is unacceptable, I firmly believe that SLS should launch the Orion," said Shelby.
"We have amazing capabilities that exist right now that we can use off the shelf in order to accomplish this objective," he said. "We can use off-the-shelf capabilities, sir, to accomplish this objective for EM-1 but not change the direction of the SLS and EM-2."
That alternative approach would likely cost more money, although Bridenstine didn't provide an estimate in his testimony. "There are options to achieve the objective, but it might require some help from the Congress," he said.
"A fix to a problem"
That announcement triggered intense speculation in the space community about both the concept as well as the future of the SLS in general. At least one news report even speculated that SpaceX would have the advantage over United Launch Alliance to carry out this alternative mission, although Bridenstine said nothing about either company in his testimony. Other wondered, given the other changes NASA was planning with SLS, stripping it missions to launch Europa Clipper and Gateway elements, just what SLS was needed for—if anything?
Some, tough, treated the proposal skeptically. "While I agree that the delay in the SLS launch schedule is unacceptable, I firmly believe that SLS should launch the Orion," said Sen. Richard Shelby (R-AL) in a statement after Wednesday's hearing.
Shelby is both a champion of the SLS, a project led by NASA Marshall, and chairman of the Senate Appropriations Committee. "I have more than a passing interest in what NASA does. And I have a little parochial interest, too, in what they do in Huntsville, Alabama," he said in a brief introduction of Singer at the Space Transportation Association luncheon. "Jody, you keep doing what you're doing. We'll keep funding you."
The Coalition for Deep Space Exploration, an industry group whose companies include those working on SLS and Orion, emphasized the challenges of the alternative approach for EM-1 in a statement. "The integration challenges are significant," it stated. "It is also clear that this approach would require additional funding, since the idea is to undertake both this mission and to continue development of the SLS apace."
A day after his Senate testimony, Bridenstine was back on Capitol Hill, this time for another Space Transportation Association luncheon. He used that event, if not to clarify his testimony, to at least emphasize that he has no intention on discarding SLS.
"This is a fix to a problem," he said of the plan to use commercial rockets for EM-1. "This is not the solution. This is not sustainable."
The alternative approach "actually moves us ahead," Bridenstine said. "It doesn't switch one thing for another, and it certainly doesn't cancel anything."
He brought up, as others did, the additional complexity of performing two launches rather than one, and the risks of the additional launches and the docking in low Earth orbit. "When you talk about the risk of docking in orbit, and putting humans on vehicles that will be docking in Earth orbit before throwing them to the Moon, that's risk and challenge that ultimately we probably don't have to take," he said.
The alternative approach "actually moves us ahead," he said, by keeping the in-space testing of Orion on schedule for 2020. The SLS that was to be used for EM-1 could instead be used for alternative missions, he suggested, such as launching Gateway elements. "It doesn't switch one thing for another, and it certainly doesn't cancel anything."
By Friday the needle moved again back to the baseline plan of using SLS for EM-1. "Good news: The @NASA and Boeing teams are working overtime to accelerate the launch schedule of @NASA_SLS," he tweeted. "If achievable, this is the preferred option for our first exploration mission that will send the @NASA_Orion capsule around the Moon. Still looking at options." Neither NASA nor Boeing elaborated on how they were accelerating the SLS launch schedule, or why they hadn't undertaken those efforts earlier.
The sequence of events left many unanswered questions. One set involves the technical ability to carry off this alternative mission within 15 months. What vehicles can be ready in such a short period of time, given the typical lead time for a new vehicle is usually much longer? How do you coordinate the two launches—which may require two different vehicles, or at least launch sites—to get the Orion and the upper stage in orbit in quick succession? What's required to modify the Orion and/or upper stage to enable in the docking on orbit?
Then there are policy issues. How much more will this alternative approach cost versus using SLS? Where will that additional funding come from?
The biggest of all, though, focus on the implications for the SLS. Bridenstine's comments about how essential the SLS is notwithstanding, NASA has been working to deemphasize the importance of the rocket to those exploration plans, moving payloads onto commercial rockets and deferring work on the Block 1B for at least several years. That leaves SLS with the mission of launching crewed Orion spacecraft. But, if this alternative approach to EM-1 can demonstrate that Orion can be flown to the Moon without the need for SLS, even that mission is in peril. If you can do it once, you can likely do it again, including with any upgrades needed to the selected vehicles to support crewed flight requirements.
This specific proposal may not live long—the study due within a couple weeks may simply conclude it's not feasible on the desired schedule—but even talking about the proposal opens the door to future consideration of it, and the need for SLS.
---
Note: we are temporarily moderating all comments subcommitted to deal with a surge in spam.