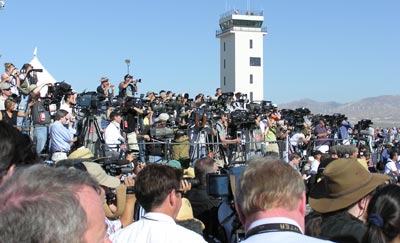 Media are attracted to high-profile space events, like last year's SpaceShipOne flights; what responsibilities do they have regarding how they should cover them? (credit: J. Foust)
Sidebar: The duty and power of space journalists
by Sam Dinkin

Monday, May 23, 2005
Hello, my name is Sam Dinkin. I am here today to award the Space Journalism Prize. The prize is a $1,000 award to the author with the best article promoting human spacefaring that appeared in a print or web publication during 2004.
The criteria for the prize were impact, originality, quality of writing, and research. The entries were difficult for us to judge because they all had excellent quality of writing. Where all entries could use a little work is impact.
In order to become a spacefaring race, people need to be taught what to hope for. The Space Journalism Prize and the Space Journalism Association are about focusing on that duty to the race. With that duty comes tremendous power. The space journalists are the main influencers on public opinion about space. The people are the bosses of Congress and the President, so journalists influence whether the space budget is $16 billion or $32 billion. Space journalists influence whether companies succeed or fail in fundraising. Space journalists will help determine how the public perceives the first fatal crash of a private space vehicle. Will the dead be canonized as martyred heroes or duped victims?
Space journalists have the power to set the human species on the road to becoming eternal.
Next year the Space Journalism Prize will be happy to accept sponsorship. We will also be recruiting celebrity judges including this year's winner.
The winner this year wrote an amazing series for the St. Louis Post Dispatch that included 50 interviews, dramatic writing and dense coverage of the epic story of the X Prize. The prize was a wonderful way to spark human imagination and the story captured the courage, hope and tenacity of the sponsors and the winners.
Eli Kintisch, here is your award and I am glad you could be here.
Thank you to Clark Lindsey and Jeff Foust for being the other two judges for the prize. Thanks to George Whitesides for allowing me to present and thank you all.
---