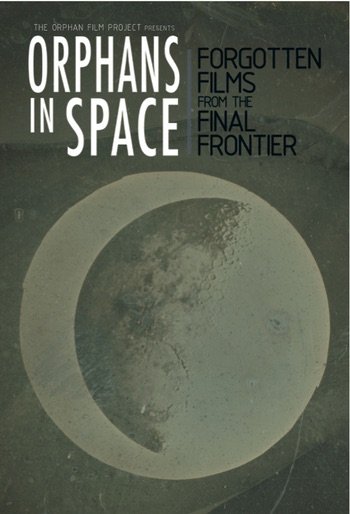 Orphans in Space is a two-DVD set with an eclectic collection of little-known space-related films.
Review: Orphans in Space
by Glen E. Swanson

Monday, September 21, 2020
Orphans in Space: Forgotten Films from the Final Frontier
DVD
2012, The Orphans Film Project
In early April, while doing research for an article (see "'Space, the final frontier': Star Trek and the national space rhetoric of Eisenhower, Kennedy and NASA", The Space Review, April 20, 2020), I interviewed Megan Prelinger. During that interview, she mentioned that both she and her husband Rick helped assemble a collection of space-themed films that appeared in a DVD set called Orphans in Space: Forgotten Films from the Final Frontier.
Megan and Rick founded the Prelinger Library and Film Archives. Privately funded and based in San Francisco, the library and archives house more than 50,000 books, periodicals, and pieces of print ephemera that focus on image-rich material not commonly found in other public libraries. The film archive portion of the library contains tens of thousands of what Megan Prelinger refers to as "ephemeral films" that have not been collected elsewhere. These include films sponsored by corporations and institutions, educational films, and home movies. About 65% of their library holdings remain in the public domain, with more than 8,000 of them available for free download and unrestricted use via the Internet Archive.
The two-DVD set was released in the spring of 2012 and contains an eclectic compilation of 15 short archival, artistic, educational, and scientific films and videos centering on the theme of outer space.
"The name for the DVD compilation came from the Orphan Film Symposium," explained Prelinger in talking about their involvement in Orphans. "This is a biennial gathering of scholars, archivists, media artists, curators, preservationists, librarians, collectors, distributors, documentarians, students, researchers, musicians, and others devoted to saving, studying, and screening all manner of neglected moving image artifacts. Many of these films became separated from their provenance, which is why the name 'orphans' is used."
"The symposium started at the University of South Carolina in 1999 and relocated in 2006 to New York University where its Department of Cinema Studies integrated the work into the Moving Image Archiving and Preservation master's program," she continued.
In addition to talking about her work on the Orphans project, Prelinger sent me a copy of the DVD set for review and put me in touch with those involved in its creation.
Walter Forsberg and Jonah Volk were both graduate students in NYU's master's program and worked on the Orphans in Space DVD project. Forsberg is now a media archivist at the Smithsonian's National Museum of African American History and Culture. Volk is currently the Digitization and Preservation Projects Manager in the Preservation and Digital Conversion Division at Columbia University Libraries. They both spoke with me about how the Orphans project originated.
"During the 7th Orphan Film Symposium held at NYU's School of Visual Art, several of us graduate students in the Moving Image Archiving and Preservation master's program under professor Dan Streible co-curated a DVD compilation that we passed out to the symposium attendees. The DVD featured several contributions of material shown at the symposium along with other material," explained Forsberg. "Other archives and collections also contributed material and we made about 500 copies. The DVD proved to be very popular and critic Jonathan Rosenbaum even gave it an award at the Cinema Ritrovato festival."
"Based upon the success of that initial effort some us thought to try and one-up that student project. At the time, we were preserving the films Lillian Schwartz had made at Bell Labs—including her 1971 computer animation work UFOs. Among Lillian's other works that we were seeking funding to preserve was her 1974 film, Galaxies. In addition, experimental filmmaker Deb Stratman had recently shown and digitized These Blazeing Starrs and we knew that NYU had recently discovered and digitized John Lurie's Men in Orbit. As a result, a topical trend began to emerge."
As Forsberg recalled, "Over beers and half-pints the thought of making a physical DVD was nearing the point of 'crazy idea' as viewer tastes by 2011 were trending toward streaming. But we rationalized that a physical object actually provided some degree of 'anti-piracy' and security for any archives or collections that wanted to contribute material."
"We had the full enthusiasm and support of the NYU Libraries on the project," said Forsberg. "NYU University Archivist Nancy Cricco contributed the mid 19th century moon photography images used in the DVD set cases. Others including the 'Friends of NYU' alumni group provided essential funds and Colorlab in Maryland agreed to provide free film scanning along with preservation services."
Regarding the term "orphans" used in the DVD title, Volk explained, "we employed the term used by the Orphan Film Symposium in the broadest sense to include works that fall outside of the commercial mainstream and/or traditional film scholarship. It's not meant to be a comment on the rights or status of the films."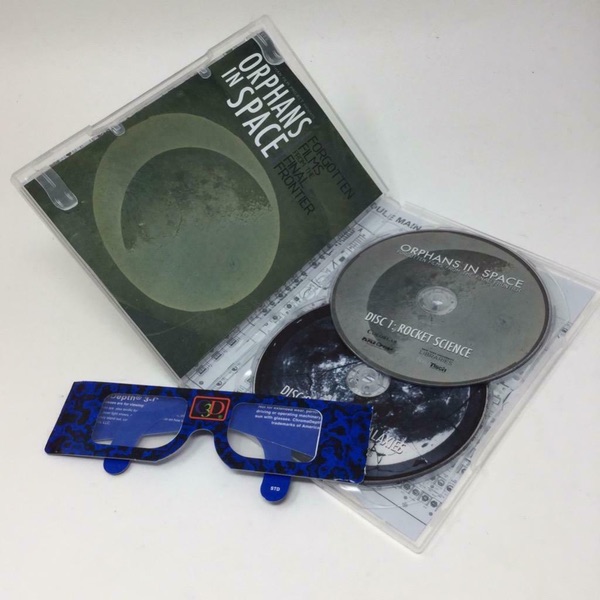 Orphans in Space DVD set with 3-D glasses. Photo courtesy Orphans in Space.
The two-DVD set was released in the spring of 2012 and contains an eclectic compilation of 15 short archival, artistic, educational, and scientific films and videos centering on the theme of outer space. This includes newsreels, outtakes, sponsored films, documentary fragments, silent and public domain works, educational and advocacy films, raw footage, appropriated video, and even home movies.
Commenting on the choice of films included in the collection, Forsberg notes, "curatorship was collaborative, organic, and somewhat 'first-come' as to who responded with content, willingness and interest. We generally liked weird and obscure stuff. Themes like propaganda, artistic interpretations, and coolness prevailed."
The two-DVD set is boxed with an illustrated 38-page booklet that describes each of the 15 films in the collection.
The film features a dazzling display of authentic-looking scenes that include a sequence showing "fireballs" that arc across the Russian winter sky. These were filmed as spotlights shot moving across a long wire.
"My personal obsession was to create a beautiful booklet," recalled Forsberg. "I worked on this along with acclaimed photographer Kramer O'Neill who co-designed and laid it out for us. We wrangled essays from many including generous contributions from Megan Prelinger." Copies of the DVD booklet can be downloaded for free online via the Internet Archive.
Eight films are shown on Disc 1 and seven on Disc 2. Most of the films are short, with more than half of them running under ten minutes. All but five of the films are silent. Most include optional commentaries, many done by Prelinger. Two of the films can be viewed in 3-D using the included ChromaDepth 3-D glasses.
What follows is a listing of the film titles in the DVD set including brief summaries and comments. Only a few of these films are currently available online with the rest exclusive to the DVD set.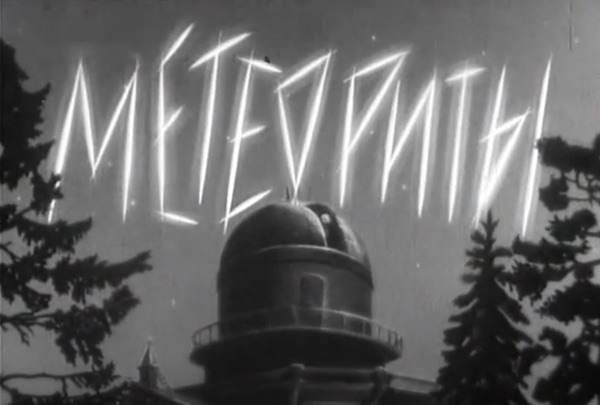 Title slide from the Pavel Klushantsev 1947 film Meteorites. Photo courtesy Orphans in Space.
Disc I
Meteorites (Pavel Klushantsev, 1947) 10 min., B&W, sound (in Russian with subtitles). Available online.
This short educational film was written, directed, and filmed in 1947 for the Leningrad Popular Science Film Studio by Russian filmmaker Pavel Klushantsev who eventually became a popular filmmaker of movies about space exploration. This film was his first as a screenwriter, and it won an award at the Venice Film Festival. As visual effects director Robert Skotak notes in his two-part series on Klushantsev (see June 1994 and July 1994 American Cinematographer), the film features a dazzling display of authentic-looking scenes that include a sequence showing "fireballs" that arc across the Russian winter sky. These were filmed as spotlights shot moving across a long wire. The film was the first to feature Klushantsev's patented "luminostaged" method of shooting. In this film, Klushantsev needed to show the movements of the planets and orbiting meteors, but rather than trying to animate all of this, he colored the filmed objects with ultraviolet paint and shot them under a blacklight. The resulting effect shows only the celestial bodies on the film and not all the unlit mechanical hardware that made everything move.
The Big Bounce (Jerry Fairbanks, 1960) 15 min., color, sound with commentary by Megan Prelinger. Available online.
Directed and written by Jerry Fairbanks and produced by Bell Labs, this film tells the story of Project Echo, a huge inflatable metallic sphere placed in orbit that allowed radio signals sent from one point on Earth to bounce off of it and be received at another point. This film has an optional commentary track by Megan Prelinger. "America the Beautiful" is playing in the background during President Eisenhower's first broadcast from space that used the Echo satellite. The music was not included in the President's original broadcast but added by the film's producers perhaps to emphasize the non-military uses of the technology or to stress that this was a US program.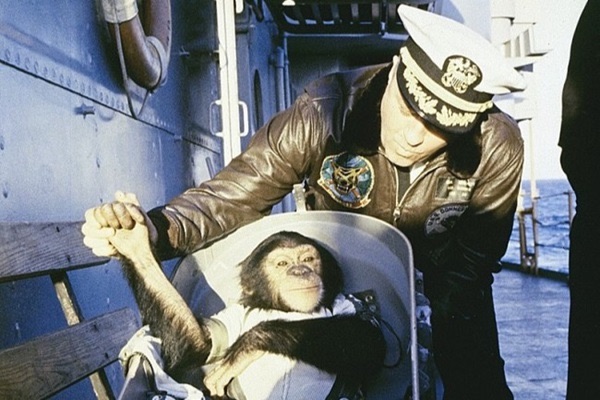 "Ham" is shown giving the commander of the USS Donner a "handshake" from the film Chimp Recovery. Photo courtesy Orphans in Space.
Chimp Recovery (RCA Service Company, 1961) 6 min. plus 6 min. additional footage, color, silent with commentary by Greg Wilsbacher.
This film is actually a sequence of short films shot to record the first launch of the chimpanzee Ham as part of NASA's Project Mercury manned space program. The first roll, dated January 23, 1961, documents the medical examination at Patrick Air Force Base in Florida of "astrochimp #65," which was the chimp's name before he was re-christened "Ham" after the Holloman Aeromedical Laboratory in New Mexico where the Air Force trained many of the chimpanzees. The second film shows scientists preparing the chamber in which the chimp was sealed for his Redstone flight. The last film was filmed after the chimp's flight and shows the chimpanzee's arrival at a medical facility in Grand Bahama Island. Some of this footage was used in the 2003 documentary One Small Step: The Story of the Space Chimps by David Cassidy and Kristin Davy. One of the interesting things about this footage is that it shows Ham baring his teeth in a "fear grimace," which indicates that they are afraid or want to be intimidating. Famed primatologist Dr. Jane Goodall, after seeing a popular press photo showing Ham grinning in anticipation of receiving an apple, commented, "Actually, that is the most extreme fear that I've ever seen on any chimpanzee."
Project Apollo (Ed Emshwiller, USA, 1968) 30 min., color, sound. Introduction by Robert Haller.
These cosmonaut hopefuls are shown visiting the Gagarin Cosmonaut Training Center in Star City as they learn about aerodynamics and engineering while representing the ideal Soviet citizen: smart, physically fit and, above all, patriotic.
This film has no narration but instead relies on a musical accompaniment and background voices to move the footage along. Emshwiller was an American visual artist noted for his many science fiction illustrations that appeared in dozens of pulp paperbacks and magazines. Project Apollo was produced for the United States Information Agency (USIA) to help promote American interests to viewers in other countries. In Robert Haller's recorded introduction to this film he points out that up until 1990, federal law made it illegal to show USIA films inside US borders for fear of such films being interpreted by viewers as being too ideological. As a result, copies of this film can be found in abundance in libraries outside of the US but none here. Haller also points out that Emshwiller was working on Project Apollo when Stanley Kubrick approached him to see if he wanted to assist in designing the final sequences for 2001: A Space Odyssey. Emshwiller's answer was "No. I'm involved in much more interesting projects. Good luck, but I'm doing something else."
Galaxies (Lillian Schwartz, 1974) 5 min., color, sound.
This is the first of two films included in this set by Lillian Schwartz. The other is UFOs (1971) that appears on Disc 2. This film, which should be watched using the included 3-D glasses, features early computer graphics with electronic music by F.R. Moore and offers an artistic depiction of various NASA telescopic data about disc galaxies. Schwartz worked as a computer graphics engineer at Bell Labs during the time when she made this film.
Teenage Cosmonauts (Igor Rodachenko, USSR, 1979) 17 min., color, sound.
This film was produced by the Ukrainian Newsreel Documentary Film Institute and distributed (with English narration) by the Union of Soviet Societies for Friendship and Cultural Relations with Foreign Countries (VOKS). A classic work of Soviet propaganda, the film shows young students as they compete in designing and building model rockets and spacecraft. These cosmonaut hopefuls are shown visiting the Gagarin Cosmonaut Training Center in Star City as they learn about aerodynamics and engineering while representing the ideal Soviet citizen: smart, physically fit and, above all, patriotic.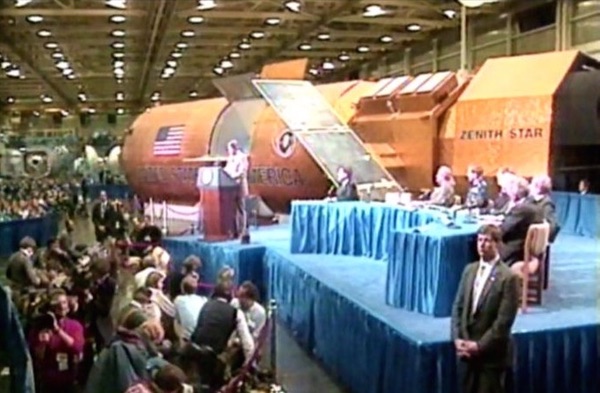 The Zenith Star mockup as shown in Martin Marietta's 1987 Zenith Star: Experiment in Space video. Photo courtesy Orphans in Space.
Zenith Star: Experiment In Space (Martin Marietta, 1987) 8 min., color, sound.
As part of the US Department of Defense's Strategic Defense Initiative (SDI), a classified research program code-named Zenith Star was launched in 1987. This space-based laser system was designed to destroy missiles in-flight and was one of many SDI projects that defined President Reagan's "Star Wars" Program. In November of that year, Reagan visited the Martin Marietta Astronautics plant in Littleton, Colorado, where he spoke to workers before a mockup of the Zenith Star. This video bears no production credits, only the corporate name of Martin Marietta. Clearly, it was an in-house production designed to help generate support for the project. The video is of relative poor quality.
…These Blazeing Starrs (Deborah Stratmn, 2010) 14 min, b&w, sound.
The DVD states that this film came out in 2011, but this is incorrect as the film was actually released in 2010. This 16mm film takes an artistic look at comets using images from NASA's Jet Propulsion Laboratory and post-medieval European broadsides. The film shows these images of comets set against music background with no narration.
Disc II
A Trip to the Planets (192?) 17 min., B&W/color, silent with commentary by Megan Prelinger.
As Megan Prelinger notes in the commentary, this is a true orphan in that virtually nothing is known about the origins of this only known surviving print. Clues yield hints that at least some of the 16mm footage is from the animated short Pictograph All Aboard for the Moon (aka All Aboard for a Trip to the Moon) that was produced by Max Fleischer. Of the 15 films in the Orphans in Space collection, this one I found to being among the most interesting if only for the very effective special effects. The amazing liftoff sequence of the electric-propelled dirigible-like spacecraft with its spacious interior cabin offers a highly fantasized view of what would actually occur some 40 years later. The sequence showing the phases of the Earth as viewed from the mountains of the Moon recalls the famous "Earthrise" image that was captured by the crew of Apollo 8 as they orbited the Moon on Christmas Eve in 1968. The slow motion trampoline bounces of the astronauts as they conduct their EVA on the surface of Mars is effective in demonstrating the reduced gravity crews would encounter upon actually visiting the Red Planet.
Beyond the Moon (T.E. Barnes, ca. 1960-62) 11 min, color, silent with commentary by Megan Prelinger.
True to the eclectic nature of the collection of films included in Orphans in Space, this short snippet shows the performance of two cold-war-era songs performed by the Foggy Mountain Boys.
Shot in 8mm, this was filmed by Robert Earl Barnes (1931–2009), who had a career in television at station WKEF in Dayton, Ohio. In his spare time he made amateur films that often reflected science fiction or horror themes. In this film, Barnes used tabletop sets to shoot various model kits that he built and modified to suit the theme of his film. In this case, most viewers will recognize the commercially available 1/110 scale Revell Mercury Capsule and Atlas booster kit that he used. This kit has been reissued by Revell over the years and is still available through Atlantis models. Barnes employs stop motion in this film to show the spacecraft getting ready for launch. The Atlas rocket has been modified to now have an upper stage that includes a shiny chrome-winged spacecraft. Once in Earth orbit, Barnes films a very effective staging sequence in which the Atlas booster is separated from the spacecraft before heading past an orbiting space station. The space station is a Walt Disney Space Station model kit produced by Strombecker, which came out in conjunction with the showing of Disney's television specials Man in Space and Man and the Moon (1955), and Mars and Beyond (1957). Barnes is able to present a very down-to-earth homemade film.
The Flatt and Scruggs Grand Ole Opry Show (WSM-TV, 1961) 6 min., B&W, sound excerpts featuring Jakes and Josh. Source: Country Music Hall of Fame and Museum
True to the eclectic nature of the collection of films included in Orphans in Space, this short snippet shows the performance of two cold-war-era songs performed by the Foggy Mountain Boys, Jake Tullock and Josh Graves, which were shown on the Lester Flatt and Earl Scruggs Grand Ole Opry Show. In this performance from 1961, Jake and Josh give a country twist to two little ditties about the New Frontier called "They're Gonna Put a Monkey on the Moon," and "The Sputnik Dog" (aka "When That Shaggy Dog Gets Back from Outer Space"). Flatt introduces both songs while fiddler Paul Warren and Scruggs provide the accompaniment. "Monkey to the Moon" is in reference to the chimpanzee, Ham. "Sputnik Dog," which Platt wrote in 1959, is a reference to the dog, Laika that was sent into space by the Soviet Union aboard Sputnik II in 1957. "Sputnik Dog" also is a reference to the 1959 Disney film The Shaggy Dog that involves the protagonist building an ICBM while spies try to steal another missile.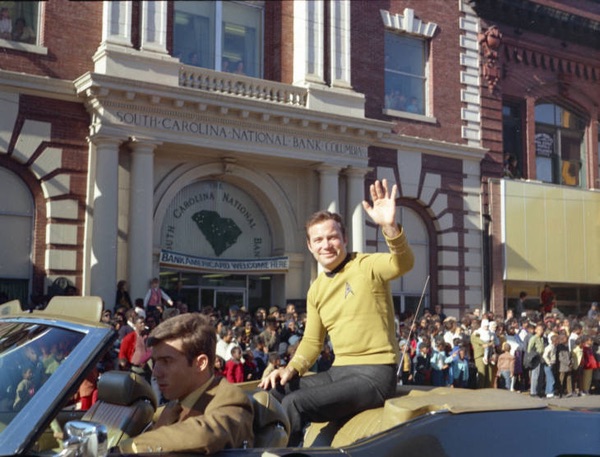 William Shatner, who plays Captain Kirk from the television series Star Trek, is seen during South Carolina's annual Carillon Parade on November 29, 1968. Photo courtesy Orphans in Space.
Carillon (Christmas) Parade (WNOK and WIS, 1968) 5 min., B&W and color, silent with commentary by Dan Streible. Some of the B&W WNOK footage can be found online here.
This five-minute newsreel is a combination of two short films labeled Carillon (Christmas) Parade that were filmed on November 29, 1968, in downtown Columbia, South Carolina. The Carillon Parade has been a feature in the South Carolina capital city of Columbia since 1953. Marching high school bands are shown along with local officials, homemade floats, Shriner clowns, and local celebrities. In addition, a very brief appearance of William Shatner is shown fully dressed as Star Trek's Captain Kirk while riding in a convertible as the Grand Marshal of the parade. At the time of this parade, which took place in the middle of the series' third and final season, Star Trek needed all the publicity it could get. Seven days before the parade, NBC aired the Star Trek episode "Plato's Stepchildren" that featured a highly controversial interracial kiss between Lt. Uhura and Captain Kirk. Dan Streible, who gives a modern-day commentary for this DVD set, offers some insights into this footage. For example he points out members of the racially integrated Columbia High School marching band that was unusual during a period of tense race relations, especially in the South. All of the other bands shown are comprised of either black or white students with no integration. Streible also comments on the alternate B&W footage that was filmed by WNOK. He notes how the footage pans to show racially separated parade viewers with very little mingling. Scenes featuring the Confederate battle flag carried by high school bands, often as a form of protest against school integration, are also noted.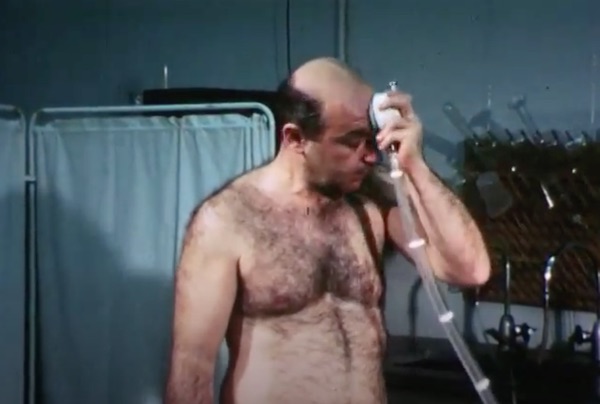 Clip showing a demonstration of the Astrovac Zero Gravity Personal Body Wash Unit from the film by Fairchild-Republic. Photo courtesy Orphans in Space.
Astrovac: Zero Gravity Personal Body Wash Unit (Fairchild-Republic, ca 1970) 5 min., color, silent. The film can be found online here.
This film includes footage showing a dragooned hirsute man stripped down to his underwear while demonstrating the cleaning properties of the Astrovac Zero Gravity Personal Body Wash Unit developed by Fairchild-Hiller Corporation, a division of Republic Aviation. During the late 1960s and into the early '70s, the company conducted research for both the classified US Air Force Manned Orbiting Laboratory (MOL) Program as well as for NASA in an effort to address personal hygiene in the environment of space. The Astrovac was their answer. This device utilized small quantities of water and a personalized vacuum sponge to allow astronauts to bathe in the weightless environment of space. At least two known reports on the Astrovac "mechanical wipe device" were produced. One report mentions its use in the MOL Program and the other notes that it was fabricated for Skylab.
UFOs (Lillian Schwartz and Ken Knowlton, 1971) 4 min., color, sound
This is the second film featured in this DVD collection by Schwartz (see Galaxies on Disc 1.) Like Schwartz's first film, this one also needs to be viewed using the included 3-D glasses. This film was commissioned by Bell Labs and was promoted as a "Stroboscopic public relations film." The film is four minutes of random moving shapes and patterns offering more examples of early computer generated graphics. In the booklet included in the DVD, Schwartz notes that she had to change the flicker rate because "it was turning people into zombies if they watched it too long." She also points out that a neurologist from Montreal found that UFOs "was very effective for working with his epilepsy patients because of its ability to induce seizures." In addition, she notes that the film's flicker rate "was similar to the dangerous trance-like 'flicker vertigo' that can afflict helicopter pilots who stare at moving propeller blades." While Schwartz was working on the preservation of these films, she noticed that watching them using the ChromaDepth 3-D glasses "lent the vivid color of her works incredible effects of depth and layering" transforming her 2-D films into 3-D. The 3-D effect is very pronounced when watching the films with the glasses.
Men In Orbit (John Lurie, 1979) 42 min., color, sound
The last film in this selection focuses on a trip into space that never leaves a downtown Manhattan loft apartment. This film was one of a number of Super-8 sound films produced by Lurie during the late 1970s that were exhibited in various art galleries and clubs in Manhattan. The film features two astronauts (played by Eric Mitchell and John Lurie) strapped into their couches as they are launched into space. They are guided through their mission via Mission Control, whose voices continuously play in the background. The film's special effects are limited to cuts showing various NASA stock footage that was clearly shot off of a television monitor before being edited into the film. Zero-g is simulated using occasional camera tilts while a video monitor plays in the background. During their flight, Mitchell and Lurie eat what look like McDonald's hamburgers and smoke cigarettes in between bouts of hysterical laughter. At first it looks like the producers intended to convey the banality of space travel like that represented in the films Dark Star (1974) and Alien (1979). However, this is misleading, as it turns out that both Lurie and Mitchell dropped LSD about eight minutes into the film's production and kept the camera rolling.
A unique collection
In looking back on the project, Forsberg recalls, "It was a labor of love. More importantly, a spirit of 'free culture' that inspired us all." Unfortunately, that same carefree spirit which helped make the project possible also contributed to the limited availability of the finished DVDs.
"Sure we knew that folks could pirate the material when we released the DVD but it would only be SD quality and as crappy compressed MPEG-2 files ripped outside the DVD environment." said Forsberg.
This collection of 15 films is an eclectic assortment created by a variety of individuals, all of whom brought various levels of skills and resources to present their vision of the final frontier of space.
"Only about 1,000 copies of the DVD set were made with around 50 of those going to contributing archives and collections so that they could distribute it themselves," said Volk. "We also gave copies away to friends. As a result, it quickly became a sought-after item."
Four of the films included in the DVD collection are currently available online. The capital-intensive labor that digitization demands along with the required maintenance of the original source material make accessibility of such media challenging. Layer atop this the added dimension of copyright and one can begin to see that the 15 orphan films presented in this DVD collection may have come with baggage that made it difficult for them to be marketed and sold. The named filmmakers in this DVD may have welcomed lending their work to a noncommercial student project but, when approached about the viability of making a commercial DVD, things would become more complicated.
"Most of the films in the DVD are, in fact, copyrighted," admitted Volk. "The goal of the project was to produce the DVD and we obtained rights for that purpose either from a work's creator or from the archive that provided the source material. We pitched the project as a non-commercial DVD with a very limited print run to be distributed free to universities and symposium attendees. It probably would have been hard to get the rights for a project involving broader distribution."
Fortunately, a limited number of copies of the DVD set can still be found. Dan Streible, the NYU faculty member who originally advised the students that worked on the project, still has copies of the DVD. Those interested in obtaining a set can contact him at orphanfilm@nyu.edu. In addition, there is a list of institutions where the DVD is available for loan.
In spite of its rarity, Orphans in Space continues to be a point of access for films that cannot be obtained through conventional means. "Last fall, the Lightbox Film Center in Philadelphia did a multimedia Ed Emshwiller retrospective," said Streible. "They wanted to show Emshwiller's Project Apollo. Even though the Anthology Film Archives, Museum of Modern Art, and the National Archives each have editions of this film, the programmers needed access. They knew about the Orphans in Space DVD. Since Walter Forsberg had the best production files from the DVD, he was able to ship a drive containing the film from seven years after the fact. So Lightbox got a nice 1080p file for its screenings."
Orphans in Space offers a unique collection of films that otherwise might be overlooked as a resource by both film scholars and historians. This collection of 15 films is an eclectic assortment created by a variety of individuals, all of whom brought various levels of skills and resources to present their vision of the final frontier of space. In addition, the story of the DVD's creation by a group of graduate students offers a case study in how collaboration and cooperation allowed this project to happen during a time when physical media was being supplanted by digital streaming. Hopefully, this review will not only serve to let others become aware of these films but also provide a means to access them.
---
Note: we are temporarily moderating all comments submitted to deal with a surge in spam.