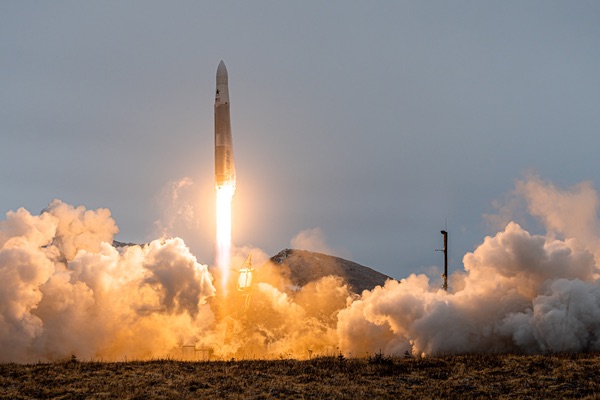 Astra, which nearly reached orbit with its Rocket 3.2 launch in December (above), announced this month it will merge with a special-purpose acquisition company, allowing it to raise nearly $500 million and go public. (credit: Astra/John Kraus)
Space investors head to the exits, at last
by Jeff Foust

Monday, February 15, 2021
For the last several years, the space startup ecosphere has looked a little like a roach motel: money comes in but it doesn't come out. Billions of dollars of funding have flowed into launch vehicle, remote sensing, broadband megaconstellation, and other companies, but there have been few exits: opportunities for those investors to collect their return on that investment through either a sale of the company or a public offering of its stock.
That is starting to change. Investors are continuing to put money into space companies, and at an increasing rate. After a brief period of uncertainly last spring because of the pandemic, investors doubled down on the field.
"The space M&A market cannot be any hotter," said Schmidt.
"2020 started reasonably fast, paused when COVID started, and then there was a resurgence," Carissa Christensen, CEO of Bryce Space and Technology, said during a panel discussion last week at the SmallSat Symposium. Her company, which tracks investment in the industry, concluded there was a record $5.7 billion invested in space startups in 2019. A report on 2020 investment isn't complete yet, but she predicted it will likely "hit or break" that 2019 record.
What's changing is that there are more opportunities for investors to get a return. Last year saw a new wave of merger and acquisition (M&A) activity involving space companies. "The space M&A market cannot be any hotter," said Karl Schmidt, managing director of KippsDeSanto & Co., an investment bank for the aerospace and defense industries, during another panel at the symposium. "I think what we're going to see is not only more buying, we're going to see some exciting exits in 2021 as well."
One area of activity has been "rollups," where a private equity firm acquires several related companies, combining them—rolling them up—into a single entity. One example is Redwire, a company established last June by AE Industrial Partners when it acquired two spacecraft components companies, Adcole Space and Deep Space Systems. It has since acquired several more, including space manufacturing company Made In Space, deployable spacecraft structures company Roccor, and engineering company Oakman Aerospace.
Another has been Voyager Space Holdings, which acquires relatively mature space companies, offering to combine some of the back-office services that can be shared among several companies, like accounting and human resources, allowing each company to focus on their key technologies. In December, Voyager took a majority stake in Nanoracks, the company that flies payloads and launches satellites from the International Space Station and which recently installed a commercial airlock there.
"With Voyager's support, Nanoracks can continue to do what it does best: develop in-space services and technology that is poised to transform life on Earth and in space," Matthew Kuta, president and chief operating officer of Voyager, said in a statement announcing the Nanoracks deal.
Such deals have helped reassure investors that they can get a return on investments in companies in this industry. "There were lots of questions around where are all the exits, and I think there was a lot of clamoring and curiosity about when some of the liquidity events were going to happen," John Stack, managing director and head of aerospace and defense investment banking at Canaccord Genuity said at the symposium. "We certainly saw, during the course of 2020, a variety of things that are happening on the M&A side."
He cited Voyager as one example of that activity. "It kind of helped differentiate themselves amongst a growing interest in M&A, and being able to become a buyer of choice," he said of the Nanoracks deal. "I think that's something to continue to watch as companies continue to look for exits, and look for opportunities to continue to grow."
"We're offering a cheaper, more efficient and less risky way for companies to get to space at Astra. So, it's natural that we would take a cheaper, more efficient and less risky way to get to public markets," said Kemp.
The other surge in activity is taking companies public, but not through the traditional initial public offering (IPO) process. Over the last year and a half, there's been growing interest in what are known as special-purpose acquisition companies, or SPACs. These so-called "blank check" companies do an IPO to raise money, then use the proceeds to acquire a privately held company. That gives the private company an infusion of capital and allows it to go public more quickly than a traditional IPO.
Virgin Galactic used a SPAC to go public in 2019, merging with Social Capital Hedosophia. At the time many investors were skeptical that other space companies would follow its lead, seeing it as a one-time deal involving those specific companies; one person said he doubted it would be "particularly attractive to a lot of startups" (see "A new path for space investment?", The Space Review, July 29, 2019).
However, the growing interest in SPACs in general in the last year now extends to space. Last fall, Momentus, a company developing a series of tugs to provide in-space transportation for satellites, announced it would merge with a SPAC, followed by AST SpaceMobile (formerly AST&Science), which is developing a constellation of satellites providing cellular service from space.
Earlier this month, Astra, a company developing small launch vehicles, announced it would merge with a SPAC called Holicity. The deal will provide Astra with nearly $500 million in cash—from both the funding Holicity had raised as well as a private placement—and value the company at $2.1 billion.
The deal, Astra executives said, will enable the company to ramp up production of its rockets, with a goal of launching 300 times in 2025. (By comparison, there were 114 orbital launches worldwide in 2020.) It will also support development of a line of modular satellites that can be launched on those rockets for those customers who don't want to develop their own.
"We're offering a cheaper, more efficient and less risky way for companies to get to space at Astra. So, it's natural that we would take a cheaper, more efficient and less risky way to get to public markets," Chris Kemp, CEO of Astra, said in an interview. "I think a SPAC, for us, was by far the most efficient path to public markets."
Holicity, it turns out, has some space connections. It was started last year by Craig McCaw, a cellular industry pioneer who a quarter-century ago founded Teledesic, a venture planning a broadband satellite constellation that ultimately failed. "The missing element has been small launch, simple launch, cheap launch, that is available on literally a day's notice," he said on an investor call announcing the deal. "Astra is ruthlessly simple in its philosophy, to do this with a satellite launch capability that fulfills the needs of those entrepreneurs with the speed and opportunity they want."
That surge of interest in SPACs may continue. "I think that it was the Virgin deal that got most people looking at SPACs and charging ahead," said James Murray of PJT Partners at the SmallSat Symposium. "I don't think this is going to slow down in the very near future."
"I've got five or six different portfolio companies that are looking at SPACs," said Tom Gillespie, managing partner of In-Q-Tel, a venture fund tied to the national security community. "It's an interesting vehicle for companies in the space sector and elsewhere to get liquid."
SPACs, though, bring with them some baggage. Because they don't go through the same lengthy process as an IPO, there is at least the perception that they allow companies to go public with less scrutiny. AST SpaceMobile, for example, is facing significant regulatory hurdles for its satellite system, including concerns raised by NASA last year that the satellites pose a collision hazard to Earth science satellites in nearby orbits. The founding CEO of Momentus, Russian entrepreneur Mikhail Kokorich, resigned last month to "help accelerate regulatory reviews by the US government," the company said. Neither company has yet closed their SPAC mergers.
At a webinar held by IPO-Edge last month, investors played down those concerns. "One of the misnomers is that a SPAC is a backdoor way of going public, and there's less disclosure requirements put upon a company. That's not the case," said Phil Denning, partner in ICR, a strategic communications and advisory firm. Those companies still have to provide what he called "traditional disclosures" about their finances.
"Now is the time. You're going to see more and more space tech companies that are publicly traded by the end of 2021," said Wisniewski.
"Not all SPACs are created equal," said Abel Avellan, CEO of AST SpaceMobile, at the webinar. He cited the corporate backing for his merger with a SPAC, including investments that Rakuten, Vodafone, and American Tower, among others, plan to make in parallel with the merger with the SPAC. "They did the diligence. They did it for years. In our case, we have been working for over two years with Vodafone. They know what they're getting into."
"Now is the time. You're going to see more and more space tech companies that are publicly traded by the end of 2021," Scott Wisniewski, managing director of the Technology, Media & Telecom Group at Barclay, predicted. "This is a trend that is playing out now, in real time."
"You can't spell 'space' without 'SPAC,'" quipped one of the webcast's hosts, Hope King.
For now, the markets are favorable to space companies seeking to raise money through a public offering or raising private equity. "What is surprising to me is the amount of capital available now at prices that are very good," said Mike Collett, founder and managing partner of Promus Ventures, at the SmallSat Symposium. "Capital has flowed at a pace that I don't think anybody thought it would have."
He added he was concerned about some "very frothy valuations" for unnamed companies, and that the window of opportunity for companies to raise money won't be open forever. But for the time being, "this is the best fundraising environment I have ever seen on the space side for startups, so you have to take advantage of that."
---
Note: we are temporarily moderating all comments submitted to deal with a surge in spam.