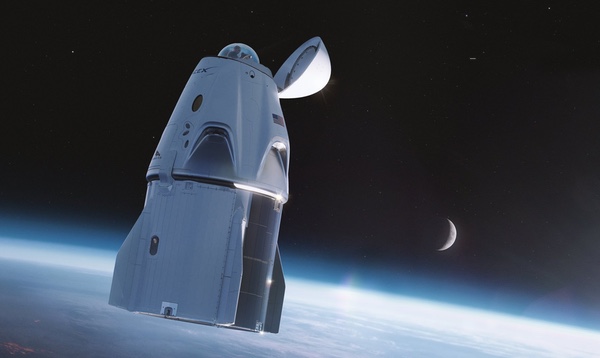 SpaceX says the Crew Dragon that will fly the Inspiration4 private mission in September will be equipped with a cupola in place of the docking adapter on the nose of the capsule. (credit: SpaceX)
For human spaceflight, better late than never
by Jeff Foust

Monday, April 12, 2021
Anniversaries with nice round numbers tend to serve as prompts for reflection of the past and contemplation of potential futures. But some round numbers are more potent than others, so 40 and 60 tend to lose out to 50 in terms of significance. That means the commemorations today of the 60th anniversary of Yuri Gagarin's flight and the 40th anniversary of the first Space Shuttle launch won't have the impact of, say, Gagarin's anniversary 10 years ago or, perhaps, the shuttle's anniversary 10 years from now.
"A year ago, when we were getting ready to fly Demo-2, we were just dreaming that we would be getting ready for our third crewed mission in a year," said Lueders.
Ten years ago, human spaceflight was in a state of transition, at least in the United States. NASA was about to retire the shuttle and was starting the commercial crew program (NASA marked the 10th anniversary of its Commercial Crew Program last week, although commercial crew development efforts predate the formal start of the program by several years.) Exactly what those vehicles would be, and when they would fly, was unclear at the time. "That uncertainty about 'what next' is arguably as great as it ever has been for human spaceflight since Gagarin's flight 50 years ago," this publication wrote ten years ago (see "Whither human spaceflight?", The Space Review, April 11, 2011.)
Ten years later, that uncertainty has largely, if belatedly, faded. After years of delays, NASA's commercial crew partnership with SpaceX has yielded the Crew Dragon spacecraft, which last year flew two missions with astronauts to the International Space Station, including its first operational mission, Crew-1, in November. On April 22, another Crew Dragon will launch from Florida on the Crew-2 mission, carrying astronauts from the US, Europe, and Japan for another six-month mission. If that mission launches on schedule, Crew-1 will return to Earth April 28, splashing down off the Florida coast.
"A year ago, when we were getting ready to fly Demo-2, we were just dreaming that we would be getting ready for our third crewed mission in a year," Kathy Lueders, NASA associate administrator for human exploration and operations, and former manager of the commercial crew program, said at a press conference last month about the upcoming Crew-2 mission. "We are continuing to advance human spaceflight with what we do every day."
That aspect of the commercial crew program, if not yet routine, is at least getting into a rhythm. NASA has already set the no-earlier-then date for the subsequent Crew Dragon flight, Crew-3, of October 23. Two NASA astronauts and one ESA astronaut will fly on Crew-3, with the fourth seat yet to be assigned for that mission to the ISS.
The "commercial" part of commercial crew is also showing promise. That Crew-3 mission will be bracketed by two Crew Dragon missions with commercial customers. The Inspiration4 mission, carrying four people on a trip to low Earth orbit but without a visit to the ISS, is scheduled for launch no earlier than September 15. In early 2022, another Crew Dragon will launch to the ISS on Axiom Space's Ax-1 mission, flying three paying customers and one professional astronaut (see "The new era of private human orbital spaceflight", The Space Review, March 8, 2021).
On March 30, Inspiration4 revealed the final two members of the four-person crew who will fly the mission. Sian Proctor, a scientist and educator who has participated in a number of terrestrial "analog astronaut" missions, won a seat through a competition that involved establishing an online store through Shift4 Payments (whose founder, Jared Isaacman, is bankrolling the flight) and submitting a video about why she wanted to go. Chris Sembroski, a Lockheed Martin employee in the Seattle area, won a seat through a sweepstakes to raise money for St. Jude Children's Research Hospital. They will join Isaacman and Hayley Arceneaux, a physician assistant at St. Jude.
The announcement also disclosed new details about their flight. The three-day mission will go to the same inclination as the ISS but at a higher altitude of 540 kilometers. That will be the highest people have flown above the Earth since the last Hubble servicing mission by the shuttle in 2009.
"It should send a message," Isaacman said of the decision to fly in that higher orbit. "We're ready to go back to the Moon, and we're ready to go beyond the Moon to Mars. Extending out a little bit farther than where we've been for some time right now is a good step in the right direction."
Inspiration4 was originally scheduled to launch in October, but moved up to accommodate SpaceX's manifest, notably the Crew-3 mission now scheduled for launch in October. "This crew, with training, we believe will be ready by September, as well as the Dragon," said Benji Reed, senior director of human spaceflight programs at SpaceX. Inspiration4 will use the same Crew Dragon spacecraft, called Resilience, that will return from the ISS late this month.
"It should send a message," Isaacman said of the decision to fly in that higher orbit. "We're ready to go back to the Moon, and we're ready to go beyond the moon to Mars."
SpaceX plans to make a modification to Resilience for the Inspiration4 mission. The company will replace the docking adapter at the nose of the capsule—not needed for this flight since it is not going to the ISS—with a viewing port modeled on the cupola at the ISS, offering a far wider view of the Earth and the cosmos than possible with the existing windows on Crew Dragon. "The fact that we give everyday people the coolest window that's ever flown is awesome," Reed said.
While NASA and SpaceX are upbeat about the state of commercial crew, both in serving NASA's needs and promoting a broader commercial market for human spaceflight such as future commercial space stations (see "NASA revises its low Earth orbit commercialization plans", The Space Review, April 5, 2021), it doesn't mean that uncertainty from a decade ago has completely disappeared.
NASA selected two companies to develop commercial crew vehicles to provide redundancy should one of them have problems. Today, only SpaceX's vehicle is in service, while Boeing's CST-100 Starliner remains in a kind of development purgatory, falling short on its uncrewed test flight in December 2019 and now waiting for a second chance.
That second uncrewed test flight, OFT-2, was expected to take place in late March or early April. However, by early March, as NASA was gearing up for the Crew-2 mission, the agency made clear that Starliner would not be ready in time. Several issues, ranging from replacing avionics units that were damaged by a power surge during ground tests to a lack of power in the Houston area during a severe winter storm in February, factored into the delay.
At the time of the briefing, Steve Stich, NASA commercial crew program manager, said OFT-2 would be delayed, but didn't give a new date. "It's a very busy timeframe on the space station," Stich said, given both the Crew-2 mission and a new Soyuz. "And then it's a busy time on the range, so we're working hand-in-hand with Boeing to figure out when that launch date will be. We'll have to stand by for further developments on exactly when that flight will fly."
Neither NASA nor Boeing have since updated the schedule for the OFT-2 flight. A May launch is no longer likely because United Launch Alliance, whose Atlas 5 launches Starliner, is moving ahead with a mid-May launch of a missile-warning satellite on another Atlas 5. In early June, SpaceX is scheduled to launch a cargo Dragon mission to the ISS, taking the docking point that would be used by Starliner. Unless NASA decides to delay that cargo mission Starliner's OFT-2 mission will have to wait until July, when that cargo Dragon would likely return to Earth. That, in turn, will push back a crewed test flight with three NASA astronauts on board, currently scheduled for no earlier than September.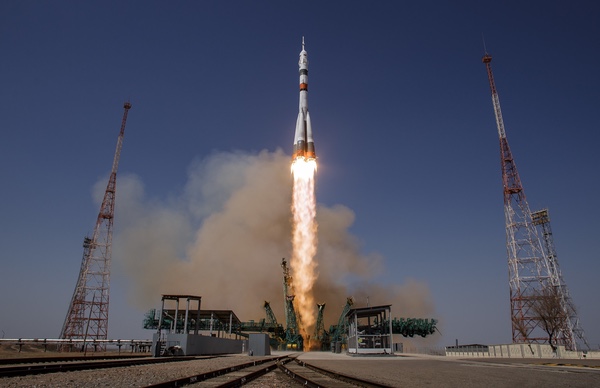 Three days shy of the 60th anniversary of Gagarin's launch, a Soyuz rocket launched a new crew to the International Space Station. (credit: NASA/Bill Ingalls)
The transition from how NASA had been doing human spaceflight for the last decade—buying seats on Soyuz spacecraft—is also a little shaky. NASA planned to stop buying seats on Soyuz missions last year and instead arrange to barter seats with Russia, swapping commercial crew seats for Russian cosmonauts for Soyuz seats for NASA or other Western astronauts. Doing so would enable so-called "mixed crews" so that there will always be at least one Russian and one American on the ISS should a spacecraft be grounded for an extended period.
But early this year, NASA rushed to gain a seat on the Soyuz MS-18 spacecraft, taking an alternative approach. In February, it announced it was working to obtain a seat on that Soyuz because doing so "minimizes risks associated with any interruption in U.S. crew member presence on ISS." NASA said it would obtain the seat through "in-kind services" but didn't state what those services were or even who it was considering flying, although NASA astronaut Mark Vande Hei had been seen training with the cosmonauts assigned to the mission (see "Soyuz plans unclear as the 60th anniversary of Gagarin's flight approaches", The Space Review, January 25, 2021)
A month later, NASA said it finalized the deal. Axiom Space would buy the seat from Roscosmos, and then hand it over to NASA. In exchange, NASA would provide a seat on a future commercial crew mission, tentatively scheduled for 2023, to Axiom. Vande Hei would get that seat, replacing a Russian cosmonaut, Sergei Korsakov, originally assigned to the mission.
"I'm really enthusiastic about it," Vande Hei said of the possibility of an extended stay on the USS, calling it "an opportunity for a new life experience."
The deal, though, comes with a hitch related to Russia's evolving human spaceflight programs. Ordinarily, Vande Hei, along with Soyuz MS-18 crewmates Oleg Novitsky and Pyotr Dubrov, who launched to the station last Friday, would stay there for six months. But the next Soyuz mission, Soyuz MS-19 in October, is currently expected to bring a film director and actress to the station for a brief stay to shoot scenes for a movie. They would return on Soyuz MS-18 with that spacecraft's commander, Novitsky, leaving Dubrov and Vande Hei on the station perhaps until next April along with the Soyuz MS-19 commander, Anton Shkaplerov.
Vande Hei acknowledged he might have an extended stay. "It all depends on whether those tourists go up on the spacecraft in the fall, because they would take my seat back," he said in a call with reporters last month. "I'm really enthusiastic about it," he added, calling it "an opportunity for a new life experience."
Russia is engaging in such commercial activities to make up for the loss of funding that used to come from NASA buying Soyuz seats. A dedicated commercial Soyuz flight is scheduled for late this year, carrying two customers whose flights have been arranged by Space Adventures.
Issues like last-minute Soyuz seat deals and uncertain mission durations, though, are second-order effects of the transition that is finally taking place in human spaceflight. The uncertainty of ten years ago—could companies build crewed orbital spacecraft, and how long would NASA have to buy seats from Russia—is fading away with each successful Crew Dragon mission and, eventually, Starliner mission.
Several other factors may make the future of human spaceflight even more robust. China, which last launched a crewed mission in 2016, is preparing to resume crewed flights as soon as this June with the projected launch of Shenzhou-12. That mission is linked to the start of development of China's new space station, whose first module will launch late this month. India is developing its own human spaceflight program, Gaganyaan, with a first crewed launch now expected in 2023.
The future of human spaceflight has been running late, but it's finally starting to arrive.
And even suborbital space tourism, the long-delayed hope for the future of commercial human spaceflight, many finally be coming to fruition in the next year. Virgin Galactic still plans to resume test flights of its VSS Unity SpaceShipTwo vehicle in May after technical problems aborted a test in December. The company also rolled out the first of its "Spaceship III" class of vehicles, VSS Imagine, March 30, and expects to begin flight tests this summer.
Blue Origin, meanwhile, may also be finally getting ready to fly people on its New Shepard suborbital vehicle. On Monday, the company said its next New Shepard test flight, scheduled for as soon as Wednesday from its West Texas test site, will be a dress rehearsal of sorts for crewed flights. Personnel will board the vehicle during launch preparations, testing the process of getting into the capsule and strapping in, but will leave before liftoff. After the New Shepard capsule lands, they will get in the capsule again to test the process of exiting after landing.
So, within a few years, we could see regular Blue Origin and Virgin Galactic suborbital flights; Boeing and SpaceX commercial crew missions for NASA and commercial customers; Soyuz, Shenzhou, and Gaganyaan orbital flights; and Orion missions to the Moon. The future of human spaceflight has been running late, but it's finally starting to arrive. There may be a lot to talk about in ten years when the next round-number anniversaries of Gagarin and STS-1 come around.
---
Note: we are using a new commenting system, which may require you to create a new account.