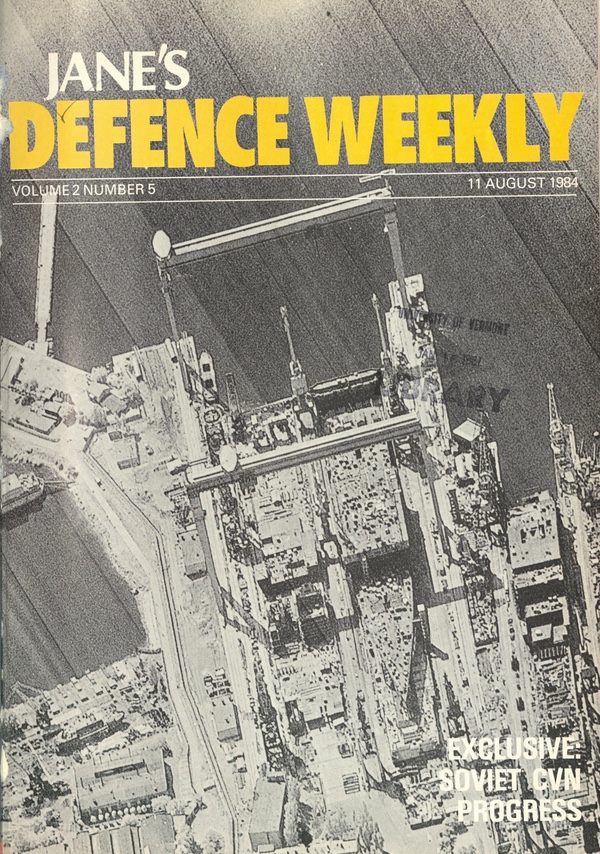 The cover of Jane's Defence Weekly in 1984 that featured reconnaissance satellite imagery of a Soviet carrier under construction.
Flattops from space: the once (and future?) meme of photographing aircraft carriers from orbit
by Dwayne A. Day

Monday, July 19, 2021
In 1984, Samuel Loring Morison, an analyst at the Naval Intelligence Support Center outside of Washington, DC, picked three photos off the desk of a colleague. He clipped the security classification stamps off the sides of the photos and provided them to Jane's Defence Weekly, which had only recently begun publishing. The photos were taken by a satellite of a Soviet Union military shipyard. Knowing that they had a real scoop, the editors at Jane's put one of the photos on the cover of the magazine and featured the other two in a short article about the latest Soviet naval developments.
Because the photos Morison provided to the media were so famous, they became somewhat of an inside joke among people interested in intelligence collection—spawning, for lack of a better definition, an intelligence meme.
The photos were taken by a KH-11 KENNEN reconnaissance satellite, which was then highly secret. They showed a Soviet aircraft carrier (technically, an aircraft-carrying heavy cruiser) and an amphibious warfare ship under construction. They were by far the most detailed reconnaissance photos that had ever been published up to that time, and instantly attracted attention worldwide, resulting in substantial publicity for Jane's. The article inaccurately reported that the aircraft carrier under construction was to be nuclear powered, but the story was still incredibly important for establishing the magazine's reputation for inside information.
There was really no way for Morison to cover his tracks considering that he had a part-time job with Jane's in addition to his day job as a naval analyst, and it did not take long for investigators to trace the photos back to him. Morison was arrested, convicted, and sent to prison for two years. He died on January 14, 2018, aged 73.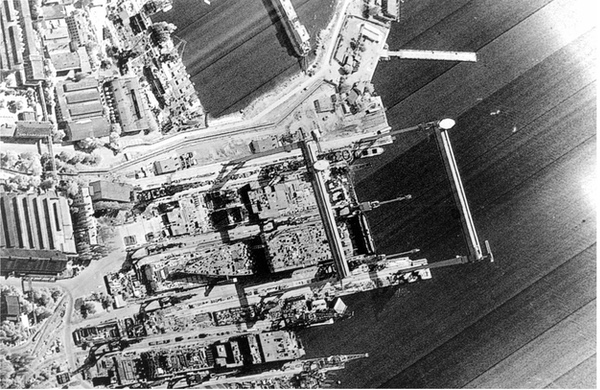 Because the photos Morison provided to the media were so famous, they became somewhat of an inside joke among people interested in intelligence collection—spawning, for lack of a better definition, an intelligence meme. In late 1996, somebody leaked a satellite photograph of another Soviet-era aircraft carrier to a journalist, this one working for the conservative-leaning newspaper The Washington Times. For years, Times journalist Bill Gertz had been publishing classified information—including satellite photos—that somebody in the government was leaking to him. Usually the leaks concerned China—which Gertz considered to be a rising menace—although Russia was another topic that Gertz occasionally wrote about based on classified information. Journalists covering the national security beat in Washington were envious of Gertz's source (or sources) and speculated that the government was trying hard to find the leaker. The Times published the photo on January 1, 1997. The story, "Ukraine won't finish Russian flattop," was barely newsworthy except for the fact that it was based on a leaked, classified CIA report and featured a secret satellite photo of a Soviet-era aircraft carrier. Whoever leaked it almost certainly did so with knowledge of the Morison case and printing the photo on the first day of the new year was clearly a taunt, saying "catch me if you can."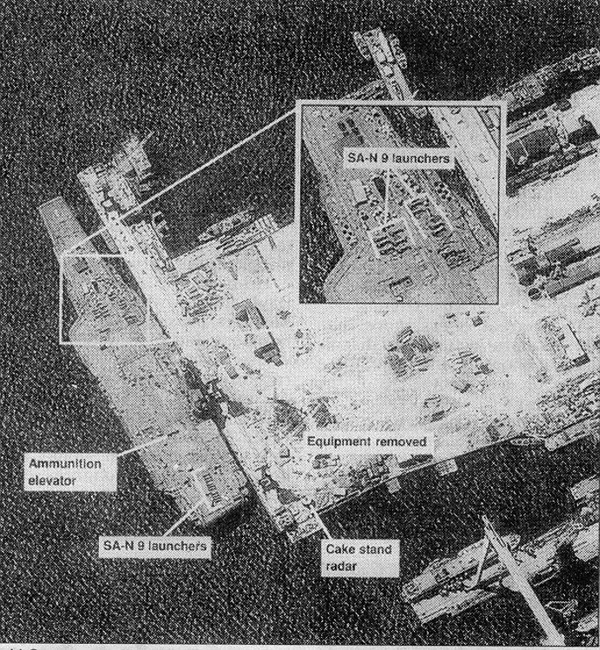 In 2011, when the National Reconnaissance Office declassified the GAMBIT and HEXAGON satellites, they released an image of a Soviet aircraft carrier taken by a KH-8 GAMBIT in 1984—the exact same carrier and shipyard that had appeared in the leaked Morison images 25 years earlier, hardly a coincidence.
For good measure, the NRO also released a KH-9 HEXAGON image of a Soviet Kiev-class aircraft carrying cruiser from 1980. (Note that the image is actually flipped, and the ship's flight deck should be on the port—left—side.)
Today, commercial satellites have become much more prolific and imagery is available to anybody with a credit card. After DigitalGlobe led the way in the 2000s, newer imagery providers like Maxar, Planet, and Airbus now offer easy access to satellite imagery, although legal regulations prevent these companies from producing images as good as the KH-11 KENNEN provided in the 1970s and '80s. There are now many satellite images of aircraft carriers available. A member of the general public would have a hard time identifying a naval frigate from a destroyer, but an aircraft carrier's flat deck is obvious. In addition, aircraft carriers have become increasingly common, with many nations—most notably China—producing them.
In 2011, the DigitalGlobe Analysis Center released an "exclusive"—and striking—image to CNN showing China's first aircraft carrier, Liaoning, at sea. The Liaoning had previously been photographed by satellite undergoing overhaul, and the people at the Analysis Center almost certainly were aware of the history of spotting aircraft carriers from space and were particularly proud that they had performed the rare feat of photographing a carrier on the open ocean. They may have even been aware that the Liaoning was previously named the Varyag and was the aircraft carrier shown in the leaked January 1, 1997, image printed by The Washington Times.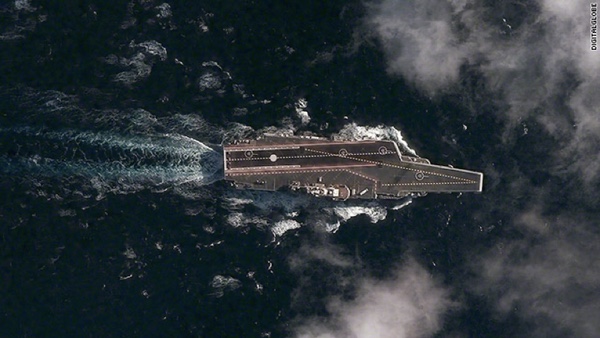 When satellite images of aircraft carriers show up in the media today, they tend to fall into two (perhaps overlapping) categories: general interest stories (like "hey, isn't this cool?") and more hard news stories. Because many of these ships can be photographed in port, a satellite photo of, say, an American aircraft carrier usually has little news value. After all, a private citizen could take a better photo from the shore.
As an example of a general interest story, an article from May 2020 featured a very low-resolution satellite photo of the USS Abraham Lincoln:
Another low-resolution image from December 2020 showed the USS Nimitz and her escorts:
But some of these ships are being built or operated by authoritarian regimes that restrict photography. In those cases, commercial satellite imagery can have real news and intelligence value. Modern commercial satellite imagery is used in the same way that intelligence analysts used it three and a half decades ago, to make assessments and evaluate the progress of construction of new ships. For instance, there have been several articles about China's work on its first indigenously designed and built aircraft carrier, with multiple overhead images showing progress on the construction inside a shipyard facility.
When satellite images of aircraft carriers show up in the media today, they tend to fall into two (perhaps overlapping) categories: general interest stories (like "hey, isn't this cool?") and more hard news stories.
Clearly, it has now become common for news articles about naval issues to feature satellite photos of aircraft carriers. Many of today's geospatial analysts working at commercial imagery satellite companies are younger and unlikely to be familiar with the Morison case from 36 years ago and may not realize that there's a legacy to such satellite imagery. What follows are numerous examples of aircraft carriers photographed from space, some more newsworthy than others, proving that sometimes a cigar is just a cigar, and sometimes it's an aircraft carrier.
Russia
It was a Russian aircraft carrier that kicked off this intelligence meme. The Soviet Union built four vertical take-off and landing aircraft carrying missile cruisers before beginning construction of two ships capable of launching and landing conventional aircraft. The four earlier ships are no longer in Russian service (more on them later), and only the first of the two conventional carriers remains in Russian service—the carrier that was in the photos that Morison leaked in 1984. That carrier, the Admiral Kuznetzov, has been a bit of a hard-luck ship. There are now many satellite photos of the Kuznetzov, all showing it undergoing repairs and modernization, a process that has taken far longer than planned.
The ship's full name is Admiral Flota Sovetskogo Soyuza Kuznetsov, although before entering service it had been known as Riga, Leonid Brezhnev, and Tbilisi. Kuznetsov was laid down at Ukraine's Chernomorskiy Shipyard in 1983 and launched in 1985, but did not enter service until 1995. It was given its final name in 1990. It was occasionally photographed by satellite while it was at sea: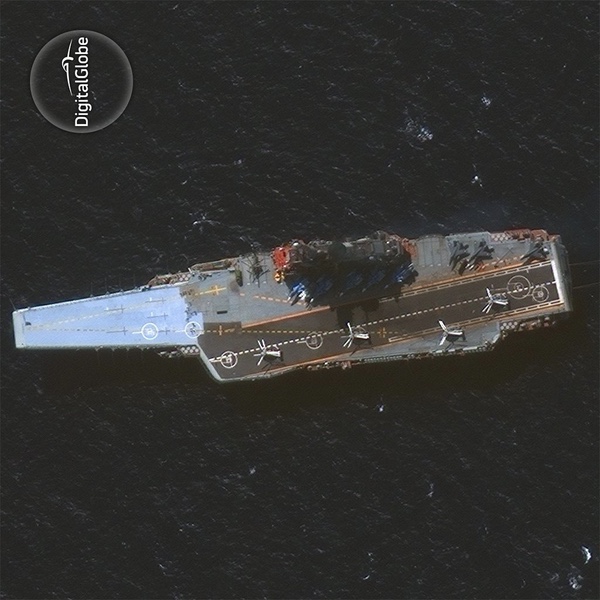 Russia has built many unique warship classes over the decades, unlike any other navy, and Kuznetsov was a prime example, because its aircraft were not necessarily its main armament. Underneath the ship's forward flight deck were silos for massive ship-killing missiles. Kuznetsov should have been a formidable warship, but in service the ship seemed to be plagued by troubles, suffering fires and other breakdowns. In 2012, Kuznetsov had to be towed back to port by a tug. During 2014 and 2016 deployments, the ship was accompanied by a tug in case of engine problems, and it was seen emitting black smoke from the funnel, indicating poorly-maintained boilers. During one deployment, two jet aircraft fell off its deck into the ocean. There were reports that parts of the ship were uninhabitable due to lack of heating and inoperable toilets. A satellite photo taken in October 2015 and showing the carrier with a ship behind it attracted attention on the Internet the following May as amateur sleuths speculated that the carrier was being towed back to port. But the carrier was conducting a refueling operation and the other ship in the image was a tanker.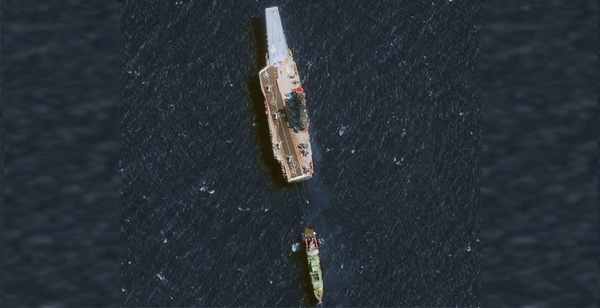 In early 2017 the ship entered drydock for an overhaul and refit to extend its life for 25 years. In October 2018, the floating drydock holding the ship sank, and a large crane fell on Kuznetsov's deck, gouging a massive hole that had to be repaired. In December 2019 a major fire broke out on Kuznetsov, causing more damage. The loss of the drydock was a major blow, because Russia had no other drydock capable of handling such a large vessel and had to begin work to connect two adjacent drydocks to accommodate it. Since that time, work on the ship has apparently come to a standstill.
Since the drydocking of the Kuznetsov four years ago, commercial satellites have flown overhead and photographed the ship, showing the repair after the damage from the crane collapse and the fire, but also over time showing the lack of progress on the modernization.
China
China has been producing the most newsworthy aircraft carriers for the past decade. Irony is as common in the universe as hydrogen, and an un-newsworthy story in the 1990s has led to something much more important. The unfinished aircraft carrier Varyag shown in the leaked Washington Times article on January 1, 1997, was later sold to China. Officially, it was to become a casino in Macao. This was not unprecedented. Two other Soviet-era aircraft carriers had ended up in China as amusement attractions. But Varyag was bigger than those other vessels, and China's purchase of the ship was a ruse—it was never intended to become a casino in Macao.
The new vessel, only referred to as "carrier 003," is a large ship, roughly equivalent to the US Navy's Forrestal class carriers of the 1950s, but larger than all other carriers except for those currently serving in the US Navy.
The story behind the purchase is convoluted and murky, and according to the Hong Kong businessman who bought the ship, he was commissioned by the Chinese military to purchase the rusting vessel, but there was no official approval within the government authorizing him to do so. The businessman claimed that he was never reimbursed by the Chinese government for the purchase, and there are indications that the Chinese naval officer who encouraged the purchase was later imprisoned because of smuggling. No matter the actual details, once China had the ship the Chinese government eventually decided to refurbish it for their own navy. The ship was photographed from space in 2011 at the Chinese port of Dalian as it was being refurbished. It was renamed Liaoning, after a Chinese province.
Liaoning has been photographed from space numerous times:
Whereas the Varyag became the Liaoning, China also purchased two other former Soviet aircraft carriers which became public attractions. The Kiev was sold to a Chinese company in 1996 and converted into a theme park in Tianjin where it has been since 2004. According to the Wikipedia entry, it was renovated and developed into a luxury hotel since 2014. These resorts can be found on Google Maps:
Kiev's sister ship Minsk has had less good fortune. It was sold to China and placed in a naval museum in Jiangsu since 2016. But later it was moved and sealed in, and has been languishing, and rusting away in a landlocked lagoon for several years.
Since 2002, China has also had a near-full-size replica of an American Nimitz-class aircraft carrier that is open to tourists. It is located at the Military Education Center near Dianshan Lake, close to Shanghai.
China's first indigenously built aircraft carrier was photographed under construction in the middle of last decade. IHS Jane's Defence Weekly—the same publication that published Morison's leaked photos in 1984, performed a time series analysis from May to December 2015 showing the progress of a large ship that it did not definitely call an aircraft carrier, but was later confirmed to be China's second carrier, eventually named Shandong.
Whereas Varyag was initially built in Ukraine and then overhauled in China and became the Liaoning, Shandong was produced from the keel up in the country's own shipyard, but was a close copy of the Liaoning. It was photographed from space in 2016, by this time further along in construction:
Since being launched, the Shandong has been photographed via satellite numerous times, such as this image from November 2019:
And this image from March 2020.
Several years ago, China also began construction of its first indigenously designed and built aircraft carrier. It has been photographed under construction from space many times, such as this image published here in October 2019:
And here in March 2021:
The Center for Strategic and International Studies (CSIS) has used satellite imagery to analyze the new carrier. Although the US intelligence community is certainly monitoring construction, those reports are classified. CSIS therefore has been a valuable source of careful analysis of the ship. For instance, CSIS has noted that the ship is not nuclear-powered and will instead have conventional propulsion.
The new vessel, only referred to as "carrier 003," is a large ship, roughly equivalent to the US Navy's Forrestal class carriers of the 1950s, but larger than all other carriers except for those currently serving in the US Navy. One amateur analyst has depicted it along with a satellite photo of the USS Gerald Ford and China's second carrier, Shandong, photographed by a drone:
The media has also reported on China upgrading a drydock to handle its carriers.
In the past week, CSIS has reported that the carrier's island, which is where it is commanded and where deck operations are controlled, has been installed. In recent satellite imagery produced by Maxar, the ship's deck can be seen covered with air conditioning ducts for blowing cool air to the internal workspaces. CSIS reports that construction is proceeding faster than they anticipated and the ship may be launched later this year, although it will still require substantial additional work after it is in the water.
France
France's nuclear-powered aircraft carrier Charles de Gaulle was spotted from space in February 2020 just south of Cyprus:
Iran
Iran has the weirdest example of a "carrier" photographed from space. The country has never owned or built an aircraft carrier. But in 2013–2014, satellite imagery revealed a relatively large vessel that looked like an American aircraft carrier in an Iranian port:
The fake aircraft carrier was large, but significantly shorter than a modern American nuclear-powered carrier, less than two thirds as long and half the width. In February 2015, Iranian naval forces attacked the fake carrier as part of the Great Prophet IX exercise.
In March 2021 it finally sank "properly," something that it had stubbornly refused to do.
After the exercise, the damaged vessel was towed to Bandar Abbas, Iran's main naval base. There it sat anchored outside the breakwater, apparently abandoned. Then in early August 2019 it was brought inside the protection of the outer sea wall. The deck was repainted and it was otherwise spruced up, apparently being refurbished for another exercise. From above, to the untrained eye, it looks like a real ship, although from water level it is clearly fake.
In 2020, Iranian forces again attacked the vessel as part of the Great Prophet XV war games. But their fake aircraft carrier accidentally sank in July 2020, at one of the worst possible places: near the entrance to Bandar Abas. Satellite photos later showed the hulk underwater, posing a threat to navigation.
By January 2021, the hulk had shifted and started to break apart:
Naval analyst H.I. Sutton followed the saga of the fake Iranian carrier for many months. In March 2021 he wrote that it finally sank "properly," something that it had stubbornly refused to do.
India
The United States, Russia, and China are not the only countries with aircraft carriers. India has long operated carriers that it has purchased from other nations. In the past decade, India began construction of its first indigenous aircraft carrier, INS Vikrant:
Somebody on Twitter even did a comparison of Vikrant with China's second carrier Shandong:
The fourth ship in the Soviet Union's first series of carriers was the Baku, renamed the Admiral Gorshkov. In 2004 it was sold to India. It is now the INS Vikramaditya. And of course, it has been photographed from space, many times:
This photo would have been a real prize for America's adversaries, and virtually impossible to obtain. Now all you would need is a credit card.
As an aside: after the 1960s-era CORONA reconnaissance imagery was declassified in the mid-1990s, and fully aware of the Morison case, I sought to find the first example of an aircraft carrier photographed from space. I figured that my best bet was to look for photographs of major American naval bases. Such photos were rare, however. I eventually found an example, a mid-1960s CORONA photo of Norfolk Navy Base in Virginia. An Essex-class aircraft carrier was visible through the haze, but the quality was so poor that I never bothered to acquire the photo.
The photo below was not obtained by satellite but a US Navy airplane. It shows the aircraft carrier USS Enterprise at Puget Sound, Washington, in 1940. This photo would have been a real prize for America's adversaries, and virtually impossible to obtain. Now all you would need is a credit card.
The original 1984 Jane's article can be downloaded here (7 MB PDF).
---
Note: we are using a new commenting system, which may require you to create a new account.