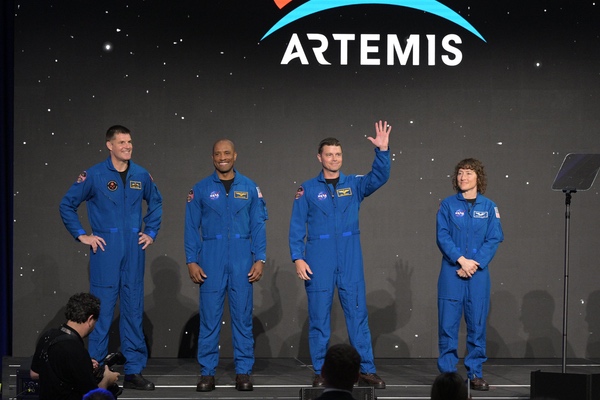 The Artemis 2 crew of (from left) Jeremy Hansen, Victor Glover, Reid Wiseman, and Christina Koch on stage at Ellington Airport in Houston April 3 after being named as the crew of Artemis 2. (credit: NASA/James Blair)
First four
by Jeff Foust

Monday, April 10, 2023
There were two big events in Houston last Monday, and both involved the number four.
Over the weekend, Houston's NRG Stadium hosted the Final Four, the conclusion of the NCAA men's college basketball playoff. Monday night was the final, pitting the University of Connecticut against San Diego State University to wrap up a tournament that lived up to its "March Madness" moniker.
"The way I look at it, any one of our 42 active astronauts is eligible for an Artemis mission," Wiseman said last summer.
Earlier that day, down the freeway at Ellington Airport, NASA was wrapping up its own competition, announcing the four astronauts who would fly on Artemis 2, the first crewed flight of the Space Launch System rocket and Orion spacecraft. They are slated to be the first humans to travel beyond low Earth orbit and to the vicinity of the Moon since the three men who flew on Apollo 17 in December 1972.
NASA had not offered any hints about who would be on the crew other than to say that one of the four seats would go to a Canadian astronaut, part of a deal brokered in late 2020 that gave Canada a seat on that mission and a future Artemis flight to the lunar Gateway in exchange for providing the Gateway's Canadarm3 robotic arm. Around the same time, NASA announced an "Artemis Team" of 18 astronauts that the agency, and then-Vice President Mike Pence, said would form the pool from which NASA would select crews for the early Artemis missions.
By last summer, though, that had changed. "The way I look at it, any one of our 42 active astronauts is eligible for an Artemis mission," Reid Wiseman, at the time chief of the astronaut office, said at an event at the Johnson Space Center in early August to preview the upcoming Artemis 1 uncrewed mission. "We have 42 active astronauts here in Houston and 10 astronaut candidates who will be beating down the door for Artemis 2 and beyond."
At Monday's event at Ellington, just up the road from JSC, NASA started by parading virtually the entire astronaut corps on stage. "Your Artemis 2 crewmembers are already here in the room with you," Joe Acaba, who took over as chief astronaut from Wiseman last fall, said on stage. "I will give you one hint: I am not one of them."
Acaba and Norm Knight, the director of flight operations at JSC, selected the crew under the supervision of Vanessa Wyche, director of JSC, according to NASA administrator Bill Nelson at the event. (Nelson has previously said he would not play a role in crew selecting, delegating that to JSC.) Nelson and others at the event, though, did not go into details about how the crew was selected.
After a relatively modest windup of videos and speeches by NASA and Canadian officials, it was time to announce the crew. First up were the two mission specialists: NASA astronaut Christina Koch and Canadian Space Agency (CSA) astronaut Jeremy Hansen. Koch will be the first woman to go to the Moon and Hansen the first non-American.
Koch, a member of the 2013 astronaut class, spent nearly 11 months in space from March 2019 to February 2020 on the ISS. "My fellow astronauts know that one of the questions we get all the time is, 'Are you excited?'" she said at the event, then went through the milestones planned for the ten-day Artemis 2 mission around the Moon. "So, am I excited? Absolutely."
Hansen will be making his first spaceflight after being selected in 2009. He praised Canada's "can-do attitude" for getting a seat on the flight, as well as the United States. "It is not lost on any of us that the United States could choose to go back to the Moon by themselves," he said. "I am grateful, all of Canada is grateful for that global mindset and that leadership."
Piloting Artemis 2 will be Victor Glover, another member of the 2013 astronaut class who spent nearly six months on the ISS from November 2020 to May 2021 on the Crew-1 commercial crew mission. He will be the first Black person to go to the Moon. Both he and Koch were part of the Artemis Team of astronauts announced in 2020.
He took the big picture in his on-stage remarks. "Artemis 2 is more than a mission to the Moon and back. It's more than a mission that has to happen before we send humans to the surface of the Moon. It is the next step on the journey that gets humanity to Mars," he said, comparing the effort not to a marathon but as a series of sprints in a relay race. "We're going to do our best to run a good race to make you proud."
Finally, Nelson named the commander of Artemis 2: Wiseman, the former chief astronaut who spent nearly half a year on the ISS in 2014. He kept his remarks at the event brief, thanking everyone involved in the mission, and returned to Glover's relay race metaphor. "This is going to be a relay race unlike any that you've ever run."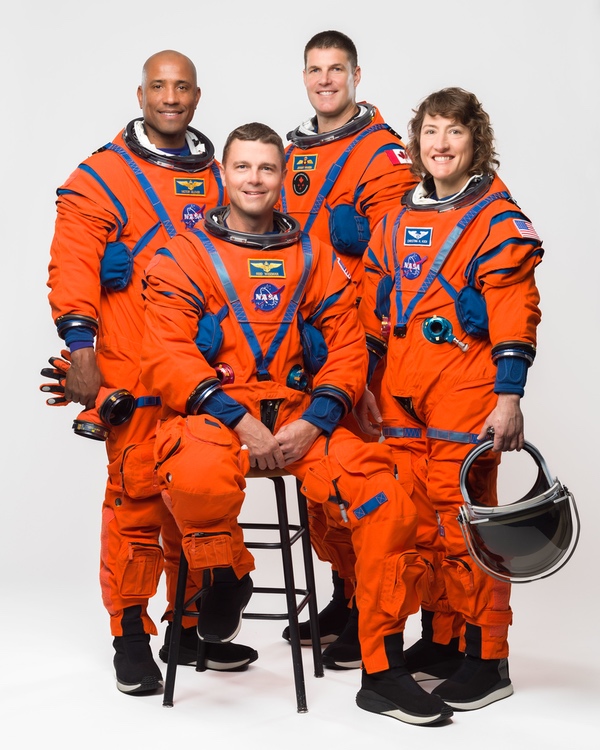 A portrait of the Artemis 2 crew in the pressure suits they'll wear on the mission. (credit: NASA/Robert Markowitz)
Getting ready
While NASA made a big show of pulling the four Artemis 2 astronauts from a crowd of their colleagues, the four had known for some time that they would be on the mission. In an interview after the event, Glover said he, Koch, and Wiseman were informed they would be on the meeting during a March 7 meeting with Acaba and Knight. (Hansen was informed separately in a call with CSA leadership a little later.)
"It was a profound moment, a shocking moment," Glover recalled.
The three each received separate invitations to the meeting with titles that gave no indication as to its true nature. All three, he recalled, were late: he was at a lunch while Wiseman was on other business (a doctor's appointment); Koch thought that it was a virtual meeting that she could call into from the Neutral Buoyancy Lab (NBL) several kilometers from JSC. "When we got there, not only was our boss there, but our boss's boss, so we all feel terrible," he said.
After some initial chatting, Knight sprung the real purpose of the meeting on them: "How would you feel about flying on Artemis 2?" They all immediately said yes. "It was a profound moment, a shocking moment," Glover recalled.
Preparations were kept low-key since then, such as posing for some photos and video. Glover said he got to tell his family in advance, including his children. "I was blown away by how excited they were," he recalled. "They're all in."
The day before the public announcement, the crew and their families talked by phone with President Joe Biden. "He spoke mostly to the kids and told them that he was supportive of this and proud of us, but he's proud of them, because we can't do any of the big things that we try to do without our kids and our families' support," Glover said of the call.
The Artemis 2 crew will start training in June. That will involve a lot of time in Orion simulators, as well as in an Orion mockup in the NBL, said Matt Ramsey, Artemis 2 mission development manager at NASA. There will be additional work with ground systems at the Kennedy Space Center, such as emergency egress training.
The mission itself is relatively straightforward. SLS will place Orion and the Interim Cryogenic Propulsion Stage (ICPS) into an elliptical orbit around the Earth with a period of 23.5 hours. Orion will them separate from the ICPS and then perform a proximity operations, or "prox ops" demonstration, maneuvering around the upper stage, all while testing life support and other key systems on Orion.
"You get a full day to check out all your subsystems before you hit go to TLI," or translunar injection, Ramsey said of that initial Earth orbit. "If at any point you have issues, you have the opportunity to come back very quickly."
If everything does check out, Orion will fire its main engine and place it on a free return trajectory around the moon. The altitude of Orion's closest approach to the Moon will vary depending on specific details of each launch opportunity but will be between 5,000 and 15,000 kilometers.
"When you set your TLI burn you've set your return time," he said of that trajectory. "That sets your closest approach around the Moon."
Artemis 2 is currently scheduled for launch in November 2024. "The hardware is in pretty good shape" for the mission, he said. The critical path for the mission is preparing Orion for the mission, rather than SLS: the core stage is set to be shipped to KSC in May or June, with the booster segments, already completed, arriving in September. Ground equipment damaged by the force of the Artemis 1 launch is being repaired and will be ready in time for the Artemis 2 launch, with improvements intended to avoid similar damage.
At a briefing last month, NASA officials said they were still reviewing data from Artemis 1, examining issues that came up during the flight or in inspections afterwards. That included finding different ablation patterns of Orion heat shield material. "We had more liberation of the charred material during reentry than we had expected," said Howard Hu, Orion program manager at NASA, at that briefing but added there was still a "significant amount of margin" of untouched heat shield material.
Jim Free, NASA associate administrator for exploration systems development, said last week that heat shield issue was still being studied. "We are going to run that to ground," he said.
Overall work on the Orion crew module remained on the critical path, he said, because of "first-time hardware installs" of components that were not needed for Artemis 1, like life support and crew displays, that will be needed for Artemis 2. Those life support systems, he said, had encountered some supply chain problems as well. "Lockheed has done a really good job at swapping the order of things around, trying to do as much as we can while we're waiting for parts."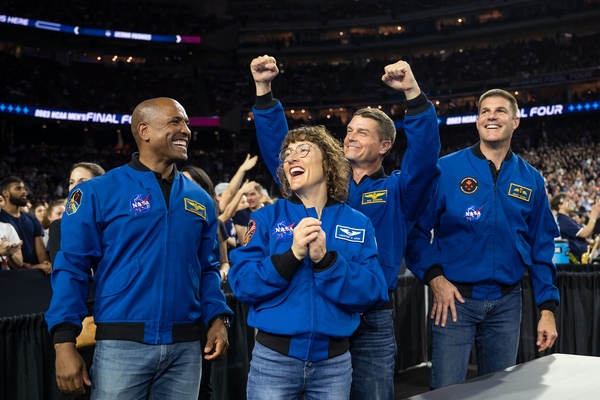 The Artemis 2 crew ended the day at NRG Stadium for the UConn-San Diego St. game. (credit: NASA)
Artemis 2, if successful, will pave the way for Artemis 3, the first Artemis lunar landing mission. That mission is tentatively scheduled for December 2025, according to a manifest published by NASA last month along with its fiscal year 2024 budget proposal. However, that date depends not just on the outcome of Artemis 2 but development of SpaceX's Starship lunar lander—the first integrated Starship/Super Heavy launch is now scheduled for no earlier than April 17—and spacesuits being developed by Axiom Space.
"This opportunity is a gift," Glover said. "Artemis 3 will be a gift for someone else, but I'm really happy with this gift right now."
That same manifest showed that Artemis 4, which will include a Starship lunar landing as well as the first Orion docking to the lunar Gateway, had slipped to late 2028. The slip from 2027 was just a matter of "bringing everything together," said Amit Kshatriya, the director of the new Moon to Mars Program Office at NASA Headquarters, in an interview. That includes development of the new Block 1B version of SLS, and a new mobile launcher, that will debut on that mission.
The crew of Artemis 2 likely won't be eligible for Artemis 3 or 4 given the many other astronauts waiting for a flight opportunity. Glover said he didn't mind missing out a chance to walk on the Moon on Artemis 3. "The best mission is always the next thing smokin' and so the chance to fly on this is amazing," he said. "This opportunity is a gift. Artemis 3 will be a gift for someone else, but I'm really happy with this gift right now."
And, at the end of the day last Monday, after completing rounds of media interviews, the worlds of basketball and space came together as the Artemis 2 crew were driven under police escort to NRG Stadium as special guests for the UConn-San Diego St. game. The first four made it to the Final Four.
---
Note: we are using a new commenting system, which may require you to create a new account.