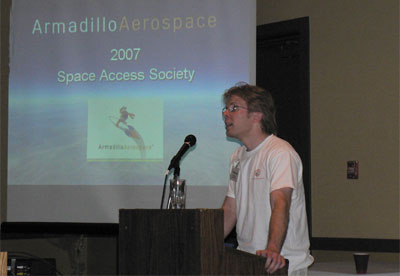 John Carmack, speaking at the Space Access '07 conference on March 23rd, said he's confident that Armadillo Aerospace will be able to claim some of the prize money in this year's Lunar Lander Challenge. (credit: J. Foust)
Eyes on the lunar lander prize
by Jeff Foust

Monday, April 2, 2007
For the past few years, the entrepreneurial space industry has struggled to find ways to demonstrate the progress that it is making, particularly in the development of suborbital vehicles. There are always conference presentations and press releases and the like, but there's nothing quite as effective in capturing the public's attention as actually building and flying hardware, as the flights of SpaceShipOne in 2004 so clearly demonstrated. With none of the leading suborbital vehicle developers planning to make test flights of their vehicles before next year, there would seem to be few near-term opportunities to see what various companies are capable of.
The one exception to this, though, is the X Prize Cup, held the last two years, and again this coming October, in New Mexico. The event has given vehicle developers an opportunity to show off their technologies before a public audience, even if those demonstrations have been limited to low-altitude flights or even static engine tests. That will again be the case this year, although this time there will be the added drama of competition, as several teams are expected to field vehicles to compete in the Cup's centerpiece event, the Northrop Grumman Lunar Lander Challenge (LLC), trying to win up to $2 million from NASA's Centennial Challenges prize program. While Armadillo Aerospace came close to winning part of the prize purse at last year's event (see "Climbing the steep learning curve to space", The Space Review, October 23, 2006), and remains the favorite coming into this year, they won't necessarily have the field all to themselves this time around.
The favorite
At last year's LLC, Armadillo Aerospace was done in not by engine problems or software glitches, but instead something seemingly low-tech: its landing gear. On two of its three attempts to win the less-challenging Level 1 prize last year, Armadillo's vehicle, Pixel, broke one of its landing legs upon completing the first leg of the required flight, preventing the vehicle from making the return trip.
That problem, at least, has been corrected. "We've made modifications since the X Prize Cup" to Pixel and its twin, Texel, John Carmack said in a presentation at the Space Access '07 conference in Phoenix last month. "They have strong landing gear now. It will not break."
"I certainly do expect to win the Lunar Lander Challenge this year," Carmack said said. "It will take really bad luck to not walk away with something from this."
Carmack said Armadillo's near-term focus is on testing those vehicles in preparation for this year's LLC, which is still more than six months away. In addition to the strengthened landing legs, the team has made a number of other tweaks to the vehicles to improve their performance, and plans to start doing flight testing of the vehicles in the near future at the Oklahoma Spaceport.
"I certainly do expect to win the Lunar Lander Challenge this year," he said. "Last year was the case where there just wasn't enough time, we did our very best shot out there." This time around, he believes, "we've got the vehicles, we've got all the knowledge and experience gained from that [last year]. It will take really bad luck to not walk away with something from this."
For Carmack and Armadillo, though, the LLC is simply the means to a bigger end, namely, the development of suborbital and even orbital vehicles. Over the last several years, Armadillo has experimented with a number of approaches, including a variety of flight modes, engines, and propellants. Now, though, Carmack thinks he has the technology needed to develop true spacecraft. "I'm more convinced than ever that we're doing this the right way," he said. "I honestly think that we're making excellent progress. We have all the things we need in hand or close to in hand to getting certainly to suborbital space, and we do have a roadmap to take us all the way to orbit."
The right way, in Armadillo's view, is a modular approach. Rather than scaling up its existing engines and related systems, Carmack said he is adopting a modular approach, ganging together identical modules consisting of a rocket engine like the one used on its LLC vehicles with a pair of propellant tanks and related electronics. Four of these modules, put together, should be enough to carry a small payload to 100 kilometers and back, while nine of them would be combined with a capsule that could carry passengers on suborbital spaceflights. A two- or three-stage version, using up to 64 modules, could eventually place payloads in orbit.
"There are more economies of quantity than economies of scale," Carmack said of his approach. He acknowledges that some see his approach of putting together dozens of engines as something of a kludge that is less reliable than simply using smaller numbers of more powerful engines. "When I talk about these larger-scale operations to most of the people in the industry, I always get 'that look', whenever I talk about 64 engines or 64 modules," he said. "It's an initial knee-jerk reaction, but when you come down to it, I don't think it's justified."
His approach does promise a unique experience for any future passengers. Current plans call for a relatively slow ascent for their suborbital vehicles to keep dynamic pressures on the modules low. Thus, Carmack said they're considering making most of the capsule out of clear Lexan. "We're going to have a 360-degree panoramic view from the top of the vehicle. It's going to be glorious. That's going to be something that you don't get when you have a little porthole next to your seat," he said. He added that while Armadillo is currently planning to build its own relatively simple capsule, it's also in discussions with another company to develop the capsule.
Such an approach would set Armadillo apart from other companies planning suborbital space tourism ventures, and that is the direction the venture is leaning. "There's going to be plenty of room for multiple vendors in this market," Carmack said, offering different types of flights and different experiences for potential passengers. "We're absolutely going to be carrying people to space, whether it's next year or the year after."
If all goes well, and Armadillo wins prize money at this year's LLC, Carmack said he envisions flying the four-module version of their vehicle by the end of this year or early next year at Spaceport America in New Mexico, and then following that up with development of the nine-module version and its passenger capsule. At the same time, Armadillo Aerospace would be undergoing a transformation of its own, looking less like an expensive hobby and more like a business.
Carmack: "We're absolutely going to be carrying people to space, whether it's next year or the year after."
"We have a number of commercial things in the air right now," Carmack said. "Not many of them have turned into real money" but they have seen growth as revenue sources evolved from the sale of t-shirts to sponsorships for the LLC vehicles last year. Carmack said he's put about $3 million of his own money into the effort overall, with a burn rate of about $500,000 a year. At that pace he said he could continue to sustain the effort himself indefinitely, or at least until "the bottom drops out of the videogame market", and that while extra money would allow them to move faster, even a huge infusion of cash would allow them to go only two or three times faster than their current pace.
In the long run, Carmack remains confident that Armadillo will have no shortage of business opportunities once its vehicles are flying. "When the capability is demonstrated, the business case is just going to close itself."
The challengers
At last year's LLC, Armadillo Aerospace was the only one of several entrants to actually field a vehicle. The team considered to be the next closest to actually flying a vehicle in the LLC was Masten Space Systems, which had been hard at work on a vehicle but decided several weeks before the competition that it wasn't quite ready to fly. That turned out to have been a wise decision.
"About six months ago we said we were about two weeks away from flight," said company president Dave Masten at Space Access. "We are still two weeks away from flight." The company has been working through some technical issues, including problems duplicating their original pintle design that had been made by an "old school" machinist using hand-sharpened tools. Those problems are largely behind them now, he said, and they are now confident they can begin low-level flight tests of their original prototype, the XA-0.1, in the near future.
As soon as they start flying the XA-0.1, he said, the company will start work on the XA-0.2 vehicle, which they plan to enter in this year's LLC. That, in turn, will lead to the development of larger tech vehicles, eventually leading to the XA-1.0 suborbital vehicle.
However, Masten warned that even if they make good progress with the XA-0.1 and XA-0.2, they might not participate in the competition. "We're going to try and fly in the Lunar Lander Challenge. There is a hope that we won't because we're too busy with other stuff, with other contracts," he said. Ironically, that level of activity may be an outgrowth of last year's X Prize Cup, when Masten, in lieu of participating in the LLC, performed some static engine tests than impressed a number of attendees, who have since approached the company about performing some R&D work.
Even if Masten drops out of this year's LLC, there are still a number of other teams planning to compete against Armadillo. Two other teams that registered but did not compete last year, Acuity Technologies and Micro-Space, have expressed interest in trying again this year, although neither company presented at the Space Access conference. Several new competitors have also emerged and discussed their plans at the conference. SpeedUp, a startup venture planning to develop a "personal rocketcraft" for recreational purposes, is working with Frontier Astronautics to develop a vehicle with a hydrogen peroxide monopropellant engine. Paragon Labs, a small venture not related to the larger Paragon Space Development Corporation, started its vehicle project, powered by a single liquid oxygen/ethanol engine, last November, and is currently working on getting its experimental permit from the FAA. And Paul Breed described his LLC venture, Unreasonable Rocket, as a "father and son team" currently testing rocket engines.
If the Lunar Lander Challenge attracts a full slate of vehicles, says X Prize's Pomerantz, "Wow, it adds a lot of work, but wow, what a show."
Even if some of these efforts failed to be ready in time for this year's competition, the X Prize Foundation is expecting that several teams will be ready to compete in late October. The rules for the 2007 competition are almost the same as in 2006, with the exception that teams will now be allowed to repair their vehicles while in the middle of their flights, provided they carry all the parts and tools on the vehicle itself. The biggest change will be in the location of the competition itself: the 2007 X Prize Cup is expected to move from Las Cruces International Airport, where the 2005 and 2006 events took place, to Holloman Air Force Base near Alamogordo, about an hours' drive northeast of Las Cruces, and take place in conjunction with a biannual air show held at the base.
Will Pomerantz of the X Prize Foundation declined to identify how many teams had registered to date for the competition. "Regular" registration for the LLC closed at the end of March although late registration, with an entry fee of $5,000—double the regular fee—will remain open until the end of April. He did say that they would be able to support up to five vehicles in each of the two levels of the challenge; the first five to get their experimental permit from the FAA would be allowed to participate, provided they actually had a vehicle ready to fly. If they get that many vehicles, he said, "Wow, it adds a lot of work, but wow, what a show."
---