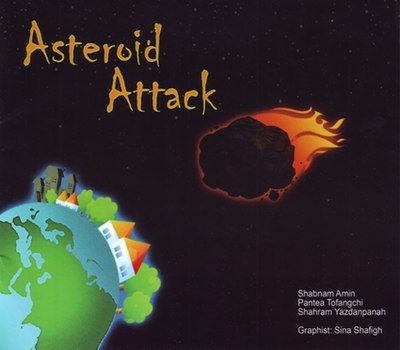 The cover of Asteroid Attack, the children's book created by the Iranian Space Agency.
Iran saves Earth, details at 11
by Dwayne A. Day

Monday, September 10, 2012
You may have noticed that tensions between the United States and Iran have been heating up a bit in the past year, what with that whole nuclear thing. Fortunately, there may be an opportunity for the two countries to cooperate with each other on a mutual effort to protect the Earth from killer asteroids. Iran, it seems, is certainly interested.
Or so we may be able to deduce from a publication produced by the Iranian Space Agency and recently distributed at the annual COSPAR meeting, an international meeting of space scientists that this year was held in India. The brochure, called Asteroid Attack, is in the form of a children's book, and tells the story of how brave Sujo and his friends save the Earth from an asteroid collision by building a rocket, flying up to the asteroid, and pushing it onto a new trajectory.
Perhaps this is the real goal of the Iranian space program.
The story starts when a little girl named Shabnam is stargazing with her telescope one evening and spots an asteroid heading toward Earth. She tells her friends, including Hansen, a "Dianasour fan," (apparently a translation error, and nothing to do with the British monarchy) who informs her that an asteroid killed all the dinosaurs.
Shabnam, Hansen, and the other kids quickly come up with a plan: they will build a rocket, fly up to the asteroid, attach a small rocket engine to it, and send it somewhere else. It's so crazy, it just might work!
Sujo, who looks a lot like a young Harry Potter, wins at Rock-Paper-Scissors, puts on a spacesuit, and flies into space. After reaching the asteroid, "Sujo installed the rocket and fasten the belt around asteroid tightly. It was a difficult mission, but he came over." (Probably a translation problem there.)
Sujo then sends the asteroid off in another direction. The Earth (including Israel) is saved.
"That night when they were sleeping, they all shared the same dream: our beautiful Earth is happy and grateful to all the wonderful kids around the world."
Okay, so Armageddon it isn't. But just what exactly is it?
Iran has a fledgling space program, and the country has recently joined the ranks of spacefaring nations by launching its first satellite, and they do have ambitions to become a spacefaring power. A few weeks ago, an article appeared on the Internet with the headline: "Iran to launch monkey and spy satellite into space." Alas, apparently the monkey will not operate the spy satellite. But despite their recent activities, and their presence at COSPAR, the Iranians have not quite figured out how to play the public relations game. Rather than show up at COSPAR with glossy brochures proclaiming their peaceful intentions in space, they produced fluff suitable for children. For some reason, this is all in badly-translated English.
Nobody does public relations as well as NASA. Maybe the Iranians could learn a few things from them. Then again, maybe we don't want them to.
---