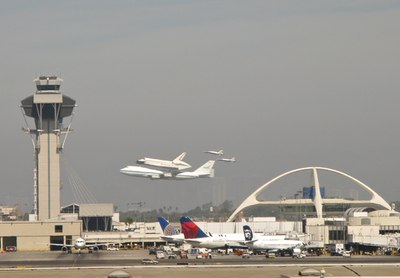 The 747 carrying the shuttle Endeavour flies over Los Angeles International Airport on September 21. (credit: A. Bormanis)
Final flight
by Andre Bormanis

Monday, October 1, 2012
The shuttle orbiter Endeavour arrived in Los Angeles Friday, the 21st of September, and will soon take up residence as a permanent exhibit at the California Science Center in Exposition Park, near the USC campus.
Local TV news stations showered the arrival of Endeavour with the kind of breathless coverage usually reserved for high-speed car chases. Which in a way, it was. A pair of F-18 chase planes pursued Endeavour as it weaved its way through Los Angeles airspace, passing over iconic landmarks from Disneyland to the Hollywood sign.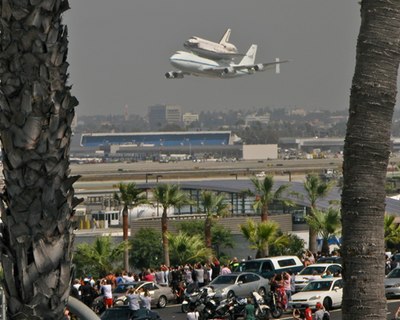 Crowds watch the shuttle and 747 at LAX. (credit: A. Bormanis)
Why the sudden interest in the Space Shuttle? As we all know, the shuttle program ended last year. When it was in its prime, launches were rarely covered live by the networks or local television. But the return of Endeavour to Los Angeles was a unique event that promised—and delivered—great visuals. The story was intensely promoted (some might say hyped) in the days leading up to the flyover and landing. Thousands of people lined streets near the airport, and congregated at Getty Center Museum and the Griffith Observatory, where the traffic leading to the hilltop icon was bumper-to-bumper for miles.
Named after the British naval vessel HMS Endeavour that took Captain James Cook on his first great voyage of exploration, the Endeavour orbiter was built in the early 1990s to replace the ill-fated Challenger. It was, in large part, constructed from spares fabricated by Rockwell during the production of the earlier orbiters in Downey, California, a Los Angeles suburb that became a manufacturing base for the aerospace industry during the Second World War.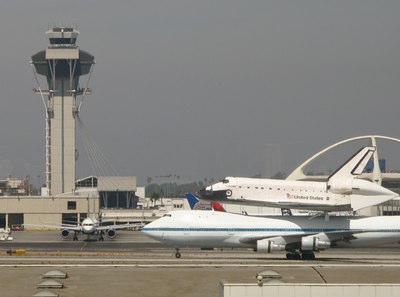 The 747 carrying Endeavour lands at LAX. (credit: A. Bormanis)
The former Rockwell facility that built the orbiter components (and the Apollo capsules that carried men to the Moon) has been used in recent years as a film studio. It is now being torn down to make room for a new mall in a city that invests far more value in celluloid dreams than space hardware.
Walt Disney, one of the greatest promoters of the dream of spaceflight, would have been proud, I think, to see Endeavour making its pass over Tomorrowland, and he may have even appreciated the irony. After 25 missions in orbit, Endeavour's victory lap over the City of Angels was an inspiring but bittersweet moment in the history of our city. What a long, strange trip it's been.
---